The Lodge (Cascade Lakes Brewing)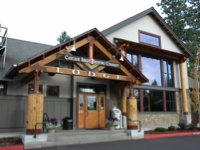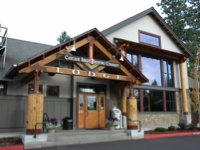 PLACE INFO
Type:
Bar, Eatery
1441 S.W. Chandler Avenue #100
Bend
,
Oregon
, 97702
United States
(541) 338-4998 |
map
cascadelakes.com
Notes:
No notes at this time.
Added by Reidrover
Ratings: 14 | Reviews: 8
Reviews by Elimination:
3.48
/5
rDev
-4.9%
vibe: 4.5 | quality: 3.5 | service: 2 | selection: 4.5 | food: 3.5
Ive been coming to Cascade lakes for a certain monthly meeting a few times now over the last couple years. It can handle our large group, but not without a lot of arm twisting and table change ups. But in all honesty, its strangely one of the larger resteraunts in bend.
atmosphere is kind of cool, it really caters to a little higher end with skiing, snowboarding memorabilia. It has a 80's ski movie lodge type of look to it, with the log cabin walls, canoes, skis decorating the halls.
Service is meh, wait staff is usually not that helpful, sort of rude and stuck up, really just kind of bitchy. I know we are a very large group coming in, but we are not rude, mean, or unusually demanding in any way. Managment for some reason has an issue with making money because everytime we show up there seems to be a problem that we are here? Why? We can wait for 45+ minutes to get a table because yes we do not make reservations because we dont know how many may show up. But the fact that your place cant get it together when suddenly 15-30 people show up and just happen to want to sit around the same area is just stupid.
selection of beer though is great, this is where you make up for it. Tons of regulars, and tons of 'seasonals' i say it like this because the seasonal are usually still year round. Sometimes there is things not listed on the menu such as last time with a imperial stout that was amazing. And at only 11ish a pitcher it is a damn good price for an imperial. The beer they have is above average, and pretty sessionable, the hefeweizen is one of the best in the category ive ever had.
Food, well its standard pubish. You can tell its FSA/United grocer style food. The hamburger patties are boring and nothing special, the chicken wings are ok but definately not the best. The salads are small for the price-its lettuce people i know the profit margins! Besides service, they need to make it a point to have better food. I know how the regular FSA style food works, its fast and easy to prepare. But it taste like garbage. With the already high profit margin you have (i can tell by the price of almost any food) you would think they could atleast kick up the quality
They do have some great things though. Local discounts on certain nights, growler fills, and pretty good beer.
2,301 characters
More User Reviews:
4
/5
rDev
+9.3%
vibe: 4 | quality: 4 | service: 4.25 | selection: 3.75
3.48
/5
rDev
-4.9%
vibe: 3.5 | quality: 3.5 | service: 3.75 | selection: 3.25 | food: 3.25

3.53
/5
rDev
-3.6%
vibe: 3.5 | quality: 3.5 | service: 3.5 | selection: 3.5 | food: 3.75
4.31
/5
rDev
+17.8%
vibe: 4.25 | quality: 4.25 | service: 4.5 | selection: 4.25 | food: 4.25
3.14
/5
rDev
-14.2%
vibe: 3 | quality: 3 | service: 3.5 | selection: 3

3.79
/5
rDev
+3.6%
vibe: 4 | quality: 4 | service: 4 | selection: 3.25
This was stop #31 for my wife and I on a 21-day pub-crawl from Michigan to N. CA and OR. We stopped here on a Tuesday afternoon to enjoy their beers. This is a branch location of the brewery that is located in Redmond, and is known as The Lodge. The exterior motif of the building confirms that The Lodge is a good name, and the interior uses a fair amount of wood trim to complete the theme.
There were 10 beers available, and we ordered a sampler flight of 6 of them, and later added a seventh. Each of the beers exceeded the characteristics for its respective style, and our scoring system graded them from a B minus to an A minus. This brewery was in the top 5 scoring for all 41 breweries that we visited on our trip. We didn't order any food, nor did we look at the menu so no scoring for that is included in this review.
This pub would receive a definite return visit if we are ever in the area again.
912 characters


3.58
/5
rDev
-2.2%
vibe: 4.5 | quality: 3 | service: 4 | selection: 3.5 | food: 3.5
A mixed bag. I had memorable evenings after working/skiing at Mt. Bachelor. I had some great, lazy afternoon sessions here while sitting outside watching the round about. But, it's also the Applebee's of the Bend beer scene and I had some annoying, kid screaming, ditzy high school waitress experiences as well. It's alrite more often than not though and they have a great location with ample parking.
Cascade Lakes beers are average to slghtly above average. They are consistent and have nice names, but it's a starting point brewery. Nothing wrong with that and I think Blonde Bombshell might have been my first Oregon pint?
Think Applebee's with a better beer selection. Again, not neccessarly a bad thing when coming back into town from the Cascades. It's no frill's, but no problems either. Always well run and well staffed. Very family friendly.
PNW public house 101. Highly drinkable interpretations of the usual styles. I think the 20" Brown is their flagship and it's actually pretty good.
A good selection of burgers and sandwiches at fair prices. The usual appetizers and premade desserts. My food was always consistent and filling.
They too have a locals night with deals on beer. The prices here are very fair on both the food and beer. A well run establishment.
1,281 characters
3.33
/5
rDev
-9%
vibe: 3.5 | quality: 3.5 | service: 3.5 | selection: 3 | food: 3
Bend beer sortie Summer 2010.
The Cascade Lakes Brewing lodge used to be the closest place to my dad's old haunts, and having stopped by here a number of times in the past, I wanted to add review of this place to my Bend tour notes.
This place has a ski lodge type ambience, though I find it a bit dark on the inside. Pretty nice outside seating area. This is (currently) the first beer place you'd encounter after a day of skiing on Mount Bachelor, so the ambiance makes some sense.
To be honest, I've never been too impressed with their beers, more of gateway type beers for the BA, though a number of locals find the Bombshell Blonde a nice sessionable brew. Not a lot of variety, limited number of taps. I've eaten here several times, the food is certainly above average but nothing extraordinary.
There are certainly better places to visit when in the area, but if you are tired of fighting the apres-ski traffic, it might make sense to pull off the road here and have a pint, though after doing a thorough reconnaissance of town I'll pass on this place in the future.
1,079 characters
3.15
/5
rDev
-13.9%
vibe: 4 | quality: 3 | service: 3 | selection: 3 | food: 3.5
Cascade Lakes Brewery is actually in Redmond, but the lodge is in Bend....brilliant placement, first brew stop off the mountain. If only I skied....anyway the atmosphere is typical of a lodge, large wood beams, big open rooms, overall its not bad, not real pub oriented, but not bad. The beer quality in my opinion is average at best, none of the regulars are a real standout and they rarely stray from these few beers. They are just starting to branch out with some new styles but these are only average at best as well. The service is ok....no beer knowledge and kind of slow at times. Selection of both beer and food is ok and the quality of the food is good but not great. Overall Cascade Lakes has a nice atmosphere with lackluster food and beer...convenient if you ski I guess.
783 characters
3.5
/5
rDev
-4.4%
vibe: 2.5 | quality: 4 | service: 3 | selection: 4 | food: 3
One of the 5 brewpubs to set up shop in Bend.
Cascade Lakes Brewery itself is located in Redmond, about 20 minutes north of Bend. This is a public house, a huge building on Bend's west side. The decor is "alpine lodge meets sports bar". They have a full bar and serve a few macros in addtion to their full catalog of beers. There's always a seasonal or two as well.
Food is good. Pretty standard pub fare.
Downsides:
1. It doesn't have the same feel as Deschutes or the other breweries in town, probably because its such a huge new building, hardly quaint or personable. Some of the other breweries in town have a much more welcoming/comforable feeling.
2. The Lodge has outdoor seating, but it's right at a busy (and noisy) intersection. No scenery to speak of. You'll find yourself having to talk over the traffic...oh and theres auto exhaust fumes.
3. The staff is pretty ditzy. Kind of a B-team Hooters. They don't know the beers, service is slow, and the menu never changes.
Still, I find myself coming here a couple times a year. Their beer is great, and happyhour/locals night prices are real good!
1,114 characters
3.98
/5
rDev
+8.7%
vibe: 4 | quality: 3.5 | service: 4.5 | selection: 4
This is Cascade Lakes' most recent property, bringing their total enterprise to two alehouses, two taverns, and their brewery. Opened in May 2004, The Lodge is fashioned as something of a ski lodge. It's actually about 15 miles from the slopes of Mt. Batchelor, so you won't see people trudging through the door in ski boots. But the building is lodge-like and spacious with tall windows, a see-through stone fireplace, and huge exposed beams. As you might imagine, much of the décor is ski-themed.
The full-service bar sparkles with racks of glass while a single enormous television centers the room with cyclopean focus. The ten house beers come from just north of Bend at the Cascade Lakes brewery in Redmond. Six are regulars, four seasonals, with none on nitro or cask. Pints are 20 oz. imperials and Wednesday night is cheap beer night – a smart move in a town that features cheap beer at Deschutes Brewing on Monday and at Bend Brewing on Tuesday.
The Lodge still had a very new feel to it when I first visited in October '04. The adjoining properties were not yet open for business and you could smell fresh paint in the air. Bend is a rapidly growing community and it's hard to say where and when it will come to rest. For the moment there are still plenty of pine trees lending shade and character to the neighborhood. They contribute much to the atmosphere of a place like The Lodge. Let's hope they stick around.
Friendly service is easily obtained at The Lodge. You come to expect as much from the town as a whole but it's notable in such a sizeable restaurant with multiple dining areas and an ambitious floor plan. Upstairs is a gaming loft with two pool tables and a few video games. On the first night I visited The Lodge, I sat upstairs and watched the Cheney-Edwards debate on television – just the thing to inspire a need for more beer.
1,876 characters

4
/5
rDev
+9.3%
vibe: 4 | quality: 4 | service: 4 | selection: 4 | food: 4
OK was in Bend for the weekend when i heard that Cascade Lakes Brewery of Redmond had opened a new place in neighbouring Bend.
Hard to find but eventually i pulled into the parking lot, seemed quite full.This is quite an impressive building..indeed in the style of a skiing lodge , ouside mostly done in glass and yellow pine logs ( think of a Timberline "lite").
Inside i soon found my way to the bar which was well laid out with plenty good bar seating..there is a larger restaurant area both to the left of the bar and upstairs.
Even though the place was moderatlly crowded on an early Saturday afternoon, a waitress soon picked me out sitting at a bar table.
I got the sampler 6 beers in a rather smart "lazy susan"..looked about 6 ozs the piece very nice. The place has a full liquor bar but only Cascade Lakes beers..i think i counted 10 taps.
I actually liked there beers..well most, kmost seem not to ..well maybve they are better fresh?
The grub was pretty good too..just regular pub stuff , but well done and quick service.
Overall a nice place to do lunch..I will be back next time I am in Bend.
1,113 characters
The Lodge (Cascade Lakes Brewing) in Bend, OR
Place rating:
42.9%
out of
100
with
14
ratings