Howlin' Chinaski
| Short's Brewing Company
BA SCORE
84
good
10
Reviews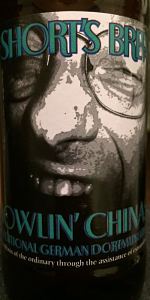 BEER INFO
Brewed by:
Short's Brewing Company
Michigan
,
United States
shortsbrewing.com
Style:
Dortmunder / Export Lager
Alcohol by volume (ABV):
6.50%
Availability:
Limited (brewed once)
Notes / Commercial Description:
No notes at this time.
Added by BrewtalHonesty on 10-10-2013
This beer is retired; no longer brewed.
Reviews: 10 | Ratings: 82
3.78
/5
rDev
+1.9%
look: 4 | smell: 3.5 | taste: 4 | feel: 4 | overall: 3.5
12 ounce bottle into lager glass, bottled on 1/6/2014. Pours lightly hazy pale golden straw color with a 1 finger dense white head with great retention, that reduces to a nice cap that lasts. Nice soapy lacing clings down the glass, with plenty of streaming carbonation retaining the head. Aromas of pear, apple, cracker, bread, biscuit, herbal, grass, light pepper, and yeast earthiness. Nice and pleasant aromas with good balance of malt, hop, and yeast ester notes; with solid strength. Taste of biscuit, bread, cracker, pear, apple, herbal, grass, light pepper, and yeast earthiness. Fair amount of earthy bitterness on the finish; with lingering notes of bread, biscuit, cracker, pear, apple, herbal, light pepper, and yeast earthiness on this finish for a good bit. Very nice balance and robustness of malt, hop, and yeast ester flavors; with a good malt/bitterness balance and zero cloying flavors after the finish. Medium carbonation and body; with a smooth, bready, and moderately crisp mouthfeel that is good. Alcohol is very well hidden with minimal warming present after the finish. Overall this is a very good dortmunder style. Good balance and robustness of malt, hop, and yeast ester flavors; and very smooth and crisp to drink. A nicely enjoyable offering.
1,272 characters

3.47
/5
rDev
-6.5%
look: 3.5 | smell: 3.25 | taste: 3.5 | feel: 3.75 | overall: 3.5
Pours into a becker a dull light to medium golden with a thinner white head atop.Aromas of caramel/dough and some light toast,very bread indeed.Sweet dough dominates the flavor with some floral hops but they are light,more bread in the finish.A little sweeter than I expected but not a bad food beer.
300 characters

3.24
/5
rDev
-12.7%
look: 3 | smell: 4 | taste: 3 | feel: 3 | overall: 3
Thanks to tectactoe for this 12 oz. bottle which disappeared into the time/space continuum of my beer fridge & just emerged tonight. If it's suffered from age I won't review it.
Pour is straight orange, sans pulp, opaque, dirty, very low carbed. Nose is loaded up with hot citrus, light breading, biscuity. Touch of herbs. Nicely interesting.
Howlin' Chinaski - what the hell does that mean? Don't taunt me. If you're going to name something Howlin' Chinaski, tell us a story on the damn label. The beer? Oh, the beer. Citrus is still prominent but the lager yeast is giving me lumpa-thumpas of breadiness & saltines. Dry & simple.
A beer to put at your left hand & quaff while you're eating pretzels or spatzle. Decent enough, but a bit too one-note for my sophisticated tastes.
785 characters

3.57
/5
rDev
-3.8%
look: 4.25 | smell: 3.5 | taste: 3.5 | feel: 3.75 | overall: 3.5
I picked up a bottle of Shorts Howlin' Chinaski a couple days ago in their new variety pack for $18.99 at The Lager Mill. It's a new year and Short's is back at it again with a few new beers that I've never had before and I'm in the mood for something on the lighter side today, so lets see how it goes. No visible bottling date, but it just showed up so it's fresh. Poured from a brown 12oz bottle into a Short's imperial pint glass.
A- The label is ok looking and it isn't the most eye catching. It poured a fairly clear yellow color that took on more of a darker golden color when held to the light with two and a half fingers worth of creamy white head that died down to a thin ring that stayed till the end and it left some nice rings of sticky lacing behind. This is a very nice looking beer, I have no complaints.
S- The aroma starts off with a medium amount of sweetness followed by some malts being the first to show up and they impart some grainy, pale malt and bready aromas with a light biscuty aroma in the background. Up next comes some sweet malts followed by a somewhat lighter amount of earthy and grassy hops. This beer had a nice aroma that seems to be inline with the style.
T- The taste seems to be fairly similar to the aroma and it starts off with a medium amount of sweetness followed by all those malty aspects that I got in the aroma, but there's also a toasted malt aspect that along with the breadyness seems to stick out the most. On the finish comes the hops which impart some earthy, grassy, and spicy hop flavors with the spicy hops sticking out a little more than the rest and it imparts a very light amount of medium bitterness that bordered on being on the lighter side with a bready, toasted malt, and spicy hop aftertaste. This is a nice tasting beer that's pretty true to style.
M- Smooth, clean, crisp, on the thicker side of being light bodied with a nice amount of medium carbonation. The mouthfeel was pretty nice and it worked well with this beer.
Overall I thought this was a nice beer and an above average example of the style, it seems to be pretty much what I would expect from the style with just the right amount of crispness and it had that nice drinkability that I expect from the style. This beer had pretty good drinkability, it was smooth, clean, crisp, not filling, and the taste did a decent job at holding my attention, I could drink a few of these, but I may start to get bored with the taste after a few and I think it would make for a nice beer to enjoy in the summer time. What I like the most about this beer was how true to style it is, it's pretty much exactly what I would expect from the style. What I liked the least about this beer was nothing, there wasn't any off flavors or anything that I would change. I would buy this beer again when I'm in the mood for a Dortmunder and I would recommend it to anyone who likes the style. Overall I thought this was a solid and pretty drinkable beer. I think the extra little bit of hoppiness helps set this beer apart and make it a little unique for the style. Great Lakes Dortmunder Gold is still my favorite of the style, but I would say that this one is my second favorite. Good job guys, thanks for another good easy drinking beer.
3,250 characters
4.52
/5
rDev
+21.8%
look: 4.75 | smell: 4.5 | taste: 4.5 | feel: 4.5 | overall: 4.5
Purchased as part of a mixed 12 pack. Brewed with German Spalt hops.
6.5% ABV, 27 IBU's per the website.
Pours out to a beautifully clear brilliant golden, forming a mousse like light yellow head with superior retention and excellent lacing. Moderate brisk carbonation, ~3.0 carbs or so. Thin layer of compact yeast sediment at the bottom of the bottle. The nose is classic Weihenstephaner yeast with classic German hops, fermented cleanly with lightly bready malts, light DMS and a touch of sulfur. Mouthfeel is very crisp and very clean, true to style. The taste is a recap of the aroma...lightly bready malts, a touch of yeast, light DMS and sulfur (appropriate to style), very well-balanced moderate bitterness, minimal aroma or flavor hops. Finishes clean and dry with a delicate tea like astrigency and bitterness hanging on in the finish. No off flavors.
Very true to style, this is a classic dortmunder lager. Easy to drink, exceptionally well done. Just as good as GLBC Dortmunder Gold or Ayinger Jahrhundert bier. Highly recommended! I would surely buy more of this if it's released as a 6-pack. Exceptional.
1,120 characters
3.94
/5
rDev
+6.2%
look: 4 | smell: 3.75 | taste: 4 | feel: 4 | overall: 4
We pour a brew of resinous oak-trunk coloring. It holds a two finger head of creamy and soapy snow white bubbles, showing excellent retention. Lacing is mountainous and patterned. Haze is chill, but otherwise minimal, with no sediment noted. Carbonation appears to be mild. The aroma comes with sour cream lactics, white corn tortillas, black pepper spice, powdery flour, mint leafiness, musky cheddar moldiness, peanut and cashew dustiness, pale and chalky red malt graininess, sugary sweet pecan pie filling, roasted green peppers, lemon skins, metallic tininess, white rice, and wet cement. The flavoring follows with honey butter biscuits, gritty dog food graininess, peachy fruitiness, white and wheat flours, bitter chemical phenols, light pine sap hoppiness, confectioner's sugar, latex, drying American pale malts, raw barley, and rye, and iron. The body is softly medium, and the carbonation is medium. There is excellent cream, froth, slurp, smack, and fluffy finishing pop. The mucosa is coated, but morphs into a crisp, cleaning, warming dryness. The abv is appropriate, and the beer drinks easily.
Overall, this rating is long overdue. For such a grain-forward brew, we get a lot of crisp and powdery dryness to the flavoring, which translates fully into the mouthfeel. They play well with one another, highlighting said ingredients, without skimping on the ultimate blend of flavoring. We typically feel that Short's beers could be much more refined than they are, and this is no exception. Again, we applaud their ingenuity and aggressiveness with their variety packs, as they continually pump out an unpredictable palate of styles and flavors, but it is hard to find success with each individual effort. This is not a bad or forgettable beer, but rather we just tend to hope and look for more delineated definition and repose in reproducibly sippable brews.
1,892 characters
3.74
/5
rDev
+0.8%
look: 4.5 | smell: 3.5 | taste: 3.75 | feel: 3.75 | overall: 3.75
$2 single poured into a shaker pint. Bottling date scratched off or something, but this was bottled recently.
Appearance: Poured aggressively and got a very nice, two-finger head on it. Spotty lacing. A great hazy, yellow color.
Smell: Subtle. Certainly a lager with that lager yeast aroma, but there's also a biscuity character with a dash of hops, as well as a slight soapiness. Not much there, but what's there is nice.
Taste/feel: First thing I notice is a huge mouthfeel that's almost excessive -- there's a big body on this beer that I wasn't quite expecting. Carbonation is also light throughout the sip. The taste on this one is fairly simple, but still very pleasing. Biscuity, lagery flavor on the front morphs a bit into a slightly soapy resinous pine hop flavor that finishes dry and slightly bitter. Not overly complex, but has enough depth of flavor to keep things interesting.
Not sure what to make of this beer. I could say that a slightly thinner feel with a bit of a higher carbonation would make the beer better, but would it? The body makes this beer stand out, I think. Howlin' Chinaski is a beer that's slightly above average, and one that I'd have again given the chance. It's a beautiful pour, and above average in every other category as well. Pick it up if you can find it -- another tasty Short's Brew.
1,333 characters
3.7
/5
rDev
-0.3%
look: 3.5 | smell: 3.5 | taste: 3.75 | feel: 4 | overall: 3.75
Appearance: pours a slightly orangish yellow. a finger or so of an off white head that fades to just a sight lacing. just a touch of haze but mostly opaque.
Smell: lager yeast, lots of breadiness. and i get some citrus too
Taste: pretty clean lager yeast. biscuity-bread. and a hint of citrus bitterness.
Mouthfeel: fairly clean but just a touch of stickiness. fairly heavy for the style but still drinkable and refreshing
Overall: a well brewed example of the style. tasty and refreshing and a very drinkable beer.
519 characters
3.92
/5
rDev
+5.7%
look: 4 | smell: 3.75 | taste: 4 | feel: 3.75 | overall: 4
Bottle into snifter
Appearance - Transpanrent golden to pale orange, 1 finger white head.
Smell - Reminds me of Becks original. Malt, barley, and yeast.
Taste - Light malts, and there is also a grain presence. This beer seems like its goal was to stay traditional, cereal grain, and yeast. Alcohol is very faint.
Mouthfeel - Light/medium body, medium carbonation, crisp and most definitely refreshing.
Overall - Good beer. This beer is seems to be brewed close to its intended recipe, staying very traditional. Light and also has good session potential. Happy with this one.
581 characters
3.86
/5
rDev
+4%
look: 4.75 | smell: 3.75 | taste: 3.5 | feel: 3.25 | overall: 4.75
this beer would be great at a sweaty basement party.... drinkable and versatile and stands up to slam dancing as well as way past overtime sports partys... keggerate this one and serve it to everyone who has a passable id am i right???? go delta zetas!
252 characters
Howlin' Chinaski from Short's Brewing Company
3.71
out of
5
based on
82
ratings.