Short's Black Diamond
| Short's Brewing Company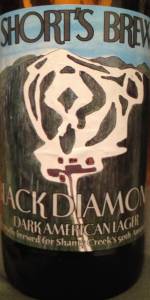 BEER INFO
Brewed by:
Short's Brewing Company
Michigan
,
United States
shortsbrewing.com
Style:
Schwarzbier
Alcohol by volume (ABV):
5.10%
Availability:
Rotating
Notes / Commercial Description:
The new Schwartzbier brew, which translates into a German-style black lager, will be called "Black Diamond"— giving it a nod to winter and skiing. Visually, black lagers can be deceiving, featuring an opaque, black color and a full, chocolatey flavor similar to stout or porter. But unlike its dark cousins, Schwartzbier features a bottom fermenting lager yeast, which produces a medium-bodied brew with a smooth finish that will be worth savoring.
Originally brewed for Shanty Creek's 50th Anniversary.
Added by TheBrewo on 11-01-2013
Reviews: 12 | Ratings: 98
3.73
/5
rDev
-3.9%
look: 3.75 | smell: 3.75 | taste: 3.75 | feel: 3.5 | overall: 3.75
A: The beer is essentially jet black in color—slight traces of brownish red are visible near the edge of the glass when it is held up to a bright light. It poured with a quarter finger high tan head that died down, leaving a collar around the edge of the glass.
S: Light to moderate aromas of dark and chocolaty malts are present in the nose.
T: The taste mostly follows the smell and has flavors of dark and chocolate malts. No bitterness is perceptible.
M: It feels light- to medium-bodied and smooth on the palate with a moderate amount of carbonation.
O: This beer seems to taste like a hybrid between a schwarzbier and a porter.
639 characters
4
/5
rDev
+3.1%
look: 4 | smell: 4 | taste: 4 | feel: 4 | overall: 4
12 ounce bottle into lager glass, bottled on 10/3/2013. Pours nearly opaque dark brown color with a small dense tan head with good retention, that reduces to a thin cap that lingers. Light spotty lacing clings down the glass, with some moderate streaming carbonation retaining the cap. Aromas of dark chocolate, cocoa, roasted malt, coffee, toast, dark bread, light char, light pear/apple, and yeast earthiness. Damn nice aromas with good balance and complexity of dark/roasted malt notes with light-moderate yeast ester presence; with good strength. Taste of big dark chocolate, cocoa, roasted malt, coffee, toast, dark bread, light char, light pear/apple, and yeast earthiness. Slight roasted bitterness on the finish; with lingering notes of dark chocolate, roasted malt, coffee, light char, toast, dark bread, and yeast earthiness on the finish for a good bit. Damn nice balance, robustness, and complexity of dark/roasted malt flavors with light-moderate yeast esters; with zero cloying flavors after the finish. Medium carbonation and body; with a lightly creamy, smooth, and moderately chalky mouthfeel that is good. Alcohol is very well hidden with minimal warming present after the finish. Overall this is a damn nice schwarzbier! All around nice robustness, balance, and complexity of flavors; and very smooth to drink. A very enjoyable offering.
1,356 characters

3.72
/5
rDev
-4.1%
look: 3.5 | smell: 4 | taste: 3.5 | feel: 3.5 | overall: 4
It's Short's, which means a bottle rec'd from tectactoe, one of several fine Michigan traders I've dealt with over the years: they grow them generous. 12 oz. bottle.
Poured into my Cantillon glass: blasphemy, perhaps. Black as the name with a dying quail of a head. Nose is 7AM at Starbucks, caught me by surprise for a lager, plus an exhale of chocolate croissant. Very nice start.
Black Diamond is a cross-pollination between a black IPA & schwarzbier & a porter, minus the hops. What? Something. Roast is featured once again, some slickness from the lager yeast. Tentative bitterness mid-palate, earthy sweetness round out the beer. Plenty easy to drink.
Simple as an earthworm, but much tastier. Nothing groundbreaking here, just a good, solid brew.
767 characters

4.29
/5
rDev
+10.6%
look: 4.5 | smell: 4.25 | taste: 4.25 | feel: 4.5 | overall: 4.25
I got a bottle of Short's Black Diamond in the new Short's Variety pack that I picked up last week for $18.99 at Meijers. Short's already makes a really good Schwarzbier and I'm interested to see how this one compares, so lets see how it goes. No visible bottling date, but it just showed up so it should be fairly fresh. Poured from a brown 12oz bottle into a Short's imperial pint glass.
A- The label looks pretty nice, I've skied at many places in Michigan, but I have yet to ski at the place this beer is made for, Shanty Creek, but it looks good and it appeals to the skier in me. It poured a nice black color that didn't really let any light come through with two and half fingers worth of light mocha colored head that died down to a thin ring that stayed till the end and it left a good amount of sticky lacing behind. This is a very good look Schwarzbier, I have no complaints at all.
S- The aroma starts off with a medium amount of sweetness that had a slight molasses like aroma to it and it was followed by loads of dark roasted malts that impart a roasty, slightly charred, slight smokey, coffee and chocolate like aroma with neither aspect seeming to stick out the most. Up next comes a grainy malt aroma with a little more sweet malts at the end. This beer had a very nice aroma, it was well balanced and true to style.
T- The taste seems to be pretty similar to the aroma and it starts off with a medium amount of sweetness followed by loads of dark roasted malts that impart all those roasty aspects that I got in the aroma with the roasted, coffee, and chocolate flavors seeming to stick out the most. Up next comes a light smokey and charred flavor with some grainy flavors and a slightly higher amount of low bitterness with a roasted malt and grainy aftertaste. This is a very nice tasting beer that delivered just what I want from the style.
M- Smooth, crisp, clean, slightly creamy, on the light side of being medium bodied with a good amount of medium carbonation. The mouthfeel was really good and it was very true to style.
Overall I really liked this beer and I thought it was a great example of the style, I still think I like Sustenance Black Bier a little more, but this beer was pretty close to being as good and it reminded me a little of their Uncle Steve's Irish Stout. It had everything that I look for in the style with some great balance. This beer had great drinkability, it was smooth, crisp, clean, not too filling and the taste did a great job at holding my attention, I could drink lots of this stuff without getting bored with it, it's very sessionable. What I liked the most about this beer was how true to style it was and how drinkable it was, those two things really made this beer stand out as a well made Schwarzbier. What I liked the least about this beer is that it's not available on it's own, this would be a great seasonal beer to release in six packs at the start of ski season. I would for sure buy this beer again, I'll try to stock up before it's all gone and I would recommend this to anyone who enjoys the style or dark beers in general. All in all I was pretty impressed with this beer, I already knew Short's had some skills when it came to this style and they didn't disappoint. Great job guys, thanks for another impressive Short's brew and keep up the good work.
3,332 characters

4.4
/5
rDev
+13.4%
look: 4.25 | smell: 4.25 | taste: 4.5 | feel: 4.25 | overall: 4.5
This pours a midnight black-blueish/purple port tinged color with an impressive cap of creamy cocoa colored foam.
I first notice a coffee note in the aroma that soon dominates, with a light roast in the flavor.
It's creamy and crisp, with a touch of herbal hops. A hint of green sticky dankness contrasts with the roast and finishes on the dry side. Short's beers are always so inventive and so tasty.
I honestly had no idea what to expect when I opened this brew other than the Shorts name. Glad I picked it up.
519 characters
3.88
/5
rDev 0%
look: 4 | smell: 3.5 | taste: 4 | feel: 4 | overall: 4
We crack the top and pour a brew the color of licorice into our Great Lakes pint glasses. It puts forth a two finger head of mocha colored foam, showing nice retention, and leaving mountains of lacing all around the glasses. No haze or sediment is appreciated, and carbonation appears to be light around the edges. The nose whiffs of rich coffee and English brown malts, light smokiness of char, licorice sugars, glass, light dried grassiness, coiny metallics, cooked barley, creamy lactics, faint buttery diacetyls, dark chocolate nibs, burning tobacco of cigars, hazelnut, wax, white sugar, and the skins of Spanish peanuts. Our first impression is that the beer is nicely to style, with unexpected harsh and grainy smokiness marking its finale. As we sip, the flavoring opens with sour acidity coffee, blue Gatorade, lemon juice, campfire smokiness, clovey, crystal and German black maltiness, burnt barley, tinny metallics, molasses thickness, and angel food vanillas. The middle comes to a peak with cinnamon and brown sugar, grassy and herbal hops, sesame seeds, smoked ham rinds, charred malt base, basement mustiness, Band-Aid medicinals, and rubber. The end hits hard with the licorice, iced wateriness, walnut, plum fruitiness, tobacco smoke, stomach acidity, lemon juice, egg proteins, coffee and burnt chocolate maltiness, black cherry skins, and light echoes of fusel vanilla extract. The aftertaste breathes of char, pencil eraser, mineral, gravel, musk, cheesy moldiness, floral honeysuckle, synthetically flavored vanilla coffee, almond butter, continued dark fruit of cherry and plum, gold leaf, burnt marshmallow, fortune cookie sweetness, and licorice. The body is light to medium, and the carbonation is pleasantly prickly. Each sip gives nice slurp, smack, cream, froth, and pop. The mouth is coated and cooled, with eventual sticky dryness and light pucker from the burnt maltiness of the thing. The abv is appropriate, and the beer drinks easily.
Overall, the best thing about this beer is the beers flavoring, especially when coupled with the soft feel and great ease of drinkability. We thought long and hard about the aroma, which was pleasant and fit right to the style, but was pushed a bit into the extremes of the "ashtray" nose. This did, however, add to the ultimate thrust of the beer in its entirety, rounding out its presentation. This is an odd style to attempt these days, but we found this effort to be much appreciated from the point of variety. This is an easy beer, and although a bit bright around the edges, this would suit any craft beer drinker looking for something new and strongly executed, or someone looking to get into the style outright. This beer is also highly characteristic of Short's, and it fits their brand wonderfully.
2,786 characters
3.99
/5
rDev
+2.8%
look: 3.75 | smell: 3.5 | taste: 4.25 | feel: 3.75 | overall: 4.25
Part of a mix-a-six for $10. Poured into a good ol' shaker pint. Bottled 11/05/13. My first schwarzbier, that I know of.
Appearance: Pretty much just pitch black. A soapy little head floats on top, but doesn't last long. Lacing's here-and-there... nothing really special, but looks alright.
Smell: Think of an old man with chronic halitosis who just took a sip of coffee and did that "Ahhhh!!" right in your face. It seriously smells almost exactly like that. I should rate this beer a 1 on aroma because of that, but for some reason, I won't. Okay, I'm exaggerating. I got that smell on my first whiff, but now it's just a roasty coffee and chocolate and ... molasses? sort of aroma on it. A bit of charcoal and alcohol there too, but not much. Interesting.
Taste: Coffee and roast all the way. A lot of char/charcoal. I also get a significant sort of nuttiness in the back of my mouth on the finish, which I wasn't expecting. It's really kind of strong for me. A sort of pecan note or something. Really no chocolate in the flavor. No alcohol in the taste or feel. Aftertaste is a huge amount of roasted malt, leaving almost a burnt but not bitter flavor along with that nuttiness. Reading that this is a lager, it sort of drinks like one. Medium sort of carbonation, and a relatively thin mouthfeel with the heavy burnt nut sort of flavor make this feel and taste different than, say, a porter.
Gotta be honest, impressed. I like the depth of flavor on this beer. I had no idea this was being bottle released this year, but saw it in my bottle shop and decided to give it a shot... so incredibly glad I did. It's reminiscent of a porter, but adds more smoke/char to the flavor, and there's that great sort of nutty aftertaste. Wish I had purchased more.
1,759 characters

3.52
/5
rDev
-9.3%
look: 3.75 | smell: 3.5 | taste: 3.5 | feel: 3.5 | overall: 3.5
This is my first experience with this style of beer and I must be honest, I'm not sure what to make of it. It pours a very dark opaque black with a tan head that quickly disappears to nothing. It leaves virtually no lacing and little to no legs. The nose is roasty with coffee and dark chocolate but lightly scented. The flavor is slightly sweet with a good amount of coffee and chocolate but also a little hops. It is very light on the palate. Im not totally sure how to judge this one. I enjoy it but at the same time don't. Can't wait to try other beers of this style so I can get a better idea of what it's going for.
621 characters

3.73
/5
rDev
-3.9%
look: 3.75 | smell: 3.75 | taste: 3.75 | feel: 3.5 | overall: 3.75
A - Pours a motor oil black with a very thin off white head. Nice amount of lacing.
S - Roasted malts with a light amount of dark chocolate.
T - Taste is like the smell, dark roasted malts with a hint of dark chocolate. I also get a caramel like sweetness in the finish.
M - Meium bodied with medium carbonation. Watery mouthfeel. Very easy drinking.
O - Not bad by any means. Reminded me more of a watery black IPA. Would make a nice winter session beer.
460 characters

3.74
/5
rDev
-3.6%
look: 4 | smell: 3.75 | taste: 3.75 | feel: 3.5 | overall: 3.75
Pitch black brew with nice mocha head that leaves some spotty lace after each drink. Malt forward with a dry bitter finish. Smells nice - malt, black licorice, some spice bread. Solid brew - glad I tried it. I'd love to have this again at Shanty creak on a winter day.
268 characters

4
/5
rDev
+3.1%
look: 4 | smell: 4 | taste: 4 | feel: 4 | overall: 4
Got this from the Short's Limited edition variety pack. Served in a flute.
A: Pours a almost opaque dark brown-black color with almost no head except for a thin off white ring and a few splotches of lacing.
S: Smells of barley, wheat, coffee, malts
T: Mellow flavor, sort of woody, dry, a bit sweet. Really tastes of coffee, barley, a tinge of hops
M: Medium bodied, smooth flowing beer, with medium amounts of carbonation
O: Overall I was quite impressed with this one. It was well balanced, not too sweet, not too dry, an overall good lager.
550 characters
4.04
/5
rDev
+4.1%
look: 4 | smell: 3.75 | taste: 4.25 | feel: 4 | overall: 4
Nice surprise in the variety pack. Thought they were only serving it at the ski-hill
A: Very thin pour, almost immediately what you'd except from a lager. Poured into a snifter (i know weird) that left little head on top.
S: Heavy on the smokey, roasted flavors of fall. Very crisp and dry notes off coffee and chocolate.
T: Surprising character from what you'd find in a somewhat under-appreciated category. Huge upfront blast of chocolate, caramel, and toffee mixed with subtle burnt oak undertones.
M: For a lager, it had quite a thicker mouthfeel. More reminiscent of a black IPA without much hop presence. Very smooth and very easy to drink and leaves very little on the pallet.
O: Very good offering from Short's
727 characters
Short's Black Diamond from Short's Brewing Company
3.88
out of
5
based on
98
ratings.