Short's Anniversary Ale Part Deux 2007 - Original Version
| Short's Brewing Company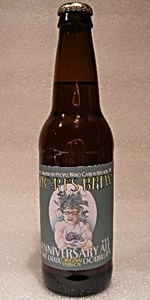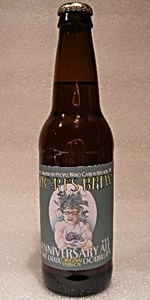 BEER INFO
Brewed by:
Short's Brewing Company
Michigan
,
United States
shortsbrewing.com
Style:
American Double / Imperial IPA
Alcohol by volume (ABV):
9.50%
Availability:
Limited (brewed once)
Notes / Commercial Description:
No notes at this time.
Added by hoppymeal on 05-02-2007
This beer is retired; no longer brewed.
HISTOGRAM
Ratings: 13 | Reviews: 11
Reviews by SaCkErZ9:
More User Reviews:
3.74
/5
rDev
+1.4%
look: 3 | smell: 4 | taste: 3.5 | feel: 4 | overall: 4
Pours an orangey amber color with a mild haze that is most likely from the hops, lacing is decent form the modest amount of carbonation. Wild flowers and minty piney herbal aromas from the hops, hint of biscuity malt in the back of the nose. Oh yeah, this screams DIPA all the way with a sharp enough bitterness to show its strength to the long lingering puckering pungent oil flavor that follows. Sure there is some malt in there, perhaps enough to hold the beer together. Alcohol is there as well with a nice warmth and a long bitter finish.
I certainly received my hop fix here, this beer is for serious hopheads only.
622 characters
3.56
/5
rDev
-3.5%
look: 3 | smell: 4.5 | taste: 3.5 | feel: 3 | overall: 3
Originally reviewed July 19 2007. 12 Oz Bottle. 2007 release. Labeled as "Anniversary Ale, Part Deux, Original Version, Double IPA." Aroma builds as an intense musky soap, swirling with a laughter of hop candies, orange rinds, intricate malts and rich bourbony alcohols. Not hot. Wonderful mature pale fruit tones and a blast of all the high, sweet citrus one could ask for. Glowing. A Barleywine, if I didn't know better. Pours a crystal clear amber, middled in orange and outwardly in tawny gold. A faint rim of off-white and nip of percolation. Flavor is intense, to say the least. Hops are forward in many flavors. There's a white pepper and celery, backed with a long sweetgrass dew note, and then a mild pack of pine resins and faint citrus. Malt character obliterated. Volatile and nostril singing. Oxidation slides in for a bit and runs with some aged hop character, maybe nosed by some EKG. Particularly bitter just before the smack. Oh no! Filtration. Doesn't seem to overly affect the beer, but you can sense it. Strong. Interesting and I think embodying a double IPA, in the sense that it's really twice an IPA, instead of just a lot of hop character in a pale form. Any aging may have hurt this beer a little, with some old hop coarseness. My first Shorts, yet not my last, thanks to my main man Sean!
1,318 characters
3.97
/5
rDev
+7.6%
look: 3.5 | smell: 4 | taste: 4 | feel: 4 | overall: 4
red amber with a small head, a little lace that faded into a nice coating with eddys and swirls embedded in the bubbly lace, lingered to the last drop. Smell was sweet, very very sweet. Candy apple, caramle, cherry were all over this and predominated. Slight hop back detected and a tiny bit of alcohol. Did I say sweet!
The taste followed the same route with the huge candy sweetness predominating some other hints of apple, cherries, grapes. Some alcohol, but it is mostly balanced by the rebost flavors. Goes down very smooth, light and crisp. Tingles and warms as it goes. Carbonation is not overally done though. Overall this is a very nice brew, a little too sweet to have more then one or two, but is perfect as a sipper after dinner.
742 characters
3.88
/5
rDev
+5.1%
look: 4 | smell: 3.5 | taste: 4 | feel: 4 | overall: 4
Thanks to hopdog...
Appears a semi transparent, golden orange toned amber with a small white head that slowly fades into a small cap. Spotty lacing is left around the glass.
Smell is of spicy, floral, pine, and citrus, with some biscuit, and caramel malts.
Taste is of the mentioned aromas with more of the caramel malts, and biscuits standing out with the heavy citrus, and pine jumping along the taste buds.
Mouthfeel is medium bodied, sticky, with a slickness on the palate during the finish.
495 characters
4.17
/5
rDev
+13%
look: 3.5 | smell: 4 | taste: 4.5 | feel: 4 | overall: 4
12oz bottle acquired in trade with hoppymeal (thanks!!). Tasted side by side by side (Original , Dry hop, & Grapefruit versions).
Poured a medium and clear amber color with a small sized off white head. Aromas of citrus, caramel, 'sticky', and some pine. Tastes of caramel, citrus, pine, and a nice bitter finish. Out of the 3, I found this one to be the most bitter.
Notes from and tasted on 2/22/08
402 characters
3.52
/5
rDev
-4.6%
look: 3 | smell: 3.5 | taste: 3.5 | feel: 4 | overall: 3.5
Something like $9 per bottle. Purchased by my mother and carried in her luggage all the way out here to Colorado. Thanks a million to her for the opportunity, and to Joe for making and bottling it. Cheers!
Pours a cloudy dark copper with almost an intact layer of tan head. Smells piney, oranges, oxidized sherry, and a bit medicinal. Like a hop-flavored cough syrup. Clean alcohol sting burns the nose.
Tastes wicked potent of hops with a supporting hop bitter. Not co-humulone grassy, but dry hop oil bitter. Hop flavors are oranges and sourish pine with some tangerine fiber. Malt sweet is a player in the game, but falls in the end to leave the finish and aftertaste drying. Malt and/or esters are oranges, peaches (strongly), and some apricot. Alcohol is noticable throughout, but is most clear in the finish. Clean of fusels and intertwined with the hop bitter very well. Lingering hop bitter fades very slowly. Moderate carbonation and heavy body that doesn't cling. The thick liquid is lifted from the tongue by the carbonation, alcohol, and drying hop bitter.
Sorry, Joe, I wish I could have given higher scores all around. Overall, I found the finish a bit overbearing hoppy dry. I'm not a fan of the piney hops, so that may have contributed to my lack of satisfaction. Moderately drinkable, IMO. I have a bottle of the grapefruit version for tomorrow night and am eager. I *love* graefruit pith hoppy beers!
1,427 characters
3.83
/5
rDev
+3.8%
look: 4.5 | smell: 4 | taste: 3.5 | feel: 4 | overall: 4
Bought straight from the source in Sept 2008.
Appears to be only lightly carbonated as I pop the cap. Pours a deep orange. Very nice.
Hops have started to fade, which I was worried about. Still plenty of bitterness in the finish, and long lasting. However, it lacks the punch that I believe it would have had fresh. Has mellowed with a barleywine-like fruityness and syrupy character.
If you (like me) don't like the flavor and character faded hops impart into a beer, then drink this ASAP or trade it to someone who likes those characteristics. Wish I could have tried it in its prime.
I probably wouldn't have rated this beer, but its retired, so I can't affect the score.
682 characters
3.48
/5
rDev
-5.7%
look: 4 | smell: 3.5 | taste: 3.5 | feel: 4 | overall: 3
A - Sniftered. Pours a hazy, autumn color. Sorta orange, sorta golden, sorta amber. The head is a soap bubble wisp that isn't really fading. Scant lacing, but it's there.
S - Hoppy. Hop oil, hop resin, hop juice. Pine, flowers, spices... definitely more malt in the nose than 8 months ago when I last had it. As it warms, it has a super-sweet coolant/molasses vibe... rounds it out rather well.
T - Starts with massive citrus notes... obviously pretty hop-centric. Piney, the whole nine. At least at first. It finishes with a weird marijuana resin coupled with a dry, hoppy bitterness. Malt is hardly playing a role, even after almost 2 years.
M - I quite like the mouthfeel. It's rather thick and has a nice, minimal carbonation without being flat. It hardly detracts, and in fact, adds to the brew.
D - Not supremely drinkable, but nothing I'd turn down. Do I want another? No, but I also know how good the Grapefruit and Dry-Hop versions are.
Notes: This is my least favorite from the 2007 Anniversary series. I didn't get a chance to try it fresh, but have a feeling it may have been a bit more standout.
Joe's DIPA's are up there with the best in the state, but this one falls a little short. No pun intended :)
1,224 characters
3.54
/5
rDev
-4.1%
look: 3 | smell: 4 | taste: 3.5 | feel: 3 | overall: 3.5
Received this brew awhile ago from Northerbrews. He's been ultra generous in hooking me up with Short's God love em! Drank from my Stone India Pale Ale tulip.
Appearance- Pours a light orange that is fairly clear with a nice big off-white creamy head. The head recedes fairly quickly leaving a light cap and thin collar with not a lot of lacing.
Smell- Super piney and resiny with vibrant hints of grapefruit every now-and-again. As it warms the hops turn slightly more tangerine and lemon zest like. Almost candyish in the nose at times. Bubblegum and licorice are mighty prominent as is some strong alcohol. Slightly toasty with a light vanilla and coconut background.
Taste- Quite a bit of warming alcohol upon my first sip. The hops are bitter and abundant and are somewhere between pine/grass and citrus. Plenty of grapefruit and orange along with an almost sort of dark fruity aspect (raisins and dates). Some biscuity malt tries to cut into the beer but really just adds a bit of sweetness that blends with fruitiness of the hops creating a very candy like flavor. Some caramel and bubblegum cut in under the hops and alcohol for a brief moment before the bitterness takes all away. A lingering sort of pineapple and grapefruit go on and on.
Mouthfeel- It's a nice full beer but it can feel oily and watery at times since it's so hoppy and alcoholic. Very warming on the start and finish.
Drinkability- Well I liked the first two that I tried better (2007 Anniversary Part Deux - Dry Hopped & Part one) but this isn't bad. I think the barrel aging thing really helped mellow everything out. Fun to try but the others are way better. Thanks Jeff!
1,653 characters
3.2
/5
rDev
-13.3%
look: 3.5 | smell: 3.5 | taste: 3 | feel: 3.5 | overall: 3
Appearance: Pours a hazy, light amber body with tiny, short-lived white head.
Smell: Resinous hop aroma of citrus and pine with a meager bit of malt lingering tired and dazed in the background.
Taste: Scant malt flavor and sweetness. Sharp, resoundingly citric hop taste with a moderate bitterness. A taste of aspirin ground with mortar and pestle that, instead of curing me of pains, only caused a headache. Finishes as dry and bitter as one might imagine.
Mouthfeel: Medium-thin body. Mild carbonation. Slightly oiliness.
Drinkability: Fell way short when compared with that lovely Grapefruit version of the Part Deux Anniversary Ale.
640 characters

4.05
/5
rDev
+9.8%
look: 4 | smell: 4 | taste: 4 | feel: 4.5 | overall: 4
Pours fire orange to copper in color, clear, a quick flash of off-white head briefly covers the surface then fades just as quickly. A lightly syrupy sweet malty aroma accentuates the citrusy hop notes, grapefruit and tangerine dominate. Some sweet berry and fruitiness from the malts and a bitter resiny and piney hoppiness come thru in the aroma as well. Sweet fruity malts and tangerine citrus linger on the tongue and mix with a slight peppery tingle on the tongue. A good sized orange rind bitterness crashes the palette along with a stronger pepperiness and piney-ness. A bit of the alcohol is evident in the finish. Finishes fairly dry from the big bitterness. Definitely a good dose of malts are evident in the aroma and taste to balance the strong hoppiness but the mouthfeel is not overly heavy due to the low level of carbonation. Very nice solid dipa, look forward to the BA versions.
895 characters
Short's Anniversary Ale Part Deux 2007 - Original Version from Short's Brewing Company
Beer rating:
3.69
out of
5
with
13
ratings