Peaches & Cream
| Short's Brewing Company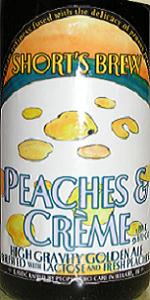 BEER INFO
Brewed by:
Short's Brewing Company
Michigan
,
United States
shortsbrewing.com
Style:
Fruit / Vegetable Beer
Alcohol by volume (ABV):
8.30%
Availability:
Rotating
Notes / Commercial Description:
No notes at this time.
Added by hoppymeal on 06-11-2007
Reviews: 80 | Ratings: 278

3.37
/5
rDev
-15.5%
look: 2.5 | smell: 3 | taste: 3.5 | feel: 4 | overall: 3.5
Bottle courtesy of MordorMongo. Thanks Scott!
It's one pours a light bodied very bright, polished copper n color with no head or lacing. The nose is big and sweet, featuring golden malt, a lot of lactose, and a good amount of alcohol. I don't pick up any peach or fruit character. The flavors are syrupy and sweet on the verge of cloying. I get peach syrup, honey, loads of sweet pale malt, plenty of alcohol and that's about it. It's a little rough around the edges. It drinks much fuller in body than it poured. The alcohol lets you know right off the bat how big the beer is. Luckily more peach comes out the longer you drink. It resembles a peach marmalade, so still very sweet. Overall this one was a disappointment especially after reading reviews. It was too big and too sweet for its own good in my opinion. I would like to see what this beer could've been in the 6% range.
882 characters
3.28
/5
rDev
-17.8%
look: 4 | smell: 3.5 | taste: 3 | feel: 4 | overall: 3
Thanks for sharing this one, Chris!
Lots of head after an aggressive pour atop a hazy peachy-orange brew.
Sweet canned peaches aroma, some spice and just general creamsicle sweetness. Same kind of flavors going on in the taste. The first sip or two, I thought I really liked this, but as time went on and my glass warmed, it became a bit of a chore. A little tangy-ness in the taste. Fanta? Sweet and creamy mouthfeel, it's like peach cobbler but without the crust. Kind of too sweet and a bit much after a while. Medium carbonation and decent substance of the mouthfeel try to help, but this would be best shared in 4oz servings or less. Alcohol is well integrated, though.
678 characters

3.26
/5
rDev
-18.3%
look: 3.25 | smell: 3.5 | taste: 3 | feel: 3.75 | overall: 3.25
Tasted 15 January 2014, reviewed from notes.
Pours 99% clear orange, with tinges of gold and amber. Almost zero head, just a thin little sizzle of bubbles that are gone in a second. No lacing.
Mostly, this smells like sugar. Okay, it's lots of different kinds of sugar, but it's sugar. After that, it's Belgian golden. After that, some peaches. After that? All those things combining into Short's style weirdness. On the whole, it only kinda works for me.
Taste is big alcohol. I would not say that this tastes like peaches and cream. It tastes like a very strong Belgian golden ale, with dustings of peach and sugar. Cream? Not that I can find. Alcohol is about as front-and-center as it can be for a beer of this ABV. The sugar covers it just enough to make it palatable.
Feel is better than I expected given the appearance. It's actually carbonated! Feels heavy and juicy, but the carb is enough to lighten things.
Not my favorite. Short's has to be one of the oddest breweries around. This one's more of a miss than a hit for me.
1,048 characters
3.16
/5
rDev
-20.8%
look: 4 | smell: 3 | taste: 3 | feel: 4 | overall: 3
Poured from the blinded bottle into a tulip glass.
Appearance: The beer pours a cloudy light amber color with a layer of off white head. The head fades to a good sized ring on top of the pour. 4
Smell: I'm getting some sweet malt along with some raisin like fruitiness. I'm also picking up some unidentified spices as well. There is a hint of citrus juice behind everything else. 3
Taste: Malt forward with some sweet fruity notes. I'm getting some raisins and pineapple like flavors. Behind the fruity flavors are some spices and a bitterness in the finish. I think the overall flavor is a bit muddled. 3
Mouthfeel: Medium body with light, tingly carbonation and a very dry finish. 4
Overall: As with bottle number 5, there was some interesting stuff going on here but nothing blew me away. 3
798 characters
1.82
/5
rDev
-54.4%
look: 3 | smell: 3.5 | taste: 1 | feel: 1 | overall: 1.5
I've gotten really big into microbrews the past year and a half. Being that I'm in Michigan I've been focusing on local brews. I've gotten really big into shorts. With that being said I stumbled across a 6er of this one day and was told it was the last one they had. I decided to give it a shot and didn't like it. Generally I like fruity beers but I feel they missed with this one. My buddy and I both tried it and we felt that it just didn't work. I've tried getting my way through the 6 pack and it just hasn't worked.
521 characters
Peaches & Cream from Short's Brewing Company
3.99
out of
5
based on
278
ratings.