Grass River Natural Ale
| Short's Brewing Company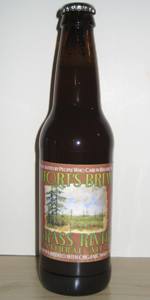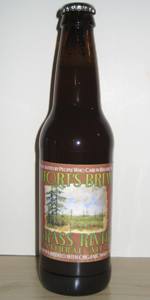 BEER INFO
Brewed by:
Short's Brewing Company
Michigan
,
United States
shortsbrewing.com
Style:
English India Pale Ale (IPA)
Alcohol by volume (ABV):
not listed
Availability:
Limited (brewed once)
Notes / Commercial Description:
No notes at this time.
Added by xav33 on 07-09-2007
This beer is retired; no longer brewed.
HISTOGRAM
Ratings: 7 | Reviews: 7
Reviews by xav33:
4.21
/5
rDev
+10.5%
look: 3 | smell: 4.5 | taste: 4.5 | feel: 3.5 | overall: 4
Shorts Grass River Natural Ale
12 oz bottle.
Recent brewing, enjoyed 07/07.
Moderate pour in a tulip glass.
Poured a hazy amber with a moderate fizzy mostly diminishing white head.
Smelt of moderate fresh hops, mostly spruce and its resin, and a light to moderate sweet bread and pineapple.
Taste was upfront strong bitter spruce and bittersweet pineapple and light to moderate honey and sweet bread followed by a strong bitter spruce and resin taste and a light sweet honey, gelatin and bread taste on a long buzzing green hops finish.
Palate was light to medium bodied, slightly oily, lively carbonated and moderately astringent and numbing from the hops.
Overall, this is a very good English style IPA. Tastes like fresh hops. It feels like a fresh undiscovered forest. Great stuff!
803 characters
More User Reviews:
3.85
/5
rDev
+1%
look: 3.5 | smell: 3.5 | taste: 4 | feel: 4 | overall: 4
12 Oz Bottle. Aroma is a nice tangy, hop resin and spiced rum aroma. Light alcohols carry a very old world hop scent to the nose. Bits of Styrofoam mingle. Pours a hazed peach golden with rim of soapy white, rocky on the way down. Flavor rings with some bitter hop Styrofoam again, I'm pretty certain this is derived from one of the hop varieties, but a whole mouth of chewy candied orange and caramel malt brings earthly delight. Explosive and granular. Texture is right on for the style. There's some fun musty spice, speaking of Indian Curry and Caribbean pickling. A nice beer and a wonderful rendition of the particular style. Thanks Sean!
644 characters
3.66
/5
rDev
-3.9%
look: 4.5 | smell: 3.5 | taste: 3.5 | feel: 3.5 | overall: 4
12oz bottle obtained via trade with CRJMellor. Thanks for the opportunity...
Poured into an imperial pint glass, formed a 1" white head over the cloudy golden amber brew. Head fades gradually, with thick lacing. Aroma is pale grains with a light fruity hoppiness. Flavor is fleeting light maltiness dominated by somewhat generic bitterness that seems a bit strong for an English-style IPA. Mouthfeel is soft over the tongue, and drinkability is pretty good. Not a bad intro to this brewery which is new to me.
513 characters

3.62
/5
rDev
-5%
look: 3.5 | smell: 4 | taste: 3.5 | feel: 3.5 | overall: 3.5
Pours a cloudy orange-ish color with a nice big white head. Aromas that are earthy/ grassy and a plesent dry hop smell. In the taste a dry hop bitterness. A smooth mouthfeel and a bitter hop aftertaste. Mellow and smooth with a very nice bitter. A very nice beer.
263 characters
3.88
/5
rDev
+1.8%
look: 4 | smell: 3.5 | taste: 4 | feel: 4 | overall: 4
A 12 oz. bottle (courtesy: CRJMellor), uncapped and a gusher, nearly spilling across the counter but for a deft glass-to-bottle move on my part. My first from Short's Brewing - "Handcrafted by People Who Care in Bellaire, MI"...awwww...
A: Murky-looking orange/amber, surprisingly cloudy. Initially a huge 4-finger billowing head, fluffy and fizzy, off-white. Fades gradually within a couple minutes to a 1/4" of dense bubbliness, leaving behind a fair amount of speckled lace. Little carbonation visible through the haze, after an initial swirling tempest when poured.
S: Grainy cereal malt and plenty of herbal and grassy/bitter hops. A nice change from the sweeter/citrus-y American-style IPAs.
T: A dryer, more bitter hop profile married with a grainy, lightly sweet malt bill. Hops transform from grassy/earthy to more zesty/spicy mid-mouth, all the while holding a green "grassy" flavor that's hard to put a finger on exactly. Suffice to say this is a milder IPA than the typical 'American' version, with gentle hops a clean finish and a well-executed balance.
M: Medium mouthfeel with a mild/moderate carbonation. This one has a tongue-grabbing dryness and a lingering maltiness that's sticky on the lips and across the tongue. Spicy hops bitter the finish, keeping it clean.
D: Likable IPA, easy to drink and fairly interesting. Nice hop/malt balance, a hallmark of the more subtle English IPA style. This one I'd be happy to have again. Thanks for the extra, Craig.
1,480 characters
3.66
/5
rDev
-3.9%
look: 3 | smell: 4.5 | taste: 3.5 | feel: 4 | overall: 3
Two finger white clingy head over a very cloudy peach-flesh liquid. Head settles slowly with phenomenal lacing. Smells oranges and woody. Touch of earthy spiciness. Tangerine and dried fruits, like a trail mix.
Tastes wonderful. Orange hoppiness and pineapple just countered with a biscuity malt sweet and notable acidity sourish. Has an english hop woodiness to the hops and esters that meld well with the hop flavors. Malt dries away in the finish leaving bright citrus hop netronasal and tang pith acidity on the front-edges of the tongue. I suspect that what I am finding acidic is likely composed of moderate hop bitter combined with mild acidic.
Md body and md thick in the mouth is good to keep the sweet around to keep the acidic from being too much. Started quite drinkable, but the finish is becoming a bit pithy near the bottom of the glass.
854 characters
3.8
/5
rDev
-0.3%
look: 3.5 | smell: 3.5 | taste: 4 | feel: 3.5 | overall: 4
12 ounce bottle courtesy of Xav33- thanks X! Pours a hazy straw colour with very good head retention. Aroma's of sweet fruit in the nose. Taste- very nice hop bite at first sip, juicy and aromatic. Malts- cereal and grainy. Blends well with the juicy hops. The grassy and woody side of the hops take over at the finish. I can't exactly place the hops- given its an english IPA, I'll presume mostly english. If so, there was more pine and citrus than I would have expected. This is a good quaffer, refreshing and carbonation levels are spot on. I never even noticed that it was an organic offering - a great organic beer for those interested in all things organic. A good brew for a hot and sticky summer day.
708 characters
Grass River Natural Ale from Short's Brewing Company
Beer rating:
3.81
out of
5
with
7
ratings