Ginger In The Rye (Rye Munich Weizen)
| Short's Brewing Company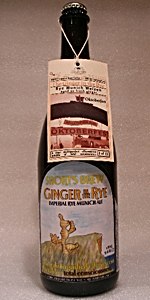 BEER INFO
Brewed by:
Short's Brewing Company
Michigan
,
United States
shortsbrewing.com
Style:
Hefeweizen
Alcohol by volume (ABV):
7.85%
Availability:
Rotating
Notes / Commercial Description:
No notes at this time.
Added by BeerBeing on 10-13-2007
Reviews: 53 | Ratings: 163
3.78
/5
rDev 0%
look: 4 | smell: 3.5 | taste: 4 | feel: 4 | overall: 3.5
750ml bottle. #6 of 1104
Pours into my glass a deep, hazy amber orange and brings a big creamy massive foamy head. Tons of carbonation, maybe a bit too much. Head sticks around as I wait for it to fall a bit. Aromas start off with spicy rye grain notes alongside yeasty notes of clove, pepper and mellow banana. The ginger is there in the background although it seems to have faded a bit. Touch of bready, caramel almost. Pretty nice, though it's showing its age.
First sip brings a dry, crisp spicy rye malt upfront with accents of caramel sweetness and bread. It flows into weizen yeast accents of clove, pepper and mild fruity banana accents. Spicy/sweet ginger hits as the brew flows down the back of the palate. The brew finishes dry with a lingering spiciness. Just a touch of heat from the ginger. Quite an interesting, tasty brew.
Mouthfeel is medium bodied and dry with a rush of fast moving carbonation that comes with every sip. Goes down fairly easily, but this one is showing its age at this stage. I wish I could have had it fresh as I'm guessing the ginger flavor would have been brighter. Still, it's a tasty treat in a series of brews that I have really enjoyed so far.
1,189 characters
3.93
/5
rDev
+4%
look: 4.5 | smell: 4 | taste: 4 | feel: 4 | overall: 3.5
Appearance: Pours a cloudy light amber color, the head brobdignanian in size; less lacing than I expected, but the head sticks nicely
Smell: Spicy aromatics of candied ginger with sour rye notes and, perhaps it is just the power of suggestion, a more traditional hefe aroma underneath; a bit of a battle for the the attention of the nostrils
Taste: Like the aroma, there is a battle over the tastebuds, with the candied ginger flavor spicily (word?) dominating the other flavors; there is a hefe underneath, but it hardly has a chance to make an appearance
Mouthfeel: Medium bodied with prickly carbonation
Drinkability: Another interesting experiment from Short's, and I find that I enjoy the sips more when I think about the brewing technique than when I mindlessly go through the motions
Thanks, hoppymeal, for another unique opportunity
845 characters
3.96
/5
rDev
+4.8%
look: 5 | smell: 4 | taste: 3.5 | feel: 4 | overall: 4.5
Rye Munich Weizen aged on fresh ginger
Weihenstephan yeast
7.85%
pours darker than expected, almost reddish-orange into a weizen glass. produces one of those mountanous shaving cream heads that jettisons straight up and never spills over, creating something that looks like a half eaten carvel cone. i try without success to eat off the foam as it grows. it just keeps growing back. struggling with gas pains from rapid co2 consumption, i tear into the brew.
smells quite like what you'd expect a beer brewed with weihenstephan yeast to smell like. surprisingly, the dry earthiness of the rye is more prominent in the nose than the copious amounts of fresh ginger which barely register in the aroma. the gentle spicing of rye provides a nice foil to the banana, and seems to assist with the accentuation of the clovey wafts.
first sip, bam there's the ginger. not in a ginger aley way either.. something a little more bitter with less tang. fresh ginger root for sure, the flavors have started to resemble pickled ginger a bit.. perhaps due to soaking in beer. spectacular lacing as i drink the beer, giving the appearance of a slinky inside my glass. hefe/wheat character provides a familiar mouthfeel with the crispness of tiny bubbles.. all other elements of the base beer are muted in flavor of the ginger, and the rye which brings a really special dryness to the finish. no booze whatsoever.
overall, there are some neat flavors in this bottle. i am slightly disappointed that what seems to be a good base beer is painted over with such heavy-handed strokes, but i am still content with the inventiveness and palate-challenging flavors.
not the best of the series, but a solid offering nonetheless
1,707 characters
Ginger In The Rye (Rye Munich Weizen) from Short's Brewing Company
3.78
out of
5
based on
163
ratings.