Aorta Ale (Double Red Ale)
| Short's Brewing Company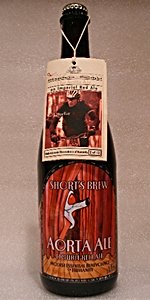 BEER INFO
Brewed by:
Short's Brewing Company
Michigan
,
United States
shortsbrewing.com
Style:
American Amber / Red Ale
Alcohol by volume (ABV):
8.30%
Availability:
Rotating
Notes / Commercial Description:
A double red ale that seems to indicate an intensity of flavor simply by it's dark reddish brown appearance. Subtle aromas of candy, brown sugar, and toasted malt seem reluctantly released from the depths of this full bodied beast. Raisins, figs, and burnt caramel are among some of the sweeter flavors up front, before giving way to a roasted cocoa like bitterness that becomes magnified by high alpha hops. Considering the initial overall sweetness, it's a heightened bitterness that dominates the finish.
127 IBU
Added by BeerBeing on 10-13-2007
Reviews: 56 | Ratings: 164
3.7
/5
rDev
-7.3%
look: 4 | smell: 4 | taste: 3.5 | feel: 4 | overall: 3.5
750ml bottle acquired in trade with hoppymea (thanks Derek!). Bottled on 2/6/07 and # 117 of 780.
Poured a medium amberish color with a larger sized off white head. Aromas of caramel, some dark fruits, a little earthy, and citrus. Tastes of caramel, dark fruits, toffee, and some citrus. On the sweeter side. Creamy body.
323 characters
4.12
/5
rDev
+3.3%
look: 4 | smell: 4.5 | taste: 4 | feel: 4 | overall: 4
Bottle sample shared by alexsdad06.
Pours a dark clear brown color with an average frothy brown head that mostly lasted with good lacing. Moderate to heavy roasted malt and hoppy aroma. Medium body with a slick texture and soft carbonation. Medium to heavy malty sweet flavor with a medium to heavy bittersweet finish of moderate duration.
This is a standout beer.
366 characters
4.08
/5
rDev
+2.3%
look: 4.5 | smell: 4 | taste: 4 | feel: 4.5 | overall: 4
750ml bottle acquired in the Fight Club BIF from Hoppymeal, dated . Bottle # out of . Consumed on 07/08/2008.
A big, huge, enormous, thanks goes out to Hoppymeal for hooking me up with this one as well as the next few Short's brews I will be lucky enough to be sampling. I grabbed this one last night as the first one of the batch I was going to try as I did not want something too heavy with diner. Served right at 50 degrees and poured into a snifter, this was a lovely looking beer from the get go. Rich reddish amber color with a nice half inch head of frothy off white lace. Nice retention left this one having a good layer on the top and some very nice side glass lacing. Good carbonation could be seen streaking up towards the top of it.
The aroma was nice and rich. Some light hop bite still left in it, but you could tell the majority of it had mellowed quite a bit. Nice notes of caramel and sugary malts, classic red ale breadiness as well. This carried over well into the flavor. A somewhat bitter note struck me first, which was followed up with a semi sweet caramel tone. Solid biscuit like flavor is dolling around in the middle. Hops begin to show their color around the finish, giving it a nice pine and citrus like feel, but backing off before becoming dominant in any way. This was definitely driven by the malt for sure. Very nice and creamy smooth Mouthfeel, very chewy with a great consistency. Never really a dull moment here as the carbonation was really quite nice and left a very good impression with me. An easy drinker as the alcohol was nowhere near out of hand, and I thoroughly enjoyed sipping on this for a couple hours last night.
Overall I thought this was a very nice introduction to the world of Shorts for me. A classic for sure and left me itching to try the rest of the lineup. I would have to recommend this one for anyone, and it is clear that the couple years have treated this very well.
1,933 characters
3.73
/5
rDev
-6.5%
look: 4.5 | smell: 4 | taste: 3.5 | feel: 4 | overall: 3.5
750ml bottle. #199 of 780.
Pours into my glass a deep maroon red with a solid inch of creamy khaki head on top of the brew. Good clarity with patchy lacing and a head that lingers on. Aromas start with a big dose of caramel malt alongside some roasted notes. Citrusy, piney hops are quite well placed in there too. Toasty with a fruity undercurrent as well, but big on the caramel. Slightly oxidized as well.
First sip brings a caramel / toasted malt upfront that flows into fruity, somewhat doughy notes as well. It moves into citric, earthy hops, definitely Cascades, but time has taken its toll and the hops have faded quite a bit. A bit nutty as it flows down with more fruitiness and a good bit of bitterness. Finishes smooth and malty with a bit of oxidation on the end as well.
Mouthfeel brings a solid body with a nice creaminess as it flows down. Mellow carbonation throughout. Nice and chewy, it's a big red ale that also goes down smooth and is quite refreshing. Overall, it's not my favorite from the series that I've tried so far but it's still a solid, tasty brew. Wish I would have had it fresh because the hops have faded quite a bit. I've been loving trying these Imperial Series beers, cheers to Shorts!
1,224 characters
4.05
/5
rDev
+1.5%
look: 4 | smell: 4 | taste: 4 | feel: 4.5 | overall: 4
Huge thanks to Derek(hoppymeal) for this trade at DLD. I had no clue this was such a limited release :x
#11 of 780
Bottled 2/6/07
750ml brown bottle, poured into an imperial pint.
A: Pours a deep blood red so thick that not much comes through. A nice 1 1/2 fingers of lightly tinted head forms pretty tight and holds nicely. Some nice patches of sticky lacing.
S: Nice and hoppy(citrus, light resin and pine) with a hearty amber ale backbone. The aroma is on the subtle side but I swear I'm getting a touch of sour/funk. I guess we'll see.
T/M: The sour/funk flavor actually turns out to be a highly acidic mandarin orange flavor... that I'm not sure I could have picked apart without reading joe1510's review first. This flavor makes up nearly the entire hop side with a slow forming but assertive bitterness. The malts lay pretty heavy with big caramel and dense dark bread characteristics. The body is medium heavy with a smoothness from lightened carbonation. Finishes lightly dry with lasting bitterness.
D: I drank this rather slowly but that's not to say it was a challenge to drink it. It's just one of those complex beers that you need to take your time with. Thanks for the brew, Derek!
1,202 characters
4.15
/5
rDev
+4%
look: 4.5 | smell: 4.5 | taste: 4 | feel: 4 | overall: 4
750ml
Bottle #184 of 780
Brewed 7/5/06
I was lucky enough to land this in a great trade with Hoppymeal, thanks Derek! Aorta Double Red pours a glowing slightly hazed ruby red. A few fine carbonation bubbles make their way to the surface but there's not much action. Two fingers worth of ivory head formed on the pour and eventually fell to a thick cap leaving sheet lacing on the fall. A really great looking beer!
My nose is immediately greeted with a good amount of mandarin orange and a tea-leaf like hoppiness. The mandarin is something I don't come across very often and I'm really diggin' it! Light caramel and toasty malts lay down the foundation and add a touch of sweetness. A hoppy red ale? Just my style!
The flavor follows the aroma step-by-step. The toasted graininess sets the stage for the more dominant hoppiness. There's hardly any bitterness involved but more of flavor, aroma, and a big dry hopping. The hoppiness comes along more tea leaf like in the flavor than the mandarin the aroma suggested but that may be because it's been a year and a half since the brewing. A very well put together red ale.
I've sampled a few Short's beers and the mouthfeel has been very good on each one, this is no exception. They manage to keep the body lighter than expected for such big beers. Velvety medium body with a mild carbonation but there's just enough there to tickle the tongue.
Aorta Ale is an easy one to put away. The alcohol, at 7.6%, never gets in the way. And it's all at once refreshing and delicious!
Aorta Ale is another really good brew from Short's. I would have loved to get a bottle of this fresh and give it a try. I'm sure the Columbus used would have been a real treat fresh because they're still damn good after a year and a half.
1,768 characters
Aorta Ale (Double Red Ale) from Short's Brewing Company
3.99
out of
5
based on
164
ratings.