Short's Bourbon Barrel Sustenance Black Beer
| Short's Brewing Company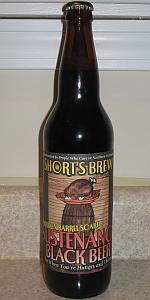 BEER INFO
Brewed by:
Short's Brewing Company
Michigan
,
United States
shortsbrewing.com
Style:
Schwarzbier
Alcohol by volume (ABV):
6.50%
Availability:
Spring
Notes / Commercial Description:
Sustenance Black Beer aged it in bourbon barrels for 11 months.
Added by Baileyuk on 04-28-2008
Reviews: 80 | Ratings: 201

4.47
/5
rDev
+12.6%
look: 4 | smell: 4.5 | taste: 4.5 | feel: 4.5 | overall: 4.5
Bottle brought back from my trip to Michigan. Drank after the golden delicious...at around 12:30pm on a Sunday...
A - A thick head with a pour, retains about a inch or so of head after the pour and holds onto it for a while. Black and brown with a ruby hue. Slight lacing retention.
S - Fresh bourbon and a little sweet toffee, carmael and light brown sugar.
T - Zesty vanilla and a bit earthy. Only slight bit of bourbon. Suprising difference between the smell and taste in that I expected the taste to follow the smell, but it was only slightly the case. Very enjoyable though.
M - Lighter than I thought based on the nose and the taste. I expected it to feel thicker than it was. The carbonation is perfect and crisp, easy and enjoyable to drink.
D - A very nice treat. The senses say one thing while the texture says something different. Very complex and a nice suprise. I'm very please and wish I bought more.
919 characters
4.12
/5
rDev
+3.8%
look: 4 | smell: 4.5 | taste: 4 | feel: 4 | overall: 4
2011, poured from a bottle into a snifter.
A - Pours black with a very bubbly light tan head. Head remarkably sticks around for quite a bit.
S - Appropriately named, this beer smells quite full. Barrel and a hint of bourbon hit first, along with a maltiness and almost breadiness that makes this beer smell quite intriguing. Some vanilla notes and slight cherry come through more as it warms. Wide range of aromas from dark to sweet.
T - An intriguing barrel aging. The bourbon is not as forward in this as most bourbon barrel agings go. If anything, the malt hits first and the bourbon comes later as an afterthought, leaving some alcohol burn and punch. A nice roast to the taste to add to the flavors. If this were considered a stout, I'd say it was thin. But for a schwarzbier, this has quite a bit of flavor.
M - Very smooth with some heaviness from the barrel at the end. Carbonation was good. Enjoyable.
O - A nice beer and something different which is always good. Not many barrel aged schwarzbiers out there that I know of. Great fall beer as it was dark, roasty, yet very drinkable. And the smell, while not overpowering, was quite eclectic. Would have again.
1,174 characters
4.15
/5
rDev
+4.5%
look: 4 | smell: 4 | taste: 4.5 | feel: 3.5 | overall: 4
Pours a dark brown with a small frothy tan head. The smell is a huge sour bourbon and vinegar aroma more pungent than any barrel aged beer I have come across. The taste begins with oak flavors followed by cocoa, alcohol and sour flavors. The mouthfeel is crisp and goes down easy with significant carbonation that tingles the tongue. Drinkability is good. I would not have more than on of these in a sitting but this is truly one of the most unique beers I have had to date.
474 characters
4.57
/5
rDev
+15.1%
look: 4 | smell: 4.5 | taste: 4.5 | feel: 4.5 | overall: 5
"For When You're Hungry and Thirsty"
I love this label.
Pours black with a small off white head.
Smell: Carafa and Crystal Malts, Caramel, with just a hint of Bourbon.
Taste: Chocolate, Vanilla, and Brown Sugar. Slight oaky aftertaste. If I didn't know this was barrel aged I wouldn't have guessed. It blends so well into the beer. Light bodied and very easy to drink.
I hope the regular Sustenance makes a return so I can compare. If memory serves me right most of the difference is in the finish with mild vanilla notes being the main difference in the taste.
569 characters
4.4
/5
rDev
+10.8%
look: 4 | smell: 4 | taste: 4.5 | feel: 4 | overall: 5
Brewery release only for the Short's Fourth Anniversary party. Only 350 bottles.
Poured from a 22oz. bomber into a tasting snifter.
The brewery confirmed that this is Schwarzbier that was aged 11 months in a bourbon barrel. The beer was 6.3% abv before barrel aged.
Pours a very dark caramel color, with some copper highlights around the egdes. Half inch, off white head forms, but dissapates quickly. Some spotty lacing is left behind.
Aromas of dark bitter roasted malts upfront, with the bourbon taking a backseat. As the beer warms, more aromas of bourbon, oak, and vanilla come through.
Very nice balanced barrel aged beer!! The bourbon blends well with this lager. Neither one dominates the flavor. This is how bourbon aged beers should taste!! You can pick out the roasted malt flavors, and the bourbon seems to complement this schwarzbier perfectly. More bourbon, oak, and vanilla flavors peak through as the beer warms.
The mouthfeel is a little thin, slightly oily, but thats par for the style. This black bier holds up well to the bourbon. This is the first barrel aged beer I've had, that doesn't leave you feeling full.
Extremely easy too drink, due to the lighter body and alcohol. I don't know what the final abv is after barrel aging, but its hidden quite well. There is a hint of alcohol warmth in the finish.
Overall, a fantastic barrel aged lager and another fine beer from Short's Brewing Co!
1,420 characters

4
/5
rDev
+0.8%
look: 4 | smell: 4 | taste: 4 | feel: 4 | overall: 4
Big thanks to Brewdan for including this one in a recent trade. This beer wasn't on my radar, but it should've been, and I'm very glad to have had the chance to try it. Enjoyed in a Becker glass.
Appearance:
This very dark brown beer looks opaque until you hold it up to a strong light, at which point it is revealed as a perfectly clear brownish-red brew. Beautiful ruby highlights. The head is dense, finely beaded tan foam with good retention. It leaves ghostly thin lacing behind.
Smell:
The first thing I get is a big bourbon aroma teaming up with a significant woody sourness. The bourbon is prominent, but really well integrated. Dry, dark roasted malt comes through next with a hint of oxidation. Brief glimpses of malty sweetness and fresh coffee are followed by the clean mineral character you get in a well-made lager.
Taste:
It pays to let this one warm up quite a bit. The first impression is a good dark lager with a touch of sweetness, notes of molasses and smoke, and riding on top is the woody sourness from the nose. A sweet nuttiness like toasted hazelnuts follows in the middle, with a mild fruitiness like bananas and golden raisins. The beer dries out in the end, and the bourbon which has been present all along comes to the front. The long finish is all wood and bourbon with hints of coffee and caramel cream. After the swallow, a lightly toasted coconut note from the barrel comes through on the breath. Very nice.
Mouthfeel:
Medium-bodied and silky. The carbonation feels a bit coarse at first, but diminishes nicely as the beer warms.
Drinkability:
This is a beer which rewards patient, slow drinking. Let it warm up and breathe. The base beer feels a bit overshadowed by oaky tartness, but the bourbon is amazingly well integrated. The hint of oxidation in the nose doesn't really show up in the taste. The beer displays alternating moments of sweetness and roastiness with tons of barrel character. It adds up to a beer I'd be happy to drink again, any time.
1,993 characters

3.6
/5
rDev
-9.3%
look: 4 | smell: 4 | taste: 3.5 | feel: 3 | overall: 3.5
Big thanks to FlanderNed for the trade, and Huhzubendah for sharing!
Pours thick & black, with a creamy tan head.
Lots of vanilla in the nose, along with oak & slight alcohol.
Flavor begins with vanilla up front, followed by sweet bourbon, malt, toasted oak and vanilla extract. Warming alcohol in the throat and sandalwood in the breath. There is a slight bitterness and sour notes throughout that distract attention away from the beer's better characteristics.
Mouthfeel is not quite as full as I'd expect from a beer like this, and I'd prefer a smoother finish, but then again, who's ever tried to barrel-age a Schwarzbier before? Kudos to Short's for pushing the envelope.
681 characters

2.99
/5
rDev
-24.7%
look: 4 | smell: 2.5 | taste: 3 | feel: 3.5 | overall: 3
12oz bottle 2011 edition poured into my bells goblet.
A- Dark brown, almost black, like a dark porter with a 2 inch hea that is tan in color.
S- Hmmm. Butterscotch, vanilla, some sweetness, maybe some toffee and sweet caramel. A little booze.
T- vanilla, subtle butterscotch, which makes believe a little dyactyl(spellcheck), boozey, some sweetness, toffee, bourbon. We'll see how it warms up. I can revise after.
M- creamy, good mouthfeel, little boozey, quick finish.
Overall- Good, I'm a little indifferent at this point. A little less complexity then I remember from years past.
587 characters
4.15
/5
rDev
+4.5%
look: 4.5 | smell: 4.5 | taste: 4 | feel: 4 | overall: 4
12oz bottle - brewed in 2011
Appearance – This beer is dark as motor oil. It poured out with a 2 inch head that dissipated and left a haze of lacing.
Smells – - Aged in Bourbon barrels, you catch a light bourbon smell that is sweet in character. It's almost candy-like, kinda like a dark brown sugar.
Taste – Aged in Bourbon barrels, there is a heavy sweetness that mellows out after the swallow. While this is a dark beer it's more like an ale than a porter or stout. The beer isn't as heavy and it lacks the dryness that sometimes come with those beers.
Mouthfeel – A lot of body but not creamy or think. Decent amount of carbonation.
Overall – Not my type of beer. I read the notes about the style and I didn't get any of the hops that are supposed to be present. I was also not a big fan of the sweetness so while I'm glad I tried it, I would be ordering it again. It's almost like a port - but lighter.
Serving type: bottle
946 characters
3.85
/5
rDev
-3%
look: 3.5 | smell: 3.5 | taste: 4 | feel: 4 | overall: 4
Poured into pint glass from bottle I picked up on summer trip through Michigan.
A: Black coffee appearance with fair head that dissipates into a lacy film
S: Roasty wood tones, very warming.
T: Robust earth tones, full of flavor that starts with sour wood notes and mellows into a pleasent sweetness. Quite complex and very enjoyable.
M: Crisp, bold and clean.
D: Very high on the drinkability scale, bold but not over the top.
434 characters
Short's Bourbon Barrel Sustenance Black Beer from Short's Brewing Company
3.97
out of
5
based on
201
ratings.