Short's Bourbon Barrel Sustenance Black Beer
| Short's Brewing Company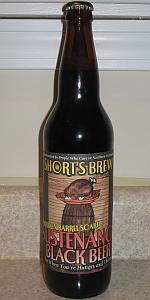 BEER INFO
Brewed by:
Short's Brewing Company
Michigan
,
United States
shortsbrewing.com
Style:
Schwarzbier
Alcohol by volume (ABV):
6.50%
Availability:
Spring
Notes / Commercial Description:
Sustenance Black Beer aged it in bourbon barrels for 11 months.
Added by Baileyuk on 04-28-2008
Reviews: 80 | Ratings: 201

4.47
/5
rDev
+12.6%
look: 4 | smell: 4.5 | taste: 4.5 | feel: 4.5 | overall: 4.5
Bottle brought back from my trip to Michigan. Drank after the golden delicious...at around 12:30pm on a Sunday...
A - A thick head with a pour, retains about a inch or so of head after the pour and holds onto it for a while. Black and brown with a ruby hue. Slight lacing retention.
S - Fresh bourbon and a little sweet toffee, carmael and light brown sugar.
T - Zesty vanilla and a bit earthy. Only slight bit of bourbon. Suprising difference between the smell and taste in that I expected the taste to follow the smell, but it was only slightly the case. Very enjoyable though.
M - Lighter than I thought based on the nose and the taste. I expected it to feel thicker than it was. The carbonation is perfect and crisp, easy and enjoyable to drink.
D - A very nice treat. The senses say one thing while the texture says something different. Very complex and a nice suprise. I'm very please and wish I bought more.
919 characters
4.57
/5
rDev
+15.1%
look: 4.5 | smell: 5 | taste: 4.5 | feel: 4 | overall: 4.5
Thank you Derek for this 22oz bottle!
Poured a dark brownish color with an averaged sized off white head. Aromas of wood/oak, vanilla, some bourbon, nutty, chocoalte, roast, and earthy. Tastes of vanilla, bourbon, dark fruits, chocolate, nuts, roast, and wood. Very nice!
Notes from 5/20/08
293 characters
4.57
/5
rDev
+15.1%
look: 4 | smell: 4.5 | taste: 4.5 | feel: 4.5 | overall: 5
"For When You're Hungry and Thirsty"
I love this label.
Pours black with a small off white head.
Smell: Carafa and Crystal Malts, Caramel, with just a hint of Bourbon.
Taste: Chocolate, Vanilla, and Brown Sugar. Slight oaky aftertaste. If I didn't know this was barrel aged I wouldn't have guessed. It blends so well into the beer. Light bodied and very easy to drink.
I hope the regular Sustenance makes a return so I can compare. If memory serves me right most of the difference is in the finish with mild vanilla notes being the main difference in the taste.
569 characters
4.57
/5
rDev
+15.1%
look: 4 | smell: 4.5 | taste: 4.5 | feel: 4.5 | overall: 5
Poured via 22oz. bomber at the Bullfrog Liquid Sunshine Reserva release. Big thanks to iceicebaby for sharing!
A - Poured a translucent chocolate brown body with walnut and mahogany accents and a slim beige head that reduced to a patchy retention and left a bit of lace around the glass.
S - Initial aroma released a waft of bourbon and vanilla goodness with a bit of chocolate sweetness. Malt presence is akin to Rice Krispies. Some caramel notes are also present.
T - This is simply a delicious schwarzbier with a subtle bourbon presence and lots of vanilla sweetness, but not overpowering at all. Crisp, rice-like malt with chocolate in the very backend through to the finish. Finish with just a slight astringent character and alcohol warmth.
M - Medium bodied and softly carbonated. Extremely smooth and creamy texture, although perhaps a bit thin in the mouthfeel overall. Alcohol presence is quite subtle.
D - This is a beautiful bourbon soaked beer from Short's, to say the least. Really glad I had the opportunity to try this, as I've loved everything I've had from Short's in the past, especially their dark beers. Drinkability is off the charts!
1,163 characters
4.67
/5
rDev
+17.6%
look: 4 | smell: 4.5 | taste: 5 | feel: 4.5 | overall: 4.5
Poured from a 12 ounce bottle into a good old beer mug.
Appearance: Poured at a 45 degree angle, about 1/2 a finger of murky, mellow head. Perfectly opaque; dark brown color with visible resiliency. A bit skimpy on the lacing, but otherwise an amazing looking beer.
Smell: I feel like I've entered some outstanding celestial bakery. Sweet scents of vanilla and chocolate, a light fruit undertone and rounding out the bouquet, the spicy flavor of bourbon permeating the beverage.
Taste: Unbelievable. Bold, rich; I taste all the flavors that I smelled previously. This could be the best beer I've tasted in several months. The malt helps to emphasize the flavor as well.
Mouthfeel: Robust and very carbonated. It sizzles on the tongue with a subtly-sharp ambiance. Goes down smooth despite the heavy quality to the beer; the bottle didn't lie when it said this beer is great for when you're thirsty, great for when you're hungry.
Drinkability: I could drink one of these every night. I only bought one 12 ounce, but I'm sure that I could make a night of it if I had a 6-pack. Near perfect.
I was surprised by this beer; I haven't had good luck with black beers in the past, and was looking forward to another mediocre expedition. Thankfully, Short's has a high standard, and this was no exception. Amazing!
1,311 characters
Short's Bourbon Barrel Sustenance Black Beer from Short's Brewing Company
3.97
out of
5
based on
201
ratings.