Short's The Wizard
| Short's Brewing Company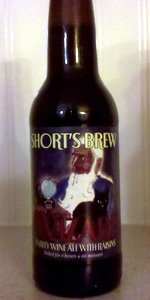 BEER INFO
Brewed by:
Short's Brewing Company
Michigan
,
United States
shortsbrewing.com
Style:
American Barleywine
Alcohol by volume (ABV):
11.00%
Availability:
Rotating
Notes / Commercial Description:
No notes at this time.
Added by webmanspidey on 12-28-2010
Reviews: 101 | Ratings: 187
4.32
/5
rDev
+14.3%
look: 4 | smell: 4.5 | taste: 4.5 | feel: 4 | overall: 4
Thanks to gnemesis for filling my mailbox with shorts beers this evening. This was my third taste from the box.
a-Poured a deep brown stream into a duvel tasting glass which settled as a dark plum color with a thin head with decent lacing.
s-Tangy & earthy. Kind of like a vedgie beer or a sour.
t-Raisins jump in the taste. Very earthy almost grass-like. Mostly malt. A bit tangy like the nose suggests, bit taste is a different universe from the smell. Both are good, just different fron each other.
m/d-Has a real winter beer feel to it, almost like a BSDA. Leaves a touch of a tingle in my mouth. Not that thick and filling, and far from syrupy, which I like. Very good and on the deep and dark side of the barleywines.
727 characters
4.5
/5
rDev
+19%
look: 4.5 | smell: 4.5 | taste: 4.5 | feel: 4.5 | overall: 4.5
Poured from a bottle into a tumbler pint glass.
A- Beautiful reddish amber color, almost like a sepia tone, with a sort of devilish look to it (reminds of the color of the moon during the recent lunar eclipse). Initially had about a one finger height head that reduced by about 80%, with very light lacing.
S- Nice sweet aroma, with lovely notes of the raisins coming through. I seem to detect the slightest hint of alcohol, which i found complimentary.
T- A delicious, complex bouquet of flavors- the raisins come through fairly well, adding a unique dimension to the overall palate, kinda like the smell of a box of raisins. I detect a sweet malt flavor, sort of a fruity, with a slight hint of citrus notes, somewhat like orange juice-like in the finish and aftertaste.
M- A nice sharpness, with a smooth texture.
D- Very, very drinkable, to my mind. It goes down quite well, with a nice little warming effect from the alcohol
Yet another great beer from Short's, IMO. I would highly recommend this beer to all barley wine fans, as this seems to offer its own unique elements that make it stand out, sort of like the horny dog barley wine from Flying Dog. Its got great flavors, drinks well, and seems to have a fairly high ABV, making for a nice drink around the fireplace on on cold winter nights, or for when praising the dark lord :)
1,346 characters

3.8
/5
rDev
+0.5%
look: 3.5 | smell: 3.5 | taste: 4 | feel: 3.5 | overall: 4
Got this one as a birthday present from my friend ben, thanks man. I am excited to try this beer since shorts rarely dissapoints and I haven't seen this beer before. Lets see how it goes. Poured from a 12oz brown bottle into a pint glass.
A- This beer poured a nice deep brown color with two fingers worth of tan head that died down to a thing ring that left lots of nice lacing.
S- The aroma is full of lots of sweet roasted malts. brown sugar, and some nice floral hops.
T- The roasted malts impart a lot of brown sugar that mixes with some raisins and other dark fruits. The hops make for a bitter aftertaste that I wasn't really expecting in this barley wine, but it helps balance out the large amount of sweetness this brew has. Alcohol is detectable but I have no idea what the percentage is.
M- Medium bodied and nicely carbonated, little bit of alcohol burn.
D- I like barley wines but for the most part they are not too drinkable, this one is a little more drinkable then the average but not by much. One of these is good enough for me.
Overall this was a good brew. I found this to be the hoppiest barley wine I have had, but I think it worked well with this brew and it helped keep the sweetness at bay. This is a good brew for a cold winter night, my only complaint is that the raisin didn't come through as much as I would have liked, other then that it was fine. Keep making good beer shorts.
1,413 characters
4.12
/5
rDev
+9%
look: 4 | smell: 4.5 | taste: 4 | feel: 4 | overall: 4
I was glad to see another new bottled Short's offering at the store...have got to try it. Poured into an oversized snifter, the hue is brownish red. Not much head upon pour but some foam on the sides of the drink stick to the glass forming a bit of lacing.
The smell is fantastic lending a nose full. All kinds of brown sugar, and dark fruits lend an almost brandy type smell. Within the nose, there is some lighter notes such as spiced apples.
Tha taste is a good balance of brown sugar, raisin, molasses, red grapes, and spiced apple. It is rich and full featuring a good amount of sweetness and heat.
The feel is medium-full in the mouth with a lot of warming in the aftertaste. There is also a pleasant drying in the end.
This is a very solid barleywine with ample complexity providing a nice warming drinker.
819 characters
4.03
/5
rDev
+6.6%
look: 4 | smell: 3.5 | taste: 4.5 | feel: 3.5 | overall: 4
Pours with minimal head. Color is a very dark brown/purple. No sediment can be seen and although dark, the color is quite clear. Smell is quite aromatic, with a clear sense of hop presence.
First sip is quite a bit less hoppy than I expected it to be. Instead, there's a huge malt presence that I hadn't expected. Flavors are a mix of these darker, bitter grains right alongside something sweeter, softer. It may be that the raisins act as a softening agent in this beer.
For me, barleywines usually fit into two categories: those that are sweet and those that are quite hoppy. This beer does a pretty good job of skirting both categories.
A very good beer from Shorts, you really should try it.
701 characters
3.38
/5
rDev
-10.6%
look: 4 | smell: 3.5 | taste: 3.5 | feel: 3 | overall: 3
appearance: medium dark color with a light head
smell: sweet roasted malt
taste: initially sweet follewed by piney hops
mouthfeel: slightly thin. I prefer a little more alcohol burn from a barleywine.
drinkability: Glad to try it,but one is enough for me.
259 characters
4.78
/5
rDev
+26.5%
look: 5 | smell: 4.5 | taste: 5 | feel: 4 | overall: 5
Appearance: Served in a glass, Nice dark color with moderate head.
Smell: Sweet, Very sweet with a tingly alcoholness
Taste: Sweet with a slight fruitiness, but nice roasty flavor aswell. Not to heavy on the alcohol taste (for a barley wine).
Mouthfeel: Lightly carbonated
Drinkability: The alcohol is not overpowering. This is the most drinkable barley wine i have tried.
376 characters
4.02
/5
rDev
+6.3%
look: 3.5 | smell: 4 | taste: 4 | feel: 4.5 | overall: 4
$2.19 for a 12oz bottle @ BevCo. Barleywine ale with raisins, boiled for 6 hours and 66 minutes.
Pours out to a clear dark walnut, forming a small light khaki head with average retention and sparse lacing. Carbonation is mild. The aroma opens with resinous hops (maybe Centennial because I smell mango), vanilla, and the suggestion of dark fruit. The mouthfeel is syrupy and rich with a dense body. Taste opens with the green hops, followed by the vanilla and prunes, then in the middle there is a pleasant roasted sweetness, a moderately strong bitterness, and in the finish, a nice sweet raisin taste to balance it out. The aftertaste is of hoppy bitterness, maybe some grapefruit, and wood. Cleanly fermented with no appreciable off flavors.
This is one of Short's more enjoyable bottled offerings. I haven't had it on tap, but I bet it's probably even better. I'm not sure I'd buy it again soon, but I would recommend trying this one out. A solid American Style Barleywine.
979 characters

4.05
/5
rDev
+7.1%
look: 4 | smell: 4 | taste: 4 | feel: 4.5 | overall: 4
12 oz. bottle.
Reddish, burnt-sienna body. Clear. Pinkie finger of dense, sandy brown head. Good lacing. Nose of caramel, toffee, Madeira, plums, vinous tannins, and some almost-citrus hops.
Toasted malts up front give way to deeper, richer, sweeter fruit and caramel. Caramel and toffee flavor is decently big. Scotch tape and herbal pine hop bitterness flit around in the background. Toward the finish the fruitier side of the malty sweetness becomes tangier and slightly woody. This woody, tangy fruit combines with a mild herbal bitterness to dry the beer out a bit. Still, there is still plenty of residual caramel and fruit sweetness in the long finish. Full-bodied, with a smooth, creamy feel. Pretty drinkable, and not very hot at all.
745 characters
3.84
/5
rDev
+1.6%
look: 4.5 | smell: 3 | taste: 4 | feel: 4.5 | overall: 4
tried this from a bottle into my duvel tulip, fresh
also i should note i had a slight runny nose but nothing to intense i feel to really ruin my review, just walked in from the cold but after the first few sips my nose felt almost good as new
appearance - poured nicely with little head, nice dark brown color, more carbonation than i expected being released from the bottom of the glass
smell - honestly this smelled pretty generic, up front was a nice malty smell and a moderate hops, also a faint fruity smell in the end
taste - taste followed the nose, started off with a nice malty sweetness and a moderate hops bitter in the middle finished with a nice fruity sweetness, as it warmed up the hops became more pronounced but still a background note and the fruity end grew and became a mild raisin flavor, after taste lingered of raisins but was not unpleasant but wish it had been a bit more raisiny
mouthfeel - felt thick but the carbonation helped lighten it a little, all in all it was close to the texture i anticipated and the carbonation made it very palatable
drinkability - not sure of the ABV but it drank very easily, guessing its no higher than 8.5-9% because there was no hint of alcohol in the flavor, that being said this is a very drinkable beer, i could have easily had 2 more without thinking of it
sitting planning on sitting on the other 5 for a while to see what happens to this one, might need a little time on it to meld all the flavors together
1,478 characters
4.1
/5
rDev
+8.5%
look: 4 | smell: 4 | taste: 4 | feel: 4 | overall: 4.5
Described on the bottle as a "barleywine ale aged with raisins".
Poured into a pint glass, this is a dark brown color but translucent with half an inch or so of head. Smell is exceptionally sweet with hints of brown sugar, raisins, and a slight burst of floral hops. Taste is sweet, with loads of sugar coated raisins, molasses, and syrupy flavors. Alcohol is present but is balanced very well, making this one of the more drinkable barleywines I've tried.
459 characters
Short's The Wizard from Short's Brewing Company
3.78
out of
5
based on
187
ratings.