Short's Raisin Apollo
| Short's Brewing Company
BA SCORE
79
okay
33
Reviews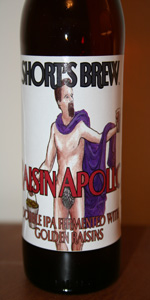 BEER INFO
Brewed by:
Short's Brewing Company
Michigan
,
United States
shortsbrewing.com
Style:
American Double / Imperial IPA
Alcohol by volume (ABV):
9.00%
Availability:
Limited (brewed once)
Notes / Commercial Description:
No notes at this time.
Added by Thorpe429 on 05-31-2011
This beer is retired; no longer brewed.
Reviews: 33 | Ratings: 108

3.36
/5
rDev
-0.6%
look: 4 | smell: 3 | taste: 3.5 | feel: 3 | overall: 3.5
2011 vintage. 12 oz. bottle poured into a snifter.
A: Pours a deep reddish-orange with a finger of white head that recedes quickly, leaving some nice pitting and lacing. Looks fairly thin.
S: Whoa, does this smell unique. White grapes and funk dominate the nose with some citrus hops trailing far behind. Not what I expected at all.
T: Sweet and hoppy up front, all at the same time, but not with the citrus flavors you might expect. The sweetness is the white raisins presiding over the citrus. The mild hoppiness and sweetness quickly turn into a very dry, earthy finish. This is bizarre. Never had an IPA quite like it. If you crossed an IPA with a dry white wine, I think this is what it would taste like.
M: Very dry and very thin. I generally like my DIPA's to be have an oily mouthfeel. This does not. However, it is going down smooth.
O: Short's is great at providing a challenge for the palate, and I like that a lot about them. I don't know how much I am really into this; I don't think the raisin flavor is for me. However, I am glad I bought a second bottle, and I am really interested in cracking it in a few days to give it another shot. Without question, the most unique DIPA I have ever had.
★
1,212 characters
2.18
/5
rDev
-35.5%
look: 2.5 | smell: 2 | taste: 2 | feel: 2.5 | overall: 2.5
Transparent amber color with a slight sticky head. You can see right through it. I can't remember the last time I had a beer like that. Really dank, weedy, earthy hops with undertones of citrus on the nose. Upon tasting, the maltiness comes first. Not really getting any golden raisins, and I'm not sure what their role is in this. Bitterness is evident. Also dryness. At 9%, alcohol is noticeable. Mouthfeel has a medium body and lightly carbonated. Overall, disappointed and not really getting how this all goes together. In other words, I'm glad I just bought the single.
★
574 characters

3.77
/5
rDev
+11.5%
look: 3.5 | smell: 4 | taste: 3.5 | feel: 4 | overall: 4
A- poured 1FH orangey and hazy. a little darker than expected.
S- aroma of moderate hops, notes of citrus but with a sweet tone probably from the raisins.
T- with the aroma a bittersweet character with dank hops. more malty than hoppy from what i remember when i had it on tap last year. raisiny sweets initially with a pretty strong alcohol finish.
M- a fairly balanced DIPA that seems to achieve what joe was aiming for. very drinkable.
I- I had this on tap in bellaire last year and was very excited for its release. 2011 on tap I remember being much hoppier with more citrusy hoppy characters and a hint of raisin, which is what hyped me up about the beer. this year's bottle release was a bit disappointing, but nonetheless a very drinkable and delicious beer. will have no problem finishing off my sixer! Cheers!
★
824 characters

3.8
/5
rDev
+12.4%
look: 4 | smell: 4 | taste: 3.5 | feel: 4 | overall: 4
12 oz. bottle.
Pours a slightly hazy orange copper. Small, yet persistent, light beige head. Some lacing. Very dank nose. Strong herbal hop funk with lots of cannabis notes. Some caramel-y sweet malts as well. I like the dankness of it.
Toasted malt up front, quickly pushed aside by slightly tart, mightily bitter, citrusy hops. Herbal pine notes mix in. Rummy fruit sweetness swells mid-palate. Very dry finish, with lingering pine bitterness. Remnants of raisiny malt sweetness as well. Medium-full body, with a smooth, lightly carbonated feel. Not bad, but could be better. It just seems a little off.
★
608 characters
3.43
/5
rDev
+1.5%
look: 3.5 | smell: 3 | taste: 3.5 | feel: 4 | overall: 3.5
From a bottle, live review.
A - Good inch head sits atop a transparent light rust hue. No lacing to speak of.
S - Not sure what is going on here. Almost smells a little funky. Raisins and a bitter hop character.
T - Meh. It has a nice hop bitterness which follows a malt body, but it is just muddy with the raisin notes popping up in unexpected ways. Its interesting. Certainly tastes better than the smell.
M - Drys out nicely like more DIPAs. Hop oils cling to the palate for some time. This is the nicest part of this beer.
O - I suspect Short's hit their mark with what they expected the beer to be. It just happens to be a beer I don't want more than one of. The raisins raise their head when you don't want them too.
★
727 characters
3.55
/5
rDev
+5%
look: 4 | smell: 4 | taste: 3.5 | feel: 3.5 | overall: 3
Bottle poured into a pint glass. It is a dark golden color, moderately carbonated. Smell is heavy on hops and citrus, with some sweet brown sugar and white grape juice mixed in. Taste is a nice balanced combination of sweet sugary raisins and hops. This is pretty heavy on the alcohol at first, but mellows up on you after a while. Tasty and interesting.
★
354 characters

3.53
/5
rDev
+4.4%
look: 4 | smell: 3.5 | taste: 3.5 | feel: 3.5 | overall: 3.5
Poured from it's bottle into a Short's pint glass.
A: Pours copper with about one finger of off-white head. A fair amount of lacing.
S: Citrus and Grapefruit, raisins, earthy hops - no real alcohol smell.
T: Citrus and raisins up front with a mellow earthy hop backbone. Finishes very smooth.
M: Light bodied, low carbonation - I feel like it could use a little more. It tasted a little thin, would have liked more flavor.
O: I did enjoy it, the raisins add a unique flavor to it however I do wish it had a little more flavor. One thing to note is that the ABV for the bottle release is 9% and not 13% as currently noted.
★
626 characters

2.21
/5
rDev
-34.6%
look: 3.5 | smell: 2.5 | taste: 2 | feel: 2 | overall: 2
Reviewed from notes.
Pours a moderate copper color with a thin off-white head and not much lacing. The nose brings forward a strong raisin component along with some earthy, dank hops. Strong presence diacetyl there as well, unfortunately. The flavor falls down hard. Fairly-strong alcohol burn along with quite a bit of butter. Raisin is the only real flavor, with just a touch of hops in the background. Feel is butter cream with a lot of booze. Very out there and not something I enjoyed.
★
494 characters
Short's Raisin Apollo from Short's Brewing Company
3.38
out of
5
based on
108
ratings.