Kolsch 45
| Short's Brewing Company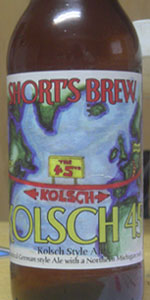 BEER INFO
Brewed by:
Short's Brewing Company
Michigan
,
United States
shortsbrewing.com
Style:
Kölsch
Alcohol by volume (ABV):
6.50%
Availability:
Rotating
Notes / Commercial Description:
No notes at this time.
Added by drabmuh on 06-03-2011
Reviews: 30 | Ratings: 150
3.97
/5
rDev
+1.8%
look: 3.5 | smell: 4 | taste: 4 | feel: 4 | overall: 4
Bottled 3/21/14. Poured 7/1/14.
Appearance: Aggressive pour gave about a finger of white head that went away pretty quickly. The beer is banana yellow in color with a pretty big haze. Just about no lacing.
Smell: True to the style and then some. Spicy. Biscuity sort of malt. Hay sort of quality. Maybe a banana-y ester. Nice bit of hopping. Smells excellent.
Taste/feel: Damn that is tasty. First, the beer has an unexpected semi-creamy texture with some good prickly carbonation. The taste is great. Biscuity malt, spiciness from the hops, a banana sort of flavor, a little wheat character... finish is super clean and not bitter.
Really nice. I haven't had many Kolsch's at all, but this is my favorite so far. It's just a great beer.A light ABV beer that isn't light on flavor is always a plus. For the style, this IS outstanding.
★
839 characters
3.93
/5
rDev
+0.8%
look: 4 | smell: 3.5 | taste: 4 | feel: 4.5 | overall: 4
on tap @ reno's west, lansing mi - pint
a nice golden peach shade with a tinge of red, white head fades
smells of malty goodness, maybe some adjunct, floral hops, smells good
tastes of dry bitter hops, followed by the roasty malt, finishing with hops and slight adjunct - aftertaste is grainy and the hops linger on. Dry and refreshing, the hop balance is well done, higher hopped than most kolsch's but not overboard - the malt bill is excellent.
mouthfeel is dry and a bit astringent on the finish from the hops, easy to drink, overall an excellent take on the style and if it were bottled i would buy it during summer often.
kolsch's are awesome.
★
650 characters
3.87
/5
rDev
-0.8%
look: 3 | smell: 3.5 | taste: 4 | feel: 3.5 | overall: 4.5
A- Pours a slightly hazy yellow liquid with a very thin and splotchy white head. Very quiet looking.
S- Light fruit such as apples and pears, lemon, white bread, and a touch of pepper. A bit simple, but it is nice.
T- Exactly the same as the aroma but not as sweet as I was expecting. Tasty and smooth.
M- Light carbonation and very clean flavors. The alcohol is well hidden considering the lightness of the beer.
O- A tasty beer on a scorching summer night. Drinks really nicely.
★
484 characters
3.85
/5
rDev
-1.3%
look: 4 | smell: 4 | taste: 3.75 | feel: 4 | overall: 3.75
Short's Brewing Co. "Kolsch 45"
12 fl. oz. brown glass bottle, packaged on 07/05/16 and sampled on 09/29/16
$2 @ Wegmans, King Of Prussia, PA
To celebrate my upcoming return to Germany I decided to go with one of my favorite styles, Kolsch. (Haha! I just got the name... Colt 45 / Kolsch 45... cute.) I'm wondering what the "Northern Michigan twist" is though.
Appearance: It's hazier than I'd expect of the style but the color seems right and the head retention is pretty good. The lacing, however, could be better.
Aroma: I get a pleasant malt note and grassy hops in the aroma, along with the requisite yeasty fruitiness. It's hoppier than many examples, so maybe that's the Michigan twist.
Taste: The flavor follows, adding in a bit of sugary malt sweetness and a light hoppy spiciness. I'm even finding some banana, which is a bit odd (I don't think this is normal, I'm guessing that the yeast in this bottle has been up to a little work on its own, probably left for too long in a warm area). Firmly bitter and drying in the end with a lingering hoppy spiciness.
Mouthfeel: Medium-light in body and gently crisp as it should be. Easy across the palate, but with enough zest to garner your attention.
Overall: Once again I feel like I've got a sample that's a little long in the tooth, or 'worn', despite that fact that it's not even three months old yet. Still, I can see what this beer could be on a better day, and I'm pleased. It reminded me of a Kölsch that I had in a tiny restaurant in Berlin, just around the corner from "Trabi World" (I didn't take a Trabant tour, BTW, that's for tourists and I was with family and had a brand new BMW!). I can't recall the name of that beer, I'd never seen it before, and haven't since, but I remember the flavor and aroma. So, perhaps a slight bit sweet, but quite good overall. Nicely done, and massively quaffable!
★
1,874 characters
3.8
/5
rDev
-2.6%
look: 3.5 | smell: 3.5 | taste: 4 | feel: 4 | overall: 3.75
Pours a yellow-straw color, cloudy and translucent with a wispy white head that hangs around for a few seconds before it fizzles away forever. Some spot lacing left from the white ring that settles on the circumference of the glass. Aroma is mellow but pleasing to the senses - noticeable graininess and strong yeast in the form of sweet bread. Musty and floral hops, along with some faint citrus and lemon zest, and maybe some other fruits, erring on the "peel" and "rind" side of things. Overall a pretty low-key aroma, soft and delicate, but good nonetheless.
Has a "lager-like" taste to it, both from the crispy effect it has on the palate as well as the clean flavor I'm getting from the yeast. Mild grains, sweet bready malt, light citrus zest, white grape skins, and a moderately floral and musky hop presence. Light bodied and on the heavier side with carbonation - easily drinkable from start to finish. Aftertaste is full of light yeast and grains, with a bit of dying fruit skins and Noble-like hops. This one went down the gullet pretty quickly.
Super-drinkable and light, although this suffers a bit from being just a tad uninteresting by the time you reach the second half of the beer. Nice example of the style and overall very enjoyable for what it is, no doubt.
★
1,280 characters
3.79
/5
rDev
-2.8%
look: 4 | smell: 3.75 | taste: 3.75 | feel: 4 | overall: 3.75
12 fl. oz. bottle
Served in a pilsner glass
L - This beer pours golden and crystal clear. It is topped with a couple inches of eggshell head that loves some lacing as it recedes.
S - The smell has some milled grain characteristics. I also get a little lemongrass.
T - The taste features more of the lemongrass. There is a grain taste with a slightly bitter metallic finish.
M - Smooth and creamy.
O - Kölsch beers are not my favorite style. This is a decent beer. Reminds me of the old rust belt lagers of the 1970's with a little more flavor.
★
552 characters
3.67
/5
rDev
-5.9%
look: 3.75 | smell: 3.5 | taste: 3.75 | feel: 3.5 | overall: 3.75
Appearance: a light yellow color. strong haziness. small white head that leaves a little bit of a lacing.
Smell: spicy pilsner matls. more lager malts. some citrus
Taste: opens up with malts, a spicy one and a bready one. slight citrusy hops that finishes with a musty grassy taste
Mouthfeel: no hop bitterness. pretty light but not quite clean enough
Overall: a solid beer but not outstanding.
★
398 characters
3.47
/5
rDev
-11%
look: 3 | smell: 3.5 | taste: 3.5 | feel: 3.5 | overall: 3.5
Picked up a single at Butch's Dry Dock in Holland, MI
A - poured a very light, clear golden yellow and lacking a head
S - nose is grainy malts with some spicy hops
A - opens up with the sweet, grain malt flavors that hold strong throughout most of the beer. On the end, a little bit of citrus and spicy hops round it off. Not the most complex beer out there, but then again this isn't a style that is supposed to be.
M - mouth is a little watery with a good amount of carbonation on the back end
D - this is a pretty good Kolsch. Not as refreshing as others I have in this style, but pretty good to drink on this 94 degree day.
★
633 characters

3
/5
rDev
-23.1%
look: 3 | smell: 3 | taste: 3 | feel: 3 | overall: 3
Pours a mostly clear, yellow color. Not too much of a scent with some grains and wheat. Taste is rather malty while the texture seems a little too thin. There are some hints of citrus. Being my first Kolsch style beer, I'm not sure if this is good or not for the style. Quite drinkable, just wish there was some more volume and taste to the beer.
★
348 characters
2.74
/5
rDev
-29.7%
look: 4 | smell: 2.5 | taste: 2.5 | feel: 4 | overall: 2.5
12 oz can. Pours slightly hazy yellow gold with a medium creamy white head that retains well and leaves some lacing.
The aroma is sweet bready bubblegum malts with some noble hops.
The flavor is sweet bready malts with a touch of fruit and some peppery grassy hops. The mouthfeel is medium to full bodied with smooth carbonation.
Overall, just OK.
★
352 characters
Kolsch 45 from Short's Brewing Company
3.9
out of
5
based on
150
ratings.