Prolonged Enjoyment
| Short's Brewing Company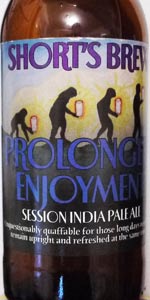 BEER INFO
Brewed by:
Short's Brewing Company
Michigan
,
United States
shortsbrewing.com
Style:
American Pale Ale (APA)
Alcohol by volume (ABV):
3.70%
Availability:
Rotating
Notes / Commercial Description:
Session India Pale Ale.
Added by oline73 on 09-08-2011
Reviews: 37 | Ratings: 190

3.9
/5
rDev
+3.2%
look: 4 | smell: 4 | taste: 4 | feel: 3 | overall: 4
2012 vintage. 12 oz. bottle poured into a pint glass.
A: Pours a hazy, golden orange with a finger and a half of fluffy white head. Considerable amount of lacing and decent head retention. This looks like a solid pale ale.
S: A lot of lemon and citrusy hop aroma on the nose. There is a little earthiness to it as well. This pale ale is pretty straightforward.
T: Really nice citrusy hop bitterness in here. I get a lot of lemon zest up front, followed up by the citrusy hops, and there is a hint of a grassy, earthy flavor in there as well. For being such a low abv beer, the flavors are quite outstanding.
M: The mouthfeel is the only place where this one takes a hit. It is a bit thin and on the watery side, but I guess that is to be expected. It is missing a slickness that I like in IPA's and pale ales.
O: This is a well-crafted pale ale from Short's. I think that Short's really shines in the IPA department, and this is no exception. The amount of flavor and hop punch that Short's packs into an ale with such low ABV is quite incredible, really. I will likely seek this out again. Well-done.
1,106 characters
4.09
/5
rDev
+8.2%
look: 3.5 | smell: 4.5 | taste: 4 | feel: 4 | overall: 4
$1.69 for a 12oz bottle @ BevCo. No ingredients listed per the website or bottle. Pours out to a hazy orange, forming a modest white head with average retention and good lacing. Mild to moderate carbonation. The aroma is really nice...skunkweed hops on a delicate pils malt base with a touch of grain husk. Very nice. The mouthfeel is crisp and clean with a light body. The taste is a recap of the aroma. A wonderful balanced between the skunky hops and the husky pils malt with a moderately strong pleasant lingering bitterness. Cleanly fermented with no perceptible off-flavors. You definitely want to drink this cold, because the bitterness is pretty high and gets more intense as it warms up. This is very similar to Victory's Headwaters Pale ale with quite a bit more bitterness.
Really nice brew. I would buy this again. Recommended.
840 characters
4.05
/5
rDev
+7.1%
look: 3.5 | smell: 3.5 | taste: 4.5 | feel: 4 | overall: 4
Poured 12 oz into fff pint glass.
Pours Orange, a little dull but with fluffy white head. Some sticky lace on the glass. Nose is a little on faint side but floral, citrus hops do come through. Taste is refreshing! Nice hop taste up front. Malty back ground with sweet caramel malts. Some bitterness but doesn't draw away from any other flavors. Lighter body with moderate carbonation. Great session beer. Easy to drink and great on a summer afternoon!
451 characters

3.83
/5
rDev
+1.3%
look: 4.5 | smell: 4 | taste: 3.5 | feel: 4 | overall: 4
Pours a golden-orange, a little hazy. Active, copious big-bubble carbonation, and a nice fluffy little white head. Great lacing (wtf!?)
Big, big citrus aroma. Lemon and tangerine rind. Very pungent. Malt is detectable in the background. Impressive, big, juicy aroma.
"Hell yeah" out loud upon drinking. A balanced Citra that honestly reminds me a bit of Zombie Dust, but not as clean- more earthy and a little bitter. Big ol' malty backbone gives it a great mouthfeel. The hops stick around a little bit, but not so much as to take away from the incredibly refreshing nature of the drink.
Gotta try one of these alongside All Day, pepsi-challenge style. An awesome example of Session IPA, and a feat of brewing at a mere 3.5%. Awesome.
740 characters

3.8
/5
rDev
+0.5%
look: 4 | smell: 4 | taste: 3.5 | feel: 4 | overall: 4
A: Yellow Bronze with a clear body and an unassuming head, didn't rocket out of my glass but had enough carbonation to carry.
S: Hops, strong for the ABV, lots of aroma hops in here. Citrus. Pine. Floral.
T: Bitter, not overly bitter, and for as much aroma you get it's understandable why it's bitter, not much malt sweetness. I get it, it's a session pale ale, I just want it to break the laws of beer and deliver low abv, amazing malt flavor, resin, and hops...
M: Not like water, note to big beer, it is possible to make a low alcohol beer that doesn't drink like water.
O: It is what it is, a session ale. Easy drinking, tasty. Make this a year round so I can pick up a 6 pack on the way to a BBQ, or at least a seasonal. Not enough session beers out there.
765 characters
4
/5
rDev
+5.8%
look: 4 | smell: 4 | taste: 4 | feel: 4 | overall: 4
An absolutely excellent Session Ale, with far more "west coast" hop flavours than I thought possible for 3.7% ABV!
Colour is difficult to determine within the ceramic "mug club" glass I have the privilege of using at the brewery in Bellaire tonight. But looks like a decent amber colour with a respectable amount of surprisingly light coloured head. Piney, citrus aroma is stunning. The flavour is not as robustly hoppy, but is well balanced and has a brilliantly lingering finish. All in all, an ideal beer for a long night out!
530 characters

4.22
/5
rDev
+11.6%
look: 4 | smell: 4.5 | taste: 4 | feel: 4 | overall: 4.5
12 oz. bottle. Great label! Great name too!
Slightly hazy light orange copper body. Pinkie finger of thick, pillowy, eggshell white head. Good lacing. Fresh hop nose with notes of mandarin orange, pineapple, pine sap, and cat pee. Very nice.
Citrus mineral water bitterness up front. Fresh hop flavors pick up. Orange, pine, and mint. Thin malt base (as expected with the abv) provides a bit of balance. Light fruit and cracker. Hops easily win this battle and celebrate into the finish. Dry and appetizing. Light to moderate body, with a crisp, lively feel. In the end, this comes off drinking like an IPA (especially in the hop-dominated aftertaste), but is obviously much more sessionable (and reminds me of when I used to live in Utah ;)
743 characters
3.87
/5
rDev
+2.4%
look: 4 | smell: 4.5 | taste: 3.5 | feel: 3.5 | overall: 4
Bottle in a pint glass. This is golden orange color, with mild carbonation. Smell is full of orange and fresh, sweet citrus. Taste is light citrus with a slightly bitter finish. This is very drinkable with minimal alcohol presence. For what it's trying to be, this is very good.
278 characters
3.46
/5
rDev
-8.5%
look: 4.5 | smell: 3.5 | taste: 3.5 | feel: 2.5 | overall: 3.5
A- Pours a slightly hazy orange with a few streams of carbonation rising to the surface. The off-white head is thin but creamy and leaves nice lacing.
S- Some pine, mint, and a subtle fruitiness. Rather fqint, but not surprising considering the stature of the beer.
T- A bit earthy and fruity with some mint. The bitterness is surprisingly apparent.
M- Some strong lasting bitterness with subtle lasting flavors. Kind of a strange watery finish.
O- Drinks nicely, but some of the flavors are a bit odd. Definitely a style I would love to see more breweries do.
564 characters
4
/5
rDev
+5.8%
look: 4 | smell: 4 | taste: 4 | feel: 4 | overall: 4
Pours a semi-translucent golden amber color with a slight head. I get a very piney, almost minty, smell with undertones of citrus. Very refreshing smell. Taste is very hopforward, with citrus notes. There is a good amount of bitterness. The malt background has a touch of sweetness. Not much aftertaste to speak of. Mouthfeel is light and well carbonated. Overall, very easy drinking and would be great in the summer on the water.
430 characters
4.25
/5
rDev
+12.4%
look: 4 | smell: 4 | taste: 4 | feel: 4.5 | overall: 5
Dumped the bottle into a tulip glass, it has a glowing saturated orange color with a light haze to it. Some foam at first, about a fingers width that settled quickly to a sticky ring around the edges.
Pungent citrus nose, orange and nectarine, lime zest. Some grainy pale malt behind that, that carries into the taste especially. As it sits, the citrus seems to ebb away, exposing the rawness of barley and cereal grains. Flavor seems equally balanced between the citrusy grapefruit hop notes and grainy pale malt, with some botanical grassiness in the middle. Very light and refreshing feel, strikingly similar to local favorite Daisy Cutter in fact, just more citrus forward (a la Tasty Waves, lol). Super quenching and drinkable, would go through a case easily.
Thanks Justin for the trade...
798 characters
4.34
/5
rDev
+14.8%
look: 4 | smell: 5 | taste: 4 | feel: 4 | overall: 4.5
I had this on-tap at the brewpub in Bellaire. Served in a sample glass.
Appearance: Pours a clear light amber color with a layer of fluffy white head and some mild lacing.
Smell: Really great. A mild malt sweetness but juicy citrus hops are the star here. Reminds me of grapefruit.
Taste: Follows mostly from the smell. Some grain but the hops are the star. Citrus peel, grapefruit, and a bitter finish.
Mouthfeel: Medium body with tingly carbonation and a dry finish.
Overall: This reminds me of some of the better west coast pale ales. Wonderful hop profile and easy to drink. I'd love to get my hands on more of this.
635 characters
Prolonged Enjoyment from Short's Brewing Company
3.78
out of
5
based on
190
ratings.