Honey Badger
| Short's Brewing Company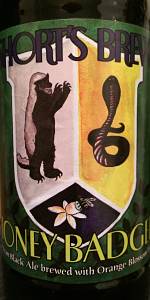 BEER INFO
Brewed by:
Short's Brewing Company
Michigan
,
United States
shortsbrewing.com
Style:
American Black Ale
Alcohol by volume (ABV):
8.60%
Availability:
Limited (brewed once)
Notes / Commercial Description:
Double India Black Ale brewed with orange blossom honey
Added by BeerAdvocate on 01-11-2013
This beer is retired; no longer brewed.
Reviews: 12 | Ratings: 105
4.18
/5
rDev
+11.2%
look: 4.5 | smell: 4 | taste: 4.25 | feel: 4 | overall: 4.25
A- Black as midnight, very opaque, resembles a good stout in appearance in many ways. Has about an inch of thick creamy toffee colored head. Generous lacing that does not recede at all. Everything you would want a beer to look like of the style.
S- Very complex. At first glance I am hit with a pungent grapefruit essence and a funk of hoppiness. Then the subtle smells of black currants, anise, tobacco, a hint of mint of all things comes through. A little unbalanced as the hoppy smell steels the show but still very solid.
T/M- WOW! First really good new beer that I have tried in this new year! The flavors of dark malts and a nice dark chocolate/black currant flavor hit the palate first, but then metamorphosize into a bitter hop presence accompanied by a sweetness of honey combined with hints of citrus flavors. The hops become more and more prevalent in this one as it warms up. Mouthfeel is medium leaning toward full body with a tart, dry end feel that leaves your mouth feeling resinous and tacky.
Overall, I really like this one! One of the more complex black ales that I have had and one that I look forward to drinking again in the future. This one is better than expected and worth seeking out
1,212 characters
4.15
/5
rDev
+10.4%
look: 4 | smell: 4 | taste: 4.25 | feel: 4 | overall: 4.25
Poured into my MI Brewers guild pint glass !
A: Pours pitch black with a white/khaki head- which is strangely "milk-stoutesq" look to it.. sugary-sticky sweet head... Intriguing and mysterious with big tan bubbles and leaves mild lacing as it sinks to the bottom of the pint.
S: Dark chocolate... coffee... and happy hops on the nose.
T: Hop presence is here right away. Then fades to a roasted carmelly honey flavor. definitly can taste the alcohol bite to this one, pretty bold. The honey taste is nice as it is subtle and plays the supporting role to the malts and hops in this one.
M: Medium balanced feel to this one, sticky and sweet but at the same time roasty and malty. I like this. Very much.
For the record im not and never have been a hop head. I love malty beer and balanced hops!! This one surprised me. Overall the highlight of the newest (at this time) of shorts variety 12 pack we have been blessed with in michigan. I swear, these guys can think of anything. Another home run for SBC.
1,009 characters
4.12
/5
rDev
+9.6%
look: 3.5 | smell: 4 | taste: 4.25 | feel: 4 | overall: 4.25
Poured into a pint glass and noticed the black appearance with not a lot of head. Some with an agitated pour. Splotchy lacing develops along the sides as I take sips.
Aromas of charred oak, coffee, molasses and a touch of floral bouquet greet my nose.
As soon as this hits my tongue I am greeted with a huge hit of roasty, charred coffee tones which give the undertone and overtones of the brew. This is balanced against a flowery sweetness and resinous hops. I wish I could have had this fresh to taste the full hop profile.
The feel is medium to full in my mouth with ample drying in the end. The roasty notes keep on coming long after a sip...a reminder of the tastiness that was before me.
This is a really good black IPA and I can only imagine it was twice as good fresh on tap. It's hard to know how long it was sitting in the mixer 12 pack before I tasted it. Another solid Short's brew!
899 characters

3.83
/5
rDev
+1.9%
look: 5 | smell: 3.75 | taste: 3.75 | feel: 3.75 | overall: 3.75
Got this as a gift. Served in a snifter.
A: Pours a basically opaque black color with a short tan head with minimal amounts of lacing.
S: Smells of wheat, barley, citrus, hops, coriander
T: Mellow flavor, tastes of wheat, barley, malts, citrus, with a slight tinge of hops at the finish
M: Full bodied beer with ample amounts of carbonation. Balanced flavor with a kick of hops at the end.
O: Overall this was quite an interesting combination of flavors and profiles. Although I didn't see anything negative to it, it didn't quite fit my fancy. However, to each his own and since this is a limited run, I would suggest trying it.
637 characters
3.81
/5
rDev
+1.3%
look: 3.5 | smell: 3.75 | taste: 3.75 | feel: 4.5 | overall: 3.75
$2 single poured into a shaker pint.
Appearance: Pitch black. Aggressive pour still didn't yield much of a head at all. Reasonably good lacing.
Smell: Wow, no kidding. Floral as hell. That orange blossom isn't messing around. Actually smells a bit like some sort of sour orange candy, but that's probably just because I read "orange" blossom. Honey sort of sweetness. Very strange, but nice.
Taste/feel: Like the smell. Man this beer's complex. I don't know where to start. Alright, the first thing I notice going in is the mouthfeel. It's probably-maybe the honey, but there's a creamy feel to it with a very nice body. Then, all at once it seems, there's some dark, roasted, bitter malts, the orange blossom honey, an almost sour orange candy sort of flavor (that I think many people could think tastes like medicine), a slight alcohol warmth, more orange blossom/floral flavors, bitterness, and then a bit of a roasty+orange blossom aftertaste. It is a strange, strange beer. I keep taking sips of it to try and explain it. It is pretty nice, but damn is it strange.
This surely isn't a beer for everyone. Then again, if you read the label, you got what you had coming. The badger on the label makes me think of the slight slap of bitterness and roastiness this beer provides, the snake is for the slightly "venomous" alcohol flavor and warmth, and the orange blossom, of course, is for the only-Short's-would-do-it orange blossom flavor.
One hell of a unique beer. I don't LOVE it, but it's an awesomely different beer for those who are open to trying new things. Hey, "Life is Short's". Drink up!
1,606 characters
3.8
/5
rDev
+1.1%
look: 4 | smell: 4 | taste: 3.5 | feel: 4 | overall: 4
12 ounce bottle into snifter, bottled on 1/6/2014. Pours fairly pitch black color with a 1 finger dense khaki head with great retention, that reduces to a small cap that lingers. Light spotty soapy lacing clings around the glass. Aromas of big grapefruit, orange zest/rind, pine, dark chocolate, cocoa, coffee, toast, light char, honey, floral, grass, and roasted earthiness. Damn nice aromas with good balance and complexity of hops and dark/roasted malt notes; with good strength. Taste of big grapefruit, orange zest/rind, pine resin, dark chocolate, cocoa, coffee, honey, light char, toast, floral, grass, and roast/pine earthiness. Sizable amount of pine bitterness on the finish; with lingering notes of grapefruit, orange zest/rind, pine resin, dark chocolate, cocoa, coffee, toast, floral, grass, and pine earthiness on the finish for a good bit. Nice balance and complexity of citrus/pine hops and dark/roasted malt flavors; with a solid malt/hop flavor balance and a moderate amount cloying pine bitterness after the finish. Medium carbonation and body; with a lightly creamy, smooth, and sticky mouthfeel that is good. Alcohol is very well hidden with minimal warming present after the finish. Overall this was a very good imperial black IPA. Good balance and complexity of dark/roasted malt and citrus/pine hops; and very smooth to sip on for the ABV. A nicely enjoyable offering.
1,392 characters
3.77
/5
rDev
+0.3%
look: 4 | smell: 3.75 | taste: 3.75 | feel: 3.75 | overall: 3.75
Bottle into tulip
Appearance - Black, 1 finger off white head nice lacing.
Smell - Spent coffee grounds, noticeable floral aroma from the orange blossom, malts, and just very subtle hop character.
Taste - Very roasty right from the start. Dark roast coffee, bitter dark chocolate, and subtle smokiness. Slight dried out citrus and biscuit more towards the end.
Mouthfeel - Medium bodied, medium carbonation, crisp.
Overall - Good beer. This beer has a very unique smell and taste from other beers. Having said that the smell and taste also do not line up perfectly with one another. Reminds me of a smokey stout or porter by taste.
637 characters

3.61
/5
rDev
-4%
look: 4.25 | smell: 3.75 | taste: 3.5 | feel: 3.5 | overall: 3.5
I picked up a bottle of Short's Honey Badger in their new variety pack a couple weeks ago for $18.99 at The Lager Mill. This is the one that I was most excited for out of the three new beers in the new Short's variety pack and I'm very interested to see how the orange blossom honey works with a black IPA, so lets see how it goes. No visible bottling date, but it just showed up recently so it's fresh. Poured from a brown 12oz bottle into a Shorts imperial pint glass.
A_ The label looks pretty with a nice badge/crest with a honey badger, it's snake enemy and an orange blossom on it, I think it's pretty eye catching. It poured a nice pitch black color that didn't let any light come through and it had two fingers worth of slightly creamy somewhat light mocha colored head that died down to a thin ring that stayed till the end and it left some nice sticky rings of lacing behind. This is a very nice looking beer, I have no complaints at all.
S- The aroma starts off with a slightly higher amount of medium sweetness followed by the roasted malts being the first to show up and they imparts some roasted, slightly charred, slightly grainy, chocolate, and coffee like aromas with the coffee seeming to stick out the most. Up next comes a pretty light black licorice like aroma followed by the hops that impart a 50/50 mixture of floral and piney hop aromas. This beer had a pretty nice aroma that reminds me of Founders Black IPA.
T- The taste seems to be somewhat similar to the aroma and it starts off with a slightly higher amount of medium sweetness followed by the malts being the first to show up and they impart all the aspects that I got in the aroma, but this time its the roasted and slightly charred flavor that sticks out the most. Up next comes a weird black licorice like aroma followed by the hops that impart some floral and piney flavors but there's also a soapy hop flavor that I'm not a big fan of. On the finish there's a low amount of high bitterness that lingers a little with a hoppy and roasted/charred aftertaste. This was a nice tasting beer, but the soapy hops and licorice flavor make it a little rough around the edges.
M- Not the smoothest, a little creamy, a little rich, on the thicker side of being medium bodied with a lower amount of medium carbonation. The mouthfeel was nice, but I wish it was smoother.
Overall I thought this was a nice beer and a slightly above average example of the style, it had a nice roasted malt base, but to me the hop profile wasn't the greatest and that hurt this beer overall. This beer didn't have the best drinkability, it wasn't the smoothest, a little creamy, a little rich, fairly filling and the taste didn't do the best job at holding my attention, one would be enough for me, the lingering higher bitterness is a little too much for this beer to handle. What I like the most about this beer was the appearance and aroma, they were both pretty nice and they worked well with this beer. What I liked the least about this beer was the taste and drinkability, they could both use some work and they held this beer back from being as good as it could be. I don't think I would buy this beer on it's own, it's not a bad beer, but there's many other black IPA's I would rather have and I don't think I would recommend it either. All in all I was a little let down with this beer, Short's already make a pretty good Black IPA, and I was hoping this one would be a little different but still on the same lever, it is different, but it's not on the same level as Bludgeon Your Eye, I like that one a lot more. I appreciated the effort, but this one just wasn't for me, better luck next time guys.
3,670 characters
3.6
/5
rDev
-4.3%
look: 3.75 | smell: 4.25 | taste: 3.25 | feel: 3.5 | overall: 3.5
Poured from a 12oz bottle into a pint glass
Appearance is a very dark brown with a small amount of tan head that dissipates quickly.
Smell is delicious, a nice mix of floral and citrus hops, sweet notes of honey, as well as roasted malts.
Taste is a bit less appealing, it is very bitter, almost astringent, followed by overwhelming roasted malt flavors.
Mouthfeel is medium bodied with a nice amount of carbonation. The roasted flavors really stick to your tongue.
Overall I feel kind of let down, the smell of the beer is great but the flavors aren't balanced, with the bitterness and roastiness overwhelming any sweetness.
631 characters

3.6
/5
rDev
-4.3%
look: 3.5 | smell: 3.5 | taste: 3.5 | feel: 3.5 | overall: 4
Thanks to tectactoe Short's has been constantly on-deck for the past couple weeks as I've thinned the ranks. Time for another reaping. 12 oz. bottle with a cultural reference I keep seeing but I'm never going to bother to look up.
Pour is the love child between black & ladybug red. Attendant carbonation is low. The nose is a cup of coffee that's been spilled into the top of the Christmas tree & just dripped onto the neutral carpet. Interesting.
Honey Badger is damn aggressive & if that's the reference, it's hit the target. Coffee claws its way through the roof of my mouth & right up into my upper nasal cavity: damn. Piney hops get fifth or sixth fiddle. Plinky sweetness right at the end. Lack of complexity & the finishing sweet (honey?) makes this a nice sipper I could drink through a straw.
Simple, direct, tasty. Not earth-shaking, but a good, solid beer.
874 characters
3.54
/5
rDev
-5.9%
look: 3 | smell: 4 | taste: 3.5 | feel: 3.5 | overall: 3.25
8.6% ABV per the website. Brewed with orange blossom honey. Purchased as part of a mixed 12 pack. Pours out to a deep black, forming a small light tan head which quickly recedes into nothing, no lacing. Moderate carbonation, ~2.5 carbs or so. The nose open with the required hop charge, grapefruit hops with the required roast profile, cleanly fermented, with some subtle fruity yeast esters. Nice nose. Mouthfeel is bracing with a firm hop flavor and acidity, combined with copious roast acidity, with a medium dense body and a slightly oily mouthfeel in the finish. The taste opens with the firm grapefruit hoppiness then is followed by a pronounced roast. This is roastier than most versions of the style, with burnt chocolate, burnt marshmallows and soot. The bitterness is quite firm, lingering long into the aftertaste. Probably the most burnt black IPA I've had. The finish is astringent and biting. There is no way anyone is going to taste the honey in this. I would argue it's a waste of money.
This is a very aggressive black IPA. Too much for my taste. The roast is way overdone and the bitterness is too bracing when compared to the best examples of the style. I'll pass on this one.
1,196 characters
3.49
/5
rDev
-7.2%
look: 3.75 | smell: 3.5 | taste: 3.5 | feel: 3.25 | overall: 3.5
Appearance: brownish black. opaque but some lightness near the edges. a figure of a tan head that leaves a little bit of a spotty lacing
Smell: citrusy, black licorice, black malts. maybe a little bit of pine
Taste: opens up with black licorice. citrusy and some piney hops. ends with a burnt malts bitterness.
Mouthfeel: fairly light but some alcohol warmth
Overall: I am no fan of black ales, i thought if anyone could make one i like it was shorts. but this one still falls short.
487 characters
Honey Badger from Short's Brewing Company
3.76
out of
5
based on
105
ratings.