JP Hops House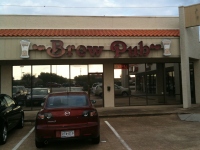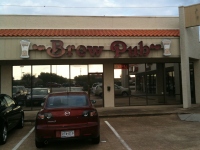 PLACE INFO
Type:
Bar
2317 Highway 6 S
Houston
,
Texas
, 77077-5229
United States
(281) 496-0623 |
map
jphopshouse.com
Notes:
None provided.
PLACE STATS
Reviews:

7

Ratings:

pDev:

10%
Reviews: 7 | Ratings: 9
3.98
/5
rDev
-0.5%
vibe: 4 | quality: 3.5 | service: 4 | selection: 4.5
Went here last night after getting too frustrated at the Pub Hub. Looking back, we should have gone here first.
Small little place in a strip mall with simple furniture and a couple of dart boards. Decent band playing pretty much all night long. Not many beers on tap to choose from, but more than enough bottles to keep you happy all night long (which are shown to everyone in a glass case). The owner was a really cool guy, he let us walk behind the bar to examine the bottle selection with him and discuss what beer to go for. Definitely an older place, based on the appearance and the crowd that was there (they even used an old manual credit card slider machine, I didn't even know anyone still had one, let alone still use it!). So if you're looking for a good old place to chill, sit back and have a few good ones, try this place out.
842 characters

3.41
/5
rDev
-14.8%
vibe: 3 | quality: 3 | service: 4 | selection: 3.5
Atmosphere - This is a dark dank locals type of place. L shaped bar as you walk in on your right and seating and a stage to the left.
Quality/Selection - They have around 25 taps and a couple of coolers full of bottles so you'll find something thats worth drinking. However this isn't the place to go if you want to find something unusual that the other beer bars don't have.
Service - During my visit it was very slow so the bartender was quick with my groups beers and talked to us during our stay.
Overall if you want a different place to have a few beers this is a decent place to change things up.
607 characters
3.8
/5
rDev
-5%
vibe: 3.5 | quality: 4 | service: 4 | selection: 3.5
An unpretentious hole in the wall and neighborhood bar. Kind of dirty and grimy, and some people still smoke here (I don't have a problem with that, but some might). Very dimly lit with a long L shaped bar. There is a stage for bands, tables, and some dart boards. There are lots of old tap handles that decorate the bar, along with some old growlers. The service is great. Just an old couple that seems to run everything, and they serve everyone. That is not bad because there are just a handful of regulars to take care of. They are fun to talk to and very enthusiastic.
They have about 25 taps, and some bottles in the cooler. There is a good mix between macro, good local micros, and some imports. Highlights for me are several Real Ale, and Saint Arnold beers. Belhaven Twisted Thistle, and Fullers ESB for imports. From what I had, the quality of the taps are hard to beat. Maybe the freshest Fullers I have had in town. Unlike the crappy pseudo Irish bars around town that always advertise it, but never take care of the lines or kegs (I am looking at you Bull and Bear). Not the best selection in town, but you will be able to find something good. They also rotate beers out regularly as well. This is a really good place to grab a beer and relax with some friends. It is hard to beat that.
1,300 characters
4.28
/5
rDev
+7%
vibe: 4 | quality: 4 | service: 5 | selection: 4
I hadn't been here in a while and stopped in a few weeks ago when a friend came to town. It looks like the interior has been updated and it has a nice warm, cozy atmosphere. As has always been the case, they have a nice selection on tap and lots of bottles. I had a Real Ale Full Moon Pale Rye and an Avery IPA. Both on tap and both very fresh. Their are a few dart boards in a little partioned room and my buddy and i were able to have some good beers and catch up on old times. A great place to get away from the crowds and enjoy some nice conversation with good beers.
571 characters
4.24
/5
rDev
+6%
vibe: 3.5 | quality: 4.5 | service: 4 | selection: 4.5
This place has a very quiet and enjoyable atmosphere, but definitely not the place if you're looking for a party atmoshere. It is the place to have a good beer with good friends and sit down and enjoy good conversation. They sometimes have an open mic night or a band, always interesting music. The beer memorabilia around the place is fascinating and fun.
The beer selection is great! One of the best in west Houston. They seem to favour Texas brewed beers on draft, which is nice to have some good microbrewed drafts. They also rotate them regularly, always giving you a good new sellection.
596 characters
4.36
/5
rDev
+9%
vibe: 4.5 | quality: 4.5 | service: 4 | selection: 4.5
I was really impressed when I walked into this bar.
The ambience was really to my liking. It had a dive-bar feel, in a good way. Very dark (took a minute for my eyes to adjust) and then the crowd of obviously-regulars greeted my friends and I en masse. The bartender was taciturn but helpful.
The beer selection was truly impressive compared to my expectations. This bar is on the outskirts of what I consider civilization (being a diehard downtowner), and yet they had a nice selection, draft and bottled. Real Ale Full Moon Rye and Bridgeport IPA, both on draft, are only available at a handful of bars even in my part of town.
Found their last bottle of New Belgium's Transatlantique Kriek, which has been off the market for about a year. They had a few bottles that have been off the market for a while, which I guess shows slow movers -- and yet, I was confident in my ability to identify beer that can and can't stand up to that kind of age, and we enjoyed the Transatlantique.
I was perhaps most impressed by the collection of tap handles lining the walls -- not attached to kegs, but on display. They had tap handles that are discontinued in Texas, breweries that have shut down, etc. Easily over 100, maybe over 200? I am not good at estimating numbers. A regular caught me leaning to examine them and pointed out where I could hop behind the bar for a better look.
I was sorry to leave and look forward to returning. Check it out. Also, there was an outdoor patio section that looked really cool (although empty in the nasty hot weather when we were there.
1,585 characters
4.41
/5
rDev
+10.3%
vibe: 4 | quality: 4 | service: 4.5 | selection: 5
Great selection of beer!! About 30 beers on tap and around 150 bottled beers. If you are looking for hard to find Texas beers (Live Oak, Real Ale) you can find them here. I was quite impressed with the selection.
The atmosphere is very quiet so if you are looking for a party atmosphere, go elsewhere. The owners are very quiet and reserved. It appeared to host an older crowd. There are about 10-12 bar chairs but many tables with plenty of seating. The inside is mostly wood and dark. There are about 100 or more old tap handles decorating the bar and paper cut-outs of potatoes hanging from the ceiling.
I went on a Thursday so there were not very many people anyways. It appeared that they have a lot of business on Fridays and Saturdays, just judging by the list of live music and activities on their calendar.
We were served promptly every time we got a beer. When we asked if we needed to open a tab, the owner just smiled, "I can find you." Very nice people.
Eat before you go since the only food they had was popcorn.
Finally, I am very surprised and pleased that an establishment with such a great selection is located in the suburbs of Houston. You normally only find this calibre of beer selection "inside the loop." So it's nice to stay on my side of town, not have to drive into town, and go to a place with this quality of beer selection.
1,369 characters
JP Hops House in Houston, TX
Place rating:
4
out of
5
with
9
ratings