Wineseller & More!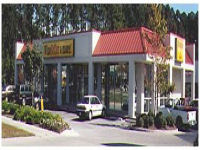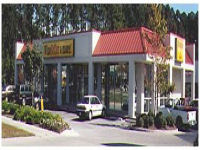 Store
801 S. College Road
Wilmington
,
North Carolina
, 28403
United States
// CLOSED //
Notes:
Reviews by brentk56:
brentk56 from North Carolina
4.7
/5
rDev
+10.8%
One of the most well-laid out beer selections I have ever seen. The beers are clearly demarcated by region (Belgians in one place, Germans in another) and you can buy singles of anything, which is a big plus.
The store is spacious and clean and the staffers are attentive. They carry virtually everything that is available in North Carolina.
Although you can tell by its name that this shop's primary focus is on wine, they don't short shrift the beer selection as I have seen in other places. Right next to UNCW so it is very easy to find.
Feb 11, 2006
More User Reviews:
SEOhioSipper from Ohio
4.35
/5
rDev
+2.6%
Easy to find thanks to an earlier review making reference to the K-Mart parking Lot, plus it sits close to the main road making it easy to see.
The selection was very good (more than 2 dozen is good compared to where I live...lol) and was laid out very nice. Nice selection of the local NC breweries and a very nice selection of singles. The service was good too, they came right over to see if we needed any help.
The prices were a little on the high side I thought but not all that bad. The great selection made up for the slightly higher prices.
Would definately go back there next time I'm in the area.
Aug 18, 2006

GCBrewingCo from North Carolina
4.5
/5
rDev
+6.1%
Forgot to read my old review when I went there today...cut through the K-Mart parking lot once again. The place is being remodeled and will be smaller. The owner said they have moved the beer around 3X lately and will be boxing much of it up till the remodel is complete. Afterwards the store will be more compact.
The selection was very nice, better than a 4.0 but not quite a 4.5, so I'll opt for the 4.5 anyway. The value was decent, but not what I would call inexpensive. The owner was talkative and helpful.
From 7-2-04
overall: 4.25
atmosphere: n/a | quality: 4.5 | service: 4.5 | selection: 4
The Wineseller is easy to find just past the university in Wilmington on College St. I had to cut through the K-Mart parking due to traffic, but it was a breeze.
The store was impeccably clean. I mean, really, really, really clean. The aisles are wide and they actually have a very good beer selection. I did not see any dust on bottles and the only indication of any older beer was in the growlers and bottles available from Front Street Brewpub there was a bottle or two and a few growlers a few months old. Other than that no issues with quality at all.
The service was great to. Both employees asked if we needed assistance and gave it to use when we asked. They stopped stocking shelves when we wanted to look where they were working and only returned when we had moved on. The checkout process was a minute or two longer than I would have preferred, but that was due to the computer, not any other issue.
I'd go back to Wineseller and with some of the odds and ends gifts they have around, I would suggest stopping for more than just the beer, but the beer is worth the trip.
Jun 01, 2006
sabrills70 from North Carolina
4.2
/5
rDev
-0.9%
My once a week shop as it is right next to work. The staff is friendly and always take the time to show me the new itwms which they almost always have weekly. Very good selection - very few BMC. Lots of imports - as well as american and local stuff. Lots of higher gravity beers. Nice wall of cold beer and 5 shelves of room temp stuff. Can make a mixed 6 pack as well, but check the dates on those bottles. Lots of wines and specialty items as well. Easy to find right next to UNCW on College Rd. A very good store. Stop in and tell them the chef says "hi".
Since my last post the store size has been cut in half. They still have a good selection, but the prices have increased and service has gone down a bit.
Dec 17, 2005
aleyeast from South Carolina
4.15
/5
rDev
-2.1%
As I said in other reviews (see FSB and CFB&W), this was the best beer experience in Wilmington. Shop is small with 4 large shelf areas devoted to warm beer Had a large selection of NC beers and helpful staff. I was in search of christmas be ers having already been to Brawleys (Charlotte), Cellar (Virginia), and placed an order at State Line (Maryland). So I had most of what I wanted, but was able to add Cold Mountain which I did want to get, WinterBraun (Lost Coast) and Edenton Winter Cheer. I also got a few other bottles, Bison Stout and Belgian Ale, Rodenbach, and Unibroue 2005. Prices seemed pretty good across the board. Had a cood supply of SNCA and had a chimay and duvel gift set with glass. Wine selection seemed decent, but this if it hasn't already appears to be headed to being primarily a beer store. Good selection of Ports though. Would recommend a stop if in the area.
Dec 05, 2005
bunn4funn from North Carolina
4.5
/5
rDev
+6.1%
This is my home away form home! The staff is very friendly and knowlegable they do specialize in wine but their beer selection is quite extensive. They hold wine and beer tastings everyweek on set days. If your looking for a gift for that wine or beer geek this place has got it from glassware to wine bottle totes. They also have very high quaility gift baskets which are arranged to your preference on site!! Complete with a hand made bow. All in all a great place to check out and very easy to find if you in form out of town stop in and say hey to Charlie and John and tell then your fellow BA sent you... who knows you might even get that employee discount !!!
Nov 24, 2005
Ninjaworm from North Carolina
3.25
/5
rDev
-23.3%
I stopped at this place on the way to the beach with my girlfriend because the name caught my eye. I was hoping by the more part that they would have a decent beer selection.
Their beer selection is not large but they have a nice variety to choose from for being in close proximity to the beach. They have a nice variety of singles for trying new beers and growlers of Front Street Brewery.
The service is done by people who are mainly wine people but know a little bit about beer but I would not look to them for recommendations.
The store is kept very clean, but I do not know how quickly the beer turn over for this store is. All of the beers I purchased here were fine.
I plan to stop at this place on trips out to the beach because of convenience and the selection of singles.
Jun 20, 2004
Wineseller & More! in Wilmington, NC
Place rating:
4.24
out of
5
with
7
ratings