Goodrich's Shop-Rite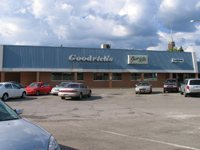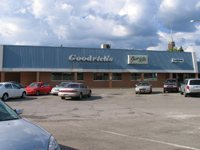 PLACE INFO
Type:
Store
940 Trowbridge Rd
East Lansing
,
Michigan
, 48823-5218
United States
(517) 351-5760 |
map
goodrichshoprite.com
Notes:
No notes at this time.
Added by nortmand
PLACE STATS
Reviews:

12

Ratings:

pDev:

8.91%
HISTOGRAM
View: Place Reviews
Ratings: 13 | Reviews: 12
Reviews by CortexBomb:
3.55
/5
rDev
-12.1%
As high end grocery stores go, Goodrich Shop Rite is about on par with the others that I've visited in the beer department.
They have several shelves and several coolers full of craft and not so craft brews. Fortunately, the craft section is large, and they seem to get in some of the rarer, limited offerings from places like Bell's, Stone, and Founders.
The quality here seems quite good, they rip through product, and dust is not something you'll find on the shelves.
Service is about average. You can run into people who know a bit about beer, but most of the staff don't.
Selection is a notch above average, at least for this type of store. They have some of the harder to find things, which means they are better than average, but they don't have a mind blowing selection either. They tend to keep the rarer bottles about a week longer than Oade's, which makes them a good place to look for the recently released stuff. On an aside, they have an amazing array of (relatively) dirt cheap single malts. This is the best place in town to buy scotch by a wide margin unless your'e looking for something extremely rare, and most of it is 10-20$ less than what I'm used to paying.
Their prices are quite affordable on beer as well, easily on par with the lowest prices I've seen any of their beers sold at.
The bottom line: I go to this store because it's a block away from my apartment. I'm glad they're here. But they're not the grand holy poobah of beer.
1,463 characters
More User Reviews:

4.5
/5
rDev
+11.4%
I visit this grocery store for their awesome beer selection twice a year when I visit Michigan in-laws. They always have a great selection. I've found DFH 120 min for 9.99/ 12 oz. Lots of Michigan craft beers. Also many bombers of Michigan and other US craft brewers. The staff can answer some questions about the beer. More so about the wine. Being from north Carolina, it's nice to have so many more choices: shorts, Atwater block, dragonmead, Stevens point, etc. Location across from Michigan state university campus doesn't hurt either...
542 characters
3.55
/5
rDev
-12.1%
Easy to find, close to the highway. This is a grocery store with a huge wine selection and a pretty good beer selection. They are very heavy on Michigan beers such as Shorts, Founders, Dark Horse, Etc. Some other USA macros inlcuding gems like Goose Island Bourbon County Stout. Prices are about the same as the Detroit area, $9-10 for Shorts 6-packs and $9-10 for Founders special release 4-packs. Most of the beers are on shelves at room temp, several in coolers. Really nothing too special, you can find something tasty but probably nothing too extremely rare.
563 characters
4.2
/5
rDev
+4%
This is the cheapest place consistently in the greater Lansing area. They have a great selection of six-packs and a bunch of bombers. You can get anything from Stone for at least $1 cheaper than anywhere else. This is my favorite place to drop a bunch of money on beer, cause I feel like I get my moneys worth. They get most of the Michigan special release beers like KBS, breakfast stout and others. They also had GI bourbon county stout. They sell a few singles, but it is mostly sixers and bombers.
501 characters
4.05
/5
rDev
+0.2%
Goodrich's is insanely easy to find off the highway, exit 9 (trowbridge) off of 496, then off to the left just after you get off the ramp. Right next to woody's oasis, which is one of the best middle eastern eats in the area for sure.
Goodrich's has a smaller beer selection than some, but has great prices, bombers of stone products are cheaper than anywhere else in lansing here if you ask me. They tend to get things in stock that would sell up quick at oades big 10, i got the last 4 pack of double crooked tree a few months back for $11.99, quite reasonable.
definitely a place to check out for sixers of micros, and some bombers but the wine selection trumps beer by a fair margin.
691 characters
4.2
/5
rDev
+4%
This is my East Lansing beer store. Is your basic smaller grocery (i.e. not Meijer/Kroger) that looks a little old both inside and out. Great selection, and very very reasonable prices. Once in a while I'll find something at Oade's that isn't in at Goodrich's yet. However, the huge price discrepancy leads me to Goodrich's first. Usually $1-$2 cheaper on 6ers and $1 cheaper on bombers than any Big Ten.
Move through their product relatively fast for popular items, but I can usually find what I want within a reasonable time. Been in there dozens of times, but only had anyone ask if I've needed help a couple times. However, I usually don't, so I don't consider that a huge negative. Small amount of singles, and a small fridge just for craft/imports. Main shelf is pretty well organized, others can be pretty random at times.
Overall, my #1 beer stop in EL and I highly recommend it.
891 characters
3.55
/5
rDev
-12.1%
This is a nondescript Grocery Store that looks kind of run-down on the outside. Beer and wine is to the right when you walk in, beer is way in the far right back of the store. Several shelves, one wall dedicated to sixers, another to singles, then some more beer in coolers and scattered around. Some singles, but mostly they were a bit old (and not the kind of beers you'd want to be old) both cold and R/T. Six pack selection quite nice. Lots of Victory, Stoudts, Michigan Brewing, Dark Horse, Bells, King, Dragonmead. Also some good singles...Southern Tier (I got Oat and the Tripel, but appararantly should have gotten the Imperial Pumpkin instead of the latter), Sierra Nevada, Rogue (incl. growler jug sizes), more. A good supply of imports, although i sort of ignored those for the most part on this trip. Overall, good for a grocery store, and for someone visiting and looking for beers i can't get in Indiana.
918 characters
4.15
/5
rDev
+2.7%
Goodrich's is my standard goto beer store. It's mainly a grocery store but their beer and wine selection is fantastic. They have many different breweries, including Bell's, Founders, Victory, Dark Horse, Unibroue, Ommegang, Rogue, Stone, Great Lakes and DFH. They also have a large variety of more obscure imports. The prices are very reasonable, a bomber of Rogue or Stone is around $4, and alot of the beers are in the cooler. The selection samples through regularly, but be sure to check dates because some beers can sit on the shelves for awhile. The staff is friendly and helpful, and overall it's a very good place to spend your hard-earned money.
653 characters
4.5
/5
rDev
+11.4%
What a wonderful place to have as one of my closest grocery stores. The store initially seems like your typical IGA/ Farmer Jack/ corner market, then you get to the alcohol isle. I don't know a lot about wine, but this place has a lot of it. This is THE beer store for East Lansing. Oades may have a few more of the rarer things (ex: Rochefort, Hell Hath No Fury), but Goodrich's kills with price. When I have called, the staff has been very helpful, even if they are not the beer and wine guys.
Some of the beers I have seen here are: Jolly Pumpkin, a massive amount of Unibroue, Victory, Stoudt's, Bell's, Arcadia, Atwater, Dogfish Head, Founders, Samuel Smith, Great Lakes Brewing, Goose Island, Avery, Rogue, Dark Horse, Leopold Bros, Ommegang, Lindemans, Chimay, and Stone (much much cheaper here than Oades).
All the beer I have bought there has been on the fresher side, and have had no expiration or skunking problems. I just can't seem to help going here at least once a week.
992 characters

4.35
/5
rDev
+7.7%
We stopped by here the day after the Michigan Brewers Guild Winter Beer Festival. This place is a large grocery store, with an incredible selection of Booze! (it's kiddy-corner from the state university). Unfortunately, we were there before noon, and couldn't purchase anything (State law).
Plenty of individual bottles, mostly American craft (locals & other regionals), with cases available too. A good selection of imports as well. There were some really good bargains here... too bad we couldn't get any!
Unfortunately, most of the Macro swill was in the fridge, while most of the craft brews were on the shelf!
620 characters
3.7
/5
rDev
-8.4%
Well I thought I had hit all the good places in Lansing, I was wrong! I decided to stop at Goodrich's to check out the selection on my way to Oades to get some Unibroue. Well needless to say, I didn't make it to Oades!
IMHO, this place has the largest selection of brew in Lansing. Impressive amount of local Micros, broad range of Unibroue, a decent selection of belgians on their own shelf, the opposite shelf appeared to be all german? I saw many beers that have a reputation on BA that I haven't had the chance to try yet, Celebrator, Samuel Smiths and more. Not as many individual bottles for sale Oades, but by how the cashier rang up my indivual bottle of Ephemere that had no price tag on it, I think that all of the bottles can be bought individually, but I could be wrong!
One of my bottles that was sitting on the shelf individually had no price tag. An employee waled by and I asked him what the price was on it. Without skipping a beat he answered "All of the Unibroue are $2.29 a bottle. Just tell the cashier that Woody told you so." Woody is the alcohol employee. He mand the cash register at the liquor counter, but I din't get to test his knowledge any further.
Price was the best I had found in Lansing yet, cheaper than Tom's or Horrocks, definately cheaper than Oades. Unfortunately this place is on the exact oposite side of Lansing from me, so it is quite a drive, but a drive I will be making often!
1,432 characters

4.5
/5
rDev
+11.4%
Great wine and beer selection for a grocery store, and the staff tends to be fairly knowledgeble about their selection. Michigan is well represented in their beer selection and there is a nice array of English, German and Belgian beers to choose from. The real treat is that at the aisle cap there are singles of "oddities"-stuff not usually or rarely found in Michigan. Also, their prices are very reasonable, making them the most affordable place in Lansing with a good selection. They also have an eclectic selection of groceries, catering to the large foreign student population nearby. Overall a great place to shop for any BA who lives in Lansing, or is staying nearby for a few nights.
692 characters
Goodrich's Shop-Rite in East Lansing, MI
Place rating:
4.04
out of
5
with
13
ratings