Zea Rotisserie & Brewery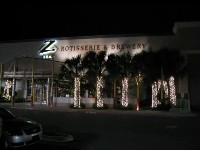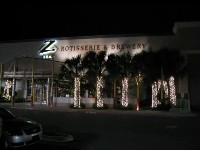 PLACE INFO
Type:
Brewery, Bar, Eatery
4450 Veterans Memorial Blvd
Metairie
,
Louisiana
, 70006-5329
United States
(504) 780-9090 |
map
zearestaurants.com
Notes:
No notes at this time.
Added by BeerAdvocate
Beers are brewed at / by another brewery.
Ratings: 14 | Reviews: 11
Reviews by bleeng:

3.7
/5
rDev
-2.4%
vibe: 4 | quality: 4 | service: 4 | selection: 3 | food: 3.5
Zea is open and operating in Metairie! I visited on 3/21/07 with a friend for dinner. It was very busy.
I went to the bar first and received prompt and courteous service. Zea's beers are now brewed by Heiner Brau out of Covington, LA. The brewing equipment is still in place at the restaurant but is not operational. All of the 5 beers on tap are lagers-including a Kolsch, Pilsener, Spring Bock among the offerings.
I was served a Spring Bock-it was very light colored with no head. My first thought was uhhhh, what is this? It seemed way too light for a bock but the flavor, aroma and mouthfeel indicated that this was indeed a spring bock. Very nice beer but deceiving in appearence.
Next up was the Pilsener. A light brownish color with malty nose and flavors.This is a well done and very quaffable beer. One of the better Pilseners I've had.
The food was great-I had trout with a nice white sauce and shrimp while my companion had a tofu something or other (she liked it!). It's good to see Zea serving good beer and food again.
1,045 characters
More User Reviews:
4.49
/5
rDev
+18.5%
vibe: 4 | quality: 4.5 | service: 4.5 | selection: 4.75 | food: 4.25
3
/5
rDev
-20.8%
vibe: 3 | quality: 3 | service: 3 | selection: 3 | food: 3
3.95
/5
rDev
+4.2%
vibe: 3.5 | quality: 4 | service: 4 | selection: 4 | food: 4
This is my wife's and my favorite go-to when we can't think of where else to go. It seems as though we always get the Asian almond shrimp followed by the honey island chicken sandwich with a zea clearview gold. The chicken is fresh, the bun is perfectly toasted and the honey mustard sauce is on point as well. It always hits the spot. The tables are spaced far enough apart that it is comfortable even for my claustrophobic tendencies. Price isn't bad, 2 can't eat with an appetizer for about $35, and we have never had an issue with service. Attentive without hovering. Would definitely recommend.
599 characters

4.05
/5
rDev
+6.9%
vibe: 4 | quality: 4 | service: 4.5 | selection: 3.5 | food: 4.5
Located in the mall, off of Veterans Boulevard, it was eminently visible from the road with a wide windowfront. Entering, the curved, blonde wood m.d.s. was immediately to the left with the bar area just beyond it, up a short flight of steps on either side of the m.d.s. The long, "U"-shaped bar was made of reddish laminated concrete. The long kitchen ran half the length of the right wall. The décor was very modernist with a lot of angles built into the design. To the right of the bar were a series of semi-circular booths. The restaurant seating was a combo of booths on either side and standard restaurant tables and chairs center. Headed aft, a pathway past the last booth led to the rest rooms on the left, FVs on the right and an entry to the mall all of the way aft.
Beers: Clearview Gold (Kolsch); Zea Amber Lager; Category 5 APA; Ponchertrain Porter.
Seasonal: Strawberry Fest. Brewing done by Heiner Brau.
Mom: Oh yeah! A successful place in a mall (RBK of P) does not happen by accident.
Kelly was our server.
$65 growler! Yow!
1,047 characters

3.45
/5
rDev
-9%
vibe: 3.5 | quality: 4 | service: 4 | selection: 2 | food: 4
Zea's is no longer brewing in this location. It's a restaurant in a Mall. You can enter from outside (facing Veterans Highway) or from inside the mall. Unfortunately, considering the beer, it supports the old warning about avoiding establishments located in malls.
There is a pleasant atmosphere, a large bar and lots of tables for food service. I noted that the music piped in was unpleasangly loud - a negative. The servers were OK but not enthusiastic. I had the APA (reviewed separately) and it was boring at best, pretty terrible really. I also had spinach salad and a side of red beans - the food was good and reasonably priced.
You might want to stop here if you're in the area or at the mall, but I certainly wouldn't go out of my way to visit. Perhaps their other beer offerings are better than the APA. Perhaps you're not looking for hoppy beer. But for me, lacking decent beer, there is very little to recommend Zea's or make me come back.
952 characters
4
/5
rDev
+5.5%
vibe: 4 | quality: 4 | service: 4 | selection: 4 | food: 4
This spot is located inside the parking lot of a large mall, good location plenty of shopping around, great interior, nice people, the staff was helpful, but it seemed the place was more about the food than the brewery.
a little bit pricey, more of an upscale, trendy suburban feel, with people on their way home from downtown to their homes, after work.
I was there before Katrina, so I cannot comment on this location after the storm, but I assume they are back up and running to full capacity.
The people of New orleans are great.
536 characters
4.45
/5
rDev
+17.4%
vibe: 4 | quality: 4.5 | service: 4.5 | selection: 4.5 | food: 4.5
wow, i went to this place for the first time a couple weeks ago whilst on a beer run in metarie. i tried a sampler of all six of their beers and all were highly drinkable.
the service was outstanding and our waiter was super helpful.
the food was outstanding. great chicken and ribs. more side items to choose from than i have ever seen on a menu before.
i highly recommend this place.
go to metarie, eat at zea's, go see jeremy (beerbuddha) at martin's, shoot over to whole foods and call it a great day.
512 characters
2.7
/5
rDev
-28.8%
vibe: 3 | quality: 2.5 | service: 3 | selection: 2 | food: 4
Zea is a great place to go eat and have a great beer. The brewmaster is always coming up with something new. I once had a Chai Spice lager which was incredible. The food there is also fantastic. Their beer is now being bottle and sold. I've seen their beers in a couple of stores. You can but most of their beers in a growler if you want which is a nice option. You can actually see the brewery part of the operation while you're eating. Sometimes you can see the brewer mixing and pouring which is cool.
Edit: Brewer no longer there and they took out the brewing section of the restaurant. The beers are now contract brewed and are garbage.
642 characters
3.1
/5
rDev
-18.2%
vibe: 3.5 | quality: 3.5 | service: 3.5 | selection: 2.5 | food: 2
Originally visited in July of 2005
Worst burger I have had in years. No lie this thing was awful. I am a dork and I order my burgers medium well. I didn't think it was possible, but they managed to completely burn the crap out of the outside of it without cooking the inside to even medium done. As a feat of grill engineering that is amazing. As a food it was awful. To prove they wern't done the bun was stale!
Everyone else enjoyed their food so I think the lesson here is don't order a burger.
The beer is middle of the road to decent with the APA being the standout, but it tastes exactly like Sierra Nevada (though not quite as good...obviously a clone) so don't expect anything exotic.
705 characters
4.08
/5
rDev
+7.7%
vibe: 4.5 | quality: 4.5 | service: 4 | selection: 3.5 | food: 4
I really like coming to this place. the only zea's that have their beer is the one at clearview mall (the last i checked), so keep that in mind for the ones in kenner and river ridge.
A pretty good atmosphere, but gets crowded, especially after katrina.
(I edited what i had here earlier). The beer was brewed on site, but is now a contract brew at heiner brau, which can be on the inconsistant side. Last time i went they had their normal beers on tap, as well as heiner brau's kolsch.
My family really likes this place for the food, so we go somewhat often. great food. but the beer is great too. A good porter and apa. They used to make a monthly beer to try, which i was always pleasently surprised with what they did, but after katrina they no longer do that.
Overall a great place to visit. The selection is bound to just their brews , which is sufficient, as their food has always been good and the reason why i go...gotta try their asian tuna seared salad! check it out.
982 characters
4.1
/5
rDev
+8.2%
vibe: 3.5 | quality: 4.5 | service: 4 | selection: 4 | food: 4
Atmosphere- The inside has the atmosphere of the basic chain brewpub. The place is upscale in decor with a large bar on one side and plenty of seating on the other. Saturday night was pretty busy, but lunch was no problem. Also Zea is in the mall which makes parking a pain and takes away from the atmosphere quality.
Quality- I had three of the six beers that Zea was offering and found all to be of very good to great quality.
Service- Very good service, our waiter offered us a free sample of their current "brewmaster's special" without my asking. Plus the guy seemed to have a fairly good knowledge of the beer.
Selection- 6 beers: Kolsch, Vienna lager, porter, IPA, APA, and a special which happened to be a Belgian style this time around.
Food- Very good, but nothing extraordinary. The menu consists of standard brewpub selections, rotisserie items, and Louisiana style food.
Value- Prices seemed about average for a brewpub. Plus they have different specials, on our night larger beers were the same price as a pint.
1,043 characters
3.93
/5
rDev
+3.7%
vibe: 4 | quality: 4 | service: 3.5 | selection: 4 | food: 4.5
My first time in New Orleans (just outside of the big easy), me and two buddies stopped by for dinner. All thumbs-up from the three of us. I had the rotisserie chicken (when in Rome....) and it was delicious! Menu selection is wide, the atmosphere was good, the restaurant was very clean (that's always a plus!), the prices were reasonable, and the beer was great! They brew on premise, and have many beers available. Nice view of the brewery from the other side of the glass in the restaurant. Our waitress wasn't the greatest, but she did say she was new. We weren't in a hurry, so it was no big deal. I would highly recommend you stop by if you are in the area.
664 characters
Zea Rotisserie & Brewery in Metairie, LA
Brewery rating:
24.7%
out of
100
with
85
ratings