Red White And Brew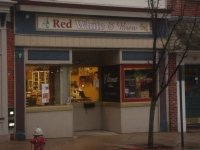 PLACE INFO
Type:
Store
33 High Street
Mount Holly
,
New Jersey
, 08060
United States
(609) 702-9949 |
map
redwhitebrew.net
Notes:
No notes at this time.
Added by Foxman
Reviews: 14 | Ratings: 19
4.05
/5
rDev
-4.5%
I stoppped there today after visiting Mount Holly's winter festival. The store is a bit on the small side. Most of the store is devoted to wine, the brew selection was quality however. They had Stone, DFH, Troegs, Aventinus,and many others. This is not the place to find the rare beer, but a place to find quality brews easily accesible to NJ. All of the stock seemed fresh. All new releases were well marked. I did not see a singles section. The prices seemed pretty fair. I would not go out of my way to go to Red White and Brew, but if you are in Mount Holly it will not dissapoint.
585 characters
4.2
/5
rDev
-0.9%
I've been here a time or two, it ain't bad. They stock a good selection for the size of the store and they are always certain to keep their stocks fresh. Sure you can find more at a bigger store, but at Red White and Brew you know the stuff you're buying won't be out of code. And the staff is knowledgeable and always willing to answer questions. Most of the times that I've been the staff has been able to turn me onto something. They are even better in the wine department. lastly it's real convenient for me because it's just down the street.
546 characters
4
/5
rDev
-5.7%
This quaint little beer is located on High Street in Mount Holly that's just a few shops down from High Street Bar & Grill. There's a limited amount of street parking, but you can always find an empty car lot near by. It a very small clean well organized store that has a few aisles of wine, a shelf or two of liquor, 4 shelves of beer, and 2 refridgerators stock with a handful of wine bottles and six packs of beer. All of the beer is located in the back of the store. They have 2 shelves devoted to rare or uncommon 750ml and 22oz. American craft beer, while the other shelves are devoted to imports and Belgians. On occasion, they sometimes have beer displays surrounding the beer shelves and the 2 refridgerators.
Their service here is pretty good. I've been in here a few times and the service varied from time to time. One time I was in here and only got a hello, while another time this man approached me asked if I need any helped and he gladly pointed out to me their new beers they had just got in. This man I talked to seemed pretty knowledgeable about the beer they sell here.
Their beer selection is nothing like Canal's down the street, but for such a small store, it has an excellent selection of beer. Their American craft beer shelf consists of Allagash 750's, Victory, bombers of Stone, 750's and 12 oz bottles of DFH, Captain Lawerance, Cisco, bombers of Sly Fox, Lagunitus, and plenty more like those. Their refridgerators consist of Flying Fish, cans of Sly fox, Lancaster, Cricket Hill, and just a few more like those. Their Belgian/import shelves consits of all the Trappist beers you can get in the States, Panil, 5 varities of Nogone, and a couple more that I don't remember or I just couldn't read.
For such a small littel store, it does pack a nice little beer punch. It's clearly worth the 30 second walk from High Street Grill.
1,861 characters
5
/5
rDev
+17.9%
Sam, Stacey and Jeff are three of the most professional , intelligent people in the beer and wine profession. The selection at the Mount Holly store is excellent and the Florence store is just as good. Recently I tried Krait on a reccomendation from Sam and it was very good. Jeff recently reccomended Troegs Sunshine Pils which I liked and just the other day I asked Jeff for another reccomendation and he steered me towards Troegs DreamWeaver Wheat which I LOVE .
In Fact I liked it so much I will be carrying a case with me on my trip to the PA mountains in two weeks.
574 characters

4.35
/5
rDev
+2.6%
I've been to this store twice so far, the first was the night before election day 2006, I walked into the store, talked beer with the owner, and probably spent a solid 40 minutes trolling around his store. It wasn't until I was checking out that he informed me that he was closing for the night as I walked in. Someone who would keep their store open like that gets high marks in my book.
The second trip was last Saturday, and it also did not disappoint. Well organized store, a bit small, but again, very well organized and stocked. A very friendly woman always was asking if I needed help, which is nice. Some great finds were Southampton Abbot 12, Biere De Garde, and Saison. Also picked up some Urthel Bock, which was a great find.
Overall, I have to go to Mt. Holly on business at least once a year, and I will always stop by this store afterwards from now on.
872 characters
5
/5
rDev
+17.9%
Every time I walk into this place I am impressed. I have gone to numerous stores that have been big or advertise that they have everything, but i always leave those stores disappointed because they have every variant of A-B or Coors with one or two micros (and when they do they are dusty). The stock at RW&B seems to always have new stuff and it is always quality like fantome or de dolle. I am a kid in a candy store with all of the cool new beers from belguim or the west coast that i can't get anywhere else. The people who work there are knowledgable and always make you feel like you are at home. My only wish for this place is that it were a bit closer to home.
668 characters

4.65
/5
rDev
+9.7%
A small little wine & beer shop located on High Street in Mt. Holly. I'll occasionally stop in this place after having dinner and good beers at High Street Grille as it is a short 1/2 block away.
The store is very small but has a great selection of quality micros of NJ and PA, latest NJ distribution additions such as Great Divide and Green Flash, and a larger selection of Belgian beers. Most bottles are warm, but there is a cooler with a smaller selection of beers. Prices are reasonable based on location and size of the store.
Service was friendly and knowledgable on both wines and beer. Since this is a higher-end wine and beer store, knowledge of the product is part of the customer experience unlike the mega-stores like Canals.
If you get to Mt. Holly, definitely hit this place up to find some good quality beers.
835 characters

4.35
/5
rDev
+2.6%
Nestled quietly in the center of town in Mount Holly, this store appears to have a good selection of wines...which of course I walked right past in order to get to the beer located in the back!
Very clean setup with shelves of Belgians on the left and shelves of American micros (mixed with a few imports) on the right. A few refridgerators contain mostly American macros and are well-organized. Prices were reasonable for some beers, and a bit steep for others. I purchased a mixed 4-pack from Heavyweight Brewing for $7.99 and was debating on getting a mixed 8-pack of Unibroue, but it was a bit pricey at $17.99. Also wanted that 4-pack of DFH Burton Baton, but that was expensive as well at $13.99.
The woman working the register was extremely helpful. When she saw me taking my time browsing the beer section (as usual, haha) she came over and started chatting me up about all the beers. She was very helpful with assisting me in finding beers I might be interested in.
Clean store, great service, limited but thoughtful selection...check it out for sure if you're in the area.
1,091 characters
4.35
/5
rDev
+2.6%
Tight but very good selection. You'll see beers from Jersey you don't readily see in the Southern part of the state. This place is esp. known for being able to get Ramsteing, though I didn't notice any Ramstein while I was there. OTOP Heavyweight Saisons were around. Climax jugs. Pangea was there and some good imports, like Panil Barrique.
The guy working there was very good and helped someone pick out a wine for dinner. He helped me find the beer I wanted. He was also very quick to ask if I needed any help.
This place is well-run and makes good use of a limited amount of space.
The hours are 11-7 Monday through Saturday. Is this due to a town ordinance? Not the most convenient hours, but still a very good place to hit.
738 characters
4.2
/5
rDev
-0.9%
This cute, boutique wine shop has what I'd consider an average selection of wines at OK prices, but unless you need some personal attention from someone who knows the inventory you're better off hitting the Joe Canal's down the road on 38.
The beer selection is OK as well, and they do have some hard to find items, but again, you're paying a little bit more. There's 12 feet of tall shelving, and 3 double door coolers with some interesting stuff from Sea Dog, DFH, Heavyweight, Climax/Hoffmann, Atlantic Brewing, and Rogue.
If you're in the area it's worth a stop to see if they've got something odd (like a OneTimeOnePlace beer from Heavyweight, a six-pack of Ramstein Winter Wheat, or a specialty release growler from Climax), but other than that you might better off looking elsewhere.
792 characters
4.35
/5
rDev
+2.6%
Nestled quietly in the historic downtown district of Mt. Holly, you'd miss this place if you weren't looking specifically for it. But once you've found it, you've found a gem.
Its first identity is as a bit of an upscale, selective wine shop, but its beer persona is a very close second. What they carry is damned good, and they have something for pretty muich everybody, as long as you want what they carry.
The strength and keystone of this store is the staff. Friendly, knowledgeable, and quietly perceptive, the people working here are salt of the earth, and understand well that service is key in keeping the small business afloat. They say hi, coming in, ask once if you need help, heed your wishes, and fall all over themselves assisting if you so desire. All that's missing is a red carpet leading up to the door.
if there's one downside, it's the variety of the selection. Don't get me wrong: if you compare it to the average mom-and-pop liquor store, this place would blow the other away. But with limited shelf space dedicated to beer, relative to the wine, and only 2 coolers for beer, there's only so much they can keep in stock. That said, in spite of the limitations, you can just about always find Allagash, Unibroue, and various Belgians in stock. Locals are well-represented with Flying Fish, Heavyweight, Climax, Stoudt's, Weyerbacher, and others on the shelves. And having Ramstein, this far south, is in itself nothing short of a true wonder. But god, to fantasize how much more they could carry if they cut back just a bit on the wine!
The prices are in line, average in most cases, and while you won't likely find any true bargains, you won't feel cheated either, after checking out. And they have occasional events such as Meet the Brewers festivities, and they are communally connected with a couple pubs across the street which have the odd beer dinners, so its a good place to get word of those, too.
Simply, once you've found Mt. Holly, if you can find High Street, you'll find this fine beer boutique. It may not be a destination from afar, but if you find yourself in the area, you'd be remiss in not stopping in, saying hi, and walking out with something well worth savoring later.
2,229 characters
4.15
/5
rDev
-2.1%
Let me start by saying I LOVE THIS PLACE!!! The selection is not vast, but it DOES change from each prior visit. Heck, I picked up some Lake Placid 46er last time around. They also have a great small specialty wine selection and seem to keep the place cool enough to keep the wine from going bad (unlike some bigger places) and they have some interesting Scotch Whisky as well...wait this is supposed to be about beer!! Anyway, The staff is great and very friendly. You can find Ramstein here from time to time as well. Just know, if you are coming here, High Street is not marked if you are coming in from the bottom of the hill.
630 characters
4.05
/5
rDev
-4.5%
Visited this fine establishment yesterday - as noted by other reviewers, a small store, but there is much potential here. Many of the region's best can be found here - Ramstein, Victory, Heavyweight, Yards, Weyerbacher, Climax as well as Belgians like LaChouffe, Duvel, Delirium Tremens and other goodies. Having spoken with the salesperson (I'm tempted to say owner, but I did not inquire), he indicated that he was willing to get anything in so long as the stuff would move - (had asked about getting Delirium Noel, but he indicated that the Delirium Tremens wasn't moving so there was no reason to get the new stuff in).
As a side note, they also had a "Meet the Brewers" night where they featured regional brewers and their beers, so they are willing to put on beer-related "events".
All in all, a nice place that with support, could become a great place for beer shopping.
883 characters
4.25
/5
rDev
+0.2%
This is a great little liquor store, but the operative word is little. It is a boutique wine and beer shop with only two beer coolers. The selling point is that there is not a bad beer in the cooler. I started with two Ramstein varieties, the first I've seen anywhere in the area, proceeded to the special edition Unibroue, grabbed a sixer of Rogue Dead Guy Ale, and also threw in a sixer of Anderson Valley Boont Amber Ale. They had two shelves devoted to Belgians and one whole cooler with micros in it. One shelf was devoted to Victory, and I would have liked some Heavyweight but they were out. The owner is knowledgeable and helpful although not much help is needed considering the limited selection. It is a great little place with exceptional beer.
755 characters
Red White And Brew in Mount Holly, NJ
4.24
out of
5
based on
19
ratings.