Thirsty's Quick Stop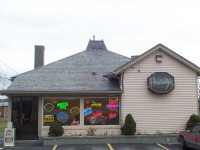 PLACE INFO
Type:
Eatery, Store
2914 E Market St
York
,
Pennsylvania
, 17402-2414
United States
(717) 755-5969 |
map
thirstysquickstop.com
Notes:
No notes at this time.
Added by 99bottles
Reviews: 14 | Ratings: 15

2.59
/5
rDev
-29.6%
vibe: 3 | quality: 3 | service: 2 | selection: 2.5
A real small spot off Market St. in York. Over the years the selection has really fallen off. They seem to cater to the macro crowd now exclusively. Youll still find some DFH, Founders, other good locals, and an occasional surprise brew here but its nothing to go out of your way for. Prices vary but have a tendency to run a little high. The staff isnt real friendly and don't know much about beer, releases, etc.
414 characters

3.85
/5
rDev
+4.6%
Thirsty's is a pretty cool place.
Great bottle selection. Mostly micro / craft brews, and some Euro selections. A nice selection of 750ml bottles too, Rogue, Stone etc.
You can mix a six pack and they don't beat you up on price too bad. If you bought four sixers it would be more expensive than your typical case of micro, but that's to be expected in PA.
They also get new stuff in often, including seasonals, and seem to be on top of things as far as getting new to the ares brews goes.
They have a few rotating taps there and food too with a nice seating area and big TV.
Probably the best place to get single bottles in York. If your looking to talk beer, or have questions go somewhere else. They stock it, but don't know anything about it.
750 characters
3.3
/5
rDev
-10.3%
Good selection of beers: Dogfish Head, Founders, Victory, Weyerbacher by the bottle. Prices were reasonable and gave me the 6 pack price for a mix of 6 different beers. They had 2 refrigerator cases about 6 feet high with 6 to 8 shelves in each case. The singles were lined up next to each other probably 15 bottles accross. Total selection about 80 different beers. I will deffinately go back.
Shop also has small seating area, with a large TV. Typical menu of sandwiches and such. Place appeared clean but not high end, typical small sandwich shop. I did not eat there on this trip.
585 characters
3.23
/5
rDev
-12.2%
vibe: 3.5 | quality: 3.5 | service: 3 | selection: 3
After visiting quick 6 just before arriving here, I was a little disappointer with this place. There were plenty of micros, no complaint there. All beers were available as singles and there was a small selection of Belgium's. The food also smelled great although I did not order any.
As an import lover I was surprised to see such a limited selection, with nothing not available any where else. The prices also seemed steep even by PA standards. Ok in a pinch but don't go out of your way to get here.
503 characters
3.1
/5
rDev
-15.8%
I just stopped by this place yesterday, as I was in the area doing some shopping anyway. It said the place openned at 10am but the guy didn't show until about 10 after, I was only waiting because another guy there said they are usually late. They have a little eat in area looks like it set up to watch sports. Lots of macro stuff and about 4 cooler doors worth of micros and 1 door worth of imports. I was never greated or asked if I needed help. When I picked some beers that made up a mixed six but were slightly differnet in cost he would not splitt the difference with me and instead I was either forced to buy overpriced singles or fill out complete 6packs all of the same price. Anyway I did purchace a couple of bombers and a handfull of singles that I wanted to try. This place was pretty high on the price range for the stuff I was interested in and being as close as I am to MD and some good stores I will probably not be back.
938 characters
4
/5
rDev
+8.7%
I stopped by to pick up a couple of six packs before meeting friends recently. I have been coming to this establishment since it was part of the Quick 6 chain. I think it has improved since then in quality, but overall it has stayed pretty much the same.
I chose a mixed six of Founders, Troegs and Weyerbacher which were all reasonably priced and a six pack of Leinenkugel's Sunset Wheat. The selection of local beer is well represented and you can get a good deal of east coast stuff like Southern Tier and Southhampton. The imports are basically contained in one cooler w/ Scottish, German, English, Belgian and other parts of the world.
I shared a Monk's Sour ale w/ a friend who had never tried one before. So I consider it worthwile for opening new beer fans up to new styles.
Service is very good at this place and all my questions are answered when I go there. I like when new bottles come in they are displayed at the counter. You can get draft beer to go and just about any Sam Adams offering is available including seasonals.
For a PA six pack shop it is a cut above most. I like the convenience of the place most and it is well organised w/ prices displayed in the cooler. I will continue to support Thirsty's especially since they aren't afraid to stock new craft-brewed bottles.
1,299 characters
3.44
/5
rDev
-6.5%
vibe: 3 | quality: 3.5 | service: 3 | selection: 4
A quick trade with todd1 resulted in my stopping at Thirsty's.
Quality: The store has a dine-in area that we did not avail ourselves of, but the place was clean and well-stocked. We were there at opening so the lack of hustle and bustle helped.
Service: The store is self serve, so the service from me was top-notch. Seriously, I didn't expect bells and whistles and was not letdown or overjoyed.
Selection: Selection is nice for a PA six pack store, carrying nice offerings from Bell's and Stone. I also say Southern Tier, Blue Point, Ommegang and some limited import offerings.
The value is decent, the prices were not out of hand. There isn't much in York beerwise, so this place is a must visit.
703 characters
3.4
/5
rDev
-7.6%
A neat little place tucked away on a busy street in York.
As you walk in, the craft beer singles are directly in front of you. They have selections from the PA micros, Troegs, Weyerbacher, Victory, etc. They also have Stone, Dogfish head and Rogue. On the right side of the cooler is where the malt liqour, Smirnoff Ices, and imports are. Go figure.
I spotted Chimay blue, red and white, a few lambics, and Maudite.
The left of the singles is where the six packs are kept. They have sixers of the PA micros, but that is about all that I spotted.
The prices were PA average, 3 bucks and more for a single of most everything.
The man behind the counter was drinking a coors when he rang me up, and I could tell that he was drunk. Still, he rang everything up correctly and packaged it for carrying. Not really who you want running your store though.
864 characters
3
/5
rDev
-18.5%
Drove up from Baltimore, since one of the reviews indicated that they carried Stone products. Quality is TBD, but no dust on the bottles and the freshness dates I could see were OK. Service was pretty good when I got around to buying the beer. The fellow as fairly knowledgeable. Selection was not bad (some Belgians, Stoudts, Rouge, DFH, Appalachian), but not what I see in Baltimore.I did find some stuff from Stone and also from Southampton, which I have been wanting to try. To round out the selection, a mixed six pack of Appalachian and a couple bottles of Bells Two Hearted wound up in my car. Food was OK, but nothing special. Cost was pricey, but since I can't get Stone or Southampton in MD....
704 characters
2.35
/5
rDev
-36.1%
I must first make a disclaimer that I had a bad experience with this place-I was inspecting the date on a Troegs Oatmeal Stout and decided that based on the lack of a freshness date and the accumulation of dust on the bottle, that it had been sitting a little too long for my taste, so I left to go to another place up the road. Apparently the owner saw me checking out the bottle and then walking out not having bought anything and assumed I stole the beer I was looking at. He chased me down in the parking lot and started yelling profanities and something about how I owed him $3 for the beer I supposedly stole.
But I wasnt even really happy with this place before this incident...
Okay, maybe I'm spoiled living in Maryland around so many good beer stores (Calvert Wine & Liquor in Hunt Valley being quite possibly the best I've ever seen, if you live in York, its worth the drive) but I am a little irritated at the beer selection here in York.
Now, I do owe my discovery of Troegs to this place, but starting at $9.99 a six pack, its almost worth the drive back to Hunt Valley where the prices are more reasonable.
From the looks of the bottles and the dates, Thirsty's doesnt turn over a lot of their higher end beers (i.e. anything but Yuengling) very quickly, and so for the beers that appreciate with age thats great, but for your average brew, you may want to go somewhere else.
As i mentoned before, the prices are pretty steep too. Expect to pay $9.99 a six pack for anything other than macro lager trash.
The only redeeming quality about this place is it has a wider selection than any place in the area, and it's relatively convenient located on Market Street.
For friendlier service, better (although still steep) pricing, and a selection almost as broad, try Quick Six on Mt. Rose Ave, about a mile east of I-83, or the state-run case store, also on Mt. Rose Ave., about 1.5 miles west of I-83 near the intersection of Mt. Zion Rd. which also has a pretty good selection, the only downside being that you have to buy by the case per PA law.
2,084 characters
4.35
/5
rDev
+18.2%
The truth is this was the first place I found with a decent selection within an hour of my house. Unfortunately, that is not necessarily saying much :) but I really am pleased with what all I can find at Thirsty's Quick Stop. I travel all the way from Paradise (the very eastern side of Lancaster county) to York just to find any decent selection. It is a 45 – 50 minute drive one way and I used to make this trip about every other week (I have recently found a new theory with a longer drive and less frequently that works better the the limited selection they have here in York) . They have a very large array of bottle conditioned Belgians (doubles, triples and quadruples), they have fantastic Stouts and hard to find Porters, and some of my favorite Barley Wines. They carry DFH, Victory, Weyerbacher, Three Floyds, Great Divide, Stone, Rogue, Penn, Brooklyn, and other microbreweries. They also have a number of imports from large and small international breweries. For those of you from out of state you may rate their selection differently, but anyone from the area will know, there really isn't any place better near here (that I know of). They are bit pricey though (most individual 12oz bottles are $3 ea. Or more) but what can you do when no one else has what you want? Anyway …
---
EDIT
This year they have not done as well on keeping the DFH selection stocked. Nonetheless, If you are in the area stop in and check it out.
---
Hope this is helpful.
Cheers!
1,483 characters
3.85
/5
rDev
+4.6%
Journeyed here from Lancaster with two fellow beer lovers to try to get some different beers for a long weekend. The selection was fair for a six-pack store in PA. Got a good preice on Blue Moon Belgian White and mixed six-pack of Stoudts. Place seems to cater more to the NASCAR crowd but this was a Saturday early afternoon and the place was almost empty. We all ordered food and evryone was satified with their meals. An acceptable place for PA, but when compared with DEL or MD it really falls short.
504 characters
4.2
/5
rDev
+14.1%
Had to drive back and forth between B'more and Scranton today. The drive sucks. I'm sure you are all aware that, besides the crazy beer rules, PA also seems to have troubles with roads, but I digress.
Saw this on the site and stopped in after seeing some pretty scary places in Scranton and Shanandoah--had to make other pit stops for pierogies and kielbasa. Mad props to the nice gentleman who runs the place. Don't know how he does it, but offers singles, sixers, cases, and has a serious half dozen taps.
Got two bottles of Stone brews ($5.99 each), Rasputin stout, a couple of Appalachians, a Stoudt's winter, Alpha Klaus, and a couple of Lancasters.
Singles prices in general were a little high, but well worth the trip for the quality selection available. Considering the dark stanky holes that most beer joints in PA seemed to be, this is awesome. (Plus, only a mile off of I83) Had a cooler full of Belgians and a selection by the register that couldn't fit in the coolers. Had a pretty solid collection of craft and micro brew. Several hard to finds were mixed in there and had me salivating for more money for beer and less for presents...
Had an average sub and watched ESPN on big screen while swilling down Lancaster Winter Warmer and sampling the OSA on tap. He also had Stoudt's stout, and something else I couldn't remember. If you live in PA, northern Baltimore County, or are just passing through, give this place a gander.
1,455 characters
4
/5
rDev
+8.7%
I added this to the list, so I ought to review it, right?
From the street, this looks like your average six pack joint, and in some ways it is. They have 6 and 12 packs of Bud, Coors, Heineken and Corona. But that's hardly the reason to come here. This place stocks the best selection of beers available in York, and sells them as singles and in six packs. The only problem is a serious mark-up for anything not local. The selection is really surprising, considering the area. They have all offerings from ABC, Brooklyn, Troeg's and Victory. All of them, even seasonals. They carry some 12 ounce Stoudt's and almost all of their 765 mLs. They have some Bells/Kalamazoo, some Oxford, some DeGroen's, some Rogue bombers, some Stone bombers (AB and Ruination), many of the Dogfishead seasonals and specialties, and that's just domestics. The import selection is impressive with St. Bernadus, Duvel, Spaten, Celebrator, multiple schwarzbiers, ALL the Sam Smiths (like 8 or 9 types!), Samichalus, Chimays, Lindeman's, Fransikaners, Paulaners, the list goes on. I was blown away at the selection.
The bad part: The prices are highway robbery. I understand the difficulty in getting all these great beers into rural PA. I realize the need to mark things up. But $16 for a six pack of Bell's is too much. Even $9 for a six pack of Victory is a lot. $7 for a bottle of St. Bernardus Abt 12. Ouch. This is where I go often, but I just wish they would offer better discounts on six packs, or allow you to mix a sixer. The "discount" for buying 6 of the same type of micro is usually $0.50 to 1.50. It's enough to make you go buy cases. Oh well. It's still the best place around, and the staff is friendly. Word of caution: Unless you love Keystone Light and Nascar, don't bother with the "bar" off to the side. A huge bigscreen makes this a yocal hangout.
1,851 characters
Thirsty's Quick Stop in York, PA
3.68
out of
5
based on
15
ratings.