Dépanneur De La Rive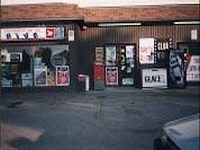 PLACE INFO
Type:
Store
4328 Saint-Félix
Cap-Rouge
,
Quebec
, G1Y 1X7
Canada
(418) 653-2783 |
map
depdelarive.com
Notes:
No notes at this time.
Added by Goldorak
Ratings: 6 | Reviews: 4
3.78
/5
rDev
+13.9%
vibe: 1.25 | quality: 3.75 | service: 3.75 | selection: 5


2.55
/5
rDev
-23.2%
vibe: 2 | quality: 2 | service: 2 | selection: 4
Holy smokes, i going there after almost 15 years without going, back in the days mostly imports of quality where there. Some folks have told me that they offer way more beers nowadays, and lots of the quebec micros.
To my surprise, tha place is the exact same , piles of beer boxes piled skyscraper high, the smell of the empty boxes lying in this small place. Lots of beers around 788 , lots of glassware, lots of dust ... almost when back around and left running away to go to another place ...
Finally, i did choose a few, paid and then left ... and promess to myselft not to go back thinking that they should improve and the whole ambiance and put a bit of money in a way to respect the beers that is sitting there. Might as well as sell beer in the back of a 51 feet van in a parking lot. I might be radical in my review, but a fact is a fact ... cheers
860 characters
3.9
/5
rDev
+17.5%
This place is actually just a few minutes from my office, but I just visited it for the first time. The setup is cramped and hard to navigate. Finding something specific might be a bit tricky, but the owner helped guide a customer while I was there and he seemed friendly enough that he would go out of the way to help someone navigate the store.
I was a bit dissapointed at the lack of foreign selection, but this is actually the fault of the SAQ (I'm not a fan of government monopoly, especially in businesses that are not directly related to the collective good). The Quebec selection is astounding, I'm discovering microbrews brewed right neer me that I never knew existed. I will be going there regularly to get new local brews to sample.
Prices a bit high. The easier to find beers (including the larger micros and regional breweries (Unibroue, McAuslan, RJ, etc.) can be found cheeper in the area, but not by much. A lot of the other stuff would be very hard to find elsewhere around here.
1,002 characters
3.7
/5
rDev
+11.4%
I often drive up to Québec City, and this place was highly recommended by friends from the area. Cap Rouge is a suburb of QC, and the place isn't too easy to find, so download the map and don't hesitate to ask for directions to get there.
The place doesn't look like much from the outside, just your typical looking corner convenience store. Once you step inside...whoh. Wall-to-wall Beer! Stacks of cases up to the ceiling, fridges packed to the gills. Just look at the pictures on the website. Insane. They have quite a nice selection of glasses, t-shirts, books and other Beer-related stuff.
The website insists they have 342 brands available, a Canadian record. I didn't stop and count, but I did see a lot of brands I've never seen anywhere. He must be the only one in Québec to have PBR, for whatever that's worth. Of course Québec micros are his specialty. If it's made here, chances are he's got it. Not too many imports, but that's not their fault, they sell everything they legally can in this province, so they deserve a 4.5. They even have a brew made just for them by la Barberie, a Doublebock. Haven't tried it yet...
Dany, one of the owners, offered us a free sample the minute we walked in, asked us what we liked, and if we needed help. After talking to him a little, he quickly sized me up for the Beer freak that I am, and showed me his "stash" of hard to find/cellared Beers. I bought from him an old 2000 McAuslan Barleywine and an old Trois Pistoles, at very reasonable prices. And he gave me an old Maudite for free! And he had great specials too. For example, 3 Unibroue bombers for 11$. Kick ass! Absolutely worth a stop if you're around Québec city.
***Edit, Aug2005***
Things haven't changed much since my last few visits, the place is still chock full of Beer. They did seem to have a few extra fridges though. I've put quality down a notch because with that much inventory the freshness of some of the more run-of-the-mill Beers may be a bit questionable.
I've marked value to pricey, because the rare brews (the ones I usually go for) are generally overpriced. They still have the special on Unibroue bombers, though. And they still had a good reserve of Edition 2004.
2,223 characters
2.85
/5
rDev
-14.2%
Have gone to this place many times but have not bought as often. 365 different beers in stock (of courst that includes all of the macros available in Quebec as well, nonetheless...) with some specialties such as a swanky bottle of La Fin du Monde for $45 canadian!
The reason I rated the quality so low. I included the layout of the store in this category. When there are more than 8 people in this place gridlock occurs. The aisles are so narrow and there is so much inventory cluttering the store that my pregnant wife could barely make her way around. Crossing someone's path instantly equals a 180... go back to where you came from. It is a maddening state.
The service is very good and I would say above average for beer stores in Quebec. One cashier who takes time to discuss breweriana with both the macroswill drinker and the diehard enthusiast. While I was there, he took the time to offer a tasting to a customer who was sketchy on whether he should purchase some Charlie Wells IPA, fearing it would be too bitter for his tastebuds. The guy bought 2 x 4.
The selection is hard to beat. This place has EVERY micro, craft, and import available in the province of Québec that is available outside of the SAQ network! If you are looking for something from this neck of the woods this place surely has it and at a reasonable price. I recommend the slight detour and a visit to this place if ever you are in Québec City and want to drop a few $$ on some take home beers, you won't be disappointed... as long as you're not claustrophobic;-)
EDIT:
I revisited this place on New Year's Eve and was flabberghasted to find that they managed to cramp even more inventory into the already diminutive floorspace of this store. You can now hardly carry a sixer through the aisles, locating specific product can be a nightmare and prices are easily 25% higher than those in Montréal for the same brews. Furthermore, and to my horror, I found clear glass growlers of Golden Lion Stout and Bitter basking under the fluorescent glow of the display fridge tube lights (jeers to Golden Lion for using clear glass growlers but at least keep them out of the light). So this place looses some points from me.
Santé
2,224 characters
Dépanneur De La Rive in Cap-Rouge, QC, Canada
3.32
out of
5
based on
6
ratings.