Bellerose Biere Blonde Extra
| Brasserie des Sources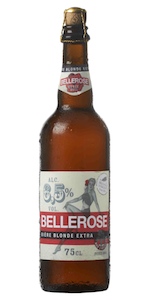 BEER INFO
Brewed by:
Brasserie des Sources
France
globalwinespirits.com
Style:
Bière de Garde
Alcohol by volume (ABV):
6.50%
Availability:
Year-round
Notes / Commercial Description:
No notes at this time.
Added by charleseddy on 04-04-2012
Reviews: 33 | Ratings: 117
3.93
/5
rDev
+2.3%
look: 3.5 | smell: 3.5 | taste: 4 | feel: 4.25 | overall: 4.25
A: Pours a clear amber/gold into a tulip. A brilliant white two-finger head lingers and leaves nice lacing as it slowly collapses.
S: The nose is nicely balanced. I get citrus hops, herbs, some grassiness and bready yeast.
T: The taste pretty much echoes what was previewed by the nose. As it warms, the herbal notes move more to the fore and are joined by floral and fruity elements that I had not noticed before. A very well put-together beer.
M: Bellerose is very crisp, light and almost airy in the mouth. It finishes very dry.
D: Very high. This is a pretty complex beer, which is pretty easy to overlook because it is so well constructed. Despite the complexity, and because of the construction, it is highly, highly drinkable.
737 characters

4.3
/5
rDev
+12%
look: 4 | smell: 4 | taste: 4.5 | feel: 4 | overall: 4.5
Poured from 750 mL bottle into tulip.
A: Pours a clear golden yellow with moderate carbonation producing a 1/2 inch white head. Excellent retention. Hint of lacing.
S: Honey, herbal notes, sweet melon, minerally mustiness, and a pleasant subdued floral note. Quite nice.
T: Tart fruit and a dry mineral note up front. Then comes a pleasant and fairly delicate melange of herbs (very similar to a chamomile tea) and floral (lavender) notes. A distinct note of lychee. Finishes like a dry sparkling white wine.
M: Light body. Some carbonated effervescence. Lightly sweet with a slightly oily feel. Pleasantly dry finish (more wine-like, not a hoppy bitter dryness).
D: An eminently drinkable brew. Very nice for style. Delicate, complex, and intriguing. Refreshing and wonderfully sessionable.
791 characters

3.83
/5
rDev
-0.3%
look: 4.5 | smell: 4 | taste: 3.75 | feel: 3.5 | overall: 3.75
Pours a hazy, pale straw color, generating a substantive foamy head of bone white. After 5 minutes or so, this mostly recedes, leaving thick gobs of lacing uniformly from its original height on down.
As soon as I smell it, I wish I were enjoying this in summer. It's yeasty and bready, with notes of pears, apples, and lemon oil. And dandelions. On the tongue, it is all of this and more. It is tart without being sour, quenchingly bitter, and maybe even tannic.
It's light and bright, and slightly sweet. Carbonation is soft. This is easy to drink, and would seemingly pair with almost any food. It's a nice beer.
616 characters

4.09
/5
rDev
+6.5%
look: 4.25 | smell: 4 | taste: 4 | feel: 4.25 | overall: 4.25
A: Pours a clear golden amber. Enormous frothy and fizzy white head. Fades very slowly with excellent head retention. Huge island of foam persists. Big fluffs of lacing everywhere on the glass.
S: A very crisp and refreshing aroma. Lots of light citrus with lemon and oranges. Light grassy notes and some yeasty bread and black pepper. All light and crisp. Very saison-esque.
T: Lots of sweet citrus up front. Lemons yes, but primarily oranges. Kinda orange marmalade-ish. Has some melon in there too, cantaloupe? Has a bit of a tropical fruit taste in fact too, too light to really identify but it's nice. Some bread in the middle. Spicy in the finish and into the aftertaste, primarily black pepper I'd say.
M: Very smooth and medium bodied. Higher carbonation gives it a fluffier mouthfeel too.
O: Very nice biere de garde. Very saison-esque but it's lighter and crisper than most with a nice hop presence (but it's no west-coast IPA of course). I guess I would describe it as a mild ipa and a saison hybrid. Tasty.
1,024 characters
4.03
/5
rDev
+4.9%
look: 4 | smell: 3.5 | taste: 4 | feel: 4.5 | overall: 4.5
Palest bronze with a lumpy white carpet of foam that rings and speckles immediately.
Big yeasty nose with some lemon peel and herb underneath.
Baguette crust, green apple skin, and flowers, an ester hit, maybe a bit of lychee like the label says, then Noble spice hops with a hint of tangerine peel.
Leafy herbal end and long yeasty linger. Light to medium, lively, creamy, some cling.
Nice to see France getting in on the American-influenced beers (along with Britain and Belgium) - this is pitched as an IPA/biere de garde hybrid. Three hops in here (from 3 continents, apparently), and I'm guessing there's both traditional and US in there, along with NZ tropical fruit. Adds up to a multi-layered hop kick which, together with a very soft body, makes this very easy to drink and a great dinner table beer.
811 characters
4.59
/5
rDev
+19.5%
look: 4 | smell: 5 | taste: 4.5 | feel: 4.5 | overall: 4.5
Bellerose is a very  interesting beer.
Firstly for his taste. It is very original, tasty and spicy with a kind of fruity taste.
Secondly for his design and concept. Bellerose means 'Beatiful rose' in french. On the bottle and all the packaging, we can see a pin-up. She gives to that  beer a funny and glamorous touch.
I recommend that french beer 'Bellerose' for all the beer lovers who want to discover and appreciate new flavor and taste! Enjoy.
450 characters
4.47
/5
rDev
+16.4%
look: 4 | smell: 4.5 | taste: 4.5 | feel: 4.5 | overall: 4.5
Bellerose is a tasteful beer with fine aroma of litchis and citrus fruit that give to the beer a very refreshing after taste. By poring the beer into a glass, I was able to appreciate it's nice bright colour; typical for this IPA style of beer.
What I also like with this beer is the bottle and the label itself. It gives a very French and glamorous touch to the beer with a retro and vintage look!
To sum up my "Bellerose experience", I would say it is the perfect beer to share with some friends around couple of nice French cheese!
537 characters
4.83
/5
rDev
+25.8%
look: 5 | smell: 4.5 | taste: 5 | feel: 4.5 | overall: 5
My drinking beer buddy on his recent trip to France and Belgium brought back some local bottled beers for me to try. Bellerose was one he found in France. Who knew the French make some pretty great beers besides wine. This Belgian IPA pours like a typical IPA with some medium carbonation. Smell was right on with American craft IPA with hints of hops and taste was hoppy but not overwhelming so probably IBU in middle of the pack. Overall this IPA is one I like but my local beer store does not carry it.
505 characters
Bellerose Biere Blonde Extra from Brasserie des Sources
3.84
out of
5
based on
117
ratings.