Huskie's Discount Liqours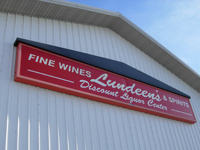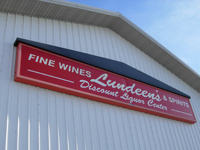 Store
1030 Arcadia Dr
DeKalb
,
Illinois
, 60115-5143
United States
(815) 756-2590 |
map
Notes: Formerly Lundeen's Discount Liquors
Reviews by rossracing:

rossracing from Illinois
4.39
/5
rDev
+5%
vibe: 3.75 | quality: 4.25 | service: 4.5 | selection: 4.75
Aug 04, 2015
More User Reviews:

phizzle from Illinois
4.36
/5
rDev
+4.3%
vibe: 4.5 | quality: 4.5 | service: 4 | selection: 4.5
Aug 25, 2015


WhatsHoppining from Illinois
4.51
/5
rDev
+7.9%
vibe: 4 | quality: 4.5 | service: 4.5 | selection: 4.75
My personal favorite beverage depot in DeKalb. Lundeen's Has a solid inventory of craft beer. The styles of beer are evenly diverse for the most part. If you're planning on drinking your beverage soon after purchase, be sure to go a couple hours before hand to chill your brew. That is unless you're not too picky. The selection of chilled crafts is fairly low. The guys that work the counter seem to remember a familiar face and are friendly. They are however, very strict on I.D.'s. Only once was I not carded at the register. Also if you're with someone who doesn't either have a 5 o'clock shadow or beard, odds are he/she will be carded as well.. Kind of annoying, but yet, also understandable. Let's not forget the fact that Lundeen's is set up shop, right off NIU's Greek row itself (GO AKL). Overall, definitely my local go-to and should stay that way for the next 3 years. I believe I may have also mentioned Lundeen's in personal info. Cheers!
Feb 12, 2015


MarshMan71 from Illinois
4.66
/5
rDev
+11.5%
vibe: 4 | quality: 4.75 | service: 4.75 | selection: 4.75
Just got back from Dekalb and thought Id check out Lundeens since there is no place in my area that really carries any quality beer. I have to say the hour drive from my place was sure worth it. They have a huge selection.
I Picked up some FFF Dreadnaught and Alpha King. out of Gumball Head & ZD ( apparently it fly's off the shelves college town and all ) also grabbed me a couple bombers of Pipeworks & Revolution. plenty of Ale Smith, Firestone, & a few others I never see in my area. Defiantly will be stopping back when I'm in the area again.
Service was great, Guy behind the counter came right up and I asked for my selections and he took me right too them and said he personally has had almost everything in the place. Super Help. Also told me who to call ahead of time apparently the owner is great about doing special orders.
No Mix 6 Section but with inventory like that who needs it.
Mar 26, 2013

ZenAgnostic from Texas
4.44
/5
rDev
+6.2%
vibe: 4 | quality: 4.5 | service: 4.5 | selection: 4.5
Great number of beers, especially for the area. Selection includes Founders, Rogue, and Goose Island among others.
Prices were average. Clerk was nice. Informed us about a beer tasting they had coming up.
Unfortunately there are large windows across the face of the store, which allows lots of the beers to (at least theoretically) become severely light struck over time.
Picked up 4 bombers for ~$30. Of the one I tasted so far, it doesn't seem like I got a light struck bottle. Then again, I was careful enough to pull my beers from the middle and not the front of the shelves.
Sep 19, 2011
bluemoonswoon from Illinois
4.15
/5
rDev
-0.7%
vibe: 3 | quality: 4 | service: 4.5 | selection: 4.5
For DeKalb, about 60 miles outside of Chicago and essentially in the sticks this place is a bastion of craft brew availability. Selection is not as massive as Binny's or other chain stores and does not really have much of an import section, a few of the nationwide Belgians and a couple of German imports but the focus here is American.
Special note for people from the suburbs who may be stopping in for an NIU game or what not, this store gets some beers that are not available in the Chicago area, Sculpin being the notable beer. Another nice feature is that there are few craft beer fans here so I was able to snag a four pack of Nemesis and a sixer of Batch 10000 without having to put my name on a list or only able to buy one bottle at a time. A negative is that they are a bit slow with getting new releases in and some of the stock can linger on the shelves based on the lack of interest in craft. Otherwise this is a fine store, with a friendly staff.
Certainly worth a stop if you are in the area.
Mar 17, 2011

emerge077 from Illinois
4.15
/5
rDev
-0.7%
This outpost of Lundeen's seemed to be the best beer store in the Dekalb area. It was a large freestanding building with metal siding, nothing too appealing until I saw Southern Tier and Abita neons in the window.
Once inside, the lady at the counter was welcoming, and asked if I was looking for anything in particular. "Just the beer selection", I said, and she replied "i'll check back with you in about an hour" haha!
She was right, there was a sizeable collection of beers here. Almost 10 varieties of 3 Floyds including Dreadnaught, Moloko, Blackheart, Behemoth, and others not easily found in the area. About the same number of Founders beers too, including Breakfast Stout and Double Trouble. Plenty of imports, about 20 Belgians, 20 UK beers, and 20+ Germans. Craft seemed to be the focus with bombers from Green Flash, Moylans, Goose Island, Southern Tier, Anchor, Lost Abbey, and others. In the coolers there were several doors of sixers, and 2 doors of bombers/import singles. There was a small area showcasing winter/holiday beers (Feullien, Winter Skål) at the start of the beer aisle. Most all the beers I looked at were within the freshness dates. I left with a bottle of Victory Wild Devil and Moosbacher Kellerbier.
Checkout was quick and friendly. Again, this was the best beer selection in the area.
Dec 30, 2009
rhoadsrage from Illinois
4
/5
rDev
-4.3%
This is a long metal building with a large parking lot, which leads me to believe it gets lots of traffic on the weekends. Inside you are greeted by long rows of wine and as you walk past the counter there is a long isle of beer. They have a good selection of local stuff on the shelves with a wall of cooler doors that hold lots of cases, 12 packs and some 6'ers with just a few doors of big bottles. In between the cooler doors and the warm isle is stacks and a few random shelves that look a bit random. Is it overflow, or new shipments? Some stuff was on the warm shelf also while others were just stacked boxes of odds and ends.
No real gems in that section but a good beer selection. They also had some good Christmas beers on clearance like Jolly Pumpkin and a few Belgians that escape me. I walked out with a good mix of beers and the beer lady or owner was very knowledgeable about what is coming in and when they will get it.
Jul 08, 2008
zjungleist from Illinois
4
/5
rDev
-4.3%
Located just off the NIU campus, sorta close to the edge of DeKalb. This is probably the best liquor store in town, but the Lundeen's in Sycamore is nicer. They've got about 15-20 coolers, and about half or more are decent. There are about 3 cooler of just good single bottles, anything from decent hefes, to belgian ales, and good stuff in between. They really have quite a decent selection. The prices could maybe be a little better for 6 packs in some cases. Things tend to gravitate to the $8-9 dollar mark for anything decent or original. I usually just stick with the bombers. The only thing is, sometimes you have to check for dates on bottles. I have gotten a sour bottle or two. Unfortunate, but at least we have a decent liquor store in town. Lots of the college students drink swill, so sometimes the good bottles get dusty.
Sep 17, 2005
thechaacster from Illinois
4.2
/5
rDev
+0.5%
North of the downtown area, slightly removed from the main bar scene. This is easily the best beer selection in DeKalb. Big, well-lit and organized sales floor with nearly half dedicated to beer. There is a big rack of new arrivals and staff picks, an aisle of craft and imports, an aisle of closed cases (mostly crap), and an aisle of coolers which include more craft and import selections. This is the only place anywhere near DeKalb you will find Dogfish, Bear Republic, Bell's, Unibroue... Of course this is a college town, so there is plenty of swill, and those of us on a budget can get a six-pack of your shit beer of choice for $3-3.50. Prices are fairly competitive. The service is always very attentive, and they seem on top of things. Come in after midnight if you want to be amused by drunks coming in from across the street at Starbusters and wandering around, haggling with the clerks, etc.
Sep 05, 2005
Huskie's Discount Liqours in DeKalb, IL
Place rating:
4.18
out of
5
with
12
ratings