Navigator Of Holland
| Dutch Export Breweries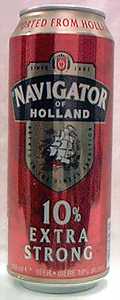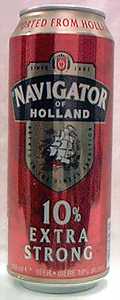 BEER INFO
Brewed by:
Dutch Export Breweries
Netherlands
Style:
European Strong Lager
Alcohol by volume (ABV):
10.00%
Availability:
Year-round
Notes / Commercial Description:
No notes at this time.
Added by UnionMade on 03-24-2002
This beer is retired; no longer brewed.
HISTOGRAM
Ratings: 7 | Reviews: 6
Reviews by stoutman:
3.12
/5
rDev
+32.8%
look: 3 | smell: 3.5 | taste: 3 | feel: 3 | overall: 3
A flavorful, but powerful Extra Strong Lager from Holland. Whiskey-like, and malty, with no objectionable after tastes or smells.
130 characters
More User Reviews:
1.6
/5
rDev
-31.9%
look: 2 | smell: 2 | taste: 1.5 | feel: 2 | overall: 1
Boring headless clear straw body. Corny grainy and alcoholic aroma, 3 words I usually prefer not to write in a review. the alcohol is obvious in that dark golden sugar juice. everything has been said already. Don't waste your time. Harsh fuelic finish. Overcarbonated. Hard to finish. Yuck.
290 characters
1.67
/5
rDev
-28.9%
look: 1.5 | smell: 2 | taste: 1.5 | feel: 2 | overall: 1.5
Interesting brew with some good qualities but not to my liking.
The colour has a redish hue of gold, neither bitter or sweet and an after taste almost of wine....is that possable?
180 characters
1.36
/5
rDev
-42.1%
look: 3 | smell: 2 | taste: 1 | feel: 1 | overall: 1
Goodness gracious, this certainly is a close cousin to Bavaria brouwerij's 12.3.
Pours a dark golden tone, slightly close to an aber taint with a persistent carbonation within and an average but not very dense white head that goes ahead and disappears as the beer is drank, leaving considerable amounts of thin lacing throughout the glass.
You can certainly predict that it's gonna be sweet (as in the flavour, not the *experience*) as you smell it. a very strong malt feeling pierces your nostrils with an equally perceivable feel of yeast inside the beer: you'd thus be able to tell it's ABV is high without reading the can. The smell is very strong, you can feel it around the room.
The taste is simply appaling. Where you would expect something moderately sweet (again), you'd be totally wrong. A strong sweetness fills your mouth in a rather dull fashion absolutely giving you an expression of disgust as the hops apparently ebrace the whole of the back of your throat and tongue numming it and combining to do one of the worst beers i've tried. Too much sweetness wrongly combined with A) an absolutely ridiculous bitterness and B) a rather disgusting presence of excess alcohol
The moutfeel is, as previously described, awful as the feeling of numbness and extravagance in all senses gives you nothing but *that* look on your face.
Drinkability: I will not only never buy this awful dutch export again, but threw about 450 ml ( /500ml) down the drain. I will also curse this brewery for driving me ever closer to blindness.
1,547 characters
3
/5
rDev
+27.7%
look: 3 | smell: 3 | taste: 3 | feel: 3 | overall: 3
-This beer poured a standard golden color. From 1 to 10 with 10 bieng darkest--4
-The first thing I noticed was the very sweet smell. At first sip I was also pretty surprised. I have tasted strong beers that have a strong beer taste. This one was very sweet, not what I expected. From 1 to 10 with 10 bieng sweet--8
-Not saying it is a bad beer, it just wasn't for me. Like other reviews here, it had an almost wine/cooler taste to it. A good beer to try and pretty strong if you like a quick buzz.
Thanks
508 characters
3.05
/5
rDev
+29.8%
look: 3 | smell: 3 | taste: 3.5 | feel: 2.5 | overall: 2.5
Presentation: 500ml can. 10% ABV, Ingredients: Water, Malted barley, Sugars, Hops
Appearance: Dark golden amber, overcarbonated, the head didn't last very long.
Smell: Grain and alcohol. Some traces of hops. Ok for a strong lager.
Taste: I agree that it tastes like whiskey. Alcohol is very present for sure.
Mouthfeel: Sparky. The alcohol presence is too much to get a good mouthfeel.
Drinkability: It's interesting for a strong lager, but lots of hard liquor are easier to drink. One of the rare beers I had trouble to drink.
542 characters
2.65
/5
rDev
+12.8%
look: 2.5 | smell: 2.5 | taste: 3 | feel: 3 | overall: 2
Wow. What a name for a beer that is both hard to navigate, and makes navigation in general quite difficult. I suppose this is the European version of Steel Reserve, but with a tad more class, brass, malt, and mouthfeel. It still reeked of adjunct/ sugar though, and left a lingering flavor that didn't quite sit right.
318 characters
Navigator Of Holland from Dutch Export Breweries
Beer rating:
2.35
out of
5
with
7
ratings