Navigator 8.4
| Dutch Export Breweries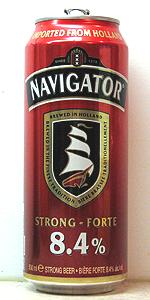 BEER INFO
Brewed by:
Dutch Export Breweries
Netherlands
Style:
Euro Strong Lager
Alcohol by volume (ABV):
8.40%
Availability:
Year-round
Notes / Commercial Description:
No notes at this time.
Added by CAMRAhardliner on 12-28-2006
Reviews: 8 | Ratings: 11
Reviews by spinrsx:

2.39
/5
rDev
+26.5%
look: 4 | smell: 2.5 | taste: 2 | feel: 2.5 | overall: 2.5
473ml Can
Appearance – Clear dark yellow colour with a massive size fizzy and foamy white coloured head. There is a below average amount of carbonation showing and there is some really good lacing. The head lasted for around 7 minutes before it was gone.
Smell - Grains, bread, corn, booze, malts
Taste & Mouth - The beer has an average amount of carbonation. I can taste bread mixed with corn syrup and malts. There is also a little bit of a yeast and alcohol flavour. The beer finishes with a corn syrup sweet aftertaste.
Overall – It really wasn't that bad.. I swear. I wasn't sure what to expect - I don't think I've reviewed a 'F' rated beer before. I picked this up without knowing anything about it, but I of course expected the worst. Anyways, its definitely not a world class drinker, but it has a great appearance, and it's not like it tastes like paint thinner or anything. It actually has some flavours in it that kind of remind me of a triple. I wouldn't buy it again, but I managed to drink the whole thing.
1,029 characters
More User Reviews:

1.3
/5
rDev
-31.2%
look: 2 | smell: 2 | taste: 1 | feel: 1 | overall: 1
Came in a three pack a buddy brought back from a Euro trip:
A) Transparent. Pours with a foamy head then settles quickly. After first sip the C02 is non-existent. Orange-ish yellow in color.
S) Slightly wheaty. Not very robust. Some light caramel notes.
T) Very sugary sweet in the front end - malt liquor? Dry, slightly bitter finish.
M) Sugary Sticky. Somewhat gritty. Flat in terms of CO2.
D) Not good. Tough to choke down. Though 8.4% not believable.
455 characters

1.36
/5
rDev
-28%
look: 5 | smell: 1.5 | taste: 1 | feel: 1 | overall: 1
What is this beer? Is this a beer ? honnestly it taste so bad... I don't think I ever drank a beer that tasted that bad... Worst beer ever. Sorry for thoses who like it but seriously, I don't understand how you can like this awful taste! I never gonna buy one of these again.
275 characters

2.16
/5
rDev
+14.3%
look: 3 | smell: 2 | taste: 2 | feel: 3 | overall: 2
500ml can, Singapore SGD$4.15 at a gas station (about USD$2.75.) Bold graphics, proudly displaying the 8.4% ABV.
Pours a bright medium copper, with loose white head that dissipates rapidly, leaving moderate lacing.
Aroma is sweet malt and a little alcohol.
Taste is fruity sweet malt, like a good (but very strong) malt liquor, or a poor English style barleywine. Sweet fruit, hints of root beer. Finishes with raw sugar notes. Navigator hides its alcohol well behind a big residual sweetness. Thick, full sugary mouth, somewhat weird for such a high alcohol lager.
Very low in hops, this is basically a more refined alcohol delivery device than its sibling Maximator.
That said, I like this a LOT better than Maximator: I could actually drink the whole can (in Singapore or Malaysian heat and humidity.) I just don't like it enough to pay for it with my own money again, or drink it when any number of other things are available. Like water.
962 characters
1.96
/5
rDev
+3.7%
look: 3.5 | smell: 2.5 | taste: 1 | feel: 3.5 | overall: 2
500 ml can. Produced on 23/03/2006 and best before 23/03/2007.
A- Clear golden colour. Nice initial white head. Settles to a thick ring. Litttle effervescence.
S- First sniff out of the can is light with fruity notes. As it settles in the glass, the smell starts to show some of the sugarry quality of the taste. Some malt noticeable. Alcohol is present but not overdone for ABV.
T- Sugar and alcohol, almost reminiscent of a sweet liquor (but not a good one). Hops just barely noticeable, definitely not enough to begin to balance out sweetness. Alcohol present but not overwhelming.
MF- Not watery, becasue of high alcohol no doubt. Not that bad really, but nothing to make up for syrupy taste.
D- An easy way to get drunk, especially if you have a sweet tooth and don,t like the bitterness of beer. However if you do like beer, look elsewhere.
861 characters

2.18
/5
rDev
+15.3%
look: 2.75 | smell: 2.25 | taste: 2 | feel: 2.25 | overall: 2.25

1.84
/5
rDev
-2.6%
look: 3.5 | smell: 2 | taste: 1.5 | feel: 1.5 | overall: 2
Its been a while since I reviewed an extra stong Euro Lager.
Pours a gold color, darker than a typical macro lager. The head is pretty much non existent but manages to leave a good amount of lace on the glass. The aroma is sweet with a bit of chewy malt and a whole lot of medicinal alcohol. The taste is of boiled corn, overpowering alcohol and a whisp of malt sweetness. Hops are not present. The mouthfeel is cloying and numbing with lighter than average carbonation.
A bad lager, way too much alcohol flavor and no complexity going on. Im not gonna bother with the 10% version if this is any indicator.
612 characters
2
/5
rDev
+5.8%
look: 2 | smell: 2 | taste: 2 | feel: 3 | overall: 1.5
500ml aluminium can
A: golden colour, chimical head, no head retention.
S: matly, chimical, no hops, alcool.
T: bad malty-sugary taste, alcool dominant, no hops,
M: round beer,
D: too much alcool, chimical, no real balance. one is more than enough
254 characters


1.27
/5
rDev
-32.8%
look: 3.5 | smell: 1.5 | taste: 1 | feel: 1 | overall: 1
About the only thing this beer has going for it is that it looks okay. After that it's an unmitigated disaster.
Clear dark golden colour, with a big chunky white head that settles to a heavy film. Leaves decent lace.
Nose is sweet with a strong underlying smell of alcohol. Utterly unappetizing. Syrupy sweet to drink with a sticky cloying mouthfeet. Some malt, but anything else that might have been in the kettle is completely overwhelmed by alcohol and overbearing sweetness. Heck, check the ingredients and it lists sugars. Can't off the top of my head remember ever seeing that before. I'll take it as a warning from now on.
Drank enough to get a sense of it and poured out the rest. Nasty. Way nasty. Save your money – and don't accept this one as charity either. Feh.
789 characters
Navigator 8.4 from Dutch Export Breweries
1.89
out of
5
based on
11
ratings.