Mariner Of Holland
| Dutch Export Breweries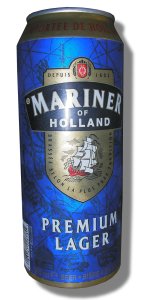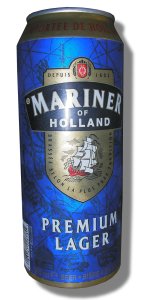 BEER INFO
Brewed by:
Dutch Export Breweries
Netherlands
Style:
Euro Pale Lager
Alcohol by volume (ABV):
not listed
Availability:
Year-round
Notes / Commercial Description:
No notes at this time.
Added by BeerAdvocate on 05-28-2002
This beer is retired; no longer brewed.
Ratings: 12 | Reviews: 12
Reviews by RootedFool:
3.5
/5
rDev
+28.7%
look: 3.5 | smell: 3.5 | taste: 3.5 | feel: 3.5 | overall: 3.5
Poured from a 12 ounce bottle -- actually, I poured two 12 ounce bottles into one of my over-sized pilsner glasses. The head is bright white, resembles cool whip, with good retention that leaves lots of thick patches of lace on the glass. Body: Light, translucent gold. Smell: Green apple sweetness, just a touch, backed up a subtle yet very present hop earthiness. Taste: Crunchy bitterness upfront, thin and grassy, as I would expect; the middle tugs out just a little bit of buttery apple sweetness, and the finish returns to the narrow crunch of hops. Plenty carbonated, slick mouthfeel. Some skunking is noticeable, I should note, but not overpowering. Hey, for 3.99 cents (purchased a sixer at one of those "grocery outlet" warehouses), this is more than just drinkable -- it's not bad, not bad at all.
808 characters
More User Reviews:
1.6
/5
rDev
-41.2%
look: 1.5 | smell: 1.5 | taste: 1.5 | feel: 1.5 | overall: 2
Pretty awful. Thin, chemically flavour. but it does however manage to have a slight herbal hoppy flavour, nothing overly offensive, but it doesn't have a lot of taste, but it is a "budget" import, so you can't expect much.
222 characters
2.91
/5
rDev
+7%
look: 3.5 | smell: 2.5 | taste: 3 | feel: 3 | overall: 3
Pours a crystal clear golden body with a frothy, bright-white head that holds quite well and leaves some nice lace throughout the glass. There's some skunky character to the nose that I'd imagine is quite common due to the green glass. Beyond that it's fairly dull with just a limited amount of grassy/spicy hops; but it also offers an odd aroma that's somewhat vegetal, lightly earthy, and straw-like in character - similar in many ways to a barnyard! And althought this 'rural' character doesn't seem to work in the beers favor, it's not really strong enough to be offputting. The body is light and it's gently crisp in the mouth. The flavor displays none of the off-characteristics of the aroma, but still remains fairly dull. A mild, grainy malt is somewhat livened by gently grassy hops, and backed by a balancing bitterness. It finishes dry with a touch of lingering bitterness and some residual malt. A less agressive Euro-pils to be sure.
946 characters
3.57
/5
rDev
+31.3%
look: 3 | smell: 3.5 | taste: 3.5 | feel: 3.5 | overall: 4
From a bottle given to me. Pale gold, quite high carbonation, fluffy white head that doesn't hang around long. Aroma is grassy, bready. Taste is mildly hoppy, quite well-balanced for what's there. Inoffensive. Finish is a little more bitter.
I wasn't expecting much from a Euro lager, but this is higher quality than I would have otherwise guessed - no offensive chemical or adjunct flavours detectable is a big bonus here. That said, it's nothing really outstanding though.
477 characters
2.98
/5
rDev
+9.6%
look: 3.5 | smell: 3 | taste: 2.5 | feel: 3.5 | overall: 3.5
12 oz. bottle from a Costco(?) Beers of the World giftpack (thanks, sis!). Pours a weak pale yellow with a modicum of a thick, bright white head that actually helps the look of the beer.
Aroma is faint- the slightest of euro-lager hop bitterness (made famous by another Dutch beer that starts with H). Faint sweetness- is that from corn? Maybe a touch of grainy breadiness, but not much. Not much sums up the aroma.
Flavor is malty with a much sharper oily hops tone dominating the second half of the drink. Slick pine oil on the tongue after the swallow. Not well balanced.
Mouthfeel is not nearly as watery as I expected (sorry if that's faint praise). I guess I can drink this as an occasional, but not something that I want to revisit on purpose.
759 characters

2.81
/5
rDev
+3.3%
look: 4 | smell: 3 | taste: 2.5 | feel: 2.5 | overall: 3
Pours a clear golden brew.
Smell is a bit sweet with a husky toasted grain smell.
Taste is mildly sweet with a fairly strong hop bite. It tastes OK, but I expected more. Tastes like an American Macro with more hops.
Mouthfeel is thin.
An OK thirst quencher but I don't think I would buy it again.
308 characters

2.41
/5
rDev
-11.4%
look: 3 | smell: 2 | taste: 2 | feel: 3.5 | overall: 3
Dark straw / light golden hue and typically clear. Large bubbled head leaves a sparse lace down the glass. Wet hay and sulfur in the aroma and a grassy Saaz nose is there. The slight skunky mercaptans make this quite similar in overall aroma to poorly handled Heineken. Soft, grainy flavors, and grassy hop flavors. The smooth, dextrinous mouthfeel is the only noteable attribute to this brew. The unassertive hop bitterness and lingering residual malt sweetness leave this beer quite sweet for a pilsner. Finishes clean and perhaps a touch watery. This could pass as a Heineken clone. That says it all.
610 characters

3.1
/5
rDev
+14%
look: 3 | smell: 3 | taste: 3 | feel: 3 | overall: 3.5
Ok six pack bought at local cheapo canned food warehouse.
Comes in a green 12 oz bottle ( though I took the six pack directly out of a sealed cardboard box.
The appearance is t too bad for a cheap lager ( $2.99 a six)..light honeyish golden colour with a nice sized frothy white haed..good lacing.,
the aroma is pretty fresh..nice hoppyiness.
Nice malt in the first instance of the taste, then some delicate hops take over..and are washed away , actually pretty similar to Heineken..when its not skunked.No adjunts detected.
Again average on the tongue but not too watery
Im actually surprised this is a fairly drinkable lager..nothing special..but I like it..
666 characters

3.08
/5
rDev
+13.2%
look: 3 | smell: 2.5 | taste: 3 | feel: 3 | overall: 4
A- Pours a fairly clear light yellow hue with a small white head that is mostly diminishing, fair lacing on the glass
S- Nose is dominated by grains, husk, and I think a bit of corn in there too, some grass/hay/earth as well, a touch of sweet fruit
T- Initial taste is brief hop bitterness followed by malty grains and returning to the bitter hops in a lasting, dry finish
M- Light-bodied, very thin and watery texture, carbonation is good
D- Very easy drinking lager that one could drink all night long, however, with so many better lager options out there, why even bother with this one again???
597 characters

3.03
/5
rDev
+11.4%
look: 3 | smell: 2.5 | taste: 3 | feel: 3.5 | overall: 3.5
This beer pours a translucent golden color with a moderate head. After it dies down, however, it floats on top of the beer and looks almost like top-floating yeast or even mold. The taste has a good amount of wheat to it. The taste is just like any other Euro Lager that I've ever tasted: pretty bland with a hint of sweetness (vanilla?) and a crisp finish. The carbonation is perfect and allows the gentle taste to dance on the tongue before heading down. Overall a quality brew, but I fear that it has little to differentiate itself from the myriad of others.
562 characters
2
/5
rDev
-26.5%
look: 2 | smell: 2 | taste: 2 | feel: 2 | overall: 2
A a beer supposedly brewed by Grolsch. Think of this beer as Grolsch's Dutch Busch. The beer pours a nice yellow rattaan colour. It has a nice head that does actually take some time to settle. It smell is a bit of skunky with a trace of what seems to be Saars hops.. Tastes like an inferior European lager.. Its like a bad imitation of Heineken. The only nice thing about it is that it does have a bit of backbone from the hops. If you like Heineken you might be able to drink a few on a VERY hot day. Otherwise the drinkability was pretty low. After two i started looking for Iced tea or soda.
594 characters
1.62
/5
rDev
-40.4%
look: 3 | smell: 1 | taste: 2 | feel: 2 | overall: 1
This poured a pale yellow with fluffy head. It smelled like I remember my dad's beer smelling when I was a little kid, with a musky and bitter and spicy scent. This slightly carried into the taste up front, but then it was very bland in the aftertaste. The texture was watery. Overall this was one of the worst beers I've had in a while. Maybe it was skunked, maybe it's totally not my style, or maybe it was just plain bad.
424 characters
Mariner Of Holland from Dutch Export Breweries
Beer rating:
0%
out of
100
with
12
ratings