Explorator Of Holland
| Dutch Export Breweries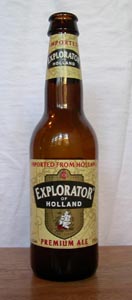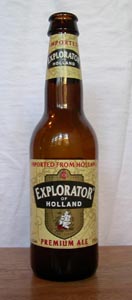 BEER INFO
Brewed by:
Dutch Export Breweries
Netherlands
Style:
Euro Pale Lager
Alcohol by volume (ABV):
6.80%
Availability:
Year-round
Notes / Commercial Description:
No notes at this time.
Added by Reidrover on 03-04-2003
HISTOGRAM
Ratings: 10 | Reviews: 10
Reviews by SeanChouffe:
3.26
/5
rDev
+53.1%
look: 3.5 | smell: 2.5 | taste: 3.5 | feel: 3.5 | overall: 3.5
Pours a golden color and a full white head. Little co2 and a sticky lace. Aroma is light, grassy and metallic. Palate is medium bodied and much fuller than one may expect. Flavor is lightly syrupy and sweet with some background hop presence and a metallic finish. Ale? Aroma is lacking, but the flavor is palatable. Over all pretty innocuous. It would do in a pinch.
366 characters
More User Reviews:
1
/5
rDev
-53.1%
look: 1 | smell: 1 | taste: 1 | feel: 1 | overall: 1
This beer deserves its score of 1. This beer is pure evil. This beer has no redeeming qualities. None.
Every time my friends and I got a case of this beer, at least half of us would end up vomitting. Those who were spared from the task of driving the bus would suffer a far worse fate, a far far worse fate. Strife, malice, anger! These are the handmaidens of this beer!! It makes good and decent people hate, happy drunks turn sad, and it can unlease the MAELSTROM.
Do not be decieved by its saccharine flavour, this beer will bring you nothing but bitter memories.
Do not be decieved by its low price, for these are tolls which money cannot measure.
Do not be decieved by its large size, for it is not large enough to contain your sorrow.
Do not be decieved by its potency, for there is a serpent in every can and this serpent is the maelstrom.
Abadon hope, all ye who imbibe. . .
893 characters
2.08
/5
rDev
-2.3%
look: 3 | smell: 2.5 | taste: 2 | feel: 2 | overall: 1.5
Poured from a bottle to a pint glass. The liquid is some what dark yellow, almost syrupy in texture. The head comes up clean and white. Not to bad looking
The smell is malty but not very intriguing, hints of high alcohol.
The taste is sugary sweet very syrupy and malty, week on the hops. Not well balanced.
Mouthfeel is sticky and coating, I think I need a chaser.
Drinkability is very low, I will not finish the 6 pk, maybe I will save them for jokes at a tasting. MK
481 characters
1.21
/5
rDev
-43.2%
look: 2.5 | smell: 1.5 | taste: 1 | feel: 1 | overall: 1
Decent head. This beer is horrible. Sugar listed in the ingredients. At least they're honest. 2.99 a six pack but just awful. Sickly sweet & nasty brew. Stay away from this one. Better beers include Olde english, Hurricane...you get the point. Beast is like a fine belgian compared to this stuff. Pick up a cheap domestic macro instead
Down the drain you go!!!
363 characters

2.09
/5
rDev
-1.9%
look: 3.5 | smell: 2 | taste: 2 | feel: 2 | overall: 2
A-50 cL orange can, pours nice clear orange-gold color with decent little head and above-average retention.
S-Slightly sweet malt. The malt actually smelles halfway decent, with a light toasty flavor coming through, but the sweetness smells vanilla-like, which doesn't fit. Note: This beer smelled like at least a 3 on the first whiff, but now I am picking up butter as well...not sure if it's diacetyl or what.
T-Again, decent malt flavors, but a weird sweet vanilla-like flavor and some bitter hops in the finish, but it could use a little more hops to wash away the cloying vanilla, which again is not heavy, but it runs some pretty serious interference.
M-Decent carbonation, light-medium body, balance is too sweet with the fake vanilla taking over.
D-This beer started off well for what I was expecting. I suspect the coldness hid some of the flaws. Drink it cold or not at all.
888 characters

2.59
/5
rDev
+21.6%
look: 4 | smell: 2.5 | taste: 2.5 | feel: 2.5 | overall: 2.5
This was brought back by a buddy of mine on a trip to Ireland... here it goes.
A) Gold color. Pours with a half inch head then settles to thin lacing on top and on the sides of the glass.
S) Slight sweetness. Not any profound aromas.
T) Noticeable sweet maltyness. Some citrus notes. A bit of bitterness in the aftertaste. Overall the flavors are pretty light.
M) Creamy. Fizzy. Very light bodied.
D) meh... I see this as being the Euro version of frat boy beer.
463 characters

2.16
/5
rDev
+1.4%
look: 3 | smell: 2 | taste: 2 | feel: 3 | overall: 2
Ok second cheapo beer of the night.
Comes ina 11.2 oz European style brown bottle//"Imported from Holland"
Appearance is pretty run of the mill for a lager..though i was somewhat dissapointed it wasn't a bock given the Name ( the -or")..didnt see until i opened the bottle. large head ..which stays pretty well.
Smell is not too good ..kinda malty but very faint almost nothing.
Taste is very weird indeed for a beer thats nearly 7 %..its very muted..sweet..sweet..some malt very tame..no hint of alcohol weird.
Average macro lager feel
not very drinkable for some reason a beer this muted does not appeal..strange brew!
626 characters

2.8
/5
rDev
+31.5%
look: 3 | smell: 3 | taste: 2.5 | feel: 3 | overall: 3
This beer is just the straight average drink it while it is cold and get drunk beer. It is nothing exceptional, it probably won't kill you, but I definitely would NOT search for this beer. Unfortunate for me, the other day one of my flat-mates in Switzerland told me I should try this. It was cheap for a 500ml can, so I figured what the heck?! I'll give that a try.
It looks like the typical pale European lager on the pour with a light yellow, golden color. It actually doesn't hold much of a head, but still bubbles/fizzes continually, which is actually quite relaxing to watch.
As for the taste it actually masks the 6.8% alcohol quite well, but the flavor is very light and nothing exciting. If you want to get drunk while not drinking something completely repulsive, this might be a good beer for you. Unfortunately I like beer for the flavor and this just doesn't make the cut above that I look for in a beer.
919 characters
2.26
/5
rDev
+6.1%
look: 3 | smell: 2 | taste: 2.5 | feel: 2 | overall: 2
I bought this at a discount price in a can version called "Amsterdam Explorator" ... as the ABV is noted with 6.80% I suppose it's the same drink ... apparently brewed by Grolsch, but certainly not their most inspired beer ... it has the heavyness of a bock but not much smoothness or elegance, actually the term cloddy would come to my mind ...
345 characters
1.9
/5
rDev
-10.8%
look: 2 | smell: 2 | taste: 2 | feel: 2 | overall: 1.5
From the people that brought you Mariner of Holland comes Explorator.. These beers are supposedly a budget line from Grolsch. They are kinda like the Busch from Grolsch.
The Explorator pours a yellowish tinged with a little battery acid brown. There is a nice head but it disapears as soon as you turn around to throw away the bottle.. The smell is sweet and a bit oft-putting. The taste is sweet sweet with almost no hops to balance. The sweetness belies the fact that Explorator weighs in at 6.8 percent abv.. Its not the worst beer I have ever had, but im not gonna buy it again and will drink it only if i have too... However if you only have 2.99 in change in the couch cushions i would recommmend this... no i wouldnt.
726 characters
Explorator Of Holland from Dutch Export Breweries
Beer rating:
2.13
out of
5
with
10
ratings