Harringtons Big John Special Reserve
| Harringtons Brewery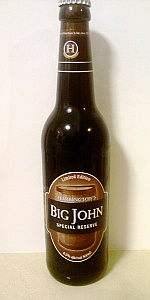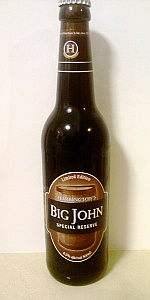 BEER INFO
Brewed by:
Harringtons Brewery
New Zealand (Aotearoa)
harringtonsbreweries.co.nz
Style:
Scotch Ale / Wee Heavy
Alcohol by volume (ABV):
6.50%
Availability:
Year-round
Notes / Commercial Description:
No notes at this time.
Added by rastaman on 07-07-2004
HISTOGRAM
Ratings: 14 | Reviews: 12
Reviews by lamarr04:
3.7
/5
rDev
-4.9%
look: 4 | smell: 4 | taste: 3.5 | feel: 3 | overall: 4
500 ml bottle poured into delerium snifter.
A: pours an opaque near black with big foamy tan head. leaves significant lacing down the glass.
S: Smell is whisky and oak upfront followed by dark fruit/brown sugar sweetness. just a hint of alcohol as the beer warms.
T: Taste is caramelized sugar with some oaky/earhty notes through the palate. closes with a gentle roasted bitterness and a slight kick from the alcohol.
M: Mouthfeel is almost cream but comes out a bit thin. medium body and low carbonation.
D: Very interesting beer and surprisingly drinkable for a wee heavy.
580 characters
More User Reviews:

4.18
/5
rDev
+7.5%
look: 4.5 | smell: 4 | taste: 4.25 | feel: 4 | overall: 4.25
500ml bottle purchased and consumed in Christchurch, NZ.
Pours clear and dark reddish-brown with a very good beige head.
Feel: Medium-full body and nicely smooth; medium and rather lively carbonation.
Aroma: appealing and fruity, with raisins, dates and dark roasted grains plus a hint of smoke.
Flavor: similar to the aroma with plenty of dark fruits and a hint of smoke, but with some hops showing in the finish and aftertaste and a hint of bourbon. Very good balance.
O: Excellent. One of the better NZ dark beers . A big dark ale without real high ABV. Recommended.
577 characters
3.88
/5
rDev
-0.3%
look: 4 | smell: 3.5 | taste: 4 | feel: 4 | overall: 4
Different, slightly smoky, peppery, quite bitter, slightly roasty, fairly thin and bubbly, drier than a lot of scotch ales i've had, which is a good thing, quite savoury towards the finish, its actually grown on me a bit as i work my way through it. Apparently this is aged in American oak bourbon barrels, that factor probably is the reason for the liquer like quality, different and innovative. Thank to Chris for this beer
425 characters
3.74
/5
rDev
-3.9%
look: 3 | smell: 4 | taste: 3.5 | feel: 4 | overall: 4
Pours dark copper with a creamy off-white head.
Nose shows lovely oak and bourbon notes with great caramel and light roasted malt providing the backbone. Nice chocolate and nutty hints.
Pretty similar flavours but quite sweet. When all mixed together (including the not inconsiderable amount of woody bourbon) it becomes a bit too much.
Carbonation is a little full on.
369 characters
4.17
/5
rDev
+7.2%
look: 3.5 | smell: 4 | taste: 4.5 | feel: 4 | overall: 4
Drank from my Duvel Tulip.
A - Pours a deeep deep Amber/ Red colour that is almost Mahogany. The head id Ivory coloured and two fingered before slowly reducing to a film that lacess.
S - From the bottle has a toasted caramel malt aroma that is a little nutty. Once poured a little chocolate comes forward.
T - The taste up front is a mish mash of malts that is followed by some heavily toasted caramel
malts, and hint of aniseed on the finish but no sign of Bourbon here.
M - Body is full and carbonation in low. Very smooth and creamy.
O - I was dissapointed not to find any Bourbon in this beer, but not at all dissapointed overall. This is a rich and delicious brew that is a great example of a Wee Heavy
712 characters
4.05
/5
rDev
+4.1%
look: 4 | smell: 4 | taste: 4 | feel: 4.5 | overall: 4
A - Used a goblet. Pours a dark ruby colour with thin head that disapates quickliy. Lacing has more staying power.
S - Nice malty aroma with sweetness, distinct sweet lolly reminiscent of "chiccos".
T - Definatley get the strong alcohol, chocolate malt with smooth bitterness.
M - Thick slightly harsh finish probably a relic from the bourbon.
Overall a great beer, not very sessionable but keeps the winter warm.
417 characters
3.53
/5
rDev
-9.3%
look: 4 | smell: 3.5 | taste: 3.5 | feel: 3.5 | overall: 3.5
355 ML poured into a tulip
A-- Poured a light cola color. Settled a deep, murky, dark cola color. decent ruby glow to this. Well compacted one finger of light brown head that slowly fades to a collar. Good head retention on swirling and no lacing.
S-- Light amounts of vanilla, Carmel, oak and bourbon. Some peat but mostly flavors that would be from bourbon. For a 6.5% ABV beer the nose is good.
T-- Best way to put this is bourbon on ice where the ice has melted. Still get the flavors of bourbon (Vanilla, carmel, touches of oak) but thinned or a tad bit watered down. Also get touches of chocolate and nuts with this.
M-- Lighter medium bodied and medium light carbonation. light in the mid and back palate. Prickly in the front. Watered down bourbon finish. Slightly slick and syrupy. Get some slight bits of scorched carmel and brown sugar. Interesting.
O-- Does not appear to be on a barrel at all. Website for them says on a barrel but label says touches of bourbon. My guess is infused with bourbon. Not bad at all for an attempt at bourbon and in the lower ABV range.
1,087 characters
4.19
/5
rDev
+7.7%
look: 3.5 | smell: 4.5 | taste: 4 | feel: 4 | overall: 4.5
Appearance- Nice Pour, Slightly frothey 2" head. It has a deep brown color with low carbonation
Smell- Bourbon, Brown Sugar, Slightly of roasted malt
Taste- A tasty blend of roasted malt with a slightly sweet coffee-hot chocolate taste. The bourbon taste is moderate and not overpowering until the tail end of the glass.
Mouthfeel- Manageable ABV which doesn't get in the way of the flavors and its rather smooth to boot.
Drinkablity- Quite a good meld of flavors and complexity.
479 characters

3.92
/5
rDev
+0.8%
look: 3.5 | smell: 4 | taste: 4 | feel: 3.5 | overall: 4
Pours a deep ruby-tinged dark brown, with a lacklustre head - beige in colour - that forms a minimal ring of lace. Steady bead, but needs a swill to promote any foam. Nice colour, otherwise not great.
Smells very malty. Lots of caramel sweetness with just a light toasted edge sending it veering into chocolate territory (that's what she said). Slight sweet oaky notes, vanilla and carob and faint dried fruit edge at the back. Pleasant sweet nose; nose mind-boggling but draws you in.
Taste carries on the nose's legacy, with that sweet, darkish caramel providing the rhythm of the palate, smooth and mellow sweetness. Hint of some boozey tang midway - bourbon-vanilla and charry oak. There's a roasty edge throughout the palate, right from the start, and it lends the maltiness some gravitas that almost goes to coffee-ville on the back. But it's a nice, sweetish dark ale. A fine transitional beer, and a nice Winter ale as well..
A bit thin on the assault, although further back in the mouth its presence is felt. No carbonation, smooth overall.
When I see the words "special reserve" and "limited edition" on a bottle, my mouth starts salivating in Pavlovian anticipation. This is not a mind-blowing white whale of a beer though, it's something smooth and sweet that I could happily drink most of the night.
1,316 characters
3.7
/5
rDev
-4.9%
look: 3.5 | smell: 3.5 | taste: 4 | feel: 3.5 | overall: 3.5
Purchased some time ago from Slowbeer in Melbourne. Part of a big Kiwi order, if I remember correctly.
Pours a deep and dark brown colour, that actually looks like red when held to the light. Very little hazing to it; it looks quite bright and clear. Head is filmy, but fine-bubbled leaving a solid ring around the edge and almost nothing in the middle. Decent look, though.
Nose is sweet with stewed dark fruits and a laced with a hint of smokiness. Quite dark, heavy and pungent, with the plummy characters giving a very strong sugary character, and it doesn't have much else to balance or strengthen it.
Taste is better, with the dark, slightly smoky characters come through. Indeed, the sweetness drops off a lot here, leaving the palate almost feeling a little lacklustre. Still, it has a smoothness to the flavour, and a pleasant dark chocolate roast.
Not a bad beer, although the pum, dried dark fruit character permeates just a bit much. A little more smokiness (dare I suggest, even a bit of peat), would make this very special—it has the body and weight to support something else.
1,096 characters

3.85
/5
rDev
-1%
look: 3.5 | smell: 3.5 | taste: 4 | feel: 4 | overall: 4
Dark, maple syrup brown with amber highlights. Small, off-tan head. Okay lacing. Maple syrup-influenced malt aromas with dryish cocoa bitterness. Taste starts off with maple syrup peat malt. Baking chocolate bitterness melds with a dry almond nuttiness. Molasses sweetness and balancing coffee roast bitterness into the dry finish. I guess I can see this as a Wee Heavy, but reminded me more of a strong, mapley nut brown.
422 characters
3.53
/5
rDev
-9.3%
look: 4 | smell: 3.5 | taste: 3.5 | feel: 3.5 | overall: 3.5
Hazy medium brown colour with a big, fluffy, light tan head. Decent head retention.
Lightly roasty malt with some mild oak and a hint of caramel. Good.
Light roast with a touch of chocolate and caramel. Mild oak and vanilla. Interesting but nothing special.
Medium body with moderate carbonation. Fine.
A decent Strong Ale. The flavours work well together but for something billed as being aged with oak and bourbon, it lacks a bit of a kick.
446 characters
Harringtons Big John Special Reserve from Harringtons Brewery
Beer rating:
3.89
out of
5
with
14
ratings