Dismiss Notice
Extreme Beer Fest:Los Angeles
Join us December 9th in Los Angeles for the ultimate throwdown of craft beer creativity!
Learn more...
Dismiss Notice
The Rogue Hop
| Harringtons Brewery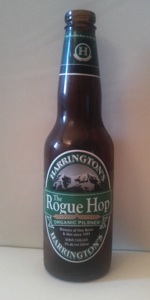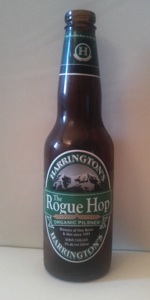 BEER INFO
Brewed by:
Harringtons Brewery
New Zealand (Aotearoa)
harringtonsbreweries.co.nz
Style:
German Pilsener
Alcohol by volume (ABV):
5.00%
Availability:
Year-round
Notes / Commercial Description:
No notes at this time.
Added by TubaManJack on 03-22-2009
HISTOGRAM
Ratings: 10 | Reviews: 10
Reviews by CrazyDavros:
3.28
/5
rDev
-6.3%
look: 4 | smell: 3.5 | taste: 3 | feel: 3 | overall: 3.5
Pours vibrant gold with a large lasting head.
Nose shows soft floral hops with hints of pears. Impressive bready and cookie dough-like malt and honey underneath.
More floral hops and sweet malt show as flavours, again with lots of bready notes. Finishes with a soft but lingering bitterness.
Too much carbonation!
Definitely Bohemian in style, with those lovely floral hops and gentle bitterness.
396 characters
More User Reviews:

3.46
/5
rDev
-1.1%
look: 3.75 | smell: 3.25 | taste: 3.5 | feel: 3.5 | overall: 3.5
330ml bottle from a Harringtons mix 6 pack, best by stamped 10 Dec. 2014, served in a wine goblet.
Pours very clear, light amber with a decent off-white head.
Aroma: mainly herbal/floral hops; quite hoppy even for style.
Flavor: nearly as hoppy than the aroma suggests, but only mildly bitter. Lasting hoppy aftertaste.
Feel: Medium body with medium, crisp carbonation and a dry finish.
O: hoppy, NZ style pilsner. Worth trying.
438 characters
4.2
/5
rDev
+20%
look: 4 | smell: 4 | taste: 4.5 | feel: 4 | overall: 4
Another interesting offering by the brewery...
Its a German Pils brewed with organic hops and malt. The hops are noticeable and its not specified what type they are.
Appearance- Pale Yellow similar to the expectation of the style. The head is quite frothy and wispy for a Pils. After foaming away the lacing down the glass was impressive.
Smell- West Coast-style Hops--> Rich grapefruit, spicy, and full notes. The smell is moderately strong, but very famililar and pleasant.
Taste-Very Hoppy for a Pils. A single type of hops was used for this style. During the tasting, you can taste the hops bitterness throughout each sip, but there is malt to quell some of the bitterness. Slight lingering bitterness -Fantastic
Mouthfeel- Very Smooth Lager with a low amount of carbonation.
Very good drinkability because of its smooth character and a powerful clean hop presence.
894 characters

4.41
/5
rDev
+26%
look: 5 | smell: 4 | taste: 4.5 | feel: 4.5 | overall: 4.5
A - Body is a deep golden color. Much richer and more appetizing than the super pale generic lagers. Yields a full 3 fingers of billowy pristine white head with excellent retention. Bubbles drift up the glass in a constant stream. Lots of lacing.
S - Crisp kilned malts with a bready aroma. Definite herbal hop background as would be expected in a traditional authentic pilsener. Where this diverges from traditional is the additional grapefruit-like aroma of the more modern aromatic "IPA hops".
T - Delicate malty backbone that has just enough sweetness to satisfy the palate without being cloying. Very clean, crisp and dry. The hop flavor mirrors the aroma. There is a spicy herbal flavor along with a more citrusy, juicy hop flavor. Very interesting and appetizing take on the pilseners.
M - Thin body. Crisp carbonation. Dry with a very clean finish.
Overall - the Kiwis can brew a mean beer! I will definitely be seeking out more NZ beers (if I can find them in the states).
985 characters

3.05
/5
rDev
-12.9%
look: 3 | smell: 3 | taste: 3 | feel: 3.5 | overall: 3
Pours a very pale gold, almost transparent. Head is thin, white, with decent lace. Not bad. Not great.
Smells grainy. Lots of cereal, puffed rice, light touch of caramel. "Rogue" hop? Is that because it can't be found?
Taste is very grainy, lots of pearl barley, puffed rice, some caramel, vanilla and white bread notes as well. Finish could use some more hop. Palate could use some more hop. More HOP, I say! Not very pilsenery.
Bit thin, bit of sizzle. Not bad for the style.
Could use more of everything. Decent drinking lager, it's just not what I expect from a pilsener.
579 characters
2.87
/5
rDev
-18%
look: 2 | smell: 2.5 | taste: 3 | feel: 3.5 | overall: 3
Purchased from Slowbeer in Melbourne, in what was a Kiwi-heavy order.
Pours a dull golden colour, with a slight haze, crowned by a bubbly froth of largely-aerated head. Lacing crackles where the bubbles burst, but the head overall settles to a sudsy film that looks a little like pond scum. There's something a little unappealing about the appearance overall.
Nose is grainy and slightly honeyed, with a little rank organic undertone. The sweet grainy characters aren't unpleasant, but really feel like they need a bit of sharpness from the hops to cut through the cloy. For a beer with Hop in the title, I'm rather unimpressed.
Taste is similar, with grainy bread and honey characters the main event. Very little bitterness on the palate at all, leaving it thin and a little reedy. The grain characters are well established, at least, and they give a robust German lager character to it, but it feels unbalanced to me.
Feel is fine, crisp and light--perfectly suitable for the style.
Eh. This is one pretty forgettable beer. New Zealand does some great pilseners, but this isn't one of them. Bland, middle-of-the-road mediocrity.
1,135 characters
3.2
/5
rDev
-8.6%
look: 3 | smell: 3 | taste: 3 | feel: 3 | overall: 4
This beer pours a pale straw see thru colour which is well carbonated and only leaves a little head that vanishes fast,it smells really earthy and almost wine like like a semilon/sav blanc,it tastes very hoppy and finishes quite sweet with some citrus flavours aswell with an average mouthfeel,a nice and easy drinking beer that i will buy again.
346 characters
3.63
/5
rDev
+3.7%
look: 4 | smell: 3.5 | taste: 3.5 | feel: 3.5 | overall: 4
A- pours a clear yellowy brown with about an inch of fluffly carbonation that takes a while to go down, leaving some lacing.
S- a little bit of malt followed by a fair bit of hop, a littly grassy with a touch of passionfruit. nothing overwhelming, but not bad at all.
T- slight malt, before the hops hit you, the main flavour im getting is the passionfruit. like the smell, again nothing overwhelming, but quite pleasant.
M- prickly carbonation, slightest bitterness at the end that vanishes quickly, little dry at the end. pleasant, but nothing extraordinary.
D- the pleasant taste makes this one a downable brew, i could easily sit in the sun with a six pack of these for a great afternoon.
698 characters
3.83
/5
rDev
+9.4%
look: 4 | smell: 3.5 | taste: 4 | feel: 3.5 | overall: 4
A - Poured a pretty clear light golden colour with 2 centimetres of frothy white head that falls away fairly quickly leaving light sporadic lacing.
S - Light floral, vauge spice and some grassy and stonefruit hoppy notes. Some slight sweet pale malt aromas.
T - All the hops from the smell backed by a slight honey tinged sweet maltiness.
M - Light bodied, medium to high carbonation.
D - A tasty Pilsener. Enough character to make it interesting. Something I'd drink a few of.
477 characters
3.11
/5
rDev
-11.1%
look: 4 | smell: 3 | taste: 3 | feel: 3.5 | overall: 3
Light sweet malt aroma. Not particularly 'pilsneresque'. Some light citrus but also a hint of lactic.
Mostly clear, straw colour with a moderate sized, long lasting white head.
Crisp and moderately bitter. Good moderate malt profile though again it doesn't have the clean, grain quality found in better pilsners. The hop flavours are fairly clean and do not dominate. A slightly astringent note is not pleasant.
Medium-light body with moderately high carbonation. It is fine.
A decent beer but not the best I've tasted. In fact, it is a bit of a let down after having some fantastic Kiwi beers.
598 characters
The Rogue Hop from Harringtons Brewery
Beer rating:
3.5
out of
5
with
10
ratings