Bière Spéciale Blonde Extra Forte
| Brasserie de Saint-Omer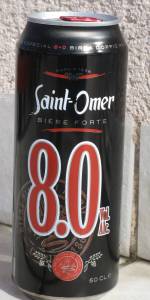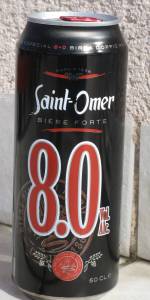 BEER INFO
Brewed by:
Brasserie de Saint-Omer
France
brasserie-saint-omer.com
Style:
Euro Strong Lager
Alcohol by volume (ABV):
8.00%
Availability:
Year-round
Notes / Commercial Description:
No notes at this time.
Added by TheBrewo on 07-27-2011
HISTOGRAM
Ratings: 9 | Reviews: 4
None found.
More User Reviews:

3.38
/5
rDev
+19.4%
look: 3.25 | smell: 3.25 | taste: 3.5 | feel: 3.5 | overall: 3.25
I agressively poured it in a fitting Duvel tulip, poured a decent white head fading quickly.
This is a Euro Strong Lager and considering the style, its pretty sweet albeit a bit metallic, the strong alcohol content is well hidden for the better. The ABV is just fine, making it easy to drink.
Its malty, adjunct and don't expect to be blown away by the flavor of this beer. Corn, grains and thats about it.
Overall, I suspect this is one of the cheap beer only worty of giving you a nice buzz, as I said. But I was expecting a shelf turd and this isn't. There are far worse in the style. 
For more background, Saint Omer is a small Northern French city near Calais, Boulogne and in the Lille wider region. The region is known for its Bière de Garde and other Pale Ale. If you are ever there, there are a number of better beers available. 
Cheers.
858 characters
3.06
/5
rDev
+8.1%
look: 3 | smell: 2 | taste: 3.5 | feel: 3 | overall: 3.5
We pour a brew of near neon yellow. With a rough pour it gives a two and a half finger head of soft, sticky white bubbles. Thick lacing is left as it departs, and retention is quite nice. There is full transparency through the liquid, and carbonation appears high. The aroma sings of adjuncty grain, corn, and barley. It has that sweet and metallic lime character that many adjunct/Euro lagers possess. The metal is over the top, and may be contributed to, partially, by the yeast used. No hop comes in to balance, but there is a slight twinge of alcohol to the back of the nose. As we sip, the grain crashes up front. It is all the bitter, biting, and souring that one might expect from pale adjuncty grains and corn. The middle mellows out, and the bitterness of flavoring really falls off to give a surprisingly smooth and standard beer for the style. The finish is with pale and clean malts, and a pronounced metallic character. Not much else presides, and the aftertaste breathes with sugary sweetened malts, adjuncts, and a hollowed honey flavor. The body is medium and the carbonation is medium. There is a nice wetting and cooling aspect to the mouth, with a decent coating left all around. There is little froth or smack, but the sip is not offensive. The abv is appropriate, and the beer drinks with ease.
Overall, what we enjoyed most about this brew was how clean the beer finished. For the style, and for a beer that smelled so metallic and standardly adjuncty, the corresponding flavor was a breath of fresh air. The malts tasted clean, and the transitions from the onset were smooth. What was left was a mild beer with little bite, and for something with such a comparatively high abv, it was surprisingly refreshing.
1,735 characters
1.38
/5
rDev
-51.2%
look: 2 | smell: 2 | taste: 1 | feel: 1.25 | overall: 1.25

3.05
/5
rDev
+7.8%
look: 3 | smell: 3 | taste: 3 | feel: 3 | overall: 3.25
2.74
/5
rDev
-3.2%
look: 3 | smell: 2.75 | taste: 2.75 | feel: 2.5 | overall: 2.75
Can picked up in Calais while waiting for the ferry. Malty nose and taste with oily mouthfeel. Half litre can from Cora. Good lacing on the glass, but this is bordering on a malt liquor.
186 characters

3.14
/5
rDev
+11%
look: 3 | smell: 2.75 | taste: 2.5 | feel: 3 | overall: 5
Very sweet. Smell or taste doesn't give away how strong it is. Looks like any other macro lager with a thin head. Drank it cold, as you do. Might have drank it a little fast because, boy there's a heady buzz off it! It's gross but €2.20 a can at 8%? Got to be having it!
272 characters
Bière Spéciale Blonde Extra Forte from Brasserie de Saint-Omer
Beer rating:
2.83
out of
5
with
9
ratings