Bière Blonde De Luxe
| Brasserie de Saint-Omer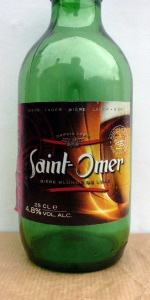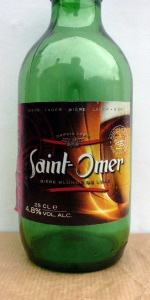 BEER INFO
Brewed by:
Brasserie de Saint-Omer
France
brasserie-saint-omer.com
Style:
Euro Pale Lager
Alcohol by volume (ABV):
4.80%
Availability:
Year-round
Notes / Commercial Description:
No notes at this time.
Added by jonb5 on 09-01-2012
HISTOGRAM
Ratings: 12 | Reviews: 6
None found.
More User Reviews:

3
/5
rDev
+7.1%
look: 3 | smell: 3 | taste: 3 | feel: 3 | overall: 3
A 250ml green stubby bottle with a BB of Jan 2013. Picked up cheap at Morrisons a while back. I believe this is the same beer - although it says 'export' down the side of the label.
Poured into a straight pint glass. A clear golden colour with good carbonation. Forms a small head of white foam that settles after a minute or so. Aroma of light malt with faint hints of caramel and stewed hops. Mild overtones of crisp noble hops.
Tastes of light malt with a dry finish. A flavour of stewed hops with a slightly harsh quality. A restrained dry bitterness upon swallowing. Mouthfeel is light, dry and tingly with a reasonable body for the style. Somewhat astringent, with an aftertaste of bitter stewed hops.
This is a perfectly average mass-produced lager. Nothing special, but I suppose it will quench your thirst when the occasion demands it. Clean and inoffensive, though there's no need to seek it out.
909 characters
2.3
/5
rDev
-17.9%
look: 3 | smell: 2.25 | taste: 2.25 | feel: 2.25 | overall: 2.25
On 13th Nov 2013 I had a little lager/pilsner tasting session with the wife: two French, a UK brewed Budweiser and two other 'craft' UK lagers. This green dumpy 25cl bottle was the second one.
Poured into a Veltins badged stemmed tulip it looked a bit pale: pale golden that is, clear and clean with a small fading white head.
More hop than malt in a weak nose and taste: some grain and grass notes but a really bland effort. Cheap supermarket brew and it showed, I preferred it's weak 2.8% ABV brother I had before this: only just better than the UK brewed Bud (which was next).
581 characters
2.9
/5
rDev
+3.6%
look: 3 | smell: 3 | taste: 2.75 | feel: 3.5 | overall: 2.75
Pours a large fizzy fluffy head, fades at a med pace with soapy lacing, crystal clear blond pilsner color.
Nose has pilsner malts, toasty grainy cracker dough, mild mineral notes, grassy hops, little herbal earthy hops, weird sourdough cereal thing.
Taste is also strange, some typical pilsner malts, toasted lager, but more if that like sourdough cereal, wheat steeped in mineral water, little mineral lager notes. Grassy herbal hops, fair bitterness, little salty note. Finish dry, mild bitterness, grassy herbal hops, quick finish, little mineral note again.
Mouth is lighter bod, decent carb.
Overall eh. Pretty strange.
631 characters

3.88
/5
rDev
+38.6%
look: 4 | smell: 4 | taste: 4 | feel: 3.25 | overall: 3.75
I got started on a foreign CAN kick yesterday & since I have a several CANs from this brewery, I have decided to CANtinue with a brewery horizontal in support (ISO) The CAN Quest (tm). Happy Laborious Day, 2017!
From the CAN: "Biere*Beer*Cerveza*Cerveja*Birra"; "Depuis 1866".
I Crack!ed open this latest 50-cl CAN & began a nice, slow, gentle Glug. These statuesque Blondes must be handled with kid gloves lest they erupt in unCANtrollable ways. This one puffed up with a soapy, foamy two fingers of bone-white head just to make sure that it had my attention before exhaling. Color was a gorgeous Yellow-Gold (SRM = 4 -5) with NE-quality clarity, prompting a visit from The Gelt Gang of Mammon, Midas & Croesus, none of whom could resist the charms of this beauty! Nose was definitely a Lager - bready, slightly biscuity, with notes of honey and freshly-mown grass & hay. Mmm. Mouthfeel was a little thin, not watery, but not much beyond it. The taste was very clean and adjunct-free with a taste of honey and bread in the mouth. Mmm. There are those who say that Blondes ae a dime a dozen, but this tall beauty was one to be savored. Finish was semi-sweet, bordering on semi-dry, a wonderful CANmingling of flavors that left me satiated, but if another were in the offering, I would not turn it away. Ah, ma cherie!
1,320 characters

2.56
/5
rDev
-8.6%
look: 3.5 | smell: 2.5 | taste: 2.5 | feel: 2.5 | overall: 2.5
250ml bottle, poured into handled Reh Bier glass. Looked promising, golden colour, 1 finger head. Caramel aroma, a bit artificial, no hops content. Tasted metalic, hints of corn, caramel and various ajuncts. Had a coarse edge but wasn't crisp or light, didn't feel great. Overall this is a beer best served cold, to people not really into craft/real ale. Just about drinkable.
376 characters
3.15
/5
rDev
+12.5%
look: 3.75 | smell: 3 | taste: 3 | feel: 4 | overall: 3
From Al campo. Un Teku glass. Reading CCNA WiFi. A bit better than average pilsner. Although at first it smells males you think it will be a bar cheap lager, The taste isnt bar at all. Its pleasant and refreshing although it doesnt stand out either as something special. Dont remember its price, bit if its cheap it can be a good option as a cheap everyday beer. Avg 2.63.
From Aldi Gelves. In Teku glass. At dinner after futsal match, with sausages + cheese sandwich. Grassy above average. Pleasant. Very drinkable and refreshing. A good alternative to typical macro lagers if cheap (dont remember price)
607 characters
1
/5
rDev
-64.3%
look: 1 | smell: 1 | taste: 1 | feel: 1 | overall: 1
2.25
/5
rDev
-19.6%
look: 2.5 | smell: 2.5 | taste: 2.25 | feel: 2 | overall: 2
3.5
/5
rDev
+25%
look: 3.5 | smell: 3.5 | taste: 3.5 | feel: 3.5 | overall: 3.5
Bière Blonde De Luxe from Brasserie de Saint-Omer
Beer rating:
2.8
out of
5
with
12
ratings