Breski's Beverage Distributors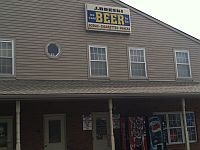 PLACE INFO
Type:
Store, Homebrew Store
1170 Eisenhower Blvd
Harrisburg
,
Pennsylvania
, 17111-2335
United States
(717) 939-4831 |
map
breskibeverage.com
Notes:
No notes at this time.
Added by sulldaddy
Reviews: 8 | Ratings: 22
4
/5
rDev
-4.8%
For those who are outside of Pennsylvania, it is important to note that a "beer distributor" can only sell cases of beer. I stopped at Breski's (on my way to TN) because of the high rating on BA, but was disappointed to find that six packs were not available. I searched for an AMAZING beer that would be worth hauling a case back to CT and managed to find two mediocre IPAs (Troegs - Blizzard of Hops & 21st Amendment - Brew Free or Die).
Overall: Not super impressed with the selection and a little disappointed by the Pennsylvania law, but really excited that they had home brewing supplies and ingredients there. What an awesome idea!!
641 characters
4.41
/5
rDev
+5%
vibe: 4 | quality: 4 | service: 5 | selection: 4.5
Breski's has become my go to beer distributor. Their regular prices are about average for this area. However they have a web site and post their weekly specials on it. They also will put you on their email list and let you know when they have super specials on beers, etc. that are past their best buy dates. I have a preference for IPAs and am willing to give most micro breweries products a try. So in the past couple months I have bought at least four different cases of beers from different brewers that I probably would not have tried if they were not on sale at Breski's. Plus I got a case of Troeg's Perpetual IPA that was on sale one week for my son-in-law as that is his favorite beer.
Breski's is not the closest beer distributor to my home but I am willing to make the trip when they advertise a beer on sale that I am willing to buy. I hate walking into a beer distributor and not finding anything on sale that I am interested in.
943 characters
3.94
/5
rDev
-6.2%
vibe: 4 | quality: 4.25 | service: 3.75 | selection: 3.75
I stopped in at Breski's since moving to Harrisburg and seeing that they now carry some homebrewing supplies and ingredients.
The place is well organized with check out as you walk in with homebrew items in that area and imports/Macro in the area directly as you walk toward the warehouse. The far corner near the cooler has craft beer/cider and the cooler is laid it in a similar way.
The pricing is very good with some specials on out of season beer and some other new items in stock. The qualtiy of the beer and selection are both very good. The place is conveniently located and I found the service to be good so would recommend this distributor if you are in the area and need something. I got some yeast so it is the most convenient place for things like that for me.
779 characters

4.78
/5
rDev
+13.8%
vibe: 4.5 | quality: 4.5 | service: 5 | selection: 5
I work right up the road from Breski's, and needed a case, so I figured I'd give it a shot...boy, was I surprised. Doesn't look like a whole lot of anything from the outside, but inside, its really well stocked, and there isn't much macro to get beat over the head with. Good selection of craft, with Troegs, Bells, Sierra Nevada, etc everywhere. I was in a rush, so I grabbed my case of Celebration from the mammoth display (at least a pallet's worth...more noticeable than most of the macro, actually), and went on my way. The staff was very helpful and friendly, and the prices were about what you'd expect to pay anywhere else. Real stunning experience, considering what you usually run into at PA distributors
UPDATE: Breski's now sells homebrew supplies, and they're actually the cheapest in the area. Good selection of small bags of grain, and plenty of different types of hops and yeast. They have all the extract you'll need too...LME is $2 cheaper than Scotzin/Mr Steve's, and DME 3lb bags are about $3 cheaper. They also have a nice selection of kits, as well as carboys and such. Service remains fantastic, especially as I've become a weekly customer for homebrew. They also recently redid the beer warehouse, and there is a TON of craft. The macro swill is thrown into the front right corner, and as you walk in, you can completely miss it if you just look straight ahead. This has pretty much become my go-to distro in the area...unfortunately, I don't work right up the road anymore.
1,499 characters

3.98
/5
rDev
-5.2%
vibe: 4 | quality: 3.5 | service: 4.5 | selection: 4
I had some time to kill so I thought I'd pop into J. Breski Distributor. As you walk in it's almost like a gas station...chips, hot sauce, cigars. After you pass through that small room you come into the beer floor.
The selection isn't bad. A lot of macro displays. The micro selection is comprised of Troegs (Flying Mouflan), Weyerbacher, Stone (14th Anniversary), Sierra Nevada (Ken and Fritz), Long Trail, Oskar Blues, Heavy Seas, Terrapin...just to name a few. The prices were on par with other distributors.
Here's the kicker...I found a disply of Long Trail Winter White for $16! It was past it's prime but I couldn't pass up the deal. Tried it and loved it and when I went back the other five cases were gone! I did discover other beers that were past their prime but they WEREN'T marked down.
Overall, not a bad place. I liked they marked down one beer, but what about the other older cases??? Good beer and friendly service.
936 characters
3.8
/5
rDev
-9.5%
vibe: 3.5 | quality: 4 | service: 4 | selection: 3.5
Stopped by Breski's on the way from work to the hotel (temporary digs until we settle on the new home on 9/25), as I had read on BA that they had a case of Two Hearted Ale.
Quality: The selection is mostly BMC and their derivatives. There was one small niche that made up for it (see below).
Service: As I was paying for my purchase, one of the guys behind the counter offered me a Labatt Blue. While I politely declined, I'd never, until that point, been offered a beer while buying a case.
Selection: The selection of craft brews is not too shabby. I saw Rogue, Stoudts, Troegs, Weyerbacher, Unibroue, Sleeman's, Sly Fox cans and four cases of Bell's beers. I grabbed the Two Hearted Ale, leaving Oberon, Pale Ale and something else that I don't recall (it was not a stout of similar beer). Overall, I was impressed with that small nook and will visit again.
Value: Value is what you make it. BMC will fit all budgets, but Bell's is a bit more expensive.
960 characters

4.2
/5
rDev 0%
Although I selected "average" for selection, I must say that Breski's is getting better and better in their selection.
I recently moved 5 minutes from a distributor near the house, but I still go the 10 minutes to Breski's for beer.
Now, getting back to my review: They just added a new "super cooler"...the size of a barn! It is friggin huge with an automatic door which is nice when handling beer and being able to walk right through (state of the art).
Therefore, their beer selection is getting more and more expansive, and is very good for a PA beer distributor; most beer selections suck quite frankly, but they have anything from Crudweiser to Miller to Yuengling to Victory, Troegs, etc. just to name a few. The guys working (owners) are not the most knowledgeable about some of the beers they stock, and often go by recommendations and special orders from individual patrons.
However, they are really cool guys and it is like going to Cheers, they always know your name! Live long Breski's!!!
1,016 characters
4.3
/5
rDev
+2.4%
This is the beer store I went to in PA before I moved to New England. I guess this store really helped me out with getting into the better beer scene after I graduated college.
The storefront has an area where you can simply ask for cases/kegs and they will go and get them, but where is the fun in that? I would always walk into the back and search through one of the two coolers for some local micros. I know in the past I purchased Neversink(defunct) and Independence cases from this store. On my most recent stop I saw several cases of Stoudts, Troegs, Appalachian, and Penn brewery. Also saw Samuel Smith's, A wide range of Unibroue and to top it off 2 cases of SA triple bock. Not sure of the vintage but they wanted $91 for the case. seems like a good deal to me, but I am not the biggest fan of the brew.
THe store will special order local kegs for you and actually rents our a beer truck and beer trailer for parties. Always a good time.
Most recent stop also revealed new cooler about twice the size of previously exisiting two with lots of micros available.
Service is great with regulars getting tips about new brews coming in and being allowed to root through the coolers.
All in all a great store that will do what it takes to keep customers happy.
1,269 characters
Breski's Beverage Distributors in Harrisburg, PA
4.2
out of
5
based on
22
ratings.