Black Diamond Fracas Red
| Black Diamond Brewing Co.
BA SCORE
84
good
14
Reviews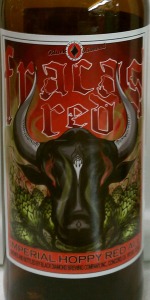 BEER INFO
Brewed by:
Black Diamond Brewing Co.
California
,
United States
bdbrewing.com
Style:
American Amber / Red Ale
Alcohol by volume (ABV):
8.00%
Availability:
Limited (brewed once)
Notes / Commercial Description:
No notes at this time.
Added by GRG1313 on 12-16-2012
This beer is retired; no longer brewed.
Reviews: 14 | Ratings: 54
4.4
/5
rDev
+19.2%
look: 4 | smell: 4 | taste: 4.5 | feel: 5 | overall: 4.5
Label indicates an Imperial Hoppy Red Ale.
Pours a deep rich copper red with an off white/light khaki head. Clear and appealing although the head fades fast.
Nose is "hoppy Belgian" in my opinion. Tons of that stereotypic rich and assertive fruit ester that we find in so many Beligian offerings; yet, there is a balance of fresh pineapple hop tones in the nose that really balances the sweetness of the esters. There are layers and tones of plum, light cherry chocolate, milky coffee and more. I really like the nose and it's multiple and integrated layers!
Mouthfeel is rich, full, bold and creamy. Mouthfeel is just about as complex as the nose although the mouthfeel likely comes off so nice because of the flavor profile. A rich and very inviting mouth. Light carbonation and a balanced brew. It must be a good mouthfeel since I just want to drink more.
Flavors on this one rock. This beer is extremely multi-dimensional in flavors. Rich, assertive and very bold and fresh integrated and balanced flavors of sweet pears, sweet stonefruits and fruity malt tones that go to big bitter fresh hops through the mid-palate and end up with big bitter grapefruit skin, bitter coffee/chocolate tones - not flavors but just hints of rich toast.
Finish is long and ends with the bitter grapefruit and bright hop bitter that one just has to like.
This beer is a winner and one of the nicest new offering I've personally tried in quite some time. This is one of the few beers I've had that can double as a really nice bold, bright, big and flavorful "sipper," or a very nice companion for most medium to rich food profiles.
1,627 characters

2.93
/5
rDev
-20.6%
look: 3.5 | smell: 3 | taste: 2.5 | feel: 3 | overall: 3.5
Another imperial red - this one from a brewery whose hoppy beers have been balanced in the past. I'm intrigued. 1 pint 6 fl oz brown glass bottle with standard pressure cap acquired at a local SoCal beer store and served into a New Belgium stem-goblet in me gaff in low altitude Los Feliz, Los Angeles, California. 8% ABV confirmed. No visible best before date.
Served straight from the refrigerator. Side-poured with standard vigor as no carbonation issues are anticipated.
A: Pours a 1.5 finger khaki colour head of nice cream and thickness, and good retention for the ABV. Body colour is a very dark amber red. Non-opaque. Semitransparent. No yeast particles are visible. No bubble show. Lacing is okay. Looks a bit dark for the style.
Sm: Floral and nectary hops. Raisin fruit. Caramel. Clean pale and light amber malts. No real hop bitterness is detectable. I don't get any yeast or alcohol either. Understated but pleasant. An average strength aroma.
T: Quite floral and nectary up until the light hop bite on the climax, which sort of tanks the balance. It's caramel-laden and somewhat creamy up front. Raisin throughout, coming through most on the climax and through the finish - though the resultant aftertaste is inappropriate to the style and is not balanced against the notes of the early acts. Hop character is surprisingly restrained for the style. Some grapefruit, especially in the third act. Maybe some plum; certainly some out-of-place dark fruit. Some odd choices were made here for an imperial red - particularly the raisin, which feels lifted straight out of a Unibroue beer. It doesn't belong here but I like the experimentation and frankly it works to a degree. A failed experiment and unique attempt in the style. I applaud the limit-testing, and I do like it for what it is.
Mf: Smooth and wet, but quite overcarbonated. Adequately thick on the palate. Should be creamier. Presence on the palate is ill-suited to the flavour profile.
Dr: I'm not a huge fan of the beer, but it hides its ABV well and I'll be able to finish it with relative ease. I wouldn't get this again, but it's an interesting take on an imperial red. Still, fans of the style will likely be disappointed. I expected more from the brewery, but I'm glad they're experimenting. I wouldn't recommend it to friends.
C
2,321 characters
3.9
/5
rDev
+5.7%
look: 4 | smell: 4 | taste: 4 | feel: 4 | overall: 3.5
22 ounce bottle into tulip glass, no bottle dating. Pours slightly hazy deep reddish copper color with a 2 finger dense light khaki head with great retention, that reduces to a small cap that lingers. Light spotty soapy lacing clings around the glass. Aromas of grapefruit, orange peel, orange rind, floral, caramel, toast, brown sugar, pine, grass, brown bread, and floral earthiness. Very nice aromas with good balance and complexity of hop and malt notes; with good strength. Taste of grapefruit, orange zest, toast, caramel, brown sugar, floral, grass, pine, brown bread, and floral earthiness. Fair amount of floral/pine bitterness on the finish; with lingering notes of citrus, citrus zest, toast, caramel, floral, grass, pine, brown sugar, brown bread, and floral earthiness on the finish for a good bit. Very nice balance and complexity of hop and dark malt flavors; with a good bitterness/sweetness balance and zero cloying flavors after the finish. Medium carbonation and medium-full bodied; with a creamy, lightly slick, and lightly sticky mouthfeel that is good. Overall this is a very nice imperial red ale. All around nice balance and complexity of malt and hop flavors; and very smooth to sip on. A very enjoyable offering.
1,238 characters
3.9
/5
rDev
+5.7%
look: 4.25 | smell: 4.25 | taste: 3.75 | feel: 3.75 | overall: 3.75
On-tap 2/22/2013 at Track 84 in Warwick, RI, served in a tulip glass.
A: The beer is a deep coppery red color, with a large off-white head that fades slowly and leaves a thick lace on the glass.
S: The aroma contains caramelized malts, floral hops and fruity citrus.
T: The taste starts with a strong hops bitterness and a bit of alcohol. Then some caramel and citrus sweetness comes in. The malt character is hearty and provides some balance. The after-taste is slightly sweet.
M: Crisp and a little smooth, medium body, medium carbonation, finish is dry and slightly sticky.
O: Tasty, goes down ok, not too filling, good kick, good representation of style, it's a solid beer but there are better choices within the style.
730 characters

3.27
/5
rDev
-11.4%
look: 4.25 | smell: 3.5 | taste: 3 | feel: 4.25 | overall: 2.75
Pours a red orange amber color with a superior long-lasting foam. Mouthfeel is quite creamy and nice. Flowers
I don't know. this is just strange. Where does the enormous grapefruit flavor come from? Not so much the bitter peel, but something like canned grapefruit. Brewer says the array of hops include Apollo for bittering, plus Chinook, variety "342", Zythos, and more. They don't mention the yeast, but include brown sugar and turbinado. It just tastes like the malt syrup homebrew I used to make, when I'd jack up the alcohol with a pound of brown sugar. Eventually the medicinal bitterness creeps up. Peaches and quinine.
I still have trouble with the fruit punch, sweet 'n' sour flavor followed by the bitterness. It's just so attractive and pleasantly sudsy. From the 22 oz bottle purchased at Olive Tree Market in Ocean Beach.
837 characters

3.38
/5
rDev
-8.4%
look: 4.5 | smell: 3.25 | taste: 3.5 | feel: 3.25 | overall: 3
Pours a dark amber/shade of ruby with a frothy head into my glass. Is this an imperial red ale? The ABV would suggest it.
Them are some strong hops with a dominant whiff of pine. There's even a nice sweet touch underneath all that.
Hops take on a sweet, barleywine-like character here. I swear that if you were to leave this a few more months, it could qualify as an american strong ale or barleywine.
Holy fracas! Sweet with just enough remaining pine tar to coat the back of the mouth!
It's worth a try at the very least. However, I always thought that "hoppy" reds were more like american strong ales.
609 characters

3.68
/5
rDev
-0.3%
look: 4 | smell: 4 | taste: 3.5 | feel: 3.75 | overall: 3.5
Poured one finger of head on a hazy, rust red colored body.
The aroma is rich roasted malt and dry grain. Up front and nice.
The taste is moderate bitter mixed with moderate sweet. Some grapefruit and big malt. The sweetness comes back though... a bit too much.
The texture is thicker with moderate carbonation.
A big, bold ale. I thought it was too sweet though.
363 characters
3.61
/5
rDev
-2.2%
look: 4.25 | smell: 3.25 | taste: 3.5 | feel: 4.25 | overall: 3.75
Picked up a discontinued bomber at Sprouts in mid-January for $5.89. No freshness date.
Beer poured amber with a nice white head that is leaving lacing.
Nose is malty with hints of citrus.
Taste is a bit uneven, caramel malts, pine and citrus greet the palate in a fashion that does not blend very well. This could be a freshness issue.
Mouthfeel is full bodied and very smooth.
Overall this recipe has some potential if fresh. I am always a sucker for a double red but unfortunately this one dissapoints a bit.
516 characters
3.99
/5
rDev
+8.1%
look: 4.25 | smell: 4 | taste: 4 | feel: 3.75 | overall: 4
Appearance: Nice red body with a rocky, 1.5 finger light beige head, good racing.
Aroma/Flavor: Big floral and pine hop character, with nutty-caramel backbone. Bitterness is pretty balanced.
Mouthfeel: Medium body, dry lingering finish.
239 characters
3.75
/5
rDev
+1.6%
look: 3.75 | smell: 3.75 | taste: 3.75 | feel: 3.75 | overall: 3.75
Enjoyed this brew out of snifter glass
A: Pours a reddish hue with a nice white head that slowly dissipates leaving a decent trail.
S: Hoppy bitter aroma with decent alcohol scent in the background.
T: Really hoppy and bitter with lots of alcohol and finishes dry.
M: Heavy body and medium carbonation.
O: Decent IRA – worthy of a try.
342 characters
3.53
/5
rDev
-4.3%
look: 4 | smell: 3.5 | taste: 3.5 | feel: 3.5 | overall: 3.5
I think this brewery is new to me, and I hope they have better offerings than this. It has a cool label and it opens to a nice red foamy glass with some suspension and it looks like long lasting bubbling. That's the high point. Reds usually look great, so this is not unexpected.
The aroma is a slightly funky hoppy thing. The taste follows suit. It has a pretty big malt/big beer taste going on too. The aftertaste is funky too. Bitter, and dry. None of this is in any way bad, it is a beer you should try, but it leads me to check for a date to see if Save-on sold me something too old.
... and the conclusion is - there is no date on the thing anywhere that I could see. I will not seek this out again.
707 characters

3.79
/5
rDev
+2.7%
look: 3.75 | smell: 3.5 | taste: 4 | feel: 3.75 | overall: 3.75
22oz bomber with my FW Snifter glass
A: Pours a dark murky amber with some brownish shades to it. Rusted red look. Fast streaming bubbles produce about a half finger of tawny beige head. Retains nicely, never fully subsiding, leaving branches of stick on its way down.
S: Smells of dank herbals and pine with a bit of spiced citrus peel. There is a firm layer of dark toffee malts that brings a soft sweetness to the aroma along with some fruity plum-like esters and a noticeable alcohol note. Nice nose although relatively mild overall.
T: Danky herbal hops, grapefruit/citrus, pine, and melon give way to a rich toffee malt base. Deep roasted caramels with some toasted rye bread and raisins. Ripe stone fruits with a light suggestion of roast coffee bean and milk chocolate towards the finish. Perhaps some Roasted Barley influence here. Seems odd but it does actually work in unison with the other flavors. There is a modest amount of bitterness to the beer that is more restrained than I was expecting and a punch of assertive alcohol spice. enjoyable albeit there is a lot going on here flavor wise.
M: Moderate to fuller body with a soft chew on it and a higher level of carbonation that lends a bit of lift to the overall feel. There is a light drying and some residual hoppy bitterness that lingers but the beer remains rather wet all throughout.
D: A decent imperial red that stumbles into Barleywine country at times. Some nice complexities going on in the malt bill but not quite as hoppy as I was hoping for. The label describes the breweries challenges with dialing in the recipe and it shows. Not bad and with good balance overall but lacks focus at times.
1,677 characters
3.77
/5
rDev
+2.2%
look: 4 | smell: 3.75 | taste: 3.75 | feel: 3.75 | overall: 3.75
Pours a rusty red, deep in color and cloudy. Tanish head that dissipates with some nice lacing clinging to the glass.
Smells grassy piny hop notes with that caramel sweet molasses malty backbone.
Tastes of sharp piny peppery grassy hops with good amount of malty barley sugar with a bit of raison and well done toast. The taste goes to a bunch of places, it's not as well balanced as I would like for a hoppy red ale but It is very interesting to try. And it stays drinkable. Somewhere in the middle it introduces some fruity citric berry flavours. I almost want to say it's a touch dry because I want to take another sip immediately after. That could partly be to try to find more hidden flavours. The piny werthers originals after-taste is actually quite pleasant.
Mouthfeel is creamy and sharp. Feels like some mineral waters in a way though.
Overall, this is a good red ale, interesting, unique and different. However it doesn't seem as balanced as other red ales out there. The flavours are intense and very gratifying, gets a good grade in my book.
1,059 characters
3.54
/5
rDev
-4.1%
look: 4 | smell: 3.75 | taste: 3.5 | feel: 3 | overall: 3.5
Had a little bit too strong of roasted nuts taste, but after a few more sips it took on a mild fruity taste. Eventually it became somewhat bitter, but still drinkable.
The smell however came off quite fragrant and reminded of being near a campfire.
The color was a dark amber in the middle while giving way to golden-red at the edges.
336 characters
Black Diamond Fracas Red from Black Diamond Brewing Co.
3.69
out of
5
based on
54
ratings.