Freedom American IPA
| Natty Greene's Pub & Brewing Co.
BA SCORE
83
good
13
Reviews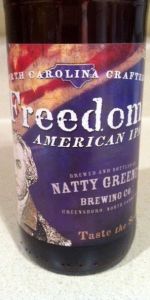 BEER INFO
Brewed by:
Natty Greene's Pub & Brewing Co.
North Carolina
,
United States
nattygreenes.com
Style:
American IPA
Alcohol by volume (ABV):
6.50%
Availability:
Rotating
Notes / Commercial Description:
No notes at this time.
Added by tastybeer on 07-07-2012
Reviews: 13 | Ratings: 107
3.65
/5
rDev 0%
look: 4 | smell: 4 | taste: 3.5 | feel: 3.5 | overall: 3.5
Poured from the bottle into a standard pint glass.
Appearance: The beer pours a cloudy amber color with a finger of creamy off colored head that leaves a generous layer on top of the pour.
Smell: Sweet grain with come citrus peel hops. Less hoppy than expected, but the balance is pleasing.
Taste: There is a very nice balance here too. The malt sweetness and citrus hops work well together. The finish is rather bitter.
Mouthfeel: Medium body with not enough carbonation and a finish that is quite dry.
Overall: I thought the hops would be more prevalent here, but I rather enjoyed the beer. I would have another.
619 characters
3.5
/5
rDev
-4.1%
look: 3.5 | smell: 3.5 | taste: 3.5 | feel: 3.5 | overall: 3.5
A - bright orange with a soft, thin layer of head; little retention
S - herbal, citrusy, piny
T - herbal, a bit bready, a bit spicy, bitter piny finish, some citrusy notes come through in the aftertaste - orange and grapefruit, aftertaste reminiscent of homebrew
M - crisp, a bit over carbonated, medium bodied, warm
This is an alright IPA. It has a nice hop character to it, but it comes across almost homebrewey. It has an odd aftertaste that the hops just can't seem to shake off. The balance is there as is the drinkability. It's not bad, but in a world full of great IPA's, I'd rather have something else.
614 characters
3.85
/5
rDev
+5.5%
look: 3.75 | smell: 4.25 | taste: 3.75 | feel: 3.5 | overall: 3.75
Poured from a bottle into a shaker pint, the beer is a bright, slightly hazed, goldenrod coloring with a filmy, clingy, bright white head. Aromas of cut grass, pine tassels, resin, bitterness, grapefruit, and lemon. Very robust nose. Flavors are tart, crisp, and peppered on the forward tongue, with a pitchy resin character quickly following behind. Heavy citrus backbone of grapefruit and lemon. The spicing gets heavy towards the tail-end of the palate, and it builds as you drink. Smooth, light body kept dry by the hops characteristics. The aftertaste is more of the green hops characteristics, with bitterness, spice, and floral characteristics. Dry, slightly effervescent, crisp finish, with a lemony linger.
715 characters
4.21
/5
rDev
+15.3%
look: 4 | smell: 4.25 | taste: 4.25 | feel: 4 | overall: 4.25
Poured into a Dogfish Spiegelau glass. No readable freshness date.
A- Pours a medium amber color with a 1/2 inch off-white head that retains well before becoming a thin ring around the edge of the glass and a mostly full sheet of surface foam. Web-like lacing trickles down the glass.
S- Sweet malt aroma smells like fresh wort which pleases me. The hops are light and decidedly earthy.
T- Bitterness comes through immediately along with more earthy hops and the aforementioned sweet malt translated to flavor. The bitterness holds on just long enough to remain fully enjoyable. Easy to drink as the alcohol is very well hidden.
M- Slightly sharp from the hops with medium carbonation and a body leaning toward the lighter side.
O- I think this is a great IPA. I feel like the reason it has such a low score is because a lot of people taste the residual sweetness from the unfermented sugars and automatically deduct points because it's perceived as a flaw. I personally enjoy that residual sweetness and think that the one-two punch from that and the hops makes for a delicious drink. To each their own.
1,117 characters

3.16
/5
rDev
-13.4%
look: 4 | smell: 3 | taste: 3 | feel: 4 | overall: 3
This certainly seems to be a different Freedom than the one I've had brewed in Raleigh. This version features Nugget, Magnum, Horizon, Challenger, and Zythos.
Foggy amber-orange under a fat head of thick, milky froth. Aromas of mellow pale fruit, oranges, earthiness, and some malty sweetness. Juicy citrus and lots of fruity esters, some green spiciness, lime, tea, a touch of yeast. The bitterness is there, but something isn't quite right here yet. I think some tweaking can be done to improve this. I've had better versions on tap in Raleigh. The Horizon and Challenger aroma additions are curious for and American IPA...
626 characters
3.43
/5
rDev
-6%
look: 3.25 | smell: 3.25 | taste: 3.5 | feel: 3.5 | overall: 3.5
Pours a golden, very cloudy with a soft creamy head and considerable lacing on the glass. Aroma is of some pine resin, lots of grapefruit and assorted citrus. Taste is hoppy and chock full of fresh picked grapefruit, nice!!. Balance is nice with the hop bitterness and citrus coming together quite well. Feels good going down with plenty of carbonation..
354 characters

3.41
/5
rDev
-6.6%
look: 4 | smell: 3 | taste: 3.5 | feel: 3.5 | overall: 3.5
Beer review from 7/9/2012 in the Outer Banks,NC: pours sea water cloudy orange color with a creamy 2 finger white head that faded and left a thick creamy layer on top and excellent lacing coating the sides and rings as it went down.
Smells of citrus hops, orange peel, grapefruit, floral hops, sweet malt, caramel and lightly roasted grains; rather sweet for an IPA and bordering on smelling like an English IPA.
Tastes of citrus hops, orange peel, grapefruit, lemon, floral hops, brown sugar, sweet malt, caramel, lightly roasted grains, biscuit, Tollhouse crackers, fruit like pear and light yeast; nice balance with the hops and malts complimenting each other and making a flavor that is a cross between an American IPA and English IPA.
Mouthfeel is creamy and smooth, with mild carbonation, a medium body and slightly bitter citrus finish. An average American IPA that might be misclassified, but still pretty good overall.
933 characters
4
/5
rDev
+9.6%
look: 4 | smell: 4 | taste: 4 | feel: 4 | overall: 4
Type: 12-oz. bottle
Glass: Boulevard pint glass
From: Total Wine & More in Ballantyne (Charlotte), N.C.
Price: $6.99 for a 6-pack
Purchased: Sept. 9, 2014
Consumed: Sept. 9, 2014
Misc.: Born on date of July 2, 2014
Poured a yellow, golden, semi-clear color with 2-to-3 fingers of creamy white rocky head. Good uneven layered foamy lacing on the sides of the glass. Good retention on the top all the way down. (Sight - 4.00)
Smelled citrus hops, floral hops, wet Cascade hops, soap, pine, caramel, slight resin hops, some tropical hops, orange rind and mango. (Smell - 4.00)
Tasted similar to the nose. Caramel, tropical hops, mango, wet Cascade hops, resin hops, citrus hops, floral hops, soapy notes, bitter melon rind, orange zest, pine and lemon. Reminded me of a Manzanita IPA. (Taste - 4.00)
Medium body. Creamy texture. Average-to-lively carbonation. Long, bitter finish. (Feel - 4.00)
Really liked this IPA, but the first one of the five I had was the best. Maybe overrated it a tad. (Overall - 4.00)
4.00 | 90 | A-
1,029 characters

3.5
/5
rDev
-4.1%
look: 3.5 | smell: 3.5 | taste: 3.5 | feel: 3.5 | overall: 3.5
Bottle > Pint Glass
A - Cloudy yellow with two fingers of foamy white head, light lacing.
S - Very grainy, floral notes, some herbal and earthy hop notes.
T - Light grapefruit in front, some grains, a touch of floral hops, medium bite, bready malt.
M - Medium feel, slightly dry and floury
O - Its ok, not a good display of an AIPA.
336 characters
4.15
/5
rDev
+13.7%
look: 4 | smell: 4 | taste: 4 | feel: 4.5 | overall: 4.5
First of all, this is the correct listing. Natty Greene's is located in Greensboro.
A. Caramel gold color to it. Completely opaque with a nice foamy head and lacing. I think there was some extra yeasty sediment, as there was an off-color brown mixed into the head.
S. Has a strong hoppy, almost weed-like scent.
T. It has a caramel-like sweetness to it. It is quite hoppy with a hint of lemon. It has a slight sour aftertaste.
M. Carbonated with a tart hint.
O. It is a nice, flavorful IPA. Really delicious. It has the qualities that I look for in an IPA: Strong hops, a sweetness, mild sour. A bit more of a floral kick and it'd be damn perfect.
653 characters

3.5
/5
rDev
-4.1%
look: 3.5 | smell: 3.5 | taste: 3.5 | feel: 3.5 | overall: 3.5
A: Hazy, dirty orange color with a two finger cream-white colored head. Lace initially looks like it'll stick but with a few swirls it fades away.
S: Sweet saltine cracker grains, floral candy, citrus, and some various tropical scents. Aroma as a whole is very soft, somewhat clean, and easy on the nose.
T: Light sweet malt, some fruity citrus hop, and more of a bitter hop presence than anything else. The balance isn't great on this but its still enjoyable. The freshness is key.
M: Basically smooth, stirred up by abundant carbonation, and complimented by the bitterness. Texture is lightly syrupy and a touch resinous. Medium-light body.
O: This is a pretty good beer. Not very exciting as an IPA, but refreshing and enjoyable as a summer beer. The title of this beer is a little off to me. I would expect something titled Freedom American IPA to be loaded with all sorts of hop flavor, and with a more creative edge. This IPA has characteristics reminiscent of a mellow English IPA. Not to mention this seems more like a Pale Ale.
1,040 characters

3.81
/5
rDev
+4.4%
look: 3.5 | smell: 3.75 | taste: 4 | feel: 3.5 | overall: 3.75
12 ounce bottle -> Samuel Adams Perfect Pint glass
A - hazy and about the color of peach juice with a large foamy white head, great retention and great lacing.
S - powerful nose with big lemon and bready notes
T - hop forward with a weak malt profile with a sour lemon taste and a tart spicy finish. There is some alcohol present.
M - kind of thick for a beer of this sort
O - pretty average
399 characters

1.7
/5
rDev
-53.4%
look: 4.5 | smell: 2 | taste: 1 | feel: 2.5 | overall: 1.5
Grassy on the nose, largely bitter, grassy, with alcohol notes. Not really any good hop profile. Pretty bad beer. Had on tap at a tap takeover event so I assume that's what this beer tastes like at its best.
207 characters
Freedom American IPA from Natty Greene's Pub & Brewing Co.
3.65
out of
5
based on
107
ratings.