Harpoon 100 Barrel Series Session #48 - Beer Trip 2013 Polskie Mastne
| Harpoon Brewery & Beer Hall
BA SCORE
84
good
15
Reviews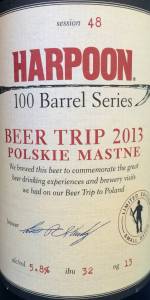 BEER INFO
Brewed by:
Harpoon Brewery & Beer Hall
Massachusetts
,
United States
harpoonbrewery.com
Style:
Old Ale
Alcohol by volume (ABV):
5.80%
Availability:
Limited (brewed once)
Notes / Commercial Description:
No notes at this time.
Added by GratefulBeerGuy on 11-28-2013
This beer is retired; no longer brewed.
Reviews: 15 | Ratings: 71
3.88
/5
rDev
+5.4%
look: 4 | smell: 3.5 | taste: 4 | feel: 4 | overall: 4
22 ounce bottle into pint glass, best before 3/15/2014. Pours slightly hazy pale orange copper color with a 2 finger dense off white head with good retention, that reduces to a small cap that lingers. Spotty soapy lacing clings down the glass. Aromas of caramel, pear, apple, grape, toast, biscuit, floral, grass, herbal, clove, pepper, and herbal earthiness. Nice and pleasant aromas with good balance and complexity of bready malt, yeast, and earthy hop notes; with solid strength. Taste of caramel, toast, biscuit, pear, apple, grape, floral, grass, herbal, clove, pepper, and herbal/yeast earthiness. Moderate amount of earthy herbal/floral bitterness on the finish; with lingering notes of caramel, toast, biscuit, pear, apple, grape, floral, grass, herbal, pepper, clove, and herbal earthiness on the finish for a good bit. Very nice balance, robustness, and complexity of malt, hop, and fruity yeast ester flavors; with a good malt/bitterness balance and zero cloying flavors after the finish. Medium carbonation and body; with a smooth, bready, and lightly sticky mouthfeel that is nice. Alcohol is very well hidden with only a slight warming present after the finish. Overall this is a very nice Polish old ale style. All around good balance, robustness, and complexity of malt, hop, and yeast ester flavors; and very smooth to drink. Really enjoyed this one.
1,368 characters

3.99
/5
rDev
+8.4%
look: 3.75 | smell: 4 | taste: 4 | feel: 4 | overall: 4
22 oz bottle served in a Belgian snifter.
Pours orange-red-amber with high clarity and a small, fragile head.
Aroma: Nice sweet malts with spicy and floral tones plus a hint of fruit.
Flavor: Lightly spicy and herbal Polish hops, caramel malt, barrel wood. Well balanced and nicely complex.
Feel: Medium bodied; smooth with a clean, semi-dry finish.
O: Excellent. Drinks big for 5.8%. Very good use of barrel aging.
424 characters
3.48
/5
rDev
-5.4%
look: 3.5 | smell: 3.5 | taste: 3.5 | feel: 3.25 | overall: 3.5
On-tap 12/15/2013 at Doherty's East Ave Irish Pub, in Pawtucket, RI served in a US tumbler pint glass.
A: The beer is a deep coppery red color, with a medium off-white head that fades slowly and leaves a thick lace on the glass.
S: The aroma is faint but contains spices, fruit, caramelized malts and a touch of hops.
T: The taste starts out sweet with flavors of citrus, tea and spice. Then a hearty but not too heavy malt character comes in. The hops presence is decent and brings some balance. The after-taste is slightly sweet.
M: Smooth but not very crisp and a bit watery, medium body, medium carbonation, finish is slightly sticky.
O: A little tasty, goes down ok, not too filling, mild kick, not the best representation of style, overall it's just a mediocre beer.
781 characters
3.01
/5
rDev
-18.2%
look: 4 | smell: 3 | taste: 2.75 | feel: 4 | overall: 2.75
22 ounce bottle - $5.99 at Total Wine & More in Kennesaw, Georgia.
Enjoy By: 03/15/14. The print is a little squished, it may be 03/13/14. Either way, I think I'm okay.
Appearance: Pours a crystal clear, darkish, amber-golden body with a well-sized, off-white head.
Smell: Interestingly, a strong note of grape-flavored Bonkers straight oughta the 80's. Underneath, moderately toasted grains, faint caramelized sugars -- just a wee nutty. Light spicy, herb, but it's hard to shake those Bonkers.
Taste: Water-logged toast, breadcrusts and all. Thin caramel taste as well as a light caramel sweetness. Again, that grape Bonkers taste. Drying spicy herbal tone. Toasty, dry, Bonkers-edged finish.
Mouthfeel: Medium-bodied, yet a bit tongue-coating. Medium carbonation.
Overall: Grape-flavored Bonkers.
805 characters
3.98
/5
rDev
+8.2%
look: 4.25 | smell: 3.75 | taste: 4 | feel: 4.25 | overall: 4
Foamy head that leaves a web of lace on the glass. Dark copper color. Clear.
This features a malty nose--some caramel and light biscuit. A bit of hop for balance.
This is dry, malty brew. It has a bit caramel. The swallow becomes bitter in a surprising way. It's an Amber style--quite good. Full body with slower carbonation.
329 characters

3.98
/5
rDev
+8.2%
look: 4.25 | smell: 3.75 | taste: 4 | feel: 4.25 | overall: 4
Appearance: pours a dark orange color with some yellow highlights. A one inch head falls slowly to a thick surface covering.
Smell: bread and caramel are most notable.
Taste: caramel, bread, ripe fruit sweetness, a bit of earthiness, and a moderate bitterness are the main flavor components.
Mouthfeel: medium bodied beer. Lightly crisp throughout. Short lasting aftertaste.
Overall: a very drinkable european styled ale that is hearty enough to satisfy. The more I had of this beer the more I liked it.
508 characters
3.53
/5
rDev
-4.1%
look: 4 | smell: 3.5 | taste: 3.5 | feel: 3.5 | overall: 3.5
From the 650 ml. bottle. Sampled on November 29, 2013.
It is an attractive medium amber pour with a short-lived white head. Excellent clarity.
The aroma has a caramel malt note at first and then it turns into a clean, crisp hop note. Toasted and basic.
Light to medium body.
The taste has a pretty good caramel malt character at first but then there is a moderate bitterness coming up from behind. Mild to moderate bitterness. A likable but not extraordinary beer.
469 characters
3.5
/5
rDev
-4.9%
look: 3.5 | smell: 3.5 | taste: 3.5 | feel: 3.5 | overall: 3.5
Appearance: amber in color, 3/4 inch head, clear, high carbonation
Smell: toasted malt
Taste: sweet caramel, fresh meadow, toasted malt
Mouthfeel: light bodied, medium carbonation, sweet start with a slightly bitter end
Overall: An above average, nice and malty Polish beer. I have had better in the style, but this is worth a try. Not sure if I will pick this up again however.
385 characters
3.59
/5
rDev
-2.4%
look: 3.75 | smell: 3.5 | taste: 3.5 | feel: 3.75 | overall: 3.75
Clear orange with a thin cap of beige foam. Decent head retention with lots of lacing. Earthy malt, sugary aroma, almost cotton candy-like, some caramel and toasted notes, faint fruitiness. Mild bitterness, malty with a fruity, herbal edge. Toast and caramel, sugary sweetness. Moderate lingering bitterness. Medium bodied, low/medium carbonation, smooth and balanced. I kind of like this. It's pretty mild overall, but still interesting and quite drinkable.
458 characters

3.85
/5
rDev
+4.6%
look: 4 | smell: 4 | taste: 3.75 | feel: 4 | overall: 3.75
Enjoy By 03/15/14
A: Pours a nice amber/mahogany color with 2 fingers of head that slowly fades down to a cap that leaves nice lacing
S: Some nice dark fruits and a little bit of spiciness. Some sweetness in the back, along with a very light hint of the alcohol
T: Starts off with the fruitiness and light spiciness and goes into a light bready sweetness from the malts. Finishes with a nice herbal quality and some lingering sweetness
M: Medium bodied with moderate carbonation
O: A very balanced brew with a good bit of maltiness. Very easy to drink and sip on. Another solid beer from the 100 barrel series
614 characters

4.26
/5
rDev
+15.8%
look: 4 | smell: 4.25 | taste: 4.25 | feel: 4.5 | overall: 4.25
This is the Harpoon 100 Barrel Series session 48. Beer Trip 2013 "Polskie Mastne"
A polish "Old Style Ale".
A light amber and gold hued color, clear visibility. A substantial white crown forms 1" high, dissipates to a thin scattered lace.
Herbal and spice hops and yeast combo upfront in the nose. Tangy, with a mix of herbals, light malt, sweet and tangy effect overall.
The first impression is a sharp, tangy bite, light, crisp hit turns full-on mouth feel. a unique, spiced, herbal, earthy hop and yeast flavor, the light almost roastie malt is in fine balance, Earthy flavors, hardy dark wheat, charred grains, but in a light malty fashion. Never "heavy" or cloying.
Na Zdrowie indeed!
703 characters

3.44
/5
rDev
-6.5%
look: 3.75 | smell: 3.5 | taste: 3.25 | feel: 3.75 | overall: 3.5
"Every year Harpoon hosts a European "beer culture" trip for employees. This year's trip, a week of visiting breweries and making friends throughout Poland, inspired brewer Scott Shirley to brew this old style ale. Traditional Polish malts and hops create the full body and rich amber color of this beloved Polish style. Na zdrowie!" Brewed in the style of an Old Ale, this is entry #48 in Harpoon's 100 Barrel Series, released in 22 oz. bottles and on limited draft.
Poured from a 22 oz. bottle to a pint glass. Served above 59º Fahrenheit.
(Appearance) Pours a frothy, crisp beige-white head over an amber orange body with a very high clarity. Carbonation is light and lively. Retention is average, lacing is light and spotty. 3.75
(Smell) Aromas of grainy toasted caramel semi-sweet biscuity malts and a soft bready malt backbone, very clean. Little to no hop aroma nor bitterness is evident. The yeast profile generates some yeasty fruitiness, predominantly a sugary grape, perhaps raisin. Very malt-forward, clean and approachable, very similar to German styles. 3.5
(Taste) Biscuity caramel malts with a mild diacetyl profile, very clean and mildly sweet. More fruit, dominant raisin and dates. Grainy bitterness, again very little hop profile. 3.25
(Mouthfeel) Texture is very clean, slick and mildly chewy. Carbonation generates a soft crispness for a livelier mouthfeel. Body is medium for the style, medium+ overall. Balance is sweet over earthy bitterness. Alcohol presence is mild and there are very few off-characters to mention aside from the diacetyl which may turn heads, especially if you don't enjoy a buttery or robust malt profile. 3.75
(Overall) I find that Poland's inspired beer lands stylistically similar to German's traditional styles, and this beer finds a comfortable spot around a märzen or perhaps a doppelbock, although it is more drinkable and lighter than the latter. While I don't doubt the ingredients in this beer are purely Polish, I don't find the flavors involved to be outrageously unique. It's a fairly enjoyable, simple beer, but I likely wouldn't classify it as an old ale. 3.5
Harpoon Brewery & Beer Hall's
Harpoon 100 Barrel Series #48: Beer Trip 2013- Polskie Mastne
3.43/5.00
2,233 characters

3.59
/5
rDev
-2.4%
look: 4 | smell: 3.75 | taste: 3.5 | feel: 3.5 | overall: 3.5
Poured from 22oz. bottle into tulip glass a clear,copper color with a thin layer of tan bubbles. The beer leaves good lacing on the glass.
S: Fresh biscuits, golden raisins, faint tobacco all come through the roasted malt aroma in different layers. Touch of hops add a grassy, herbal aroma but it is subdued.
T: Full on malt. Crisp, sweet, and dry with hints of golden raisins, gala apples, husky grains, herbal and grassy hop flavors and a doughy yeast touch.
M: Light to medium body with a crisp, dry carbonation that is refreshing. No warming from alcohol and finish is dry.
O: A good job by Harpoon to make this interesting beer. It is great paired with pizza and certainly has good flavor character.
707 characters

3.52
/5
rDev
-4.3%
look: 4.75 | smell: 3.25 | taste: 3.5 | feel: 3.5 | overall: 3.5
22oz bomber
A) Clean and clear body. Bronze colored body. Finger thick head on the pour, settles slightly with big bubble lacing at the edge of the glass.
S) Not very robust, quite mellow. Caramel tones. Grainy.
T) Mellow caramel notes. Sweet, pleasant malty flavors. Halfway through hops kick in with a subtle bitterness.
M) Light to medium body. Dry. Chalky in the finish.
O) A decent brew. Unfortunately, my expertise on Polish beers is limited, but the general nature and taste profile is European/Northern Atlantic.
523 characters

4
/5
rDev
+8.7%
look: 4 | smell: 4 | taste: 4 | feel: 4 | overall: 4
Poured from a bottle into a pint glass.
Appearance: Amber with a thin off white head. A good amount of carbonation. No lacing on the glass.
Smell: Mild citrus and hops. Wheat/grassy notes. Maybe some floral too.
Mouthfeel/Taste: Smooth medium bodied. Taste sweet with citrus and mild bitter hops.
Overall: Great beer! Glad I tried this one out.
348 characters
Harpoon 100 Barrel Series Session #48 - Beer Trip 2013 Polskie Mastne from Harpoon Brewery & Beer Hall
3.68
out of
5
based on
71
ratings.