100 Barrel Series #63 - Super Dark
| Harpoon Brewery & Beer Hall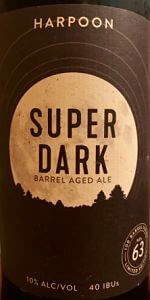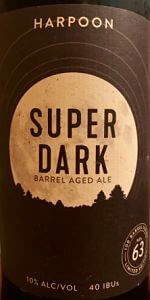 BEER INFO
Brewed by:
Harpoon Brewery & Beer Hall
Massachusetts
,
United States
harpoonbrewery.com
Style:
Munich Dunkel Lager
Alcohol by volume (ABV):
10.00%
Availability:
Rotating
Notes / Commercial Description:
Brewed by the light of the 2016 Super Moon -and by the lights of our brewery – this is a bigger version of our beloved Dark. Why brew a bigger version of our beloved Dark? Because that's what the Super Moon told us to do. And when the Super Moon tells you to do something, you do it.
Dark, malty, smooth with a chocolatey sweetness and depth of flavor from 12 months of aging in oak barrels.
Reviews: 9 | Ratings: 24

4.1
/5
rDev
-0.7%
look: 3.75 | smell: 4.25 | taste: 4.25 | feel: 4 | overall: 3.75
Not treated as a normal lager, and poured into a snifter.
The appearance was a mildly dark brown color capped by a slim finger's worth of off tan foamy head. Lace fell off nicely leaving adequately, somewhat stringy.
The aroma carried deep dark chocolate nibs and cocoa powder rolling into some milk chocolate covered toast. Sweet earthy woody character gently subsiding underneath.
The flavor moderately leaned into the sweetness meshing in between the toast, and the meshing of those chocolate tones. Mild aftertaste of dark chocolate, toast, earthy sweetness and an ever so slight touch of nuts.
The mouthfeel was about medium bodied with a fair sipping quality about it. Carbonation felt spot on. ABV felt appropriate. Finish was rich and smooth with an appropriate dryness, some milk and dark chocolate tones.
Overall, it would be a fabulous winter sipper but seemed to lose a little bit of the Munich Dunkel qualities through the barrel aging. Still, I'd pursue this again.
979 characters

4.03
/5
rDev
-2.4%
look: 4 | smell: 4 | taste: 4 | feel: 4.25 | overall: 4
On tap at the Wall of Beer (Clemson).
Very dark black-brown body with a decent head.
The aroma reflects a generous load of dark roasted grains and a judicious use of barrel aging.
The flavor follows with a balanced, harmonious mix.
Overall: a fine barrel aged brew with no significant flaws. Recommended!
309 characters
4.13
/5
rDev 0%
look: 3.5 | smell: 4.25 | taste: 4.25 | feel: 4 | overall: 4
From the bottle, it pours a super dark brown with a thin head that actually hangs around until diminishing to a ring. Roasted malt and a touch of alcohol in the nose. The mouth gets a smooth, boozy coffee and roasted malt flavor.
231 characters

4.33
/5
rDev
+4.8%
look: 4.25 | smell: 4.25 | taste: 4.5 | feel: 4 | overall: 4.25
Poured from a 22 oz bomber bottle bought in Boston, MA.
L - Dark brown color; the beer appears clear, but still completely blocks the light when held up to one. Head is dark tan and initially thick and fluffy but quickly falls to a few wisps of bubbles on the surface. The lacing on glass is impressively viscous and slow-moving.
S - The aromas remind me of a doppelbock, but even more dark and malty. There are chocolate and raisins, graham crackers and low prunes. There is also a whiff of oak barrel and even more faint is a bourbon note. No hops aroma.
T - Massive malt flavors of chocolate, coffee, raisins, brown sugar; impressions of dark wheat dinner rolls. The barrel character comes through as bourbon and oak. There is a fruity, alcoholic aspect that reminds me of chocolate-covered brandied cherries.
F - Medium to heavy body, as appropriate. Full, somewhat prickly carbonation. High hops bitterness seems almost muted against the overwhelming malt, but does provide good balance. Strong alcohol presence, but not "hot".
O - This is a very nice strong, German-style lager aged in bourbon barrels. The base beer is well-executed and the combination is wonderful.
1,193 characters

4.09
/5
rDev
-1%
look: 4 | smell: 4.25 | taste: 4 | feel: 4.25 | overall: 4
A: Pours a pitch black color with a thin cap
S: Roasted malt, vanilla, dark chocolate, bourbon, and oak. Some coffee as well
T: Follows the nose. Starts off with roasted malt, dark fruit, dark chocolate, coffee, light bourbon, and oak. Finishes with lingering roast and dark fruit
M: Medium-full bodied with moderate carbonation
O: A solid BA dark ale that has nice subtle (even with the year in barrels) barrel character and is easy to drink and sip on. Worth checking out
477 characters
3.97
/5
rDev
-3.9%
look: 4 | smell: 3.75 | taste: 4 | feel: 3.75 | overall: 4.25
A: The beer is essentially jet black in color—only traces of dark brownish red are visible near the edge of the glass when it is held up to a bright light. It poured with a thin light tan head.
S: Moderate aromas of chocolate are present in the nose along with some hints of licorice.
T: The taste follows the smell, having some additional hints of Belgian yeast and faint bits of associated spices. As the beer warms up, lots of flavors of dark fruits emerge.
M: It feels medium-bodied on the palate and has a moderate amount of carbonation.
O: This beer lacks the dark fruit flavors normally associated with Belgian Strong Dark Ales and might be closer to an English Stout. Nonetheless, it does a very good job at hiding any traces of alcohol from the taste.
Serving type: bottle
786 characters

3.88
/5
rDev
-6.1%
look: 4 | smell: 3.5 | taste: 4 | feel: 4 | overall: 4
Served in a flute glass from the bottle.
Appearance: Dark Amber brown with medium carbonation and an orange tinted tan head drops after two or three sips. Zero lacing after it disappears.
Smell: Bland whiskey scent which dissipates very quickly.
Taste: Sweet whiskey and butter malt and for some reason I'm feeling barley as well with a hard hit of yeast.
Mouth: medium carbonation and very full bodied.
Overall: Good pick up at Costco, ran maybe about 6 or 7 bucks and extremely appreciated. If you see grab it, salud!
529 characters
3.91
/5
rDev
-5.3%
look: 4 | smell: 4.25 | taste: 3.75 | feel: 4 | overall: 3.75
Pours a decent dark smaller fizzy foamy head that fades at a fair pace, just about pitch black beer
Nose brings a mix of sweet malts and dark fruits, big fudgey caramel dark malt, toffee, molasses, and a bit of a biscuity note, dark figgy fruits, boozy raisin, little candy apple, fluffy nougat and a touch of buttery oak
Taste brings more dark malts, cocoa and a little coffee roast like, more dark fruits, fig and even plum like, booze raisin, a touch of bitterness, nougat and caramel toffee, molasses and rum flavors, a touch of barrel, buttery oak and butter rum muffin like, some warming booze.
Mouth is med bod, a bit of warming booze, little syrupy sweet, decent fluffy carb
Overall not bad, not great but fairly tasty, doesn't seem to really hit the mark for style but has some notes of it, and barrel is very little in general.
841 characters
3.91
/5
rDev
-5.3%
look: 3.5 | smell: 3.75 | taste: 4 | feel: 4 | overall: 4
Modest head. No lace. Near black color where no light passes.
Nice semisweet chocolate notes. Warm alcohol nose.
The taste is similar to a barley wine with a strong warming alcohol aspect. There's a darker malt flavor which comes through as semisweet chocolate. The body is chewy with a good carbonation presence. The finish is full of alcohol and cocoa. The aftertaste lingers for a very long time.
403 characters
100 Barrel Series #63 - Super Dark from Harpoon Brewery & Beer Hall
Beer rating:
4.13
out of
5
with
24
ratings