Harpoon Leviathan - Quad
| Harpoon Brewery & Beer Hall
BA SCORE
83
good
180
Reviews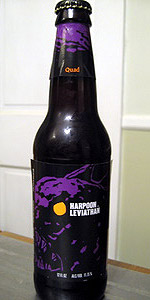 BEER INFO
Brewed by:
Harpoon Brewery & Beer Hall
Massachusetts
,
United States
harpoonbrewery.com
Style:
Quadrupel (Quad)
Alcohol by volume (ABV):
11.75%
Availability:
Rotating
Notes / Commercial Description:
Leviathan Quad was fermented with a blend of two traditional Trappist yeasts. A mixture of two-row pale malts, caramel malts, and special aromatic malts gives the Quad its richness and texture. The subtle hop flavor imparted from Brewer's Gold hops lingers in the background and provides just enough bitterness to balance the malt sweetness. The addition of imported Belgian Dark Candi Syrup rounds out the beer, giving the Quad its full body and deep auburn color. Expect notes of honeyed dry fruit with peppery phenols in the aroma, a velvet-like mouthfeel, and a superbly drinkable beer.
44 IBU
Added by ClockworkOrange on 01-02-2009
This beer is retired; no longer brewed.
Reviews: 180 | Ratings: 291

2.93
/5
rDev
-20.4%
look: 4 | smell: 3.5 | taste: 2.5 | feel: 3.5 | overall: 2.5
Pours a very hazy dark amber, almost dark pink. Massive head shoots to the top. That so familiar very candy sugar, malty sweet smell punctuated by dark fruit like cherry. Little bit hoppy smell in there too.
Tempered sweetness throughout, most prominent up front. Quickly has a spicy twist to it that opens up a huge raisiny sour bitterness. Towards the end, a decent hoppy kick (for something like this) comes in, and the bitternesses mingle into something leaving almost an acrid trail down my throat, yet it's all slightly sweet. Not at all what I was expecting. Complex in a different way than I was expecting. Definitely not a normal-style quad. I'm really torn. I hate the bitterness, but somehow it all seems OK at the end. Still not my favorite flavor, though. Mouthfeel is bold, exciting, different. Drinkability suffers bigtime between the high ABV and the sour kicks. The alcohol doesn't really burn a lot, but it is very evident in the finish. For me, this is nice to try, but I think that's all it will be.
1,020 characters
3.18
/5
rDev
-13.6%
look: 4 | smell: 3.5 | taste: 2.5 | feel: 4 | overall: 3.5
This beer poured a dark amber red. Nice size head. First smell is alcohol and a candied sweetness. The taste follows this, very candy fruit taste, almost too sweet. There is definately that alchohol feel that lingers in the mouth. But its a very warming feeling, you don't need to have more than two of these at a time. Overall I think I prefer the Sam Adams Imperial White to this Harpoon offering. The Harpoon is a little too sweet.
434 characters
3.21
/5
rDev
-12.8%
look: 4.5 | smell: 3.5 | taste: 3 | feel: 3 | overall: 3
So far I have not been impressed by the Leviathan series brews from Harpoon. Alas, a Quad sounded really good to me tonight, and this one I haven't tried, so might as well go ahead. Pour yields a really beautifully colored beer, has a rosewood color, with a pillowy white head. Booze and stone fruits are the first thing that came to mind when I smelled. I suppose the alcohol is to be expected though with a beer this size. At the beginning there was a really strange smell in there, but that has since faded, so I guess I can disregard that. As it has warmed some honey and nectar smells have come through. Alcohol is more subdued in the taste, leaning more towards the dark fruit aspects of this beer. Toward the end of each sip however, some alcohol bitterness does manage to appear. Luckily it does not linger on the palate for too long. Decent enough heavy bodied mouthfeel on this one. Drinkability is not bad, as it definitely does not seem as rough as the other two Leviathans. Overall a pretty good effort from Harpoon. I would not go out of my way to seek out a four pack, but a single is a good enough buy in my book. Cheers
1,136 characters
4.25
/5
rDev
+15.5%
look: 4 | smell: 4 | taste: 4.5 | feel: 3.5 | overall: 4.5
Thanks to Billy at Den Rock for this.
A: Pours a deep and dark reddish-brown with light clingy lace in my Westvleteren chalice.
S: Bite of alcohol with a mellow but prominent candi sweetness.
T: Dark fruits, hint of spice with obvious alcohol bite which doesn't linger too long.
M: Medium body with smooth effervescence, similar to what you find in any good Belgian. The alcohol overpowers what might otherwise be a heavier mouthfeel.
D: My beer preference is definitely on the heavier side, so this quad is right at home. It's boozy but smooth on the tongue. Will be nice to get some of this fresh but I think with some age it will take it to another level.
I have been a big fan of the Leviathan series. This is definitely another winner and I'm thoroughly enjoying the whole series so far.
798 characters

4.11
/5
rDev
+11.7%
look: 5 | smell: 4 | taste: 4 | feel: 4.5 | overall: 4
Poured from a bottle pulled cold right off the line on bottling day :)
A - Dark caramel walnut color with a hint of red and a nice deep tan head and good lacing
S - Fruit, banana, clove, sweet. The 2 yeast strains seem to be battling it out for the nose.
T - Very subtle, sweet again, alcohol is obvious, but helps cut down on the "chewiness"
M - Definitely full bodied, coats the tongue but stops short of being syrupy, which the taste and smell would lead you to expect.
D - Good sipping beer on a snowy afternoon in Vermont.
Overall - another solid beer from the Leviathan series by Harpoon. I will say that the DIPA was probably our favorite so far, but this is worth picking up and giving a try.
707 characters
Harpoon Leviathan - Quad from Harpoon Brewery & Beer Hall
3.68
out of
5
based on
291
ratings.