Harpoon 100 Barrel Series #30 - Island Creek Oyster Stout
| Harpoon Brewery & Beer Hall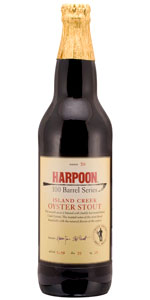 BEER INFO
Brewed by:
Harpoon Brewery & Beer Hall
Massachusetts
,
United States
harpoonbrewery.com
Style:
English Stout
Alcohol by volume (ABV):
5.50%
Availability:
Limited (brewed once)
Notes / Commercial Description:
Brewed by Harpoon brewer Katie Tame, using Island Creek oyster farmer Skip Bennett's revered Duxbury Bay oysters, this beer has a rich body and smooth mouthfeel derived in part from a combination of roasted barley and chocolate rye malts. The roasted malt notes blend beautifully with the briny, mineral flavors of the Island Creek oysters. An addition of hops adds some bitterness to balance the malt sweetness. This, the 30th installment of the Harpoon 100 Barrel Series, is best enjoyed with a plate full of Island Creek Oysters.
35 IBU
Added by BeerAdvocate on 01-21-2010
This beer is retired; no longer brewed.
Reviews: 181 | Ratings: 227

3.65
/5
rDev
-2.7%
look: 3.5 | smell: 3.5 | taste: 4 | feel: 4 | overall: 3
Forgive me for being redundant but I don't see why we have oyster flavored beer but no one will make a Reese's Peanut Butter cup beer. It's a travesty.
Opaque black with a 1 finger tan head. No lace but a skim collar retention that hangs around for most of the glass.
Roast malt, with a little bit of nutty chocolate combined with salty minerals--like wet rocks right out of the ocean. Creates a smokey illusion. Taste is similarly smooth and roasty with a briny mineral smoke undertone.
Great balance! The solid English stout is complemented by the featured ingredient (in this case Duxbury oysters) rather than dominated by it. Not my thing but I like where they're going.
677 characters
4
/5
rDev
+6.7%
look: 4 | smell: 4 | taste: 4 | feel: 4 | overall: 4
I love oysters, and I love stouts, and I really love oysters with stouts, so lets see how this beer, which is a combination of the two turns out. Color is black, with two fingers of white heading. The nose has a lot of roasted quality to it, coming off like burnt malt at times. There is also is a bit of a briny smell, which I am guessing is a result of the oysters. They are not as apparent in the taste, which is chock full of roasted malt, along with some smoke. A medium bodied beer, it gets more complex as it warms, with some more brackish qualities coming to the forefront. Drinkability is very good, but really this beer deserves to be drank with some oysters on the side, maybe even make some oyster shooters while your at it. By and far one of Harpoon's best beers in the 100 Barrel Series, and probably just one of their best in general. Grab some while it is here. Cheers
884 characters
3.86
/5
rDev
+2.9%
look: 4.5 | smell: 3.5 | taste: 4 | feel: 4.5 | overall: 3.5
This has to be one of Harpoon's most anticipated releases ever based on pretty substantial press coverage, etc. Hype or no, I'm glad Harpoon is doing some different things lately with the 100 Barrel Series. That being said, the nose and taste of the oyster stout isn't as pronounced as you might expect. If you really focus you can detect some fairly distinct mineral notes. Otherwise, typical English stout traits are here: cappuccino, some chocolate notes, dry finish, light-to-medium bodied.
The oyster moniker conjures expectations that are pretty different from the experience. There is nothing saline here (probably for the best), and the mineral-ity is pretty understated. Nevertheless, this is an interesting beer, and here's to Harpoon for branching out.
765 characters
3.64
/5
rDev
-2.9%
look: 3 | smell: 4 | taste: 3.5 | feel: 3 | overall: 4
I hate Oysters. But they make me curious.
The beer pours with a thin, fizzy head that dissipates quickly. Dark brown with amber coloring at the edge.
Aroma is where you detect the oysters, and it's surprisingly balanced. Some mineral with a roasty body.
The flavor is roasted barley, a touch of chocolate, but no fishy, clammy overtones like you might expect. Some spice. Seems like a basic, though well built stout.
As a stout, this one is kind of mheh...but on the upper tier of "mheh" for the oyster. It's well balanced and has an interesting aroma. One of those odd beers that you'd never buy a six-pack of, or you might.
629 characters
4.26
/5
rDev
+13.6%
look: 5 | smell: 4 | taste: 4 | feel: 5 | overall: 4.5
I have been waiting to try this beer since I heard about it. This beer just screams New England. Nice warming stout by the fireplace in the winter. Fresh oysters in the summer. In a word, this beer is exceptional. Easily the best beer Harpoon has ever released IMO.
The oysters are very subtle but just add the right touch. At the peak of it all, it is one of the finest stouts I am yet to taste. Smooth doesn't even describe it. Beautiful cappuccino head, dark as night body, and smooth as can be taste. The briny side of the oysters is a perfect compliment. I could drink this beer all winter and have nothing else. Sign me up for a case!
Update: After my initail review I had again and now see how some think the "shellfish" qualities hinder the beer. It can at times be a bit off putting and you may get a harsh taste from time to time. Strange. All in all though, I really like this beer but 2 in one sitting may be more than enough.
939 characters

2.16
/5
rDev
-42.4%
look: 3 | smell: 2 | taste: 2 | feel: 3 | overall: 2
Had on tap at the brewery. Served in a straight sided glass.
A-dark murky black body, tan head
S-smoky, chocolate, as it warms there is a distinctive raw seafood smell
T-chocolate, mineraly, smoke and seafood
M-medium and slick
D-tastes like a run of the mill stout at first. As it warms, you really get the full effect of the oysters. Just not for me. Too off putting.
375 characters
Harpoon 100 Barrel Series #30 - Island Creek Oyster Stout from Harpoon Brewery & Beer Hall
3.75
out of
5
based on
227
ratings.