Harpoon 100 Barrel Series #46 - Hoppy Belgian Style Blonde
| Harpoon Brewery & Beer Hall
BA SCORE
83
good
34
Reviews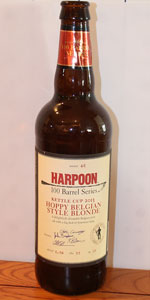 BEER INFO
Brewed by:
Harpoon Brewery & Beer Hall
Massachusetts
,
United States
harpoonbrewery.com
Style:
Belgian Pale Ale
Alcohol by volume (ABV):
6.50%
Availability:
Limited (brewed once)
Notes / Commercial Description:
No notes at this time.
Added by BeerNinja007 on 04-27-2013
This beer is retired; no longer brewed.
Reviews: 34 | Ratings: 126
3.73
/5
rDev
+2.2%
look: 4 | smell: 4 | taste: 3.5 | feel: 3.75 | overall: 3.75
22 ounce bottle - Bullock's Wine & Spirits in Marietta, Georgia. I'd have procured a receipt to make note of the price, but the cashier was having some snags on the register system and I had no desire to hold up the line (it was the Friday before Cinco de Mayo). See? I am sometimes thoughtful and considerate.
Appearance: Pours out a hazy, light gold body with a medium-sized, sudsy, white head. Scant lacing.
Smell: Fragrant hop scents of florals, white pepper, pithy lemon and grapefruit, light mango ahead of the reasonably humble malts and far, far ahead of the hints that would be hash-tagged 'Belgian'.
Taste: Lightly bready, firmly grainy malts with the tiniest bit of cookie-ish sweetness. Spicy phenols overshadowed by the strong bitterness and jagged hop tastes of pithy citrus, florals, additional spiciness, added tropical fruitiness. Remains decidedly dry with a naked bitterness until the sudsy finish.
Mouthfeel: Medium-bodied. Medium-plus carbonation.
Overall: "Hoppy Belgian Style Blonde". Some labels do a poor job of convincing me, but this one hit the nail on the head.
★
1,095 characters
3.87
/5
rDev
+6%
look: 4 | smell: 3.75 | taste: 4 | feel: 3.75 | overall: 3.75
Dirty blonde color with a definitive haziness. One-finger head that settles to a single layer. Ample blanketing lace.
Pale grain aroma to start. Plenty of flower with grapefruit rind hop nose in the end.
Highly carbonated--spritzy even. Strongly hoppy with lots of black pepper. There's a touch of Belgian yeast in the background, particularly at the swallow. The body is neutral.
★
384 characters

3.55
/5
rDev
-2.7%
look: 4 | smell: 4.5 | taste: 3 | feel: 3.25 | overall: 3.5
A - The ale pours a golden amber color and creates a big rocky white head held aloft by large amounts of lively carbonation
S - kind smells like one would expect a hoppy Belgian to smell, like a funky IPA. The two sides don't detract from each other, but don't really enhance each other either. They both simply exist to their fullest extent. The hop profile is latent with the pine and grapefruit aromas and the funky Belgian side is rife with yeasty, spicy goodness.
T - The aromas meld together better than the taste. The flavors battle for dominance in an eventual pyrrhic outcome. The funky spicy yeastiness is weakened by the hop profile and vice versa. The tastes are of high quality, but lose something in the combination.
M&D&O - Hoppy bite and spicy funk without the fantastic payoff, this beer could use to be layered as opposed to blended.
★
855 characters

3.47
/5
rDev
-4.9%
look: 4.75 | smell: 3.25 | taste: 3.5 | feel: 3 | overall: 3.5
Pours an obvious golden blonde with a huge frothy head into my glass. Lots of lacing. Beautiful presentation.
Wow, lots of spicy yeast notes with the right touch of citrus/pine hops. Reminds me of the European versions of the style.
Taste is full of spicy yeast and sweet, buttery malt. The hops leave a touch of pine/citrus resin in the middle.
The mouthfeel doesn't jive well at the back of the tongue. Just feels "off" for some reason.
A solid example of the BPA category. Hard to believe that it's the winner of a Harpoon employee brewing competition. I wish I could do something like that.
★
601 characters
4.43
/5
rDev
+21.4%
look: 4.25 | smell: 4.25 | taste: 4.5 | feel: 4.5 | overall: 4.5
This creation from members of the Harpoon fam is hittin the spot tonight!
Slight haze to the golden color, pillowing foam circus, clumpy residue stuck to the glass as the liquid recedes.
Aroma has the fruity, sweet, citrus American hop thing upfront, plenty of heat, a bit intense for 6.5 %. A wheat malt bachdrop and a light fruity funk ftom whatever belgiam yeast is in this biaaatch.
Flavor is damn complex, but still begs to be thrown back! The hops and yeast dance around the may pole with naughty delight. This brew is a lovechild. Hops are bold, hearty, crisp, and citric. Light with some heat, complex with flexibillity. Yeast complexity and flavor sort of gey lost in the mix with hops, but damn what a blend of flavors!.
Pale Belgian styles really hit the spot for me and this one has the perfect American hop profile to make it unique.
★
855 characters

3.77
/5
rDev
+3.3%
look: 4 | smell: 3.75 | taste: 3.75 | feel: 3.75 | overall: 3.75
A: Poured from the bomber into a Piraat tulip/snifter-type glass. In darker lighting, the body appears golden-orange, but in a brighter room it's more yellow-golden. A 1-finger foamy white head settles on top.
S: Not too strong in the nose; some fruitiness, including citrus and ripe apples. Touch of yeast.
T: Fruity malt foundation and candied sugar is followed by a bit of earthy spice. Citrus and tropical fruit hops are noted, though not in an in-your-face American-type way. Finishes with lemony drying bitterness. Lingering bitterness on the palate offsets the initial fruity-sweet impression. Not really a lot of complexity here, but it's fairly clean and an easy drinker.
M: Slightly syrupy impression; not as light in carbonation or effervescent as a true Belgian.
O: Solid offering. Not blown away by it, but not unhappy with it either.
★
852 characters
3.64
/5
rDev
-0.3%
look: 4 | smell: 3.75 | taste: 3.5 | feel: 3.5 | overall: 3.75
Served on-tap at Harpoon Brewery Beer Hall in Boston, MA
A: Pours a hazy bright golden yellow in color with some moderate amounts of visible carbonation and some deep golden + apricot highlights. The beer has a two finger tall dense foamy light beige head that slowly reduces to a large patch of thick film covering about 70% of the surface of the beer with a very thin film covering the remainder of the surface and a medium thick ring at the edges of the glass. Moderate amounts of lacing are observed.
S: Moderate aromas of pale malts with candi sugar sweetness as well as some light fruits (apple and pear) and spiciness from the hops. That is combined with moderate aromas of tropical/mango/pineapple and citrus/grapefruit hops.
T: Similar to the smell, the front of the beer is dominated by the Belgian flavors from the moderate pale hops along with the candi sugar sweetness. Then you get the light fruits (pear and apple) along with the spicy notes from the yeast. That is finished by the moderate flavors of tropical/mango/pineapple and citrus/grapefruit hops. Light to moderate amounts of bitterness which do not linger too long.
M: Medium bodied with moderate amounts of carbonation.
O: I thought this was quite an interesting combination of styles with the hoppiness that I would normally associate with an IPA and the traditional flavors of a belgian pale ale...yet somehow not coming out as a Belgian IPA. Enjoyable and worth trying again.
★
1,458 characters
3.55
/5
rDev
-2.7%
look: 4 | smell: 4 | taste: 3.25 | feel: 3.5 | overall: 3.5
We crack the top and pour a beer of golden honey into our New Belgium globes. It holds a two finger head of white soapy bubbles, showing great retention and easy reproducibility. Patterned sheets of lacing are left as it goes. The clarity is marred by a bit of haziness, with copious sediment suspended throughout. Carbonation appears to be wildly active. The nose is true to its Belgian suggestion, with brightly sweet yeast, wet wheatiness, lemongrass, banana esters, and pale Belgian malts. To balance are more bittered notes of black pepper, coriander, booze, and fusel chemical phenols. With warmth comes an enhanced medicinal twang reminiscent of penicillin, along with buttered wheat toast, vanilla wafer sweetness, and clovey spice. The hops get a bit lost in the grain bill, but are certainly palpated in contributory juicy grassiness. Our first impression is that while the flavoring is refreshing, it offers robust chemical and grainy bitterness on the back. As we sip, the flavoring opens with sweet tangerine flesh, bittered lemon rind, coriander, metallic wheatiness, and soft bubblegum esters start things off. The middle comes to a peak with coin, biting Belgian yeast, rhubarb meatiness, big grassy hops, and curious spice of salted pumpkin seeds. The finish showcases the malts, with bittered pales and washing wheatiness, clovey phenols, mineral, and a vegetal spinach quality. The aftertaste breathes of chalky yeast, juicy wheatiness, earthy hop bitterness, mineral, vegetable root, and orange peel. The body is medium, and the carbonation is high, but not overly prickly. Each sip gives nice slurp, froth, cream, pop, and finishing smack. The mouth is cooled and coated, with mild pucker, and chalky astringency across the hard palate. The abv is appropriate, and the beer drinks easily.
Overall, what we enjoyed most about this beer was its robust bitterness and generally authentic Belgian-ness. Actually this guy smells (but much more complexly) and sings much like a Wit, with dirty wheatiness furthering the crisp bitterness of the hops and phenolic inclusions. The bite can be a bit much at times, and it is easy to envision this being off putting for some. We actually wish that the hops were not only more present, but better blended, as they feel like more of an afterthought. This brew sits well in the series, but will not become our new favorite for the style.
★
2,395 characters

3.22
/5
rDev
-11.8%
look: 4.25 | smell: 4 | taste: 3.25 | feel: 2 | overall: 2.5
Obtained a 22oz bomber at Hannaford in Durham NH for $5.99 just a few minutes ago. Haven't seen it previously so it seems like a pretty fresh release. Served cold into a standard tulip.
A: Semi-hazy golden yellow brew puts up 1/2" of pure white frothy foam that sticks fairly well to the glass.
S: Smells like a standard blonde with some resiny citrus rind. Soft floral Belgiany corriander and a touch of clove, semi-minerally, slightly yeasty. The citrusy hop was present immediately after the pour but seems to have dissipated pretty quickly, leaving mostly standard blonde or Belgian single aromas.
T/M: Backbone of blonde stuff with a diverse scattergun blast of hop flavors kinda all over the map. Some resiny citrus stuff, some florals, some herbs/ grass, etc. Slight residual malt sweetness in the taste, but this is brutally overwhelmed by a puckery dusty dry feel, pulls the moisture right out of my mouth.
O: Kinda harsh and unrefined, would benefit greatly from some extra sweetness and body to even things out. This could also be accomplished by bottle conditioning, which would give some yeast to swirl in. But alas, there isn't any yeast in this bottle. Hops are disjointed, no focus.
★
1,211 characters
Harpoon 100 Barrel Series #46 - Hoppy Belgian Style Blonde from Harpoon Brewery & Beer Hall
3.65
out of
5
based on
126
ratings.