Beverages & more!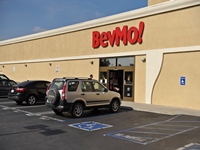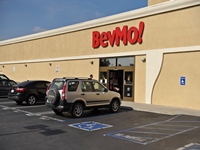 PLACE INFO
Type:
Store
885 S. Arroyo Parkway
Pasadena
,
California
, 91105
United States
(626) 356-9462 |
map
bevmo.com
Notes:
No notes at this time.
Added by goodheflover1280
PLACE STATS
Reviews:

12

Ratings:

pDev:

13.14%
HISTOGRAM
View: Place Reviews
Ratings: 13 | Reviews: 12
Reviews by BrewMaster:
3.85
/5
rDev
+3.2%
I've been visiting this Bev Mo for a while so it's about time I write a review. The selection is outstanding for a chain store. They have a lot of local brews (Alesmith, Stone, etc) as well as a good selection of west coast microbrews from out of the area. They stock the standard belgian beers and german beers and I was surprised to see a good stock of Duvel and Orval the last time I was there. The prices are reasonable and fair but I don't consider it a place to go for great deals. A lot of there beers are stored at room temperature on shelves in the light, which is kind of a bummer.
The staff there are ok but you won't find much beer knowledge in the bunch. They are helpful in finding beers around the store, but don't ask them for hard to find beers or if they'll be getting in some upcoming release. They stock what they get. I would liken them to the Costco of liquor stores. Not a bad thing to be, but it's also not your friendly corner store. All things being equal I prefer to take my business to smaller stores like Red Carpet Wine in Glendale.
1,065 characters
More User Reviews:


3.75
/5
rDev
+0.5%
vibe: 3.75 | quality: 3.75 | service: 3.75 | selection: 3.75
BevMo was the store I used to frequent a lot after graduating from beer shopping at various supermarkets (e.g., Sierra Nevada, Sam Adams, Stone, New Belgium, etc.) I was initially enamored with BevMo's selection of both domestic and foreign craft beer.
After researching and purchasing various beers, I found BevMo to fulfill less and less of my needs over time. Their selection is okay, but not as good as Total Wine or your favorite bottle shop. Then, I found out other places sell singles. This is the best thing next to sliced bread! Why invest in 4/6 packs or even bombers when you don't know if you're going to like or not.
I rarely visit BevMo's in general anymore.
It's still a quality place to purchase beer as long as you know their limitations.
760 characters

3.8
/5
rDev
+1.9%
vibe: 3.5 | quality: 3.5 | service: 4 | selection: 4 | food: 4
I found this Bevmo while a cousin had their daughters Birthday party at the my gym down the street.
Atm- Faily smaller store but its well lit with a bit more of the wine crowd due to the location as mentioned in another review.
Quality- Overall a good mix of beers on the shelf. More LA Country and Northern CA offerings due to the distributor than my store in Chino Hills
Service- Very helpful everytime I go in. Pretty standard Bevmo service. Helpful, smiling and some beer knowledge.
Selection- More of the Northern CA selections of Moylans and Marin than my stores. Havent seen anything too off the the wall here.
Food- N/A
Value- A good place in the Mid-LA valley for some single bottles if you live in the area that are more Import vs craft. Only bad part is not breaking 6packs.
791 characters
4
/5
rDev
+7.2%
I never really went to a BevMo before last year - before moving into Highland Park. This BevMo is really close, right down the 110 fwy from me, so location is a definite plus.
I actually came here for their wine selection before I found out they had some pretty decent beers here. I've bought a lot of my Stone ales here, some Rogue, Sam Adams, Chimay, etc. etc. I've never found anything really rare, not any barleywines to speak of and no wheat wines either. Still, however, I would have to rate their selection as pretty good, especially because I managed to pick up a double bastard here, cheaper than at Lone Hill Liquor in Azusa.
All in all, a pretty good place, the staff is knowledgeable but not truly into their drinks as much as their customers. I'd like to drop by when they're having one of their beer or wine tastings!
833 characters
3.7
/5
rDev
-0.8%
After being in several BevMos, I'd call this one about average. I've had better experiences, but I've had a lot worse with this chain too.
Typical nice organization. I always notice the English beers here but never seem to buy. Belgian selection is underwhelming compared to many of the excellent stores I've been in, but I'm probably being too harsh there - there's some goodies there.
I tend to rate these stores mostly on whether they've gotten the seasonal Port, AleSmith, Allagash, Marin, Moylans, etc. Was pretty happy with the selection of these but found no unexpected surprises.
If in the area, I'd go back. I could always find something good here.
659 characters
2.9
/5
rDev
-22.3%
By chance I happened to see a Bevmo in Pasadena on the day I planned to visit the Bevmo store in Torrance. I thought if the Pasadena store had what I wanted it would save me the trip. My priority was beer from Alesmith and Port Brewing. Alas no Speedway Stout at the Pasadena store. I asked if they normally carried it and was told what you see it what we carry. I got the feeling that the beer section was not a high priority. I noticed on a number of the Alesmith price cards someone had written, do not re-order.
I called the Torrance store and found they had the Stout so I bagged buying anything in Pasadena.
When I arrived in Torrance and entered the beer section I was immediately greeted by Mike H, the manager of the beer section, who asked if he could help. When I went to grab the Speedway stout he remarked that I must be the guy who called. He asked me what I was looking for and after a brief discussion of my likes and dislikes he offered some suggestions and told me about a few items that hadn't made it out to the floor yet.
He even recommended two other competitors who he thought might have some western craft beers he didn't have. I was impressed! The Torrance store is a long way from the Pasadena store but worth the trip when it comes to Bevmo's.
I can't comment on the imports as I did not even look at that area.
1,350 characters
4.8
/5
rDev
+28.7%
I love this store, and my BevMo card is a prized possession. There is a ton of different varieties of beer, wine, spirits and nearly everything else connected with drinking or imbibing spirits. I'm sure this is no shock for most, but this store has exceptional staff that have helped me locate odd brands. I was seeking out a particularly difficult to locate cider recently, and they went all out to acquire it for me, even though it was days before Christmas. When they finally got me my case, the manager gave me an additional 5% off for my all my time. Talk about a way to gain customer loyalty. The staff have also alerted me to beers my might have otherwise over looks. The store is well layed out and I love it!
717 characters
3.35
/5
rDev
-10.2%
BevMo is a chain of nicer liquor stores that seem to be sprinkled all over the place and popping up all the time. The BevMo in Pasadena is fairly good but not the best out of the chain stores.
The moment you walk in the door, you are greeted by boxes and bottles of wine. If you make a left at the entrance, you head all the way back toward the coolers and find the beer section.
The beer section is fairly good, but they are missing some of the beers that they have at the Brea and Orange stores...especially relating to Marin and Moylan's.
Pasadena carries all the Stone products, Alesmith, most English, Irish, some Czech, American Classics and the other standard beers. Their Belgian selection is small, but it is there. There are also some great Craft beers from around the country that you can get, plus Unibroue.
The place is good, but their staff doesn't know a lot about the beer selection and isn't much help to you. You really do need to know what you want when you get there. The nice thing is, they have great little descriptions under each of the beers to help you in assessing your buy.
1,113 characters
2.8
/5
rDev
-24.9%
A short and simple review of another Bevmo.
A very large space with a warehouse feel. That is the case for every Bevmo I have ventured in to.
This one though was not so neat as the other Bevmos I have visited. Boxes of glasses, liquor, wine and beer are stacked up everywhere. The place feels disjointed because of this. It is not dirty or unsanitary but it is the most unkempt Bevmo I have been to. It is like the floors are littered with alcohol related items that nobody wants and they are displayed as if this place is a flea market.
The service is friendly but really non-existant. Not that I needed any extra help. I was there to check out the beer selection. I did not need to purchase any wine or spirits, so once I located the beer aisles I was okay.
Of the few Bevmos I have been to, this one has the weakest beer selection. It is still good with plenty of American, German, English, Belgian and many beers from other parts of the globe. Some beer is in a cooler and there is plenty to pick from. I just felt the selection to be slightly lacking compared to the other Bevmos I have visited. Maybe it is just me.
I felt this Bevmo is more about spirits, wine, soda, alcohol related items like shakers, wine glasses, jiggers, tooth picks, talking bottle openers and less about the beer selection than the other Bevmos I have been to. On the day I visited there were many empty spaces and beers placed without the proper prices and the wrong listing by the beer. A tad sloppy in my opinion. Beer just seemed an after thought for this particular store. They did have a very nice selction of Hoptown and Moylan's though.
A good stop for beer to be sure but I just got a negative vibe about beer here.
1,726 characters

3.85
/5
rDev
+3.2%
Saw the staples sign on the building and drove right past it the first time, as did the 2 cars in front of me and had to double back.
First thing I noticed was that there was lots of parking, this is not the norm at southern California BevMo store and can be a down right pain at the Thousand Oaks store.
First thing I noticed was that the store was clean for a BevMo. Or maybe it was just less cluttered.
Layout of the store is the opposite of most BevMo stores with the beer over on the left side of the store.
Selection is very good and the chain is starting to move in the winter seasonal beers, but they didn't yet have any Christmas beers yet.
Service gets a 3 because this was the first time a BevMo employee ever asked me if I needed help, to bad I had already fixed it my self.
The Pasadena store has the Victory beers now, look on the front part if the last aisle up against the coolers. I finally found Victory Prima Pils here.
Prices as always are good at BevMo but their sales suck as a rule.
Best BevMo I have been to yet.
1,061 characters
3.85
/5
rDev
+3.2%
Beverages & More!
Store #: 51
After hitting Red Carpet Wine in Glendale it seemed easier to head home via Pasadena and the new Beverages & More which I had yet to try. Located on S.Arroyo Parkway, it is in spitting distance of the end of the CA-110. As I was heading South down Arroyo, BevMo was on my right hand side, you can't see the frontage driving South so look for the large Staples sign and that is the parking lot you want to head in. The parking lot has been resurfaced and looked new, but it still seems cramped and spaces are limited here, so you may want to avoid busy times maybe. I found parking relatively easy though early in the afternoon on a Saturday, but it seemed quiet to me I have to say.
After picking up one of those really naff looking plastic green trolley carts I headed inside, intent of picking up at least a couple of new brews to try. Clean and airy it was lovely and cool inside, the sun was out in force today and the respite was nice.
The beer is to your left and at the back side of the store in several aisles. On the way there though I couldn't help but be drawn by displays of all kinds of drinking paraphernalia; everything and anything to do with cork extraction, bottle opening, cocktail mixing, a good array of drinking vessels though no Belgium Glasses [unless I missed them].
When I got to the beer, lots of everything, 6-Packs [which they don't or "won't" break up – Bugger!!] 7, 12 and 22 oz, 650 & 750mls bottles and even cans…..as well as lots of 12 and 24 cardboard box packs stacked high against the back wall. Good range here, I always spy something new and untried, picked up new 22oz brews from Island Brewing, Ross Valley and Coastal Fog as well as the Baltika 8-Wheat beer, never seen that before. Also took the opportunity to stock up on Stone, Alesmith and Hoptown. I do wish they would at least break-up 6-Packs, they could even break just a few of each up and sell them as loose bottles, I'm sure it would make people try more stuff, I hate dropping coin on a crap 6-Pack and I don't like taking the risk, so often I will leave 6-Packs of beers that I haven't even tried. Are you listening BevMo…..erm I guess not. LOL.
In the center of the store, near the beer area, they have an awesome selection of cheeses, lots of aged Cheddars and some nice Continental offerings too I noted. If I wasn't heading to the UK for 2 weeks on Thursday I would have picked some up for sure.
Nearby the Beer section they had a Wine Tasting going on as well, I noted that they do regular Beer Tastings too, hey maybe I could get them to taste some of those untried 6-Packs?? ……I was tempted to try some Wine, but I promised myself I wouldn't have a drink until later this afternoon [it's why I drove past Lucky Baldwin's, that took some doing I can tell you].
Service here was laid back, lots of unpakced boxes and stuff laying around I noticed. in fact there was hardly anyone to be seen except for two people at the checkout, both looked bored and couldn't be arsed to leave the checkout it seemed, or maybe they couldn't?, though they were pleasant enough when I cashed out my stash.
Believe it or not this is only the second of the BevMo's that I have been to, this one still seems "new" and a little quiet to me. Think I prefer the slightly larger and more organized Huntingdon Beach outlet, though I will pop back in here if I'm passing to/from Lucky Baldwin's.
3,460 characters
4.15
/5
rDev
+11.3%
A little bit off from my usual way home, the Pasadena BevMo is only a few blocks north of where the 110 Fwy runs out to become S. Arroyo Pkwy. On entering, I noticed that, like all it's sibling stores, this BevMo has that "liquor warehouse" theme. Tons of wines and spirits dominate the store but if you head back to the left rear quarter of the store, you'll find what matters: beer.
As I walked up to the beer aisles, I came upon a large display of Stone IRS, a good starting point. As I ventured further down the aisles, I noted a wide variety of styles, brands, and nationalities of beer. Euro beers dominated the foreign import scene with the U.K. the main focus. Plenty of Fullers, Samuel Smiths, Young, Belhaven, Wychwood, etc dotted the landscape. German and Belgian beers lagged behind with the most common breweries represented. From the domestic scene, Pacific coast brewers easily outstripped the rest of the nation. However, there were beers from Shipyard, Allagash, DFH, Unibroue and others from east of here to sample. From the west coast there were Alesmith, Deschutes, Hoptown, Marin, Moylan's, Ballast Point, Coronado Brewing Co., Drake's, Alaskan, Stone, and quite a few other less recognizable brewers available.
As I strolled around I was repeatedly asked by the staff if I needed any help finding anything. They were very polite and helpful, moreso than at other BevMo's I've patronized. I still wish the management would allow the breaking up of six-packs. I explained how I'd probabaly buy more if I could sample the beers but I guess I wasn't convincing enough. I ended up leaving with a Westmalle Tripel, Samuel Smith's IPA, Unibroue La Fin du Monde, Ballast Point Calico Amber Ale, and Marin IPA.
Like the rest of the chain, this BevMo is a clone of it's other stores. Still, if you're looking for a good selection of West Coast brews, BevMo is a good starting point.
1,897 characters
Beverages & more! in Pasadena, CA
Place rating:
3.73
out of
5
with
13
ratings