Broken Drum Brewery And Wood Grill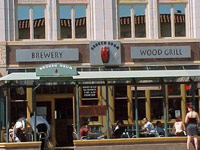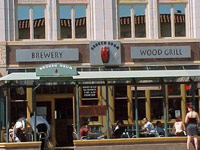 PLACE INFO
Type:
Brewery, Bar, Eatery
1132 Fourth St.
San Rafael
,
California
, 94901
United States
(415) 456-4677
// CLOSED //
Notes:
No notes at this time.
Added by BeerAdvocate
Ratings: 6 | Reviews: 6
Reviews by czechsaaz:
2
/5
rDev
-28.6%
vibe: 2.5 | quality: 2 | service: 1 | selection: 2 | food: 4
So there's this brewery in the town I grew up in. It's stood the test of time, been there for years. But I can't understand why.
It must be the food. I've had a few meals here over the last 10+ years and I've really enjoyed everything I've eaten. But you see, I'm a beer guy. Their beer is really not good. And this is every time (at least 8) that I've been here over the years. Last night I hooked up with some High School friends who still live in San Rafael. The bar we would hang out in during summers home from college closes early on Sundays so we went here. The IPA, was undrinkable. Sugary and sweet with barely a hint of hops in the aroma. The Holiday red, passable but I didn't want another one. The Pilsner? If those were German/bohemian hops I'm the Pope and there weren't enough of them. And these were the three best beers that hit our table.
Add in the 20 somethings crowding the bar area doing Jaeger shots, the waitress stacking chairs on all the tables around us despite telling us they were open for another hour, the arena concert level AC/DC cd playing, the beers that are more expensive than EVERY brewery in the county, and this was, I hope, my final experience at Broken Drum.
1,202 characters
More User Reviews:

2.28
/5
rDev
-18.6%
vibe: 4 | quality: 2.5 | service: 1.5 | selection: 2 | food: 2.5
I live in town, and would really like a local place, serving good beer, where I can feel comfortable spending some time. This isn't that place.
I'd really like it to be, but the static selection of mediocre brews, combined with poor table service (and only slightly-better bar service) just doesn't cut it.
The interior is actually pretty comfortable, and the covered sidewalk table area is a nice addition. The food is mostly run of the mill brewpub grub -- burgers, quesadillas, etc. The only beer that I've actually enjoyed is the Whamber -- definitely worth a try if you find yourself here.
Table and bar service is amateurish. As noted in other reviews, your server/bartender will sometimes disappear to 5-10 minutes. It can be kind of relaxing not to be pestered -- but not so great if you need something (like another beer).
So -- stop by if you want to try the Whamber. But you'll have a much better time up 101N at Moylan's in Novato.
947 characters

2.33
/5
rDev
-16.8%
vibe: 2 | quality: 3 | service: 2 | selection: 2.5 | food: 1
The beer here is decent, but the bar area is pretty small and slightly uncomfortable. Happy hour everyday from 3-6 or so is a real plus, but its often quite crowded. The servers are at best disinterested and at worst pull mysterious disappearing acts.
Some of the beer is pretty good. Their whamber is a standout and is quite unique. Most of the other beers are fairly average. However the selection is usually only 5-6 beers (all made by the brewery) at a time. I was really disappoined once when they had what they called a "dark wheat" which i had never seen before. I gave it a taste and it was pretty funky. When I inquired with the bartender more about hte beer they said that it was a batch of Whamber that just wasn't right so they didn't want to call it Whamber... but they still tried to sell it anyway! That was pretty low since it was just bad beer.
Warning....the food is terrible. I would recommend against anyone trying anything. Go somewhere else down 4th street and there are quite a few decent options.
1,022 characters

2.88
/5
rDev
+2.9%
vibe: 2 | quality: 3 | service: 2 | selection: 3.5 | food: 4
With the closing of Rafters on 4th Street, this is San Rafael's only remaining brewery, and it's a pretty poor offering. Their beer selection is decent, but the quality of the brews (I thought) were pretty uninspiring. The service there is usually VERY poor, as is the atmosphere - locals tend to either head to the city, or get their brews at places like Iron Springs, or the Marin Brew Co - but I enjoyed the mahi mahi sandwich I had for lunch on my last visit.
If you're visiting the area, I suggest steering clear, and hitting up one of the two I mentioned, or Moylans in Novato. Far better selection, service, atmosphere, and quality.
640 characters
3.66
/5
rDev
+30.7%
vibe: 3.5 | quality: 4 | service: 3.5 | selection: 3.5
The bar area is kind of yuppy-ish but allright. Some seating out front on the patio.
Was kind of wasted at this point today. The bar was made of concrete and there were wooden tables and chairs. The kitchen appeared to be in the open north of the bar. The restroom was clean.
Service was allright, could have been better.
I think they had a decent selection with a cask option. The cask was their IPA and was only at half a glass when it emptied, they did not charge me for that and poured me another pint on tap (IPA). They were talking about bringing another cask out but it never happened.
Did not eat here.
reasonable
636 characters
3.8
/5
rDev
+35.7%
vibe: 4 | quality: 4 | service: 4 | selection: 3 | food: 4.5
I go to brewpubs mainly for beer, if the food is good then it's a bonus. This modern airy pub is located in downtown San Rafael. The staff was friendly but our waitress had no idea what I was talking about when I asked if they had anything cask conditioned. Beer was o.k., not great but didn't remind me of macro swill either. Food was pretty darn good and Suzanne thought her veggie burger and garlic fries the best she had ever had. I liked my food too. A nice friendly place, and one we will probably go back to though it is not as good as nearby Marin brewing Co, or Moylans, a few miles farther north. Worth a visit.
629 characters
Broken Drum Brewery And Wood Grill in San Rafael, CA
Brewery rating:
0
out of
100
with
12
ratings