10th Anniversary Special Russian Imperial Stout
| Coast Range Brewing Co.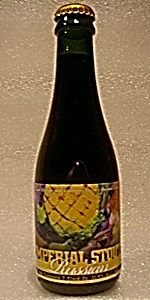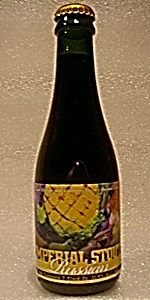 BEER INFO
Brewed by:
Coast Range Brewing Co.
California
,
United States
Style:
Russian Imperial Stout
Alcohol by volume (ABV):
11.40%
Availability:
Limited (brewed once)
Notes / Commercial Description:
No notes at this time.
Added by BeerAdvocate on 10-07-2005
This beer is retired; no longer brewed.
HISTOGRAM
Ratings: 11 | Reviews: 11
4.84
/5
rDev
+9%
look: 4 | smell: 5 | taste: 5 | feel: 5 | overall: 4.5
Very rich concentrated arom that yields dark chocolate, cherries-both fresh and preserves, coffee and a very mild tinge of licorice. This aroma is truly amazing. Deep black, but no matter how vigorously I poured or later swirled I could never coax a head out of it. Burnt malts, esspresso, acidic and oily in the fore followed by a cheery and even somewhat marzipan tinged sweetness. Low carbonation, but extrememly concentrated flavor. More like the Courage I had in feel then most American stouts. A remarkable Imperial from a brewery that excels at making dark beers.
570 characters

4.82
/5
rDev
+8.6%
look: 4 | smell: 4.5 | taste: 5 | feel: 5 | overall: 5
03/26/07- Purchased at Ledgers Liquors in Berkeley, CA.
Presentation- 7oz tiny bottle with no freshness dating. I'm pretty sure it was an early 2006 or late 2005 release though. Poured into my Englander pint glass.
Appearance- Nice black pour with some Pinot Noir red highlights around the edges. 1/2 inch brown head upon pour which settles to a very light rim. Leaves behind light spotty lace.
Smell- Major super dark burnt malt in the nose. Maybe even a touch of a smoked scent. Alcohol and a extreme dark fruity smell round it out.
Taste- Wonderful intense super dark chocolate liquor flavor with a deep roasted malt base. A big hoppy taste in the swallow along with a mild burning sensation on the tongue. This is only 11%? Feels like a 15% or more. Mostly chocolate, but some burnt coffee bean flavors as well.
Mouthfeel- Sticky, sweet and creamy. Goes down almost like butter with the exception of that light alcohol burn. It's all good.
Drinkability- A pint of this would have been really nice, but I am happy that I at least got to try it. Not sure I can find any of this left though. The $3.25 for this delectible brew was well worth it. If only I had paired it with a dessert. Top notch Imperial.
1,224 characters
4.61
/5
rDev
+3.8%
look: 5 | smell: 4 | taste: 5 | feel: 4.5 | overall: 4.5
Poured draught to a pint glass. Pitch black body with a finger and a half of dark brown head. Aroma is sweet and malty, full of roast malt notes. Flavor is consistent with the smell, finishing with a heated alcohol back draft. Coffee and chocolate and chewy, burnt bread. Smells of caramel out the wazzoo; bubblegum, blackberries, crazy viscosity. Flavor is almost too hot, like it could use a couple more years in the cellar (though supposedly it's already about 3 years old). Finishes with a burnt flavor that grows more intense as it lingers Hot and tasty. Lace clings to the glass, nice halo along the edges. Tingly, chewy mouthfeel that swallows creamy and smooth. Solid.
676 characters
4.54
/5
rDev
+2.3%
look: 4 | smell: 5 | taste: 4.5 | feel: 5 | overall: 4
cute little 7oz bottle obtained from irishsnake and the "these go to eleven bif"
appearance: pours from the small green bottle into a snifter...very dark and bold mahogany body, ligh chocolate cream head with little in the way of retention or lacing
smell: very bold and rich...big strong roasted malt profile, rich dark chocolate, coffee grounds, booze covered dark fruit. very inviting to say the least
taste: initially reminds me of Fish Brewing Company's Poseidon...one of the richest imperial stouts i have ever tasted - thick malt and oats backbone, booze warming definitely present, creamy dark chocolate explosion matched by roasted coffee grounds and a touch of smoke...lots of dark fruit to speak of as well
mouthfeel: boozy and very creamy
drinkability: 7oz is ideal
792 characters
4.5
/5
rDev
+1.4%
look: 4.5 | smell: 4.5 | taste: 4.5 | feel: 4.5 | overall: 4.5
Small 7oz bottle pours out an oily pitch black with a nice sized brown foamy head. Rich ripe fruits and bitter sweet dark chocolate fills the aroma. Also notes of coffee linger in the background. Flavor starts with some sweet dark fruits and burnt malts. Chocolate and some vinous notes follow. Light alcohol comes through over some bitter roastiness. Silky smooth body that makes drinking this effortless. Really tasty stuff that I wish came in a bomber as I was left wanting much more after it was gone.
505 characters
4.5
/5
rDev
+1.4%
look: 4 | smell: 4 | taste: 4.5 | feel: 5 | overall: 5
Cute, tiny bottle. Really rich, well balanced and smooth. Heavily nuanced after the mid-palate through the finish, with lingering chocolate, hazelnut and perhaps a hint of caramel. Could be more concentrated overall and more flavorful up front. Aroma could be much better. But....still a delicious brew.
303 characters
4.42
/5
rDev
-0.5%
look: 4 | smell: 4.5 | taste: 4.5 | feel: 4 | overall: 4.5
Seven ounce bottle – dark brown / black color – subtle dark tan head - nose of malts , brown sugar , bitter dry chocolate , deep fed fruit and roasted quality – taste of malts , cereal , raspberries , milk chocolate , orange , and roasted nuts – thick oily body , no carbonation , dry – aftertaste bitter chocolate and milk chocolate , roasted malts
354 characters

4.27
/5
rDev
-3.8%
look: 4.5 | smell: 5 | taste: 4 | feel: 4 | overall: 4
From 7 ounce bottle ($3.26) to goblet.
Pours a deep dark black, with minimal head. Nose is gorgeous: coffee, alcohol, chocolate, raisins, and, uhhhh, I think chocolate popcicle. Yes, really. I think.
Initial and body taste is full and sweet, with strong chocolate, alcohol, and tar/creosote, and sweet hints of raisins and maybe tropical fruit. Interestingly, the smell is more intense and exciting than the taste. (This remains true even as it warms a bit.)
The mouth is tangy and tingly, with high carbonation detected (especially for a beer with no head retention) though it finishes surprisingly clean, with minimal mouthfeel and relatively limited taste.
Long lingering aftertastes, primarily of coffee, alcohol and chocolate.
A very tasty beer, a little dear for the price, about the best thing I've had from Coast Range.
847 characters

4.2
/5
rDev
-5.4%
look: 4 | smell: 4 | taste: 4.5 | feel: 4 | overall: 4
7 oz bottle, Pours oily black with a small brownish head that has the little tiny lasting outer glass bubbles.
Smells like Chocolate, but the scent does not abuse your senses allowing for a beautiful drink. Incredibly easy to drink RIS, with only the softest alcohol coming out on the roof of my mouth during swallow.
I'm wishing for some colder weather drinking this excellent example of a RIS.
403 characters
4.12
/5
rDev
-7.2%
look: 4 | smell: 4.5 | taste: 4 | feel: 5 | overall: 3.5
7oz bottle with a pineapple painted on it.. oh wait, label tells me that's a faberge egg. what the **** ever. slippery black pour shows some viscosity separation through a thin, transparent red ring encircling the beer's perimeter. no foam, still and dark with one or two full bubbles from sloshing.
kahlua truffle aroma mingles with the scent of baking sugar cookies... deeper inhalations are met with a cultured, brandy-like alcoholic response. caramel richness without an oversaturated malt sweetness. nice balance. hops are moreso present in the flavor, dark chocolate-coated and fresh as can be despite the moderate age on this beer. west coasty piney botanical skips by without leaving traces of nastiness, finishes more raisiny than anything. the mouthfeel on this beer is amazing. looks still, sips big and slooow (11+%), but still creates some lively feelings on the tongue. wakes your mouth up for sure without a bitterness bomb going off inside there.
very decent ris with some great points. slightly metallic here and there but improves with warmth.. perhaps just this bottle. overall enjoyable and i think its a good value.. $3 for 7 oz is.... well, it's better than kuhnhenn RE, thats for damn sure! thanks john.
1,232 characters
4
/5
rDev
-9.9%
look: 4 | smell: 4 | taste: 4 | feel: 4 | overall: 4
7oz. bottle acquired via UTBIF from irishsnake.
Pours an opaque black, medium thickness with little head. Aroma is of chocolate, sweet malts. Taste is deep roasted grains, dark fruits, almost like a wine or brandy with slight hints of alcohol. Mouthfeel is full, but not as thick as other imp stouts I have tried. A good sipper and a special treat as I would not usually have access to this brew.
397 characters
10th Anniversary Special Russian Imperial Stout from Coast Range Brewing Co.
Beer rating:
4.44
out of
5
with
11
ratings