Elk Head Brewing Company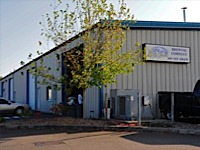 PLACE INFO
Type:
Brewery, Eatery
28120 Hwy 410
Buckley
,
Washington
, 98321
United States
(360) 829-2739 |
map
Notes:
No notes at this time.
Added by beertaster13
Ratings: 6 | Reviews: 5
Reviews by BillHilly:

3.36
/5
rDev
-5.1%
vibe: 5 | quality: 2.5 | service: 3 | selection: 4
A: Awesome place to go see if you can make it out in the middle of no-where, well WA state speaking...it's off the beaten path. Crazy wood carvings, awesome wood seating, a sick growler collection hanging and on the pertrusions.
Q: Tried several beers, below median for sure...
S: Not really gradeable since it's a smaller place and you walk up to the counter for pours.
Selection: he had a lot of taps going, nothing double or triple fermented...
F: don't think they have any.
V: Prices are good, but bang for the buck is lacking.
536 characters
More User Reviews:

4.21
/5
rDev
+18.9%
vibe: 4 | quality: 4 | service: 4.75 | selection: 4
5
/5
rDev
+41.2%
vibe: 5 | quality: 5 | service: 5 | selection: 5
My friend's Dad introduced us to this brewery many years ago. Everyone used to have to pack in standing up. Since then, they've expanded and now there is plenty of seating. The staff is friendly and they'll let you try any beer you want, especially if its one of the more challenging ones. The crowd there is a different than a lot of other places in the Puget Sound. Among the guys who hang out there are a woodcarver who has lot of art on display, and an artisinal cheesemaker who might sell you a wedge.
Their beer is my favorite beer. Every beer has great texture. In my mind at least, there is a signature feel to the beers. Some beers, like the Extra Special Porter, the Gold, and the Extra, have been served here for years and years, and they were the first craft beers I ever had. They taste even better to me now than they did then. The ESP is probably my favorite porter. All their beers are good. Its not about specific beers, or at least it doesn't have to be.
Besides just straight up great beers, they have a lot of stuff that I guess could be called experimental. I remember they had a dandelion beer there a long time ago and boy that wasn't the easiest thing to drink. Now they have Black Fire Stout on, and I recommend tasting it. Like Ralph Wiggam said, it tastes like burning. I ordered a pint and managed to get a bit more than half of it down before I had to walk back to the bar with my tail between my legs, but the bartender said I did a pretty good job. Aside from some novelty type beers, they have some really excellent experimental things as well. The Paradise Ale was brewed with tropical fruits, and it was really a wonderful beer. I bought two big growlers of it.
My favorite beers, that I will always order if they're serving them, are the Back Track barleywine and the Royal Black stout. They serve them in half-glasses. Its probably the best tasting barleywine I've ever had, and definitely one of the best stouts, especially considering it's price. It has a deep taste like its barrel aged, but I don't know if it is or not.
When I stopped in last week they had the ESP on and the Black Stag stout, and between those and the Kilted ale (bet you can guess the style), it was well worth it, as always.
They don't serve food, so keep that in mind for your plans.
2,301 characters
4.78
/5
rDev
+35%
vibe: 4.5 | quality: 4.5 | service: 5 | selection: 5
I've been meaning to stop by this place for sometime and a little hiking trip outside of Greenwater gave my wife and I reason to stop by a few weeks back.
Elkhead takes up two bays of a warehouse complex. 1/3 of it is their brewing facility with beautiful copper clad equipment. They have a small serving area boasting around 14 taps and a seating area that wraps around a bar height wall where they store their grains and have an old delivery truck displayed. The seating area is filled with impressive chainsaw sculptures produced by a local artist who, if you are lucky, will be there to share stories with. The patrons are as pleasant as the staff making this an easy place to spend a few hours if you like a relaxed, unpretentious setting.
Thanks to excellent staff who are quick to offer you all the samples you want, I tried everything they offered. There is not a bad beer in the house which took me by surprise as most places may have one or two solid beers and the rest not even worth their existence. With things like a pepper beer, citrus beer, and other oddities you may not like every beer on tap but; they are unarguably all brewed exceptionally well. The IPA is excellent, for once an actual IPA that would fit in the guidelines instead of being hopped to infinity (of course those are great too, just shouldn't be called an IPA), the brown ale is exactly what I want, reminding me of a northern brown ale. Those were the standouts for me, but certainly one will find something excellent for their tastes.
I was rather surprised to read reviews saying they had massive quality control problems. I'm a seasoned, award winning homebrewer of almost a decade of experience and have excellent first hand and studied understandings of quality issues. I can say with certainty that whatever the issues of the 2007 review were, they have been rectified.
The only thing this place is missing is food...of course they are happy to provide pretzels; but a good meal to go with great beer is always a bonus that keeps you from having to leave for dinner.
Certainly a good reason to start targeting my hiking trips close to this establishment.
2,154 characters
4.06
/5
rDev
+14.7%
vibe: 4.5 | quality: 4 | service: 4 | selection: 4
Stopped in after a hike and, though we were a few minutes after closing, they still happily let us sample and filled our growlers. Even traded one of theirs for a Boundary Bay that I'd brought; guess their collection of hanging growlers (quite impressive) was missing it.
I was half expecting infected "ambers" and "stouts" of lesser quality. Their beers, however, were very good. From their Blast Cap chili beer to the Citronic lemon/lime quencher to the Sting Ya brewed with honey and stinging nettles, I was quite impressed by the experimental brews. This is not to demean their 'standard' styles: one of the better porters I've had in recent memory and a great stout along with a fantastically sneaky 10.5% barleywine. Believe we sampled (for free!) at least 9 of the 12 brews they had on tap and were happy with each.
It's an industrial park brewery showcasing their shiny copper kettles and a few stools scattered among barbecues and smokers. Along with a few Strange Brew medals and myriad growlers hanging from the roof, friendly folks hung out enjoying beers in the late afternoon sun. Put them all together and you have a great spot to hang out for a bit. Definitely worth a visit if you're anywhere near.
1,217 characters
2.63
/5
rDev
-25.7%
vibe: 3 | quality: 1 | service: 4 | selection: 3
I'll just jump to it and not beat around the bush. Elk Head Brewing is an affable, inviting micro-pub full of good folks and good cheer. But their beer sucks. It is consistently and ominously bad. It's some of the worst beer I've ever encountered.
Elk Head's beer suffers from a systematic sanitation crisis that may originate in either their brewing process or their serving arrangement. Perhaps both. But the problem is widespread and devastating. Virtually all Elk Head beers served at their tasting room are corrupted by spoilage. It's so pervasive that I'm at a loss to explain why no one in the community has called them on it. Quality control would appear to be non-existent and the clientele are apparently not savvy enough to know what they're missing.
Elk Head operates out of an industrial park about a mile west of Buckley. The ambiance can't escape the limitations of what is essentially a garage bay, but they've achieved stylish accommodation with displays of hanging growlers, photographs, t-shirts, and of course, an elk head. The bright copper brew tanks seem almost more ornamental than required.
This isn't a brewpub in the conventional sense, but a microbrewery with a tasting room. They have no kitchen and offer only free pretzels to eat. Everything I've seen indicates that Elk Head draws a sizable, loyal crowd of regulars who eagerly consume their beers and take away a healthy number of growlers, party pigs, and pony kegs. In fact, it would seem they might benefit by extending their hours past their present 7PM closing time.
Elk Head serves about a dozen house beers with one cask and no guest taps or wine. In addition to the standards, their seasonal beers are known for exotic experimentations with ingredients such as stinging nettles or chanterelle mushrooms. Theoretically their recipes are sound, but their brewing technique needs serious revisitation. Meanwhile, with the notable exception of their Royal Black imperial coffee stout, the tastiest things in the house are the pretzels.
2,030 characters
Elk Head Brewing Company in Buckley, WA
3.13
out of
5
based on
19
ratings.