Silverado Brewing Company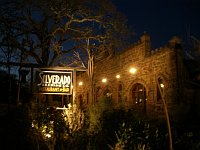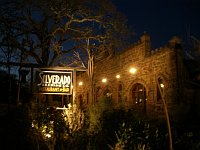 PLACE INFO
Type:
Brewery, Bar, Eatery
3020-A North St. Helena Hwy
St. Helena
,
California
, 94574
United States
(707) 967-9876
// CLOSED //
Notes:
No notes at this time.
Added by BeerAdvocate
HISTOGRAM
View: Beers | Place Reviews
Ratings: 9 | Reviews: 9
Reviews by BeerAmbassador:

3
/5
rDev
-18.9%
vibe: 3 | quality: 3 | service: 3.5 | selection: 2.5 | food: 3
I have been living in St. Helena for a couple years now and I go to Silverado from time to time as they are one of the few places in the area to watch football and the only brewery that is close to me. I have probably had their beers on about a dozen occasions in that time and to be honest although they are nothing spectacular they seem to be getting better. I have noticed a sizable difference in their beers now from when I first started going there. One thing I have noticed is that the year round offerings are average at best, but the seasonal rotations are surprisingly good and getting better. A month or two ago I had a Scottish ale that was very good and along with a nice balanced maltiness seemed to have a bit of smoke as well. They have also tried a couple of belgian beers with very respectable results. Worth a try if you are in they area, the food is ok, typical brew pub with high quality ingredients but fairly pricey for what it is. (although wholly average for Napa Valley)
995 characters
More User Reviews:

3.98
/5
rDev
+7.6%
vibe: 4.5 | quality: 4 | service: 4.5 | selection: 3 | food: 4.5
We had a family group of 9, and we were well taken care of by our server. He managed to get us our drinks and food accurately and reasonably quickly. The atmosphere is easy and spacious - we were in the dining area away from the bar and (it being 5:30 on Saturday night) we were serenaded by a young vocalist accompanying herself on guitar. The beer was undistinguished - I tasted the pale ale, the amber ale, and the IPA, and none was a standout. The IPA was good with the food - good serviceable beer.
The food deserves mention, as it was tasty, made from high-quality ingredients. I noticed that almost everybody's plate was empty. I had the stir fry, and it was served on a crisp wonton instead of over rice which was new to me. Very tasty.
This is a welcome break from the carpet of wineries all around, and the beer is wonderfully drinkable if not all that special. The food here has apparently been improving substantially, upgrading from standard pub fare some years back to an attraction in its own right. Great place to take a break from the wineries.
1,064 characters
3.86
/5
rDev
+4.3%
vibe: 4 | quality: 4 | service: 4.5 | selection: 3
We stopped by there the other day for a quick sample. Neat little place around the corner from dozen of wineries. We didn't try the food - just the beer; however, all food that walked by us looked great.
Overall, their beers all seem a bit light on body but aside from that pretty decent. Coffee stout was great, APA a bit unbalanced. The staff seems knowledgeable and nice local folks, too. Upside is that with all the wine around, it's definately a nice change.
I'd recommend a stop when nearby! It's only a short drive from Napa
534 characters
2.65
/5
rDev
-28.4%
vibe: 3 | quality: 2 | service: 4 | selection: 2 | food: 2.5
This place has only a few reviews from 2007 and 2005 before that. So, it's been a few years and I think expectations are now perhaps higher. The beer here is very average and with no selection whatsoever other than the 6 mediocre beers made on site. They are not "bad," per se, they just aren't "good" either.
Place is a decent looking "cowboy" type beer bar, hamburger/wings joint in the middle of "wine country." One would hope for discrimination in the beer making that is anticipated in the wine making. Not the case. Here, the beers are relatively simple and without a lot of distinguishing character. A nice place to perhaps quench one's thirst. Not a particular good place to try beer. Certainly not a place to go out of your way to try.
745 characters
3.86
/5
rDev
+4.3%
vibe: 4 | quality: 4 | service: 4 | selection: 3.5
What were the odds of stumbling upon this place? I didn't even map this place out during the trip to Northern Cal. We ended up making a detour from one of the other vineyard stops to hit Freemark Abbey, which is right next door. I'm guessing this place was part of the original estate b/c it's right there with the same outside stone front. I happened to park right in front and when I was pulling out I saw the sign and pulled right back into the spot.
The inside walls have obviously been redone to look older and aged with faux painted walls and ceilings. Upon first glance, it actually looks authentic. There are small fermenting tanks and a mash tun located behind an enclosed area.
The service behind the bar was friendly, attentive, and actually understood a little bit about what I was asking.
The selection was ok. They had maybe 6 standards and two seasonals. We opted for the wheat beer, and the Maibock, which were both nice.
We tried the calimari, which was very good but I'm opting not to rate the food b/c we only got a small appetizer.
1,063 characters
3.98
/5
rDev
+7.6%
vibe: 4 | quality: 3.5 | service: 5 | selection: 3.5 | food: 4
A brewery smack dab in the middle of the wine country. Kudos to these guys!
Nice pleasant looking old building, big bar, tv... lively crowd even on an early Sunday afternoon.
Quality of beer is solid. Nothing great, but I had the sampler, and all 6 beers I tried were average to good in quality. (with the Maibock and the Oatmeal Stout as the stand outs.)
Service was top notch. Our bartender, was friendly and very attentive.
Food was good, and the prices were quite fair.
Give this place a try if you are ever in the Napa Valley.
547 characters
3.65
/5
rDev
-1.4%
vibe: 3.5 | quality: 4 | service: 4 | selection: 3 | food: 3.5
Located right off of Highway 29 just on the north side of St. Helena, the Silverado Brewing Company is a welcomed bastion of casual-neighborhood-hangout-ness in a sea of snooty wine-country culture. Inside the slightly funky faux-castle facade, the dark bar and dining areas are clean and neat, but also completely casual and unassuming. Locals and regulars make up a strong contingent at the bar, especially on $2 pint Tuesday's. A few urban cowboy types, some grizzled bikers, and some white trash all tell you right away that this is a break from the wine country norm.
All of the six beers on tap were clean and to style guidelines, but none pushed the envelope. Solid, drinkable beer, but nothing to make you think too hard.
Waitstaff was quick and accomidating, and while the bartender was thoroughly pleasant, she was a bit slow. Overall a good show, however...
The food was good, though the menu stayed very close to the safe norms of pub fare, only slightly Californiaized. Portions were dissapointingly small, however.
Pints were cheap, food was moderate. Overall, a good value and worth the stop if you're in the area, but not of destination quality...
1,175 characters
3.93
/5
rDev
+6.2%
vibe: 4.5 | quality: 4 | service: 4 | selection: 3.5
Located in a suburban area and appeared to look more like a wine tasting establishment. Spaciously wide bar area that can get crowded. Some TV's, the brewing room was to the North of the bar, and there was an outdoor patio. The regulars are friendly.
All stainless steel tap nozzles and did not see the kitchen. Wood tables and chairs, also the bar appeared to be set up for wine tasting however gives this place some unique character.
Service was friendly and knowledgable.
Several of their own beers, did not notice if there was any guest beers, and no cask option. A possible notable was the seasonal Kolsch and a definite notable was the seasonal Hefeweizen. A local favorite is the seasonal Mai Bock and that was not available.
I did not eat here however, according to the locals, the food here is exceptional and the only Brewpub that competes is Dempsey's (in this area).
reasonable
904 characters

4.36
/5
rDev
+17.8%
vibe: 4.5 | quality: 4.5 | service: 4.5 | selection: 4
Another quick U-turn, after a one sign that says "Silverado Brewery", then another that says "barbeque today".
Boy- they got my number.
A pleasant surprise, Silverado had six on tap, the first being a delicious Oatmeal Stout. Very reminiscent of Samuel Smith's and
put a grin on my face.
Next up was the Hef. Agh! Great beer alert!
Friggin' fresh as can be and right on Bavarian character.
A bit light, almost looking like a Witbier, but cloudy with a pillow white head.
Brewhouse to the left of the shortish bar. Nice guy pouring them out, friendly and attentive.
Great looking building with outdoor seating as well. Would have loved to stayed longer, but Russian River was calling.
On the way out we chatted with the pitmaster, they don't do Brisket out there, but a lot of Tri Tip.
He was burning a combination of Hickory and charcoal.
Recommended.
864 characters
Silverado Brewing Company in St. Helena, CA
Brewery rating:
3.24
out of
5
with
0
ratings