BJ's Restaraunt & Brewhouse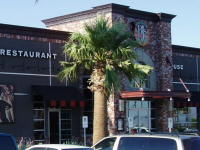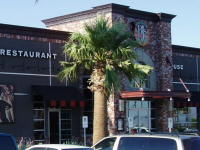 Bar, Eatery
10840 W Charleston Blvd
Las Vegas
,
Nevada
, 89135-1102
United States
(702) 835-2300 |
map
bjsrestaurants.com
Notes:
Reviews: 10 | Ratings: 14
Reviews by tbern007:
3.9
/5
rDev
+4.3%
vibe: 3.5 | quality: 4.5 | service: 3 | selection: 4 | food: 4.5
I really like this place. They have 2 locations in LV now - one on W Charleston and another on Eastern near Serene near Henderson. The bartenders in Henderson are awesome and are pretty knowledgeable with regards to the beer selection, and even to other places in town. BJs brews their own series but not at the locations here in LV. I heard that the location in Reno provides for the LV locations but the Beer Advocate website states that the beers are brewed in Arizona. The chain brews are pretty good in general. The best would be the red, in my opinion. The on tap selection is pretty impressive for most beer drinkers and for those exploring beers. Beer snobs might think otherwise. It's one of few places I know of that serve one of my favorites: Stone Ruination IPA (which is a little more pricey than other tap beers but worth it). The food has always been very good. The service is spotty in the restaurant. Sometimes it's too busy and they are obviously understaffed. There is obviously a lot of turnover as well. I frequent the place because of the food quality and beer selection. I think it's better than comparable places such as Rockbottom. And better than other Vegas microbreweries such as Chicago Brewpub.
1,224 characters
More User Reviews:

3.86
/5
rDev
+3.2%
vibe: 4 | quality: 3.75 | service: 3.75 | selection: 4 | food: 4
I've been to several other BJ's locations and this one is a clone of the others, but that is not a bad thing. The food is excellent. The atmosphere is modern and relaxing. The service is good and the beers are solid and enjoyable, although not exciting or outstanding. One of the better choices for good food and beer in Las Vegas and many other cities.
This location had 50 beers on tap, which is more than I remember from other BJ's, although I don't know that for sure.
477 characters




4.05
/5
rDev
+8.3%
vibe: 4 | quality: 4 | service: 4 | selection: 4 | food: 4.5
This used to be more of a treat when the only location in town was on the other side of the valley, but since they've opened their second location we've spoiled ourselves now.
The food is really good. Hard to beat their deep dish pizza. I typically order one size larger than I can handle in one sitting so I can have left Ives the next day.
The in-house beers are pretty good themselves. I will sometimes get the beer sampler just to get a sip of all the types they have. The Red Jeremiah is my personal favorite.
518 characters
3.83
/5
rDev
+2.4%
vibe: 4 | quality: 4 | service: 4.5 | selection: 3 | food: 3.5
wide open inside here. plenty of space between the bar and the dining room, clearly defined i guess you could say. Makes it nice for those people who are just here for the food. Well lit and very appealing to look at.
Food was pretty tasty, though more priced a tad higher than i would of liked. Had some chicken alfredo pizza (or something like that), it was not bad but i think it could of used more alfredo sauce.
seating was near instant, as were drink orders. The waiter was very attentive, and had a hell of a personality. For service like that, i go back anywhere
They didn't have any special brews at the time, and just were offering the usual line up that all BJ's have. Which i tend to be split on, but thats for beer reviews later....
749 characters
4.08
/5
rDev
+9.1%
vibe: 3.5 | quality: 4.5 | service: 3.5 | selection: 4 | food: 5
went here with a group of people not too long ago...friday night, place was PACKED...typical vegas bar and grill atmosphere...
food was excellent, i had the fish tacos and my gf had the big baked potato...everyone else enjoyed their food as well
beer was good, grabbed the 8 glass sampler for 8.75 i believe, not bad for 32 oz of beer...their seasonal was a cider, was not a fan of that....but their piranha pale ale was fantastic, loved it! my gf loved the blonde and the hefe...
overall decent place, i would definitely go back...
535 characters
3
/5
rDev
-19.8%
vibe: 3 | quality: 3 | service: 3 | selection: 3 | food: 3
I met a business client here for lunch and a drink. It seemed like a busy place for a mid-afternoon meeting. Looked like it would be a very happening place for drinks at night.
Off the strip - not close to many places. Northern Summerlin area.
Service was good, not great. Server was not as bright as would've originally thought. Beer selection was not great either. Food was decent at best.
I would come here if I wanted to save money on drinks - that's about it. Nothing too fancy about the establishment as a whole.
529 characters
4.18
/5
rDev
+11.8%
vibe: 4 | quality: 4 | service: 4.5 | selection: 4 | food: 4.5
This BJ's is quite new. For a description of the interior go to Uncle Jimbo' s great review. For those who have been to other BJ's this is just like the rest, decor wise.
If you are looking for a great pizza in Vegas there are many choices, but if your are looking for a great pizza and a good choice of micro beer there are only a few places and BJ's will be a top pick.
The last time I was there they were offering their Premium Lager as a special and I think this is a very tasty brew, most of their beers are in the good category, so they will not let you down but not thrill you eithor. .
One warning this is way off the strip and parking can be difficult as they share a parking lot with a Olive Garden. Was that two warnings?
If the crowds,this BJ's is very busy, and the parking scare you away another choice for pizza and micro beer would be Chicago Brewing which is my favorite in Vegas.
904 characters

3.84
/5
rDev
+2.7%
vibe: 4 | quality: 3.5 | service: 4 | selection: 4
This restaurant and bar is located just east of I-215 on W. Charleston, at Summerlin Centre.
The interior is basically a large cube, with high ceilings. the bar is straight ahead and to your left as you enter. At the far end of the bar is a glass wall to display the beer holding tanks, but no beer is brewed on premises. Instead the beer is currently brought from another BJ's in Arizona. According to a bartender, the plan is eventually to open another BJ's in Henderson, which will brew beer for both Las Vegas area locations.
The seats at the bar are chairs with backs, and the remainder of the floor space is filled with tables and booths. There is a large, flat screen TV behind the bar, with several other small, flat screen TVs as well. Music (pop and rock) is piped in through speakers. The walls are brick, and the floor is hardwood. There is no video poker in the bar.
During my visit there were 7 regular BJ beers on tap (Harvest Hefeweizen, Brewhouse Blonde, Piranha Pale, Jeremiah Red, PM Porter, Tatonka Stout, and Nutty Brewnette) and 2 seasonals/specials (Premium Lager and Rye Not). There were also 6 guest taps: Wyder's Pear Cider, Alaskan Amber, Warsteiner, Lindeman's Framboise, and Chimay White. And there was a BJ's berry cider on tap as well. The BJ's beers were above average to good in quality. In addition to the beer, there was a full bar serving cocktails.
I did not get a chance to sample the food, but the menu listed pizza, burgers, and other typical pub foods.
The service at the bar was good. My bartender was a homebrewer himself and was knowledgeable about beer. Two different beer samplers were available: a 4 beer sampler for $4.95 and a 7 beer sampler for $7.95. The samples were served in 5 oz pilsner-type glasses. The atmosphere was friendly, and this seemed like a popular place despite having only been open a few months.
Definitely worth a visit if you are in the area, but this place is quite far off the beaten tourist track.
1,991 characters

3.78
/5
rDev
+1.1%
vibe: 4.5 | quality: 3.5 | service: 3.5 | selection: 4 | food: 4
This place recently opened and it is located just of I-215 and Charleston Ave. Parking is tight as it is located next to a Olive Garden (gag) and both places were packed. As you walk in the place, you notice the huge warehouse style restaurant with very high ceilings and large pipe vent systems. The bar is on one side and sports 18 bar stools. Behind the bar is a nice 4 screen wall unit TV. The restaurants have tons of tables and they was a waiting list.
The beer selections were nice, as they had a blond,hefe, pale, red, porter, stout, and special house rye bock on tap. There is a decent 7 beer sampler for $7.99 served in 6 oz glasses. Chimay, Alaskan Amber, a lambic, and house made root beer were on tap too. The bad news is the beers were average, and the food is ok. The bartender was nice, but seemed light on beer knowledge as he read "the card" to describe the offerings. Overall an ok experience, but I'd rather go to Chicago Brewpub that isn't too far away.
978 characters
3.6
/5
rDev
-3.7%
vibe: 4 | quality: 3.5 | service: 3.5 | selection: 3.5 | food: 4
ok, so this is a new joint by charleston and the 215. inside is a long bar and lots of table and booths and also a restraunt area. nice interior, some big screens, lots of wood and old pictures. as far as beer goes they had the porter, imperial stout, red, pale ale, hefe, golden ale, brown and a few specials. they also carry taps from others (stone ruination being one of them). pretty solid beer, awesome pizza and nachos and a nice happy hour (4-7, 10-close). a nice place to stop in, be warned though, on weekends it gets packed.
534 characters
BJ's Restaraunt & Brewhouse in Las Vegas, NV
Place rating:
3.74
out of
5
with
14
ratings