Bierpaleis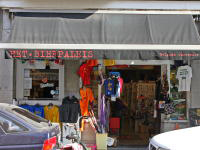 PLACE INFO
Type:
Store
Katelijnestraat 25
Brugge
, 8000
Belgium
+32 50 34 31 61 |
map
Notes:
No notes at this time.
Added by Phyl21ca
Reviews: 11 | Ratings: 15
4.83
/5
rDev
+26.1%
vibe: 4.75 | quality: 5 | service: 4.5 | selection: 5
Much larger than it appears on outside. Largest range/variety of beer paraphernalia in all of Bruges. Go here to find unique items. Beer selection is more than adequate. Found Westmalle Extra here at reasonable price. Nice small bar and seating area outback with a couple beers on tap that vary/rotate. Friendly owners, friendly staff. Very close to De Halve Maan brewery
383 characters
3.85
/5
rDev
+0.5%
vibe: 4 | quality: 3.75 | service: 3.5 | selection: 4.25
Good place, great selection! Shipped from the place back to the states with no problems. Well worth checking out and Well worth browsing. Grab a brew and peruse at your leisure! Dig for the hidden gems and then asked him for the private stuff he has. Found some great old mugs and signs he had hanging out in back.
314 characters
4.1
/5
rDev
+7%
vibe: 3.5 | quality: 4.5 | service: 3.5 | selection: 4.5
I swung by here on 30SEP11 for a look-see, and maybe a purchase...
Found on a main street in the center of town, you might not even notice this place save for the word "bier" on the awning hanging over the storefront. It is a very unassuming establishment, looking more like a tacky souvenir shop than a high-quality bier store. Multi-colored t-shirts, scarves, and shopping bags hang out front under the large black awning. Enter and you'll find 2 main rooms. The first, upon entering, has must of the souvenir shtuff, like clothing, glassware, trinkets and, well, "junk"! To the right is another room, parallel to the first, running long from front to rear. Here you'll find the bier. Floor to ceiling shelves line both walls, populated by all the main players on the Belgian bier scene, plus some harder to find offerings. Logoed glassware is also available here, along with other items like bier trays and mats. If you don't mind the souvenir-shop aspect, this is a decent place. Prosit!!
4.1 rDev +9%
vibe: 3.5 | quality: 4.5 | service: 3.5 | selection: 4.5 | $$$
231
1,076 characters

3.71
/5
rDev
-3.1%
vibe: 3 | quality: 3.5 | service: 4 | selection: 4
As we walked down the street, we decided to stop in here because it is the shop that The Global Beer Network buys their glassware. After we spoke to a guy about that, he gives us a free beer to wonder the shop and look around, thanks for making me feel obligated to buy something. A nice collection of beer, glassware and random beer stuff, like hats, coasters, ashtrays, but also in the shop, plenty of standard magnets, postcards, soccer stuff, and other random stuff. A nice stop, great service, but somewhat typical beer store/ novelty stuff shop.
551 characters
3.7
/5
rDev
-3.4%
Brugge has many beer shops and this one doesn't stick out as much as most, nor is it heavily advertised from the outside.
It is part of a larger tourist store and can be easily missed if your head is down and it's raining, but once inside the beer shelves reveal some interesting beers and glasses. A lot of 0.25 cl bottles not stocked elsewhere within Brugge, so worth finding if you are intending on getting loads of different bottles while in the city. You are left alone to wander around and I had to ask to be served, not a problem, I didn't need any help, and I am sure they would have given advice if I'd required any.
They also have a rear room (away from the beer part) that has second hand glasses and beery stuff for sale (real, old signs and such like).
I still prefer 'De Bierboom' for my bottles in Brugge, but this place is fine too.
851 characters

3.8
/5
rDev
-0.8%
Went there July 27th, 2009.
This place is just an oversized souvenir shop but they do have some nice finds, walk to the back and you can find some good deals on hand me downs from bars. On this trip that room was rather bare but they still had some very interesting trays and bottlecaps. Their prices are about the same as in any other shop in Brugge, we did manage to buy an old taphandle for barely any money there so it was worth the trip. Also the best place to buy your Brugge tshirts if you really really want them, their prices seemed to be a lot better then others.
573 characters

4
/5
rDev
+4.4%
I visited this shop while on a recent holiday trip to Brugge. I found that the prices were pretty reasonable here but it did feel a bit like a gift shop and not as much like a true Belgian bottle shop. Also, it may be the result of having been to a ton of bars and shops with rate treats but I didn't really find any bottles here that I could not get closer to home. Still the selection is very good and for travelers stopping here while on vacation, you should definitely give this place a look for something to bring home.
524 characters
3.6
/5
rDev
-6%
This place can't decide if it's a souvenier shop or a beer shop- I suspect they make the profits off the t-shirts, keychains, Mannekin Pis statues (isn't he in Brussels???), etc., and then enjoy selling the fairly large, but very poorly disorganized sleection of Belgian beers, glassware, beermats, and other Beer Swag that looks to be taken from wherever- wooden crates, signs, mats, window displays, etc., all for sale. Even though this place is priced better than some of the other shops, I wasn't sure about how well the beer is treated. I just didn't feel comfortable buying beer here- has that beer been sitting in a sunny window for a long time?
652 characters

2.5
/5
rDev
-34.7%
Of all the places that I shopped at in Bruges for beer, this one was least impressive. My first impression (which is usually lasting) was that it was a souvenir shop... lots of soccer jerseys hanging down and baubles for the masses; the beer selection was a lot less impressive than some of the other establishments; and the thing that really killed it for me was that they were selling Budweiser. Not the Czech Budweiser, but the American Budweiser. As far as character, beer-selection, quantities, etc. goes this one really doesn't hold up to the other beer-shops in Bruges.
576 characters

4.15
/5
rDev
+8.4%
I have visited this shop on several occasions over the last year. It is located on one of the main tourist drags (from the coach park to/from the Grot Markt). It looks from the outside like a tourist/souvenir shop as it has shirts and scarves of the local fooball clubs on display. There are 2 separate entrances, so you might think you are in 2 different shops, but they are linked at the back.
It is a bit hap-hazard in how the stock is laid out, but this adds to its charm (for me). And tucked right in at the back (left hand shop) is a small room with an amazing display of beer-related stuff, where the lamer among us can purchase items such as; bottle tops, beermats, labels, those name plates that go on the taps, etc., etc.
A very good and reasonable selection of glassware that is cheaper than a more famous nearby shop (€4 for a Westmalle glass in April 06). The very helpful owner and staff will carefully wrap any glassware purchased to ensure a safe trip home.
978 characters
4
/5
rDev
+4.4%
This little store is located close to the cathedral in Brugge and finding it is not a problem as opposed to toher attraction in Brugges. This store contains mostly beer related products but also some tourist-related products such as t-shirts. Selection of over 100 bottles including full cases of Westy 12. Probably over 200 different glasses are also available. Service is pretty good and ask for special wrapping if you are planning to bring back the bottles home. A good place to stop if you are in Brugge but the selection is not as good as some stores in Brussels.
569 characters
Bierpaleis in Brugge, Belgium
3.83
out of
5
based on
15
ratings.