Dismiss Notice
Maxie's Supper Club and Oyster Bar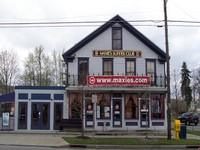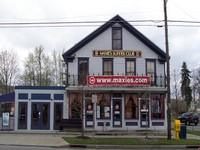 PLACE INFO
Type:
Bar, Eatery
635 W State St
Ithaca
,
New York
, 14850-3347
United States
(607) 272-4136 |
map
maxies.com
Notes:
No notes at this time.
Added by John
PLACE STATS
Reviews:

6

Ratings:

pDev:

8.86%
HISTOGRAM
Ratings: 11 | Reviews: 6
Reviews by JimFalzone:
4.18
/5
rDev
+5.8%
vibe: 5 | quality: 4.5 | service: 4.5 | selection: 3 | food: 4.5
This is a really fun place to hang out. It has a nice mix of New Orleans and retro cocktail club. Not reallly a beer bar, although you always can find local microbrewed favorites from Ithaca Beer Company. That's all I ever ordered here, but I think they also had Stella, Guiness, and some other macros.
The food is fantastic. And if you are looking for a temporary reprieve from beer, they make some mighty fine martinis.
The place gets really packed on the weekend. I've been known to wait 30-45 minutes for a table. I don't think they took reservations, but it might be worth calling. I recommend having dinner here and then heading up the hill to the Chapter House for beer. (See BA reviews!)
Oh, and you have to pick-up a Maxi's bumper sticker. It's probably one of the coolest restaurant logos you'll ever see. (I think they give you a sticker with your check.)
875 characters
More User Reviews:

3.98
/5
rDev
+0.8%
vibe: 3.5 | quality: 4 | service: 4 | selection: 4 | food: 4.25

4.38
/5
rDev
+10.9%
vibe: 4.5 | quality: 4.5 | service: 4.5 | selection: 4 | food: 4.5


3.88
/5
rDev
-1.8%
vibe: 4 | quality: 4 | service: 4 | selection: 3.5 | food: 4
I stopped into this place for dinner around 930PM on a Monday night, and there was actually a decent crowd; a few seats at the bar were open, and tables in the back room, but for the most part it was full.
This place is a New Orleans style raw bar (well, a Northern imitation at least) meeting a cocktail lounge. Kind of dim, with colored lighting, a pretty good selection of fish on the menu. A few chalk boards on the walls are adorned with information such as raw bar contents, specials, drink specials, and draught beer. There are also neon signs around the walls that say "po-boys" and "crab cakes" and a couple of thers. A pretty laid back atmosphere overall, it seems like a good place to grab dinner and drinks with a small group. Based on the people I saw around me, it seems that others think that I'm right.
There were 6 taps that I can remember, and I think that is all there were: Stella Artois, Guinness, Ithaca Cascazilla, Abita Turbodog, Great Lakes Dortmunder Gold, and Stone IPA. The menu says that the GL Dortmuner and Stone IPA are "rotating taps," which if true would mean that this place has pretty good taste in what they choose for those taps.
There were probably 10-12 bottles, all of which escape me now. Solid, but nothing extremely special.
I ordered a cascazilla, which was fresh, hoppy and topped off.
I also got a pullled pork platter which was huge. It came with corn bread and two sides. I think corn bread might come with any meal you order actually. The sides and bread were good, and the pork wasn't bad. A guy beside me got a po'boy and it was huge. I think a sandwich might be the way to go here.
Service was friendly and fast, which are all I ask for.
Overall a neat place with some good food and beer. Not exactly a craft beer destination, but certainly somewhere a craft beer fan won't mind ending up for a night or dinner.
1,871 characters
4.1
/5
rDev
+3.8%
vibe: 4.5 | quality: 4 | service: 4.5 | selection: 3.5 | food: 4.5
Back in the Bing and nowhere to sup, I'm thinking of trudging up north and west some to Ithaca 'cause, well, I can. Don't get me wrong, I know it's a flat out absurd haul, a half hour alone off the highway to and from, but there are some solid hoppenings in'thaca and what opportunity do I really have to get back up there, right? Besides, when you get a glowing endorsement from Ben Butt for a dinner hook, it needs to be looked in on promptly. While lightly stumbling around town some, very low at first but then all at once, the subtle sweet songs of sirens sung, luring me, pulling me, guiding me, towards that sick slander spot in an otherwise packed parking lot. I must have given someone needy my parking spot in another life, 'cause, well, you know...
Maxie's is an old house looking joint on the corner. Large paneled windows around the wood framed glass doorway. Half a dozen raised tables running to the rear adjacent to a rounded "L" shaped wood bar with a lip seating 14 on the inside wall. On one end of the barback, a sectional "oysters on ice" rack, with clear fish plates holding in the ice and goods, along side tiered booze running some length down the counter, a small see through logo window, a dangle scale for the weighing of oysters and a long 2 row wood wine rack piece and glassware running above. There's also a service window mid way down dealing to the rear room. Inlaid "Po' Boys", "Jambalaya", "Crab Cakes" and "Fresh Fish" lit panels run on high with decorative harlequin masks and a clock in between, and blackboard pieces with printed tap and bottle selections running along the ceiling. More seating to the rear, a half dozen tables or so below the big board listing the food and drink selections, a giant mirror, some bits of nice artwork (including a Gaia the Turtle print), and a mosaic mirror piece. Pressed tin ceiling and wall uppers over wood panel lower pieces between the long blinded windows. Random spots point this way and that, and dangling above strung from simple cords, glass bead and fabric Seusslike hat lighting in 3's coming off chandelierish. With glass bead ends, some looked like crab legs, others like jelly fish, they appear to kind of dance in the light. Wonderful. It's the simple shit that makes me goofy. And I think, yeah, I hear old REM...
8 taps on a single tower on the bar. 6 regulars (Stone Pale Ale, Ithaca Cascazilla, DogFishHead 60 Minute IPA, Harpoon UFO Hefe, Stella & Guinness) and 2 rotating taps (currently Smutty Robust Porter & North Coast Red Seal Ale) and 10 bottles that I could see (Anchor Steam, Ithaca Double IPA, DogFishHead Raison D'Etra, La Fin Du Monde, Labatt Blue & Blue Light, Amstel Light, PBR & Corona), but there's a blurb on the menu about selections from the beer cellar. I asked, I don't think anything was going on there at this time.
As fooding was in order, I had a cup of the Maxie's Mighty-Mighty Gumbo (chicken, andouille sausage and crawfish served with cornbread), which was excellent, and I was thinking about, well wait, before we go any further, "Look, I mean no offense here, but we're at least 5 hours from the ocean at any point, so I have to ask, just how fresh is your seafood?" Flown in daily from Boston, Hmmn? Well, very good then. I was looking at the Cajun seared Ahi until I saw the pan seared steelhead salmon special (chive dill brown butter, sautéed gnocchi & wilted spinach) so I'm thinking that's all me. Dinner was absolutely great, and service friendly and attentive.
Did some looking about, there's a middle room with a red velvet wall behind the bar holding a dozen tables and more dancing lighting above, and an open kitchen to the rear. Through and out the other side, another small room, and then a far room on the end with small round table seating under plastic tentish walls. Apparently they get 'em down in the warmer weather.
Cool New Orleans fish house as that goes. Lots of fresh seafood and people hitting the raw bar hard. Me really likey and you know I don't like anything. Still a ways to and from so, back to the highway, I suppose.
4,086 characters
3.85
/5
rDev
-2.5%
vibe: 4.5 | quality: 4 | service: 4 | selection: 3 | food: 4.5
This is a great unique place to have dinner in Ithaca. I wouldn't come here for the beer as there selection is limited to about 6 taps and about the same number of bottles- though this selection is a good demonstration of local craft brews. Whether you sit outside, inside, or in the bar area it always seems bustling and energetic at Maxie's. The food is mostly New Orleans inspired with lots of seafood and some BBQesque offerings. As long as I'm not hankering for a large beer selection this is one of my favorite spots.
523 characters

4.3
/5
rDev
+8.9%
vibe: 4.5 | quality: 4.5 | service: 4.5 | selection: 3.5 | food: 5
Definitely hit Maxie's up if you're in the area. I would go more for the food than the beer, but the beer they had was good. There are a couple rotating taps. Bigfoot and Arrogant Bastard are two they had recently. The atmosphere makes Maxie's a lot of fun dine at. It's dark inside, with red velvet on the walls, but festive and very Cajun. It's split up into two, there's a bar on one side and the dining area on the other. I've really only been to the dining area, so I can't comment too much on the bar. If you go for food, the Jumbo Gumbo is excellent.
557 characters
4
/5
rDev
+1.3%
vibe: 4.5 | quality: 4.5 | service: 4.5 | selection: 2.5 | food: 4.5
Maxie's is a hopping spot on the edge of downtown Ithaca, NY. The best place to get raw shellfish in town, as well as fresh fish, it's always packed to the gills (that was terrible, and I apologize).
It's very cozy inside, and dark, with the sort of dim ambient lighting that could make anyone look good. I've only ever been there at night, and I would suggest visiting then -- this place thrives on it's sultry evening persona, and I don't think it would translate well to a daytime visit. That being said, I've been told happy hour here is a good time (I've never been), so I could be wrong. There are a few seating areas, but the best one is right by the bar, where you can watch them shuck your clams and oysters right in front of you while you drink your pint.
I'm not sure who submitted this place for BeerFly, but I can say there definately aren't 24 taps of craft brew here. That being said, while there isn't a great selection of beers, there's always a few solid items, and they're always fresh.
The list is split between the usual suspects (Bud, Hoegaarden, Stella, Guinness, Heineken) and a constantly rotating and surprising variety of locals, such as Ithaca Beer, Middle Ages, and Ommegang. The bartenders know about what they're serving, are good with pairing recommendations, and are very friendly. Get the Ithaca Pale with a dozen littlenecks. Delicious.
Prices are on the higher end of things, but it's reflected in the quality of what they serve.
All in all, this is probably a cocktail bar first, but the atmosphere, service, and delicious food make up for it. Go here for dinner, and then hit up the Chapter House for the rest of the night's imbibing.
1,688 characters
Maxie's Supper Club and Oyster Bar in Ithaca, NY
Place rating:
3.95
out of
5
with
11
ratings