Guildford Arms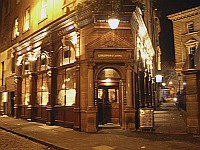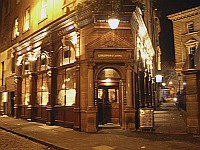 Bar, Eatery
5 West Register Street
Edinburgh
,
Scotland
, EH2 2AA
United Kingdom
+44 131 556 4312 |
map
Notes:
Reviews: 12 | Ratings: 16

4.39
/5
rDev
+4%
vibe: 4.75 | quality: 4.5 | service: 3.75 | selection: 4.75
Absolutely gorgeous Victorian pub with a second floor restaurant. It has a small, enclosed wooden bar with a decent selection of tap beers including the "big" ones but also some craft and international ones, in addition to a very respectable selection of cask ales including craft and less crafty ones from Scotland and England. Well-poured and obviously lovingly taken care of at a decent price from an older-seeming pump system. Very, very nice and well-worth a visit. It is worth it just for the building alone. The fact that it has the cask selection it does and that in my limited but intensely reflected upon experience it had the best quality of beer of anywhere I went while in Scotland is just icing on the cake. Or in this case maybe more like cake on the cake.
774 characters

4.33
/5
rDev
+2.6%
vibe: 4.5 | quality: 4.5 | service: 4 | selection: 4.5 | food: 4
There are few places in Edinburgh more dependable, comfy and so convenient than this. Easy to find just off Princess Street and another hop skip and a jump from Waverly Station, the ornate Guildord Arms has been serving up good beer for quite some time down.
There's usually ten real ales available and they are certainly some of the
very best kept casks in Edinburgh. However, considering the wide choice I sometimes wish the cask selection was a bit more discerning but I'm probably just nitpicking such is my familiarity with the place.
An ideal spot for a quality pub lunch it is just too easy to lose much of the day here. A must for any beer tourist but it can become insanely busy at nights and especially during the festival in the summer so be warned.
762 characters

4.45
/5
rDev
+5.5%
vibe: 4.5 | quality: 4.5 | service: 4.5 | selection: 4.5 | food: 4
This was my favorite stop during our stay in Ediburgh. Great exterior with rotating door. When you walk in, it's pretty spacious with a bar in the middle with tables surrounding and a restaurant upstairs.
Wife and I ate dinner upstairs overlooking the bar..good people watching. Food was a little on the pricey side, but not out of line and was delicous. Headed downstairs for a few drinks afterwards.
It was pretty crowded at this point, but there was plenty of staff on hand to help and make recommendations...I didn't have to wait more than a few moments before a bartender took my order.
The selection was top notch with around 10 cask ales that rotated quite a lot while we were there.
This is a must stop if visiting Edinburgh.
739 characters
4.2
/5
rDev
-0.5%
vibe: 4.5 | quality: 4.5 | service: 3.5 | selection: 4.5 | food: 4
A must stop if in Edinburgh. A great old pub atmosphere. You enter through a cool revolving door, and the triangle shaped wood bar is in front. No seats at the bar. You just order and go back to your table. That is the only thing I don't like about the place. I like to belly up at the bar, but that can not be done here.
There are granite and wood tables scatterd about the exterior of the room, with an open area to mingle in the middle. There is lots of wood and neat architecture. Very high cellings and a second floor that is the resturant level (the so called Gallery Resturant). The best seat in the house is on the resurant level with a table that overlooks the rest of the bar. An awesome view. I eat on the second level of course, and had a nice steak. A good place for a meal.
Because you don't sit at the bar, the service is a little stand offish. Though they know cask here, which is good.
On to the beer! 10 hand pumps. Two for the big seller Deuchars IPA. The rest are all different and rotating Scottish micros. All are of very high quality. There is also some other good beers on tap and in bottle as well. Weihenstephan and Dark Island Reserve are two. Though the big hitters is the great cask selection.
This is a pub that has been independant for over 100 years, and I love it. Like I said above, a must stop.
1,334 characters
3.66
/5
rDev
-13.3%
vibe: 3.5 | quality: 4 | service: 3 | selection: 4
Guildford Arms is not a bad place to enjoy a pint. On the plus side, they have a fairly good selection of British and Scottish cask ales, which they seem to rotate fairly regularly. They also have the standard pub fare on tap, but do also have Weihenstephan, which is a big plus in my book. They also take cards, which is quite helpful. The downside is the atmosphere. While it's a lovely pub with a great interior, it is on Princes Street, just across from the train station, and so is incredibly packed most evenings. If you're not a fan of standing room only, then it might be best to drop by on a Saturday afternoon for a more relaxed pint.
644 characters
3.79
/5
rDev
-10.2%
vibe: 4.5 | quality: 4 | service: 3 | selection: 4
great atmosphere..classy, well lit, nice carved wood..3 bartenders that were attentive yet 2 of them were girls who didn't really know what they were doing..one tried to put ice in my scotch and the other didn't recognize the name of the beer I asked for that was on cask..but those aren't serious issues for me anyway. Good selection as far as ales in the UK goes - Scottish microbrews. I only had a 7% abv ipa, the name of which I can't remember, that wasn't very good. I was afraid of all the watery bitters so I didn't try anything else. Probably one of the better pubs in Edinburgh.
587 characters
4
/5
rDev
-5.2%
vibe: 4 | quality: 4 | service: 4 | selection: 4
What an interesting pub and it's fairly close to the Cafe Royal just up the street. It's a good sized pub featuring an attractive interior with lots of dark wood and wonderful ceilings. This place also had a great selection of real ales. I counted 10 hand pulls! We tried most of the Ales they had an all were in good condition. Many of the ales were from Scotland but they did have Timothy Taylor Landlord on as well which is always a nice pint. Interestingly quite a few pubs in Edinburgh seemed to have landlord not a complaint by any means. This is also close to Calton hill and with the Cafe Royal are a nice place to kick off a pubcrawl!
643 characters
4
/5
rDev
-5.2%
vibe: 4 | quality: 4 | service: 3.5 | selection: 4.5
Visited this place on a brief "pub crawl" when the wife and baby took a few hours to go shopping and let me loose in New Town.
Nice looking if not particularly classical pub, with high ceilings, lots of wood paneling and dark colours. Classy looking bar area, and a restaurant upstairs I didn't bother going to see. Was almost empty when I came in at just after noon, but got busy fast with university students and local business folk (suits) coming in for a pint.
10 casks of Scottish (mostly) microbrews, plus assorted taps of more common stuff. Wish I'd had more time to sample the variety, but I did get a chance to try a Broughton Bramling Cross and the excellently named Thrappledouser before moving on.
Bartenders were "tolerant" and reasonably outgoing, if not super friendly. Crowds made it a bit noisy after a while, but not too bad.
Definitely recommended if you're looking for quality pubs in Edinburgh, if only for the cask selection.
961 characters
4.43
/5
rDev
+5%
vibe: 5 | quality: 4.5 | service: 4 | selection: 4.5
I visited the Guildford Arms on March 27, 2006, the day after Scotland's public smoking ban began (Yay!). I pubcrawled my way through the neighborhood around Waverly Station while waiting for a train and this place was my favorite. This pub has beautiful woodwork, a cool ceiling, and a funky wooden revolving door.
I enjoyed a Three Sisters Ale (cask conditioned, of course), some crisps, and lively conversation with local couple while there.
I recommend a stop at the Guildford Arms to anyone heading to Edinburgh and will go back when I make my next visit.
568 characters
4.44
/5
rDev
+5.2%
vibe: 4 | quality: 4.5 | service: 4 | selection: 5
Of all of the pubs I went to in Edinburgh, I'd have to say the Guildford Arms was my favorite of the bunch. It's a fairly quiet atmosphere with a lot of dark wood, with 19th century decor. It wasn't as smokey as most of the pubs I went to, but it was still smokey. They have a great selection of cask ales... 10 handpulls with the majority being filled with locals such as Atlas, Orkney, and Stewart Brewing as well as good English breweries such as Timothy Taylor and Hadrian and Border. They also had a decent selection of regular taps, and food served upstairs, although I didn't try the food. The bartenders I talked to were quite friendly and the beer was fresh. Certainly a must for BAs visiting Edinburgh.
712 characters
4.53
/5
rDev
+7.3%
vibe: 4 | quality: 4.5 | service: 5 | selection: 4.5 | food: 4
We wandered into quite a few pubs over our days in Edinburgh. Several stood out, but to be honest, the Guildford Arms appeared to be the best of the bunch. Although the Bow Bar was great as a bar, in and of itself, the superb food, service, and lack of smokestack-level cigarette smoke set Guildford on top.
Located off a side street, which appeared just like an alley, in between George and Prince Sts in the new town area comes a lovely bar. Just watch out for the revolving doors, one could hurt themselves after too many pints and/or embarrass themselves in front of the locals. To offset this potential trap, they have made the bathroom easier, with a trough urinal that automatically waters the needed stuff down.
There are a large number of taps, at least 12, with quite a few on cask. There was a German and a Belgium on tap, but I was in the UK and was going to stick with the "real ales." Deucher's, Dark Island, Stewart's, and Arran were all on the wood that night. Champion League was starting up at the time we came in, so the bar area was too packed to get a good look or a table. We headed upstairs and snagged the best table overlooking the crowd below. The bar was beautifully furnished, with dark wood inlayed all around and interesting, old time style lights. The ceiling is the key here with gold painted ornamental wood interspaced with dark mahogany. Although close to the shopping areas of new town, the train station, and the backpacker hostels, the place appeared to be full of locals.
The waitress we had upstairs was superb. She knew the beers, the food, and how to match them up perfectly. Instead of quickly rattling off the names of the beers (which, with the accent, I wouldn't have understood, anyway…) she asked me what kind of beer I liked. I told her just about anything, but was looking for some tasty local brews on cask that would go well with my meal. We had Deuchar's with goat cheese bruschetta, Stewart's "3" with roasted duck, and Arran Dark with sticky toffee pudding. The food, the beer, and the service were just stellar. The upstairs furnishings were different from the pub accented downstairs. The furniture was decidedly modern, but very comfortable.
This place is a definite must see when in Edinburgh.
2,276 characters
4.2
/5
rDev
-0.5%
vibe: 4 | quality: 4.5 | service: 4 | selection: 4 | food: 4.5
The interior looks to have been restored or kept at its original ornate decor. Which is fasinating to look at and marvel at the craftsmanship. I found six hand pumps for cask ale with a different brew at each pump. I belive I saw at least five other draft lines, which included a cider and Stella. Alas I did not pay much attention to the regular draft lines because I was so enamored with the cask selections. Of which I tried the Red Macgregor and the Dark Island both from Orkney. The party I was with wanted the dinning room for dinner. So I only walked through the main bar area, but was seated orverlooking the bar. The waitress was clear and cheerful in her presentation and the beers came up from the bar quickly. Everyone in the party enjoyed all their meals immenselly. If I ever get back I'll have to remember to drink 1/2 pints so that I can try more beers (at 20 oz a pint 2 beers is a lot of fluid). I deffinitely recomend this as a quailty beer and dinner stop.
976 characters
Guildford Arms in Edinburgh, GB6, United Kingdom
Place rating:
4.22
out of
5
with
16
ratings