Tuatara Ardenne
| Tuatara Brewing Co.
BA SCORE
81
good
15
Reviews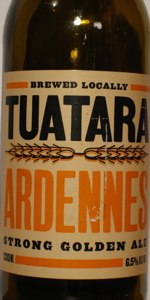 BEER INFO
Brewed by:
Tuatara Brewing Co.
New Zealand (Aotearoa)
|
website
Style:
Belgian Strong Pale Ale
Alcohol by volume (ABV):
6.50%
Availability:
Year-round
Notes / Commercial Description:
No notes at this time.
Added by VitBAficionado on 10-23-2007
Reviews: 15 | Ratings: 16
2.6
/5
rDev
-24.4%
look: 3.5 | smell: 3.5 | taste: 2 | feel: 2.5 | overall: 2.5
This beer pours a pale golden hue with nice carbonation that leaves a one finger head that dissapates quite fast to form a ring of head around the outer of the glass,the first aroma i smell is a orange spicy smell with some feint malt or barley in the background,the mouthfeel is thin and the dominant aroma of spicey orange carries thru on the tastes,not a very good effort by this brewery but have had worse but wont buy it again.
★
432 characters
2.76
/5
rDev
-19.8%
look: 2.5 | smell: 4 | taste: 2 | feel: 3.5 | overall: 2.5
Pale straw with virtually no head and low carbonation. Big spice aroma with some fruit and bready yeast. Orange zest and cardamon/mace spice dominate taste. Some alcohol as well. Light, dry body. Excessive orange flavor - whether it be in tea, beer or some other non-OJ form - just kills me. Others I know swear by this brew, so if you're not offended by orange by all means...
★
377 characters
3.02
/5
rDev
-12.2%
look: 3 | smell: 3.5 | taste: 3 | feel: 3 | overall: 2.5
Last beer of the night as a split with other NZ home brewers. 330ml split in half between two sample glasses.
Appearance- A light yellow colored body. Slightly opaque body with sediment from the body. Light carbonation, moderate lacing.
Smell-A big Belgian yeast influence with spices abound.
Taste/Mouthfeel- A strong feel after each sip from the yeast and a dry finish with a slight glimpse of the alcohol. A slight fruitiness to it.
Drinkability- Fair its not horrible but I am not going back for even another 100mls. let alone a whole 330ml bottle.
★
555 characters
3.29
/5
rDev
-4.4%
look: 3 | smell: 4 | taste: 3 | feel: 3.5 | overall: 3
Pours a mild golden colour, with a hint of distrubed sediment giving a slight haze. Head is initially firm and solid, but disippates to a filmy scum on the top of the beer. Lacing is only slight, and the body looks a bit thin overall.
Nose is slightly spicy with hints of witbier style coriander seed, matched with a sticky-sweet hint of dark toffee and brown sugar. It's actually rather pleasant all up, and certainly gives a deeper note than expected from the lightness in the body and the colour. Slight hint of spicy phenolic Belgian yeast, but it's certainly not the main event. Not a bad nose all up though.
Taste is a little bit disappointing. The sweetness is here again, but it appears rather cloying on the palate, and the spicy phenols don't appear nearly as much - it needs some sort of bitterness to cut through. Instead, the palate just drops out of the centre, leaving some redisual sugary characters around the edge with just a whiff of spice that ends up tasting candied. Feel is rather empty, especially at the end, although it has a pleasant roundness on the front.
Not a great Belgian style ale. It's really missing something, and the characters don't really balance that well. I found it rather cloying after a while. Another beer which proves how great the Belgian examples are by failing to live up to their standards.
★
1,344 characters
3.33
/5
rDev
-3.2%
look: 3.5 | smell: 3 | taste: 3.5 | feel: 4 | overall: 3
Pours pale straw golden, very clear. Must be filtered, 3 fingers of fluffy head on top.
smells of sweet honey and cloves, some faint spicy hops.
Tastes of sweet malts, spicey cloves, some peppery bite. A touch cloying in it's sweetness.
Good mouthfeel, probably the best thing about this beer.
Not a bad beer, just not a very good one either.
★
346 characters
3.33
/5
rDev
-3.2%
look: 4 | smell: 3.5 | taste: 3 | feel: 3.5 | overall: 3.5
Fairly clear golden colour with a foamy white head. Fair head retention and great lacing.
Lemony custard aroma which is distinctly like Sorachi Ace. Somewhat herbal with some coriander yeast notes. Interesting.
Very dry and well attenuated malt with a bright fruity yeast and hop character. Distinct custard, lemon and thyme character. Interesting but I feel like the hop choice doesn't work here.
Medium-light body with moderate carbonation. Okay.
A decent but not entirely logical beer. The base beer tastes good but the Sorachi Ace hop comes through in droves and dominates the flavour. Just a little too left-field for me.
★
630 characters
3.46
/5
rDev
+0.6%
look: 4 | smell: 3.5 | taste: 3.25 | feel: 3.75 | overall: 3.5
A - clear and very bubbly golden, one finger of white head retained well via a constant stream of rising carbonation
S - sour citrus yeastiness, noticeable alcohol presence, leafy and grainy
T - the citrus yeastiness seems to have mostly vanished, its really dominated by grainy and leafy flavours with a slight mustiness, some alcohol bite, faint metallic
M - light and plentifully carbonated, slightly must but quickly moves to a very dry finish
O - its a decent enough brew but nothing special, a little disappointed that the nose did not translate well into flavour
★
569 characters
3.47
/5
rDev
+0.9%
look: 3 | smell: 3.5 | taste: 3.5 | feel: 3.5 | overall: 3.5
Smells like a Belgian, slightly sour and spicy and citrusy. Slightly sweet in the beginning, strong orange notes, with a surprisingly bitter finish that lingers. Feels a little thin to me, maybe slightly over-carbonated. It's an intriguing beer, balanced but not quite what I was expecting (in a good way).
★
306 characters
3.6
/5
rDev
+4.7%
look: 3.5 | smell: 3.5 | taste: 3.5 | feel: 3.5 | overall: 4
330ml bottle, another from the mixed six-pack, and more appropriate, it might seem, as the weather went to shit in but a few minutes earlier this afternoon.
This beer pours a clear, medium golden straw colour, with one finger of foamy, bubbly dirty white head, which leaves very, very little lace in the way of lingering droplets around the glass as it quickly melts away.
It smells of semi-sweet pale malt, some drupe fruitiness, a bit of Belgian yeast, and mild earthy, savoury spice. The taste is sweet, grainy malt, yeasty apple and pear fruitiness, more subtle musty spiciness, and mild leafy hops, all underneath a swirling, almost ethereal booze warming.
The bubbles are pretty tame, just a flit and a pique here and there, the body a decent medium weight, and mostly smooth, but for a slight metallic edge. It finishes sweet, the malt, fruit, and spice doing well to remain integrated.
A decent enough golden ale, with the Belgian footprint, all things pretty well balanced in their collusion to make me happy.
★
1,022 characters

3.65
/5
rDev
+6.1%
look: 4.25 | smell: 3.5 | taste: 3.5 | feel: 3.5 | overall: 4
330mL btl poured at 4C
Pale straw pour with ample 2 finger frothy white head and huge amounts of carbonation that maintains a perfect head until the end. I even primed the glass and the carbonation 5min later is amazing.
Mild yeast on the nose, some untoasted malty sweetness. Some woody spices and earthy herbal notes. Smells full bodied and hearty.
Moderate sweetness upfront that is both biscuity and slightly fruity/juicy; cooked kiwi with toasted coriander, white pepper, and parsley? Pale malts hold up a decent amount of yeast: low for a proper belgian (even a filtered one) but heavy for a colonial of the style. Slight musty note at the back of the palate as the yeast finishes down that I think is a off the mark. The clingy dry finish is just not right for some reason and really hurts the balance. -came back for a last sip and there is a good citrus note to the carbonated peak as the ABV plays out; savory lemon... with salt? or is it some chalk and lime minerality-
Mouth feel is light to medium bodied, the fine and generous carbonation gives a refined quality that is tough to deny. Although it plays a larger role in keeping the yeast from coating the palate and pushing it back onto the finish.
Like much of Tuatara's offerings it is greater than the sum of its parts and unique when set among the 6-Mix and their individual brews. While I would not go out of my way, or even if in my way, to buy or find this one, in the mix pack it is not unworthy of its company. Belgian style in its typical yeast driven balance, it is really colonial and it shows in the lack of refinement and balance. That being said a not unpleasant and reasonably drinkable.
I love the never ending carbonation.
★
1,711 characters

3.72
/5
rDev
+8.1%
look: 3.5 | smell: 4 | taste: 3.5 | feel: 3.5 | overall: 4
330ml bottle poured into tulip 24/10/12
A clear pale golden yellow with lots of very tiny particles upon closer inspection, just a thin film for head that's gone after a sip and leaves some random lace
S candied pineapple and yeast are strong with some white fruit flesh, cirtus and spices, reminds me of Leffe but better, has a bit of a soapy gum thing going as it warms but it somehow works well, some faint banana towards the bottom of the warmed glass
T more spicy hops and some dry cereal, not as strong as the smell and just a hint of booze, still decent but I preferred the nose
M medium for the color with not quite creamy carbonation but a little prickly, yeasty fruity aftertaste with faint heat on the finish
O decent brew but I'm not wowed, I like the smell and nearly a 4 in the taste department so perhaps a little inflated here
Nice yeast choice with the fruity spicy notes but there's room for improvement. I like the fact these guys are trying different stuff and having a varying degree of success
★
1,022 characters

3.79
/5
rDev
+10.2%
look: 3.5 | smell: 4.5 | taste: 3.5 | feel: 4 | overall: 3.5
Pours a pale golden colour with slight haze to it. Head is thin and white after a while, but generous and Belgian when poured. Lace is decent; could be stickier. Decent all round, but could be a bit better.
Smells sweet, fruity and Belgian with quite a delicious and glossy spice to it as well. Glacé cherries, candied orange peel, melon and kiwi combine with sherry, clove and nutmeg. Curiously dark and fruity with wonderful spice balance. Really rather delicious.
Taste is similarly fruity upfront, with melon and orange peel character, the latter of which lasts through to mid-palate. Develops an unfortunately bland metallic note towards the back, where it dries up but loses a lot of the esters, with the most-part being grainy and hollow. Decent notes, but it just falls a bit short.
Good body with a bit of presence on the tongue. Slight head on the back but overall quite nice.
Good beer and decent Belgian notes, but the palate needs more oomph to really leave an impression.
★
990 characters
3.93
/5
rDev
+14.2%
look: 4.5 | smell: 4 | taste: 3.5 | feel: 4 | overall: 4.5
Pours pale amber with a lasting large head leaving lovely lacing.
Very refreshing aroma, with definate orange peel and blossom, soft phenols and doughy yeast. Very light and summery.
Belgian characters are equally noticeable in the flavours, with similar yeast notes and continuing orange peel. Very soft bitterness, the finish is cetred towards the clean alcohol and dryness from high carbonation which goes well alongside the summery lines of the aroma and flavours.
An excellent attempt at a foreign style.
★
509 characters
3.94
/5
rDev
+14.5%
look: 3 | smell: 4 | taste: 4 | feel: 4 | overall: 4
Pretty close to the real deal. Served at a good temperature and poured with a medium sized off-white head that settled pretty quick and a bit of lace. Color is a clear 18k gold. Aroma is yeast, hop, malt, wine, fruit. Flavor's like nose, a little hoppier than most Belgian Goldens, otherwise very close to style. Body's great; ditto carbonation. Finish is like flavor, good length, and a bit boozy. Nice beer, tho perhaps a little intense for many repeat quaffs.
★
462 characters
4
/5
rDev
+16.3%
look: 4 | smell: 4 | taste: 4 | feel: 4 | overall: 4
Had this on tap at an excellent Wellington bar called Bodega.
Strange, but the beer was actually a bit too cold from the tap to give an accurate first impression, so I let the 2nd one warm up a bit. Clear and deep golden color headed toward amber. A very good white head that lingered and clung to the sides of the glass. The nose was noticeably Belgian and citrus, mostly orange peel. Taste is clean and crisp, with spicy pepper and citrus almost dominating any malt flavor. A definitely Belgian yeast strain was used here. Carbonation was a little high, but not out of character. Clean finish with noticeable, but not overpowering alcohol. Good effort at a Belgian so far down in the Pacific.
★
694 characters
Tuatara Ardenne from Tuatara Brewing Co.
3.44
out of
5
based on
16
ratings.